Find the best trading platform. You capital is at risk when trading. Be careful.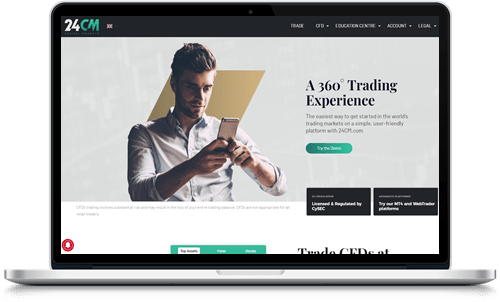 To us, there is nothing better than finding a broker that's transparent and upfront with everything about their business, and 24CM (Capital Markets) is one of those brokers.
All the information you would need about the broker is easily accessible directly from the website and you get a good overlook of what 24CM offers from the first minute.
For example, you can see that they offer MetaTrader 4 and the WebTrader, 270+ instruments, forex trading licensed by CySEC, and apparently the opportunity to use an award-winning service.
But there is much more to 24CM than that so let us give you a more detailed review of all their products.
Is 24CM a scam or safe?
Yes, 24CM is a safe CFD and forex broker that's licensed and regulated by the Cyprus Securities and Exchange Commission. Having a license from CySEC is something brokers are proud of since it's the ultimate proof of how serious and legitimate they are.
From a trader's perspective, a CySEC license means that you are protected no matter what happens and that 24CM's services and products are under the constant oversight and subject to regular audits. In other words, 24CM is not a scam but a safe CFD and forex broker for anyone trading in Europe.
Also, 24CM belongs to the same brand as the very well-known broker 24Option and we know for a fact that 24Option wouldn't do anything to jeopardize their reputation in the industry.
Find the best trading platform. You capital is at risk when trading. Be careful.
5 Things You Need to Know About 24CM
24CM is owned and operated by F1 Markets, a Cypriot financial firm that's a part of the same brand that owns 24Option. That means that 24CM belongs to one of the biggest and most popular brands in the industry, which, for obvious reasons, is good for you and your convenience but also for the broker.
This broker has an interesting account setup that lets you pick one out of for very specific accounts based on your preference and expectation. The more "advanced" the account is, the more you are expected to deposit and in exchange, you get more features.
The 24CM demo account is one of the biggest in the industry. You can open a demo account directly by providing some basic account information, or you open a real account to get access to your own demo account. The balance on the account is $100,000, and the amount is unlimited meaning it gets refilled automatically when it runs low.
Even though this broker is quite young in the industry they have already been recognized and awarded for their services. At the forex broker awards, they received "Best Trading Platform" as well as "Best Execution Broker".
Generally speaking, 24CM is one of the best designed and cleanest brokers we've reviewed. The website is modern, sleek, and very easy to use. All the information you could need is easily accessible at any given time and there are no questions about what services and products 24CM offers. They are also very transparent and is not keeping any necessary business information away from you.
24CM Trading Platforms
To keep things as simple as possible, 24CM has chosen to offer one trading platform for all their customers and all their instruments. The platform is the well-known MetaTrader 4 forex trading platform, which is one of the most popular platforms in the world for very good reasons.
By downloading the MetaTrader 4 from 24CM, you will gain access to all the tools you need to analyze the available instruments and then move on to smooth and carefree execution. Trading with the MetaTrader 4 is always a joy and if you haven't done it yet we suggest you do so now.
If you, for any reason, can't or don't want to download the MetaTrader 4 to your computer, you can use the WebTrader instead – a web-based platform developed by MetaQuotes who is also behind the MT4. This web-based platform comes with a range of analytic tools and technical indicators and is a great alternative to the MT4, although it is slightly more limited.
Find the best trading platform. You capital is at risk when trading. Be careful.
24CM Mobile Trading – Use 24CM on Your Smartphone and Tablet
You can download the 24CM trading app from the Android and iOS app stores and bring your trading account with you everywhere. The app allows you to keep an eye on all of your open positions to make sure you don't lose any money, but you can also analyze the market and open trades to make sure you don't miss out on any opportunities.
Mobile trading is becoming more and more popular and any forex and CFD broker that wants to compete needs to offer top modern mobile software. The team behind 24CM has realized this, and the 24CM app is currently good enough to compete with even the biggest brokers.
Asset Classes and Financial Instruments – What Can I Trade with 24CM?
24CM is still quite a young broker, and they are currently working on optimizing and expanding their selection of assets. That means the selection is slightly smaller than many other brokers, but there is still a lot to choose from and it includes all of the most popular instruments.
24CM's selection of instruments is spread out across the following four asset classes:
Forex – As a forex and CFD broker, it should come as no surprise that a large part of 24CM's selection is dedicated to forex trading.
Stocks – Any broker that wants to attract serious day traders must offer stocks in one shape or the other. In this case, you can invest in a range of international stocks as CFDs.
Indices – A natural addition to the range och stocks is indices although, in comparison, this asset class is much smaller.
Commodities – Alongside forex and stocks, commodities are one of the most popular assets classes and something all brokers offer, even if it's only a handful of available instruments.
In total, there are more than 270 instruments that you can choose from but we expect that number to increase sooner rather than later.
And we sure hope that they end up adding cryptocurrencies to the mix soon which wouldn't be impossible since we now that F1 Market's sister companies have the software to support it.
And let's not forget that 270 assets are more assets than most traders will ever invest in, so 24CM's range is more than enough. It's not good to be blinded by large numbers – no one ever trades on 10,000 instruments anyways.
Find the best trading platform. You capital is at risk when trading. Be careful.
24CM Real Account and Demo Account
Today, 24CM has four account types with different perks and features and we have outlined the most important differences below.
Basic – Financial introduction, demo account, access to MT4, account manager, and educational material.
Silver – Everything from the basic account plus help with risk management, as well as more advanced educational material, and no maintenance fees.
Gold – Access to the trading central, free withdrawals, and a senior account manager.
Platinum – This is the most advanced account and in addition to tighter spreads, you get many personal benefits provided directly from the broker.
Generally speaking, the Gold account is the most popular account but the choice is up to you. Also, the minimum deposit for a Basic account is only $250 which means that this broker is available to any traders regardless of available funds.
24CM Demo Account
All of the above accounts come with free access to a 24CM demo account with 100,000 virtual dollars which we encourage you to take advantage of. You also have the option of opening a demo account before you open your real trading account in case you want to try 24CM before you deposit your own money.
24CM Withdrawals and Deposits
It's easy to deposit money into a 24CM account, and you have three options to choose from. The most popular payment methods are credit and debit cards, and 24CM has support for Visa, Mastercard, and Maestro. The second most popular method is a regular wire transfer from your bank to your trading account. Finally, you can also choose to fund your account using the online payment provider Skrill.
Find the best trading platform. You capital is at risk when trading. Be careful.
24CM Customer Service
We always make sure to contact a broker's customer service to evaluate their level of professionalism, and 24CM is no exception. However, we were a bit nervous considering that the broker is quite new and we didn't know what to expect.
To our surprise, the live chat feature connected us to the 24Option staff which happens to be one of the best customer services in the world. We do realize that 24CM will launch its own support at some point, but we are convinced that it will be equally as good as, if not even better than 24Option.
In addition to the live chat, you can call 24CM at +357 25 262513 or email them at [email protected] / use the contact form on their website.
24CM's main office is located at Kolonakiou Avenue 43, 4103 Ay. Athanasios, Limassol, Cyprus.
24CM Spread, Fees, and Commission
One of the few things that we don't really like about 24CM is that the available spread and charges change depending on which account you use. In many ways, it's unfair that the "smaller" accounts have to pay more, but that is often the case in the industry.
That being said, by opening a more advanced account you can get rid of almost all the fees and that is really nice – we just wished the same applied for all account types.
We've examined the different accounts and the trading platform, and this is what we can make out from 24CM's spreads and fees
Spread
Unfortunately, the spreads for the basic and silver account are not very competitive. In fact, they are on the high side for many assets including some of the major currency pairs.
However, by opening a gold or platinum account instead, you will be able to push the spread down quite low for most assets.
With all of this being said, 24CM does not offer super high spreads, and for most of the instruments, the broker is similar to the industry average.
Commission
As far as we can see, 24CM is a completely commission-free broker which is excellent. There might be a small commission for certain types of trades, but we haven't found any information about it and will stick to our initial feeling that 24CM doesn't charge commission.
Fees
Similar to the spread, fees become less and less the more advanced your 24CM account is. For example, customers with a basic account will have to pay certain maintenance fees but not any of the other accounts. Also, the gold and platinum account can enjoy free withdrawals while the other two account types are subject to charges for each withdrawal.
In addition, there are certain charges to keep positions open overnight, but that is something all brokers charge, and it is not unique to 24CM.
If you look at the bigger pictures, 24CM is actually quite an affordable broker, and they've managed to keep fees and expenses at a decent level, especially if you opt for one of the two more advanced accounts.
License and Regulation
As mentioned, 24CM is owned by F1 Markets – a licensed and regulated financial firm based in Cyprus. F1 Markets belongs to the same brand as the company that owns 24Option which is also a licensed broker, and 24CM actually falls under the same kind of operative licenses.
Since F1 Markets is based in Cyprus, their main license is issued by the Cyprus Securities and Exchange Commission (CySEC) and few things weigh as heavy as a CySEC license. The broker's CIF license number is 267/15, and it is the ultimate proof that the broker is regulated and safe.
In addition, 24CM is also registered and authorized in Belize under the name IOS INVESTMENTS Limited. Belize is an up and coming jurisdiction in the industry that is working hard to receive the same kind of recognition as CySEC and the FCA has. To us, licenses fall under the expression "The More the Merrier," and we like that they have more than one regulatory body that oversees their business.
24CM Review Summary
24CM is an incredible forex and CFD broker that we would recommend to anyone in a heartbeat. Their website is well-designed, their platform is state of the art, their instruments are some of the most lucrative in the world, and the trading experience is from another galaxy.
Not to mention the fact that 24CM is licensed by CySEC which means they are completely safe to use. Also, it's not every day that one gets to be a part of a newly launched and properly licensed project and we think 24CM is a good option based on that alone.
Find the best trading platform. You capital is at risk when trading. Be careful.