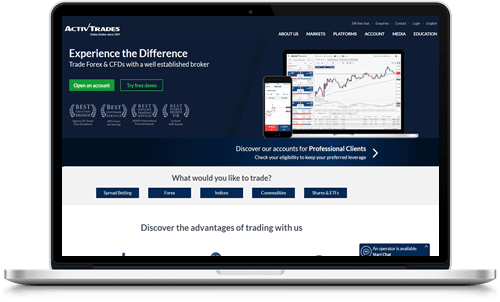 ActivTrades is broker based in the United Kingdom that offers trading opportunities to an international customer base.
In addition to offering forex and CFD trading, ActivTrades also provides spread betting opportunities.
This broker has tailored an excellent trading experience that lets you take advantage of five different asset classes using three award-winning platforms – the Metatrader 4, the Metatrader 5, and ActivTrades' proprietary platform ActivTrader.
In the following review, we'll walk you through ActivTrades' products and services and give you an unbiased opinion of how the broker compares to other similar brokers.
ActivTrades Ratings - By BullMarketz & Visitors
Support

Deposits & Withdrawals

Financial Instruments

Platform
Is ActivTrades a Scam?
ActivTrades is a fully regulated and licensed broker that operates out of the UK and is licensed by the Financial Conduct Authority (FCA). FCA is one of two well-established regulatory bodies in Europe, and any broker that has been authorized by the organization can be trusted.
Having a license from FCA means that ActivTrades is subject to regular audits and strict oversight where every part of the business is evaluated to ensure that they are safe and trustworthy.
We do not recommend that anyone ever use an unregulated broker since it puts you at an unnecessary risk of being exposed to scams and being ripped off.
ActivTrades Platforms and Investment Tools
ActivTrades has three different trading platforms plus a selection of tools that have been designed to optimize your trading abilities.
Third-party Platforms
The Metatrader 4 and the Metatrader 5 are two of the most popular trading platforms in the industry that are offered by most forex and CFD brokers today. These platforms are incredibly easy to use and provide all the charting tools and features you need to succeed as a trader.
Both platforms are available in a mobile version that can be accessed from ActivTrades' website or the app stores.
Proprietary Platform
In addition to the Metatrader platforms, ActivTrades has developed their own platform called the ActivTrader. This platform is one of the most intuitive platforms on the market, and it comes with all the functionality that you would expect from an award-winning broker today such as advanced charting tools and analytic indicators.
ActivTrades has made sure that their own platform is mobile-friendly and it comes as both an app and as a mobile browser platform. In our opinion, the browser version is the better option here, and we would like to see the trading app optimized further.
Trading Tools
As with all good brokers, ActivTrades also has a selection of trading tools that are designed to help you be as successful as possible. In this particular case, ActivTrades has developed a range of tools called Smart that work with the Metatrader platforms. For example SmartOrder, SmartCalculator, SmartPattern, and SmartForecast.
ActivTrades' Assets and Trading Opportunities
ActivTrades' selection of assets can be divided into three different categories; forex trading, CFD trading and spread betting.
As you probably already know, forex trading involves trading currency pairs. CFDs can be applied to most markets such as shares, indices, commodities, and in this case, cryptocurrencies. Spread betting is very similar to CFD trading and can be used on the same markets, it's also completely tax-free for UK residents.
All in all, ActivTrades provides access to hundreds of financial instruments, and the available selection will differ depending on what and how you prefer to invest.
ActivTrades Live Trading and Demo Account
When signing up for an ActivTrades account, you have a few options in terms of account types. The most common account is called an individual trading account, and it can be used to trade forex, CFD, and spread betting on all of ActivTrades' platforms. Professional traders can also open a professional trading account, although it requires you to fulfill certain criteria such as having a portfolio worth at least $500,000, extensive financial experience, etc.
If you for any reason don't want to start trading for real money right away you can also open an ActivTrades demo account. This demo account is completely free, and it lets you test the broker out before you deposit your own money. ActivTrades demo account can also be used to develop trading strategies and practice trading.
Payment Options
As an FCA regulated broker, ActivTrades follows strict guidelines for payments. This means that ActivTrades offers the same payment methods as most other brokers.
You can fund your account by using a credit or debit card (Visa, Mastercard, Maestro), a regular bank transfer, Neteller, Skrill, SoFort, and UnionPay.
All transactions are free for European traders, but if you live outside of Europe, you might be subject to smaller fees for some of the payment options. Because of this, we suggest you always double check what applies to you before you start transferring funds.
ActivTrades Award-Winning Customer Service
If there is one thing that ActivTrades really excels at it is customer support and relations. Over the years, this broker has won several awards for their incredible support team, and we can vouch for their excellence.
There are three methods that you can use to contact ActivTrades. You can either request a call back (existing customers can call directly), send them an email – their average response time is 27 minutes, or start a live chat which is by far the easiest option.
As mentioned, we have been in contact with ActivTrades and have gotten the help we've needed each and every time.
Final Words on ActivTrades
ActivTrades is a great broker for everyone looking to start trading forex and CFDs. The platforms offered are really good, the selection of assets is more than satisfying, and the service that ActivTrades provides is genuine and great. To us, it is evident how ActivTrades has survived in this very competitive industry since 2001 and how they are still thriving.
Also, if you are living in the United Kingdom, ActivTrades offers extra benefits since spread betting is tax-free in the region.
ActivTrades Ratings - By BullMarketz & Visitors
Support

Deposits & Withdrawals

Financial Instruments

Platform