Find the best trading platform. You capital is at risk when trading. Be careful.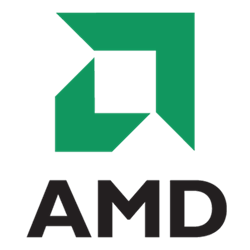 AMD is an abbreviation for Advanced Micro Devices, an American semiconductor company that mostly produces microprocessors, motherboards, and processors for graphics and other applications. In the United States, they are second only to Intel when it comes to microprocessors, and they are competitors of Nvidia when it comes to producing graphics cards.
The company is based in Santa Clara California and the AMD stock is listed on Nasdaq. The CEO of AMD is Lisa Su and the head of the board is John Edward Caldwell.
AMD has set three separate Guinness World Records for "Highest Frequency of a Computer Processor," twice in 2011 and once in 2012.
What is the AMD Stock Price Today?
The first thing any investor does before buying any asset or investing in AMD is checking the AMD stock price. Without knowing the AMD stock price you will not be able to develop any investment strategies. The AMD share price is provided by Nasdaq every day but there are several services that provide the price. Unfortunately, not everyone is reliable and trustworthy, and therefore you need to make sure you always use a service you can trust.
We have integrated a professional AMD stock price graph on the page and you will find the same tool for other stocks. Our ticker will give you the latest AMD stock price in real-time 24/7. It can also be used to check how the price has developed over time since it can be good to know what the AMD stock sold for one week or two months ago.
For your own convenience, we suggest that you bookmark this page so that you can always get the latest AMD share price with a few clicks.
How Do You Buy the AMD Stock?
AMD has been listed on Nasdaq in New York since 1972 and that is where you buy the AMD stock. Nasdaq also has most other major tech companies listed on it which can be good if you're one of the many investors that like to invest in tech stocks.
In order to buy the AMD stock from Nasdaq, you need to use a traditional stockbroker. Well, you don't actually have to use a stockbroker but it is recommended. You see a stockbroker can help you place your AMD investment in the best way possible and he can even offer strategic advice, all for a small fee of every transaction you make.
There are some people who don't like to invest in stocks the traditional way and there are even more that like to spice things up with different types of investments. For these investors, there are many options. One popular way of investing in AMD is by using CFDs. When using CFDs your job is to predict which direction the AMD stock price will move and then bet your money on that prediction. CFDs are action-packed and perfectly suited for day trading.
Below is a list of the most popular CFD brokers that we recommend to all of our users.

Find the best trading platform. You capital is at risk when trading. Be careful.
AMD Stock Price History
AMD has had an intensive stock price development with several huge peaks and major drops. One of the most notable peaks was in 2000 during the IT boom when the AMD stock surged from 10 to 45 in less than 6 months before dropping back to 16 the following year. Another peak occurred between 2005 and 2006 when the AMD stock price increased from 14 to 40 before it started plummeting reaching 2 at the height of the 2008 financial crisis.
As you can see from the AMD stock price history, this stock is extremely unpredictable and it can literally do a coin flip overnight. Obviously, this underlines the need to always stay updated with the latest AMD stock prices using our stock price graph.
AMD Dividends and Earnings
It has been over 4 decades since the AMD stock was first listed on Nasdaq and the company is still not paying dividends which has us all believing that it will never change. It is, of course, unfortunate that there are no AMD dividends but there is also two good reasons for it.
The first reason is that AMD is not a stable company when it comes to profit, revenue, earnings, and stock prices. As we explained in the segment above, the AMD stock price has experienced extreme changes over the years. And a company that doesn't perform evenly will not have the ability to pay dividends, not even when it's doing good and the AMD earnings are positive.
The second reason there are no AMD dividends is that tech companies are reluctant to pay their shareholders. It has almost become a trend and something you shouldn't expect from the industry.
AMD News and Subscription
It is absolutely essential that you keep yourself up to date with the latest AMD news if you are planning to invest in the company. Reading stock news is important for any equity investment but for a company like AMD, it is even more important. We encourage you to visit this page daily to read the latest news on AMD.
Alternatively, you can sign up for our AMD subscription and get all the latest AMD news delivered to your inbox. Honestly, it doesn't get much more practical than that. If you sign up to subscribe to AMD today you will get all AMD news sent to your email as soon as they are published here.