Forex trading apps are one of many tools that you will be using when trading forex and it's important that you learn everything you can about how they work. If you're planning to do a lot of mobile trading, you need to also understand the differences between the apps to find the best forex trading app for you.
On this page, we'll provide a rundown of all the information you need to know about forex trading apps as well as a list of the top forex trading apps right now.
Find the best trading platform. You capital is at risk when trading. Be careful.
Using forex trading apps is a widely disputed topic that splits the trading world in two. On one side you have professional day traders with large trading rigs at home and a reluctance to use mobile trading apps, at least for any serious trading. Obviously, these people see the benefits of using the forex apps occasionally but tend to believe that they don't actually need them.
On the other side of the spectrum, you have the people that rave about the best forex trading apps and share their opinion that forex trading apps will play a central role in our future. Typically, these traders tend to be younger and maybe not as experienced as the professional day traders.
Regardless of what you think of mobile trading applications, you can't deny the incredible transformation and improvements the market has gone through lately. And the truth is that they fill several practical features.
As avid forex trading app users, we just had to put this page together and below you can read all about the best forex trading apps in the industry today.
Two Types of Forex Applications
Today forex trading apps come in two different versions, and even though neither version is better than the other, you should still know about the differences so that's where we'll get started.
Third Party Forex Apps
Some of the best forex trading apps in the world have been developed by third-party companies that offer their software to several forex brokers. Many forex traders prefer these apps since they can switch brokers without having to adapt to a new software.
When it comes to the best forex trading apps, the MetaTrader 4 trading app is the best in the world.
MetaTrader 4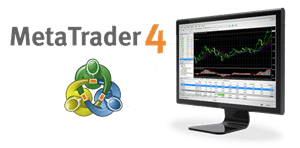 The MetaTrader 4 is a world-renowned forex trading app developed by MetaQutoes. Unlike some other trading apps, it's completely free, but that doesn't mean it's limiting. In fact, the MT4 has all the features you could ever wish for and then some. And if the offered features aren't enough, you can download and even develop your own personal add-ons and plugins and integrate them with the platform to personalize the experience.
Some of the world's top forex brokers offer the MetaTrader 4, and you can read more about them further down on this page.
To learn more about the MetaTrader 4, we suggest you check out our MT4 guide.
Proprietary Forex Apps
A forex broker can also decide to develop their own trading platform and forex app, and that's usually referred to as a proprietary forex app. Over the last couple of years, the mobile trading industry has gone through some major updates, and today most of the top forex brokers offer amazing forex trading apps. See our list of forex brokers in UK here.
Another popular solution for certain brokers is to offer a combination of their own trading software as well as the MetaTrader 4. You can read more about all types of brokers further down on this page.
In addition, there is a third type of forex trading app that you should know about.
Forex Training Apps
A forex training app is exactly what it sounds like. It's a forex practice app that has been designed to help traders improve their skills and knowledge. Practice forex trading apps come in a multitude of versions, and you can usually find simple and free forex simulator apps by searching for them in any of the app stores.
However, the most popular version of a forex training app is a so-called demo account. A demo account is an account that you can open with most brokers and that allows you to run their platforms and forex apps in a risk-free environment. In our opinion, this is the best way to practice forex trading on a mobile phone since you use the actual app that you will use later on.
You can read more about forex demo accounts and forex simulator apps in our guide to forex demo trading.
What Do We Look for When Reviewing the Best Forex Apps
Our reviewing process is divided into several steps. The first and most important thing we check is whether the broker offering the forex app is safe to use. To ensure this, we check the broker's licenses, and we also check their reputation among traders. If we find a lot of bad reviews and comments online stating that the forex app or the broker isn't good enough, we move on to the next forex trading app.
After we've made sure that the broker is safe to use, we start checking the software itself. What is it like trading on the forex app? Are all of the features working and are they easy to find? Are there any special features that make the app stand out in comparison to others? And so forth.
When testing a broker that uses the MetaTrader 4 or another platform that we're already used to, we usually focus our attention on what the broker offers in terms of mobile trading solutions. Moreover, we tend to prioritize the brokers that have designed their own add-ons and plugins for the forex trading apps since it's a sign of dedication.
Maybe it goes without saying, but before we even get started reviewing the forex trading apps, we run rigorous tests on the broker itself. Only the best forex brokers are considered for this list.
Availability
Another very important thing to consider when looking for a forex trading app to start using is whether the app has support for the devices you prefer. For example, most of the best forex trading apps are available on iOS and Android, but some can also be used on Windows devices. It's important that you take all of this into consideration when choosing your forex app.
Below is a summary of the best forex apps for iPhones as well as the best forex apps for Androids. To learn more about each broker and app, you can either click the link or scroll down for our forex app recommendations further down.
Don't forget that which broker you prefer to use and which forex trading app you think suits you best is a personal choice. As long as it's a regulated broker and a safe forex app, and you have access to the currency pairs you want to trade on your preferred device, the choice is yours. That being said, we do recommend that you consider using any of the below-mentioned brokers since they offer the five best forex trading apps on the market.
Compare the Best Forex Trading Apps
Below is our curated list of the top five best forex trading apps in the business. All of the following apps have gone through rigorous tests, have a great reputation online, and are operated by the top forex brokers. We are confident that you will be satisfied with the following software that the recommended brokers offer.

1. 24Option – Best with the MetaTrader 4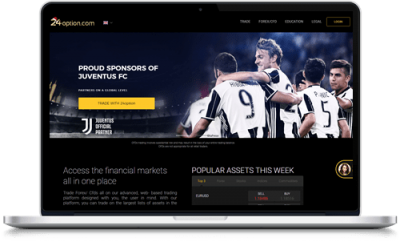 There are two main reasons to why 24Option is at the top of this list. First, 24Option offers the MetaTrader 4 which as mentioned is the top forex trading application in the world. Secondly, 24Option has worked hard to develop a brand that excels on every level from the assets they offer to the platform integration and even their customer service.
Forex Trading App: The MetaTrader 4
Currency Pairs: A mix of 45 majors and minors
Spread: Very tight for forex trading
Forex Simulator App: Yes
Read our 24Option Review
Find the best trading platform. You capital is at risk when trading. Be careful.
2. IQ Option – Largest Selection of Currency Pairs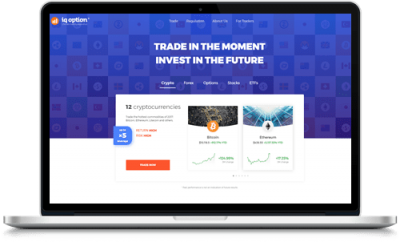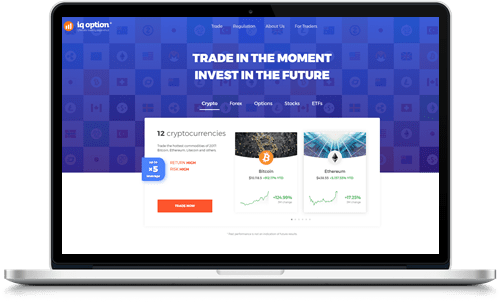 IQ Option has not only developed a unique brand in the industry but also one of the top forex trading apps ever with one of the largest selections of currency pairs. Being the fact that IQ Option recently went through a major rebranding, much of the broker's focus has been on mobile adaptation. This has resulted in IQ Option being able to offer some of the best mobile solutions for forex trading. Also, IQ Option is currently going through updates and changes meaning their forex application continue to improve.
Forex Trading App: IQ Option
Currency Pairs: 90 currency pairs from all over the world
Spread: Tight
Demo Account: Yes
Read our IQ Option Review
Find the best trading platform. You capital is at risk when trading. Be careful.
3. Plus500 – Most Awards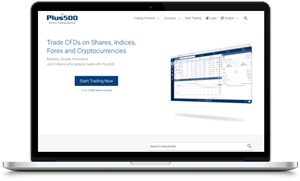 Plus500 has won more awards for their mobile trading platform than any of the other brokers on this list. To us, there was never a question about whether or not we would recommend Plus500 as one of the best forex trading apps in the world. We also happen to really like the simplicity of the Plus500 brand and their mobile software.
Forex Trading App: Plus500
Currency Pairs: 50+ currency pairs
Spread: Good
Forex training app: Yes
Read our Plus500 Review
Find the best trading platform. You capital is at risk when trading. Be careful.
4. Markets.com – Best Overall Broker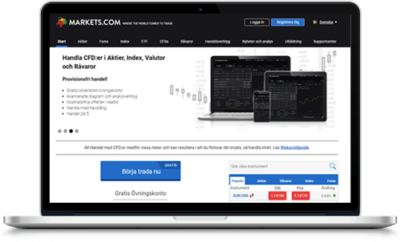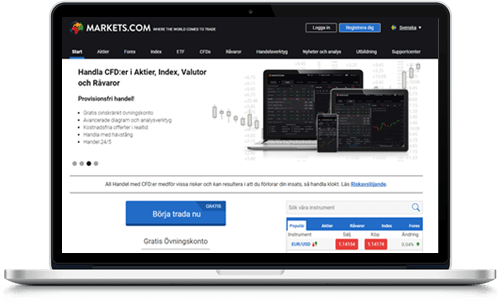 We've already talked about the MetaTrader 4 several times on this page, but what we haven't mentioned is the MetaTrader 5. The reason for this is that the MT5 was developed to better support CFD trading and not only forex trading. However, the MetaTrader 5 is still one of the best forex trading applications in the world, and it's the platform that Markets.com decided to offer. In addition, to offering a world-leading forex product, Markets.com also offers more than 2,000 other assets.
Forex Trading App: The MetaTrader 5
Currency Pairs: 55+ majors, minors, and exotic
Spread: Competitive
Forex practice app: Yes
Read our Markets.com Review
Find the best trading platform. You capital is at risk when trading. Be careful.
5. eToro – Copy and Social Trading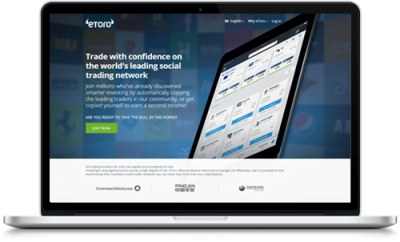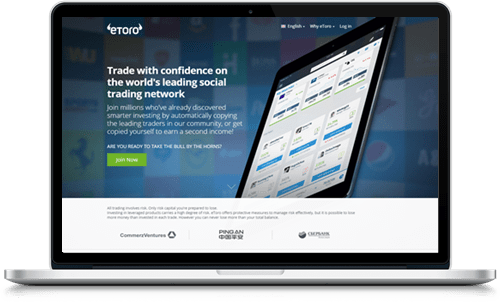 eToro is a forex and CFD broker based in Israel with an international reach and a unique approach to forex trading. Instead of offering a product similar to all other brokers, eToro has focused most of their product on copy trading, social network features, and automatic trading opportunities. The eToro forex trading app is one of the top mobile trading apps in the world and definitely the best option for anyone that prefers copy trading. It is also perfectly integrated with eToro's massive social trading network where you can connect, learn from, and teach other traders.
Forex Trading App: eToro
Currency Pairs: 47 currencies
Spread: Really good, especially for copy trading
Demo Account: Yes
Read our eToro Review
Find the best trading platform. You capital is at risk when trading. Be careful.
Other Trading Apps
In addition to the above-mentioned forex applications, there is a multitude of other trading apps and platforms. We have worked hard to review and test most of them and have curated lists of the best trading apps based on set criteria. Some of these lists are based on regions, such as the UK or South Africa, while others are focused on the platforms or assets they support such as stock trading apps the UK, spread betting apps, real money trading apps and more.
Best Forex Trading App UK
If you're residing in Great Britain, you might want to check out our guide to the best forex trading apps in the UK. In that guide, we outline the differences between the UK forex market and the rest of Europe, and we've highlighted all of the brokers that offer the best mobile forex trading experience in the region.