We spend a lot of our time reviewing brokers, investment apps, and other similar products since that is an important part of the service we offer. But what about the investment firms and companies behind these products? That's what we're taking a look at today.
A broker is only as good as the company that owns it so this a serious topic that we have to discuss. That's why we've decided to dedicate this page to online investment companies and the world's top investment institutions.
Find the best trading platform. You capital is at risk when trading. Be careful.
What Qualifies as an Investment Firm?
Any company offering investment services of some sort can technically qualify as an investment firm. Typically, these online investment companies own one or several brokerage services, and they also tend to have an international reach. You probably already know of some of the best stock investment firms, even if you've never traded before.
That being said, we won't be evaluating just any investment firms on this page. We will only focus our attention on the biggest top investment firms in the world. In order to do so, we have set up this guide in a way that will answer questions that our readers and traders seem to have about the best investment firms for beginners.
Reach – A Must for the Best Investment Firms
The number one thing that sets the best investment firms apart from regular investment firms is their reach. All of the firms and online investment companies listed and recommended on this page have an impressive international reach, often times serving millions of customers all over the world.
Without an international reach an online investment company is really just another investment firm, and, in our opinion, it's the size that separates the biggest and best firms from the rest.
These major firms also tend to be growing continuously, so one thing we check is their ability and willingness to increase in size. Has the firm recently invested in new services? Or are they planning to acquire smaller competitors? If the answer is yes to any or both of those questions, the said firm has a better chance of being recommended by us.
Also, having an international reach indicates another important thing: that the firm is safe to use and reliable. You see, any broker, service or investment firm that we recommend has to be licensed and regulated. That is our minimum requirement for us to even pay them attention.
Getting a license that allows you to offer financial services is not an easy feat anywhere in the world, especially not if you do it in several regions. Despite that, it's something that all the top investment firms are forced to do.
For example, a major investment firm that offers financial services in Europe, the United States, Australia, Asia, and Africa will have to apply for and be approved for at least one (often several) licenses for each region. That means the firm has to live up to extremely strict requirements from several of the world's leading regulatory bodies.
Just imagine trying to be approved by the FCA, the CySEC, the CFTC, the SEC, the ASIC, and the FSB, at the same time. If that's not a proof of dedication, then we don't know what is.
Moreover, all of these regulatory bodies are constantly reviewing and auditing the firms that they regulate, meaning the best investment firms are continuously working to keep their licenses.
The point we're trying to make is that all the top international investment firms are regulated by more agencies and governments than other firms, meaning your safety is guaranteed.
Reputation and Customer Satisfaction
One of the greatest challenges for a major investment firm is that they have to satisfy millions of customers on a daily basis. And in order to do so, the services and reputation of these investment firms have to be impeccable.
Because of that, looking at their reputation among users is one of the easiest ways to figure out just how good an investment firm or an investment company is.
To confirm that each investment firm we've recommended has a good reputation and a high customer satisfaction rate, we've spent countless hours reading customer reviews, searching in investment forums, and visiting every other place we could think of where customers share their experiences. In other words, the following recommendations aren't only based on our experiences, but also thousands of other users and professional traders.
While customers' opinions matter a great deal in our reviewing process, we also always make sure that the services we recommend have a good reputation within the industry and that other firms and brokers respect them. The risk is high that an investment firm that doesn't have a good reputation among their peers will soon be outrivaled and forgotten.
Therefore, we only recommend top investment firms that have good relationships with their competitors and an overall great reputation in the industry.
Another important aspect connected to the reputation has to do with experience and how established the firm is. Today, there are some investment firms that are quite new but still have a great reputation, but to us, that's not enough. If an online investment company wants to be taken seriously, they need the experience to prove themselves.
It might sound unfair, but it's an important factor that we consider, and it definitely takes time to establish a genuinely good reputation and a large number of loyal customers.
Services – The More the Better
None of the above really matters unless the investment firm is offering great investment services to their clients. Just offering one brokerage or a single trading platform isn't enough to qualify as a top investment firm. As a matter of fact, the more top services, platforms, and apps that a firm offers the better their chances of dominating the industry is.
For example, an investment firm that offers a forex and CFD trading broker with spread betting options as well as great online stock trading services, state of the art trading apps, and maybe even a financial news magazine, is way more likely to be considered a top investment firm than a company that only runs one forex broker.
To be considered one of the best investment firms you want to offer a range of the best investment tools. Also, an investment firm that offers a selection of good trading platforms but a few that are subpar, will most likely not make it to this list either since it's a sign that they lack dedication.
Generally speaking, the best investment firms in the world have to offer at least one product for forex, CFD and other derivatives trading, as well as one platform for stocks and securities. There are some exceptions to this rule, but that's usually what we require. If an investment firm lacks one of those products, they have to make up for it elsewhere.
Check out Investment Firm Ratings and Read our Reviews
In addition to what we've mentioned above, there are other things that we expect from the top rated investment firms such as well-designed products, efficient customer service, good prices, and low fees, etc. To further clarify what is actually needed to be recommended by us we compare the best investment firms below.

1. IG Group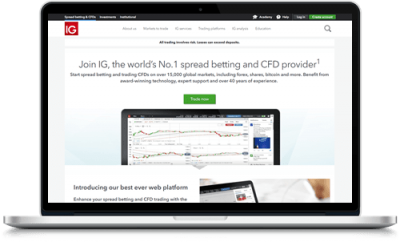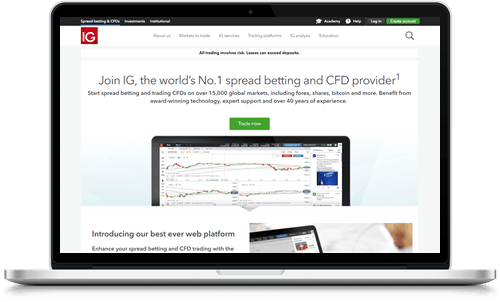 IG Group is an investment firm based in England that has been offering an impressive selection of financial services all around the world since 1974. For the longest time, the CFD and forex broker IG Markets was the flagship service of IG Group, and it remains one of the main products. However, in the past couple of years, IG Group has started offering stock trading for European customers via their own stockbroker platform. They've also launched a fantastic spread betting service and focused a lot of their energy on cryptocurrencies over the past couple of years. As if that wasn't enough, IG Group bought an American binary options broker a while back and renamed it Nadex. Today, Nadex is the top binary options broker in the United States.
In addition to all of this, IG Group also owns and operates the investment news media DailyFX, which is a website that offers some of the best financial reporting today.
As you can see, there is no doubt as to why IG Group qualifies as one of the top investment firms for beginners.
Founded: 1974
Reach: International reach including the United States.
Services: Stock trading, forex, CFDs, binary options, market updates, and more.
Read our IG Group Review
Find the best trading platform. You capital is at risk when trading. Be careful.
2. CMC Markets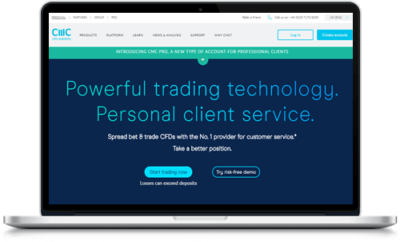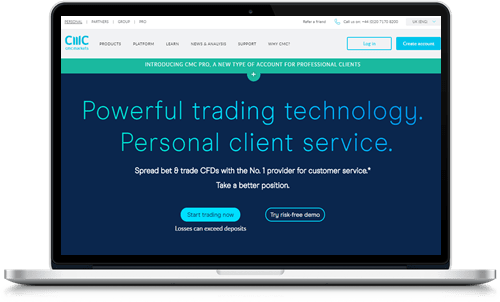 CMC Markets is another top investment firm based in the UK with an impressive international reach with two major offices in Singapore and Sydney as well as 11 other local offices in the rest of the world. The firm was founded in 1989 as a forex broker under the name Currency Management Corporation, and it didn't take long before the company started to grow. Over the years, CMC Markets has invested in and bought a range of other financial services. Today, it's one of the leading derivatives firms in the world offering forex and CFD trading to millions of customers in Europe, Asia, and Oceania. In 2007, CMC Markets acquired a leading Australian stockbroker, and today they offer stock trading for all their Australian customers.
Since early 2016, CMC Markets has been listed on the London Stock Exchange, and since mid-2016, CMC Markets has been a constituent of the FTSE 250 Index.
Founded: 1989
Reach: International reach including a focus on Europe, Asia, and Australia.
Services: Forex, CFDs, stock trading, binary options, and more.
Read our CMC Markets Review
Find the best trading platform. You capital is at risk when trading. Be careful.
Some of the Top Investment Services in the World
As mentioned earlier, the best investment firms all offer a selection of the best trading and investment tools in the industry, and since we weren't able to list them all here, we have created separate pages for different platforms. You can read more about these platforms, tools, brokers, and trading apps below. Click any of the links to be directed to a page covering all of the best tools in each category.
Best Investment Platform UK
Are you a long-term investor based in the UK? Then we suggest you check out our list of the recommended best investment platforms in the UK. Here you'll find a list of the best platforms for stock and cryptocurrency investments as well as the reasons why we consider them to be the best.