This page is a heavy-lifter and potentially one of the most important guides on our site. Stock trading is, as you probably know, one of the most popular forms of trading there is. Naturally, this means that there is a lot of people looking for the best stock trading software, but also that there are a lot of stock trading platforms to choose from. Unfortunately, not all stock trading software is created equally.
Therefore we've spent hours and hours testing and reviewing all of the best stock trading software, and we have collected our results on this page.
Find the best trading platform. You capital is at risk when trading. Be careful.
Finding a stock trading platform is not easy. Firstly, there are so many options that one has to evaluate and compare before finding the best fit. And secondly, because you want to find a stock platform that you can stick with so that you don't have to go through the process of finding a new one in a few months or years from now.
Another problem, at least when recommending stock trading software, is that it's ultimately a personal choice of which platforms suits who, and therefore we can't give the best recommendations for everyone. But in an attempt to make this list as accurate and inclusive as possible, we decided to evaluate each broker and stock trading software in two steps.
The first step involves us reviewing and testing the best stock trading platforms according to our own strict requirements. During this part of the reviewing process, we look at the actual facts and features offered by the brokers as well as our personal experience with the platforms.
In the second step of the process, we take other traders and investors thoughts and requirements into account. To do this we have spent time in trading forums reading about people's favorite and least favorite features and services, and we have also reached out to other professionals to see what they look for when choosing the best stock trading platform.
All of this information has then been boiled down to a comprehensive and detailed format that lets us review brokers in an unbiased and neutral way. Below is a guide to how, what, and why we review certain parts of a broker. Even further down, you'll find a list of the top 5 best stock trading platforms today.
Different Stock Trading Software and Platforms
We want to clarify that we will be recommending two types of stock trading platforms on this page and that every broker listed below offers one or the other. Some even offer both types.
Direct Market Access (DMA) is a stock trading software that allows you to buy stocks directly from an exchange via an online broker. It's a great way to trade stocks, and since some brokers offer both DMA and other types of stock trading, you can normally combine different stock trading solutions. In some cases, DMA platforms are also referred to as Level-2 or L2 platforms because there are some slight differences between trading stocks like this and buying the stock directly from the exchange.
We personally think this type of stock trading is superior to what some would consider "traditional stock trading" and that's mostly because it's so easy. It's also offered by brokers that are simple to use and that provide industry-leading tools.
The second type of stock trading software that the brokers on this page offer are CFD platforms. A CFD is a derivative based on an underlying asset, in this case, a stock. This means that you don't buy the stock but instead speculate on how you believe that the price will develop over a certain period of time.
Compared to regular stock trading and even DMA platforms, CFD stock trading platforms are the easiest to use. In fact, in many ways, we prefer CFD trading over regular stock trading since it allows us to open and close positions much quicker, and the use of leverage allows us to maximize our exposure to each position. The best part, however, is that CFDs can be used from pretty much any security, meaning you can trade stocks, forex, commodity futures, cryptocurrencies, and much more from the same stock trading platform.
One of the most common CFD stock trading software is the MetaTrader 5 which we will talk a bit more about in our broker recommendations further down.
Our Stock Platform Reviewing Process
As mentioned, when we review stock trading software, we evaluate a multitude of aspects and factors in order to determine which brokers are the best, and this is how we do it.
Safety
Similar to most aspects in life, safety should come first when it comes to trading. You see, all forms of trading and stock investing are associated with the risk of losing the invested funds and the only way to limit that is with knowledge. There are some other risks involved in trading too, and luckily they can easily be avoided altogether.
To avoid being scammed, ripped off, or tricked by a broker, there are some simple guidelines you can follow. By only using regulated and licensed brokers, you can assure that you will be protected and that the broker will treat you fairly.
Because of this, the first step in our reviewing process is always to make sure that the broker is regulated and licensed to offer the services they're selling. We would never recommend a broker we didn't feel comfortable using ourselves, and we would never use an unregulated broker. Therefore you can rest assured that all of the brokers and stock trading platforms that we recommend are 100% safe to use.
Assets
Obviously, one of the most important aspects of a stock trading software is that it supports the assets you want to invest in or trade with. For example, if you prefer trading on the London Stock Exchange, you have to find a broker that offers stocks from that exchange. The same goes for Nasdaq, NYSE, etc.
That means that the second step in our reviewing process is aimed at evaluating the assets offered. Generally speaking, we only recommend brokers that offer a varied, interesting, and engaging selection of stocks. There might be a few exceptions where a broker is offering a stock trading platform that is so good that it doesn't matter if the selection is a bit slimmer.
However, most of the best stock trading platforms that are listed below have support for hundreds and often thousands of stocks from all over the world.
Features
The best stock broker platforms all have one thing in common, and that is that they offer innovative and world-leading features and functionality. In the 21st century, there is no excuse to why a broker wouldn't offer state of the art trading platforms and features that make it as easy as possible for people to trade.
In fact, we expect everything from the signup process to analytic work and execution to work seamlessly and smooth, and that requires top stock trading platforms. We can tell you from experience that stock trading on bad stock software is a nightmare and not worth it one bit.
As you can imagine, the 5 best stock trading platforms recommended below only offer the best of the best features. Nothing else.
Fees
All types of trading come with fees, that's how the brokers can afford to offer their services. However, many brokers offer fees that are too high or not representative of the services they offer. For a stock trading platform to end up on this page, the broker needs to offer fees that are as low as possible and spread that's tight enough to compete with the rest of the best stock broker platforms.
No one wants to pay hefty charges to trade and invest which is why fees are one of the most important parts of our reviewing process.
Feedback
As mentioned earlier, we also take into account what other traders and brokers think of the brokers and stock trading platforms we recommend. By studying customer reviews and scouring through trading forums, we try to create an image of what others think of the brokers that we consider recommending.
And let us tell you something. If many traders and past customers have negative things to say about a broker, we won't recommend them, it's as simple as that. Because a lot of bad reviews usually means a subpar stock trading platform, and there is no point in recommending that.
In other words, all the brokers listed below are not only approved by us but also by other traders and industry experts.
User-Experience
After we've confirmed that each broker has what it takes to be considered for our list, we initiate the last step of the evaluation process. This is where the okay stock trading platforms are separated from the best stock trading software.
To make sure that every broker that ends up on our site is as good as they can be, we always make sure to test them out and trade on their stock platforms. If we don't feel comfortable with the experience or there is something we think feels clumsy, chances are that platform will be left off our list.
The Best Stock Trading Platforms and Software
After countless hours of reviewing and evaluating stock platforms as well as years of trading experiences on a range of software, we've come to the conclusion that the following five stock trading platforms are the best. You can click any of the links to either read our comprehensive broker reviews or be directed to the broker.
The Top Stock Trading Platforms: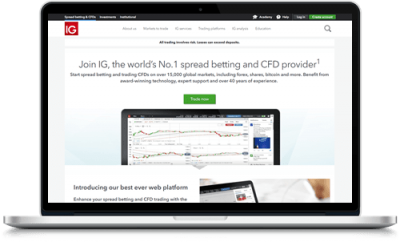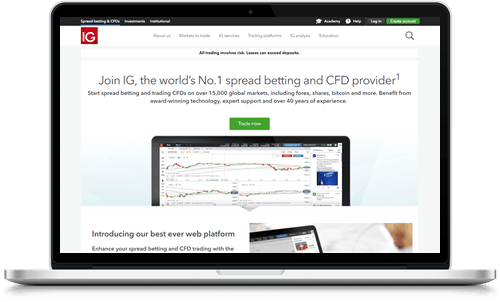 IG Markets is the flagship product of the British financial firm IG Group, and in our opinion, the broker offers one of the top stock trading platforms in the industry. Not only that, but IG Markets offers two types of stock trading platforms to help accommodate as many traders as possible. With an IG Markets account, you can invest in stocks via a DMA-platform or as CFDs via the MetaTrader 4.
Platform: The MetaTrader 4 and IG Markets L2-platform
Assets: Thousands of assets
Demo Account: Yes
License: FCA
Read our IG Markets Review
Find the best trading platform. You capital is at risk when trading. Be careful.
2. Trade.com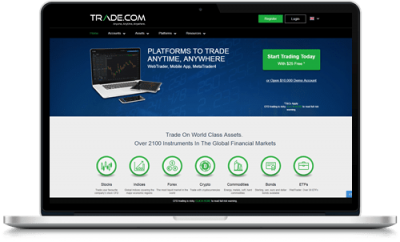 Trade.com is another broker offering a double stock trading solution with DMA and CFD trading. However, unlike IG Markets, Trade.com offers both services via the MetaTrader 5 platform. That means you don't have to get used to two different platforms or open two accounts. In fact, this unique two-in-one solution has helped Trade.com reach the top of the industry, and we think they offer one of the most practical and best stock trading platforms today.
Platform: The MetaTrader 4 and the MetaTrader 5
Assets: 2,000 plus assets
Demo Account: Yes
License: CySEC
Read our Trade.com Review
Find the best trading platform. You capital is at risk when trading. Be careful.
3. AvaTrade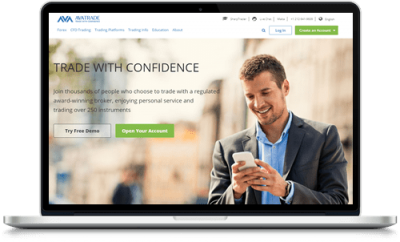 AvaTrade is a state of the art CFD broker with an extensive list of stock trading platforms that makes for the perfect stock trading experience. This broker has a reputation of being trustworthy and exciting to trade on, and we love them ourselves. AvaTrade has made a name for themselves as one of the leading mobile software developers of the industry, and we suggest that everyone give their mobile stock trading platform a go.
Platform: The MetaTrader plus several of their own platforms
Assets: Hundreds of assets
Demo Account: Yes
License: Central Bank of Ireland
Read our AvaTrade Review
Find the best trading platform. You capital is at risk when trading. Be careful.
4. Markets.com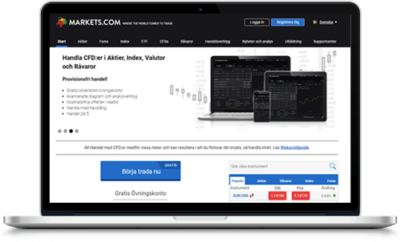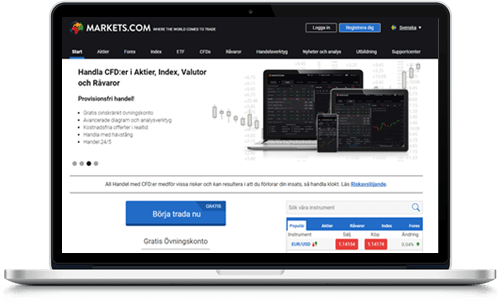 Markets.com is a top-level CFD broker offering a great stock trading solution through the MetaTrader 5 platform. This broker shares a lot of similarities with Trade.com, except for the fact that Markets.com doesn't offer DMA trading. However, Markets.com has been one of our personal favorites for the longest time, and we tend to recommend them to anyone looking for a world-class CFD stock trading experience.
Platform: The MetaTrader 5
Assets: 2,200+
Demo Account: Yes
License: CySEC
Read our Markets.com Review
Find the best trading platform. You capital is at risk when trading. Be careful.
5. Plus500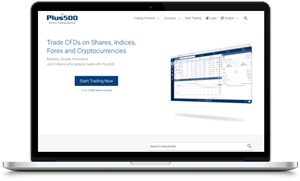 Plus500 has been an innovative force in the industry for many years, and they've offered a stock trading platform that is light years ahead of the competition. Plus500 is a CFD broker, and they don't provide opportunities to trade on the exchanges. That being said, Plus500 is listed on the London Stock Exchange, meaning you can actually trade this broker as a stock. This also happens to be one of the most awarded brokers in the business, and we never doubted putting them on this list.
Platform: Plus500
Assets: Hundreds
Demo Account: Yes
License: FCA
Read our Plus500 Review
Find the best trading platform. You capital is at risk when trading. Be careful.
Other Brokers Based on Specific Requirements
The above-mentioned brokers offer the top stock trading platforms and software in the industry, and they are all available in Europe, Asia, Africa, and elsewhere. But since every market is different and every trader looks for specific features and options, we have also put together lists of brokers based on more specific requirements such as the best mobile software or the best brokers in certain regions.
Best Stock Trading Platform UK
UK traders have a huge variety of stock trading brokers to choose from even compared to other areas of Europe. There are also certain jurisdictional advantages of trading stocks in the UK, which is why we put together a list of the best stock trading platforms UK. The UK guide shares some similarities with this one but it also features unique insight as well as some other brokers, and we suggest all UK stock traders check it out.