BinaryCent is a perfect example of a modern Fin-tech company that promises to multiply your investments while you enjoy the ambience of your home. Meant for relatively small retailers, this platform acts as a broker for diverse financial assets that cuts across financial markets, foreign exchange deals, stock pricing, cryptocurrencies and global financial indices. Among its products is foreign currency trading. With your monetary assets, you can trust this platform to exchange in following currency pairs. USD/SEK, NZD/USD, GBP/CAD, EUR/CHF, GBP/AUD and EUR/JPY to mention but a few. They also deal in valuable products such as gold and silver.
They also deal in Cryptocurrency brokerage with digital assets of companies like Litecoin, Bitcoin, BTC, and Ethereum. As you can see this company is in many types of trade. If you are interested in stock brokerage, only deal with top-notch companies whose value has been stable owing to their impeccable, unquestionable performance in major exchanges over the years. This company will require you to open a Binarycent demo account before venturing into real money deals.
For more information read through this Binarycent review and get in the know what this company is all about before you invest in it.
Find the best trading platform. You capital is at risk when trading. Be careful.
Is BinaryCent a Scam? Is BinaryCent Regulated?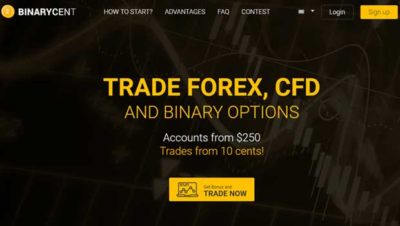 Generally, when you are investing through a third party, there is a tendency to develop cold feet. And this is a good thing, you always have to scrutinised and take time to read reviews on binary brokers. Binary brokers have pitched online tents with a promise to offer you good deals only to run off with your money. Binarycent company is owned by Sueman Kerran, which is a trading establishment with its roots in Scotland but physically registered in the UK. Sueman Kerran, as its widely known, is a subsidiary of Finance Group Corp_a reputable multinational that is registered by Vanuatu Financial Services Commission.
This company has such a diverse background, but it also has reported claims and issues with dissatisfied customers. For Forex trading, it is advisable to check for legitimate companies that are licensed, this company is also operated by the same entity that runs Binarymate, a binary broker of equal repute. They claim that they have a 256-bit Secure Socket Layer installed in its system ensure that your info cannot be accessed by hackers. Any claim of Binarycent scam ought to be taken into consideration.
You have worked hard for your money and losing it to a scam or an unregistered company would be really painful. When looking for a place to trade and build your hard earned money take time to find a registered trader.
Alternatives To BinaryCent
One of the key drivers of the business, whether forex or not is the availability of a wide range of choices. This being the case, customers interested in forex trading, cryptocurrency investments and also stock deals, should always use regulated brokers such as eToro and IQ Option.