Are you looking to invest in cryptocurrencies but are not sure of where to start? It's actually not as hard as you might think. In order to help you out, we created a guide with our partner IQ Option. In this guide, we will outline how anyone can get started trading cryptocurrencies.
What Is a Cryptocurrency?
Let's begin with the basics. A cryptocurrency is a digital currency that uses a combination of blockchain technology, encryption, and in some cases smart contracts and open source codes to perform safe transactions between users. All cryptocurrencies are decentralized peer-to-peer systems that are not affected by banks or governments.
Cryptocurrencies used to be something a small group of users was interested in, however during 2017 Bitcoin completely exploded and all of a sudden almost everyone knows what a cryptocurrency is.
Bitcoin, Ethereum, and Litecoin are three of the most well-known digital currencies right now but the truth is that there are many more. In fact, today there are close to 2,000 different cryptocurrencies on the market. So, are they all as good as Bitcoin? Not at all. Most of them are actually not good at all. However, there is a collection of smaller cryptocurrencies that offer good usability and as well as good investment potential.
IQ Option has made trading cryptocurrencies easy and they are 100% regulated
To start trading cryptocurrencies with IQ Option you need to follow these 4 easy steps:
1. Register an account – It's very easy just follow the link
2. Verify your account – You need to prove that you are you
3. Make a deposit – Deposit money into your trading account using your bank or a credit card
4. Buy cryptocurrencies – They will automatically be stored in your personal wallet. You can currently invest in more than 14 of the world's best and most popular cryptocurrencies with IQ Option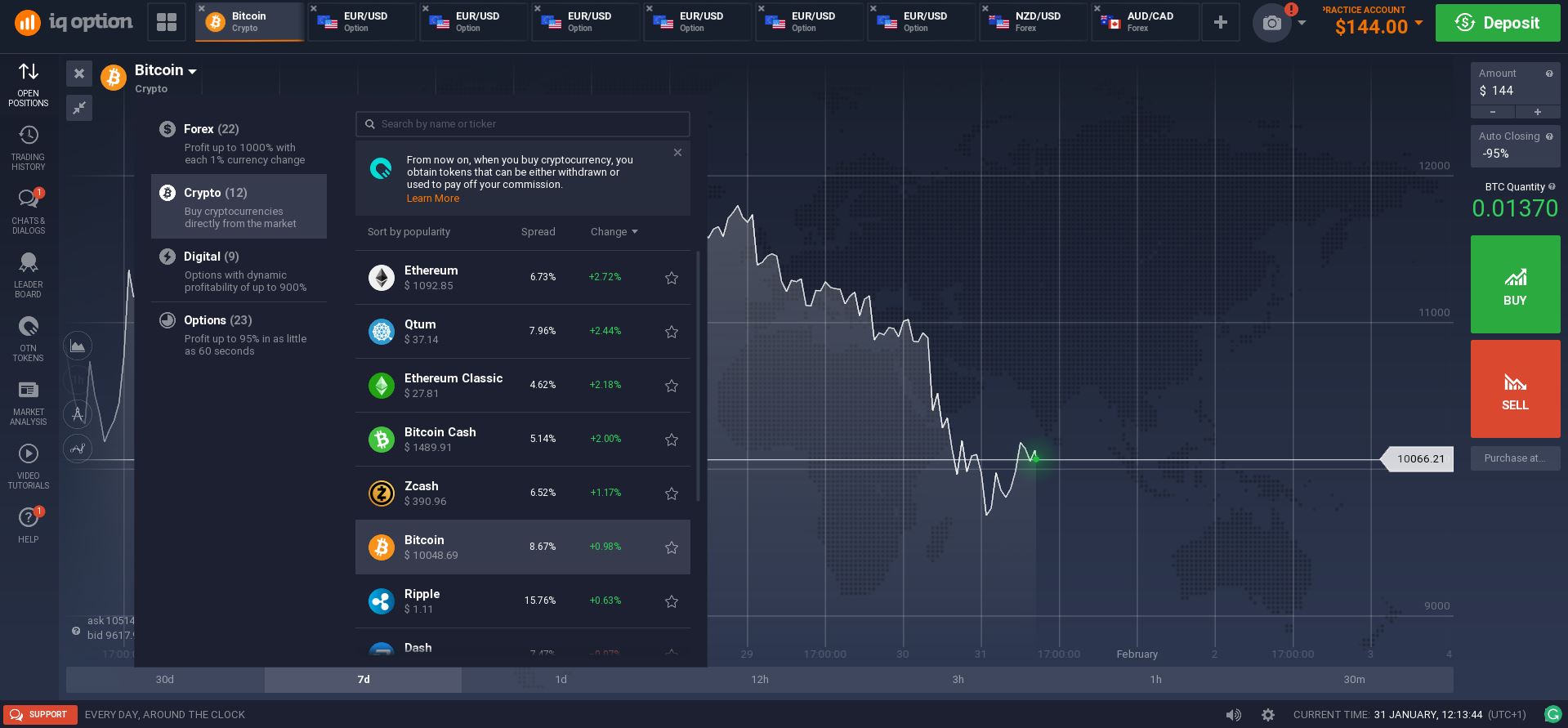 What cryptocurrencies are available at IQ Option?
At the moment, you can invest in Bitcoin, Ethereum, Litecoin, Ripple, Bitcoin Cash, Monero, IOTA, QTUM, Stellar, NEO, Bitcoin Gold, ZCash, Dash, and TRON. But this selection keeps getting updated as IQ Option keeps adding more and more cryptocurrencies to their platform. We will of course update this article with the latest information so we suggest you bookmark it to stay up to date. Would you like you like to know more about IQ Option? Read our review here.
Bitcoin with IQ Option
Bitcoin (BTC) is currently the biggest cryptocurrency on the market and it was also one of the first ones to ever be created. This cryptocurrency was first launched in 2009 and it has experienced massive ups and downs ever since. During 2017, the interest in Bitcoin completely exploded and it quickly gained the attention of mainstream society. Bitcoin is one of the cryptocurrencies that is offered at IQ Option. Read more about Bitcoin.
Ethereum with IQ Option
Ethereum (ETH) is the second largest cryptocurrency in the world and is based on its own blockchain. Many other cryptocurrencies are based on Bitcoin, but Ethereum is its complete own system. It also works on smart contracts. That being said, Ethereum's founder Vitalik Buterin used to work for Bitcoin so even though the cryptocurrencies are different at their core they are still related or at least inspired by each other. Read more about Ethereum.
Litecoin with IQ Option
Litecoin (LTC) is a peer-to-peer cryptocurrency that was launched in 2011 by a former Google employee. Litecoin was originally launched as an alternative to Bitcoin and because of this, they are in many ways similar to each other. Although, many users consider Litecoin a more thought through and solid cryptocurrency than Bitcoin. You can buy Litecoin with IQ Option. Read more about Litecoin.
Ripple with IQ Option
Ripple (XRP) is a cryptocurrency and a payment protocol, an exchange rate, and a transaction system that was developed by a company called Ripple. The cryptocurrency is unique and not based on any other digital assets just like Ethereum, however, Ripple is also completely different from Ethereum. One of the main perks with Ripple is that it offers free international transactions. You can buy Ripple with IQ Option. Read more about Ripple.
Bitcoin Cash with IQ Option
Bitcoin Cash (BCH) was created from a Bitcoin hard fork, a split of the Bitcoin blockchain. The reason behind the fork was that users wanted to improve Bitcoin's scalability and transaction speeds. Other than that, the two currencies are very similar. Bitcoin Cash is available at IQ Option. Read more about Bitcoin Cash.
QTUM with IQ Option
Qtum (QTUM) is an interesting cryptocurrency based in China. This cryptocurrency was launched on March 17, 2017, and is heavily inspired by both Bitcoin and Ethereum. In fact, Qtum was created as a combination of the best parts from each of those cryptocurrencies which makes it very interesting. Qtum is available at IQ Option. Read more about Qtum.
Stellar with IQ Option
Stellar Lumens (XLM) is the first cryptocurrency in the Stellar network – a network based on the Ethereum blockchain that was created to host many different digital currencies. Stellar Lumens is a peer-to-peer and completely decentralized cryptocurrency, and it was first launched in 2014. IQ Option offers Stellar as a part of their selection. Read more about Stellar.
Monero with IQ Option
Monero (XMR) is a cryptocurrency with an open source code that was developed to offer a completely anonymous means of payment. That means that no transactions done using Monero can be tracked. Because of this, Monero gained a big following on the dark web and it was the official payment method of Alphabay until they were shut down. Monero can be traded on IQ Option's platform. Read more about Monero here.
IOTA with IQ Option
IOTA (MIOTA) is a cryptocurrency that was created to be used on the Internet of Things. It was first launched in 2016 but didn't really become well-known until 2017 when it experienced an amazing boost in popularity. You can buy IOTA with IQ Option. Read more about IOTA.
NEO with IQ Option
NEO (NEO) used to be called "Antshares" and it is completely based on the Ethereum blockchain with a few differences that some consider improvements such as a unique blockchain algorithm. During the last part of 2017, NEO gained a lot of popularity and many traders consider this one of the few really serious "new cryptocurrencies." You can buy NEO with IQ Option. Read more about NEO.
Bitcoin Gold with IQ Option
Bitcoin Gold (BTG) is the name of a cryptocurrency that was launched on November 12, 2017, through a hard fork of Bitcoin. Since Bitcoin Gold derives from Bitcoin they share the same history but are completely different starting from the fork. You can buy Bitcoin Gold at IQ Option. Learn more about Bitcoin Gold.
ZCash with IQ Option
ZCash (ZEC) is a cryptocurrency that was launched in October 2017. Like all cryptocurrencies, it's a peer-to-peer decentralized system but what makes ZCash different is that a lot of effort has been put into making it as safe as possible. At the moment ZCash is considered much safer than, for example, Bitcoin. You can buy ZCash with IQ Option. Read more about ZCash.
Dash with IQ Option
Dash is an interesting cryptocurrency that used to go under the name DarkCoin and XCoin and it was first launched in 2014. Dash was the third cryptocurrency to ever pass the magical $1,000 mark in December 2017. You can invest in Dash using IQ Option. Read more about Dash here.
TRON with IQ Option
Tron (TRX) is the youngest cryptocurrency currently offered on IQ Option's platform. Tron is based on a blockchain that acts as a storage system and a global entertainment system. This cryptocurrency offers some interesting features and has recently risen to fame among cryptocurrency traders. IQ Option recently added Tron to their selection. Read more about Tron here.