Find the best trading platform. You capital is at risk when trading. Be careful.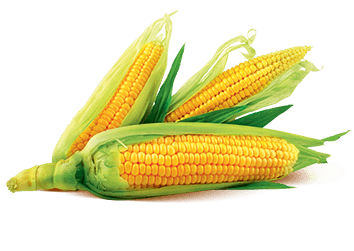 Corn, also known as maize, is a grain and a food item that's enjoyed globally. The first traces of people domesticating corn can be found in Central America and dates back 10,000 years. Corn can be grown in tropical, subtropical, and temperate climates and is a tough plant that can withstand a lot of hardship. It was Christopher Columbus that brought corn with him from the Americas to Europe, and since then, the plant has spread across the planet.
On top of being eaten in several different ways such as on the cob or as popcorn, corn can also be used as natural fuel. And let's not forget that it's one of the most common products fed to animals.
What's the Price of Corn?
Are you wondering how much corn costs? Then you're in the right place. On this page, we provide the latest price of corn so that you can always keep an eye on how much your investment is worth. The price shown in the graph above can be used to check the current price of corn but also to see how the price has developed during a certain amount of time.
The reasons why an investor needs to check the price of corn are quite obvious, and the next time you need to check it we suggest you come here.
Note that the price of corn in our pricing tool is updated in real-time, 24/7.
Invest in Corn
We have told you about the commodity called corn and provided you with a reliable source of the price of corn and now we will delve deeper and discuss how to invest in corn. First and foremost, you need to understand that there are different ways of trading corn. Generally speaking, there are three popular ways to buy corn.
The most common way of investing in corn is by using futures – a security and sales contract based on the current price of corn and a promise to buy and sell in the future. Another way of trading corn is to invest in funds based on the commodity's price. The third and final way to invest in corn is by using CFDs, this also happens to be our favorite method.
Trading corn as CFD is easy and we explain the process more below. However, if you feel ready to start trading right away we suggest you start with one of these.
Find the best trading platform. You capital is at risk when trading. Be careful.
Buy Corn as CFD
CFD stands for Contract for Difference and it's a security that is traded with margin, meaning you can invest small amounts for large gains but also high risk. CFDs are also created in a way where they can easily be used to invest in increasing and decreasing prices. All in all, CFDs are a comprehensive investment method that can easily be used to trade corn and other instruments.
Trade Corn Using a Broker
The only way to gain access to corn as a CFD is by using a CFD broker, and to help you find the best broker we have recommended the leading services in the business.
In our Plus500 review, we describe how you can invest in the biggest and most popular commodities and stocks, as well as leading currency pairs using Plus500. Their platform is practical to use and perfect for anyone looking to trade corn.
eToro is the perfect broker for people that prefer copy trading and the opportunity to use a social trading network, and we explain this better in our eToro review. Moreover, eToro's platform is stable and the selection of available assets impressive.
Our Markets.com review outlines how this broker can be used to trade corn, currency pairs, and stocks on the well-known MetaTrader 4 platform. Don't forget that Markets.com is developed to suit both beginners and more experienced traders.
Conclusion
Corn is a popular grain that is eaten almost all over the world. The plant originates from Central and South America but can be found on all continents today. Since the commodity is so popular as a food item, the interest in trading corn is also big.