Find the best trading platform. You capital is at risk when trading. Be careful.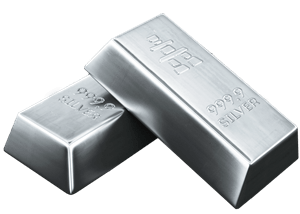 After gold, silver is the world's most sought-after precious metal and that is how it's always been. Still to this day, silver represents wealth and riches, and it is by far the most commonly used metal in jewelry. Unlike gold, silver is often used in chandeliers, decorations, and cutlery (silverware).
Like other metals, silver is mined in mines and the commodity can be found almost all over the world. In addition to using it as a part of decoration and jewelry, silver is also used as food coloring and in electronics.
What's the Price of Silver?

The price of a single silver product can vary a lot and it's up to the seller to determine the price. However, silver also has a global price that's used for large quantities and investments, and this is the price that you need to keep an eye on when trading silver. In fact, as an investor, you always need to know the latest price of silver or your chances of succeeding will be slim.
There are many sources that provide prices for silver but you will find the most practical tool on this page. Thanks to one of our partners, we provide the latest price for silver in real time. Additionally, we provide the latest price for many other instruments using the same pricing tool as well.
Invest in Silver
Now you know a little more about silver and the easiest way to find the latest price of silver. The next step is to learn how you can actually invest in silver and we'll walk you through the different methods.
Traditionally, people invested in silver by buying products made from silver in order to sell them for a profit if needed in the future. You can still invest in silver using this method, but there are more practical solutions that work better for day trading.
Futures is the most common way of investing in silver and it's traded on a stock exchange. There are also funds and indices that include the price of silver but our favorite method is Contract for Difference (CFD).
If you're looking to start trading today we suggest you take a look at the following brokers.
Buy Silver As CFDs
CFD trading is done by using online brokers, and it's available for thousands of assets in all markets. Today, many of the best brokers have huge selections of available instruments and in our opinion, this is the best way to invest in silver and other commodities.
We have listed all the best CFD brokers on BullMarketz.com and we base our recommendations on strict requirements that we and regulatory agencies follow. We have also categorized the brokers based on markets such as commodities, cryptocurrencies, and forex. Check out the best commodity brokers to learn more about the marketplace.
Invest in Silver Using a Broker
As mentioned, we have recommended all the best brokers for all markets but below you'll find the three best options for commodities trading.
Plus500 is one of the best brokers to ever enter the CFD market. They have a stable and reliable product that makes it easy to trade silver and other assets.
eToro has made a name for themselves as the best copy broker which is awesome. In addition, they have a great platform, a satisfying selection of assets, and an overall solid product.
Markets.com is a broker that few services can compete with. They are completely regulated, like all of our recommendations, and their selection contains more than 2,000 instruments, including silver.
Conclusion
Silver is the second most known metal and a commodity that's mined and traded all over the world. The interest for investing in silver has always been huge and we suspect that the interest will continue indefinitely. If you want to invest in silver, we can help you get started by showing you the best brokers and tools as well as providing you with the latest price of silver.