Wondering about how to trade cryptocurrencies? Then you've come to the right place. On this page, we share all our knowledge regarding the best cryptocurrency brokers on the market.
We'll walk you through what's required of a broker to be considered one of the best. Furthermore, we'll talk about licenses and different trading platforms and we provide you with an extensive list of the best cryptocurrency brokers together with explanations to why we recommend them.
Find the best trading platform. You capital is at risk when trading. Be careful.
Never has the interest in trading cryptocurrencies been higher and the demand for investment services has grown tremendously over the last two years. Naturally, this has also lead to growth in selection and availability online, and the amount of cryptocurrency brokers is on a steady incline.
When the first cryptocurrencies were launched, you could only invest in them by buying them online via e-wallets such as Coinbase and Exodus. However, a few years ago digital currencies were introduced in the world of trading. Today, more brokers than ever before are offering cryptocurrencies as a part of their selection of assets.
The advantages of trading with cryptocurrency brokers compared to e-wallets are many. Firstly, it is completely unnecessary to buy coins or tokens in a digital currency unless you're planning to use them as a payment method. Instead, it is much more practical to speculate on their prices.
Another reason is that many e-wallets are limited to one or two, maybe three currencies, while the best cryptocurrency brokers offer many more options. This means that you can trade with several currencies on the same platform, thus gaining more opportunities.
The last advantage is that you can use digital currency brokers to invest using different instruments and assets. At the moment, it is most common to trade cryptocurrencies as currency pairs and CFDs. Although, technically, you could also trade stocks in a company that handles cryptocurrencies.
As you can see, the possibilities are endless and the cryptocurrency market is growing every day. But how do you decide who to trade with? Which cryptocurrency brokers are legit? That is exactly what we will help you with on this page.
Are you looking for best cryptocurrency brokers in the UK?
Find a Reliable Cryptocurrency Broker
When looking for a broker to trade digital currencies with there are a couple of things that you need to consider. But don't worry, we'll walk you through each step to help you with the process.
License and Regulation – Just like with any type of trading, it is very important that you use a broker for cryptocurrencies that is allowed to offer financial services in your country. The only way to make sure of this is to check the broker's license and take a look at who regulates it. If you decide to use an unregulated broker you won't have any protection, and you might end up getting ripped off.
All the cryptocurrency brokers that we recommend have an adequate license and are regulated by some of the toughest authorities in the industry.
Platform and Assets – The second step in your evaluation process is to find a broker that provides a platform that you like. It is also important that the assets that you want to trade with are available.
Different brokers provide different platforms that you can divide into two categories. The first type is proprietary platforms that have been developed by the cryptocurrency broker and are exclusive to their product. The second type of trading platforms are developed by a third party provider and are used by several brokers.
You also need to make sure that the asset or financial instrument that you are interested in is available. For example, if you want to trade Bitcoin and Ethereum as CFDs you need to find a broker that offers that possibility. If you would like to trade Litecoin with USD there are brokers for that too.
Selection of Cryptocurrencies – The last step of the process is making sure that the broker you've chosen provides access to the currencies you want to trade. Not all brokers have the same selection. Also, even if you're only planning to trade Bitcoin right now, we recommend finding a broker that offers more digital currencies since your interest might grow over time. To learn more about what currencies you can trade, we recommend that you take a look at our detailed cryptocurrency broker reviews in the top menu under the tab "Cryptocurrency."
Why not use an exchange?
There is a ton of good cryptocurrency exchanges out there, but there is also a ton of rip-offs. The primary benefit of using a regulated broker is that its a regulated broker.
If you do choose to go with an exchange, follow these simple rules and you should be safe.
Learn how to do a proper due diligence. Regardless if you are investing in an ICO, setting up a new wallet or buying a car. Always do your research. If it sounds too good to be true then it usually is.
Use commons sense, this is a tricky one but by using common sense you can actually almost always avoid a scam.
Only trade with big, trusted and, well-recognized brands, or use regulated CFD brokers such as eToro, Plus500, and Markets.com.
The Best Cryptocurrency Brokers
To make the selection process as easy as possible for you, we have written detailed reviews of the best cryptocurrency brokers on the market. The list includes forex brokers and all other brokers that have decided to include digital currencies in their selection of assets. The list is quite long and we guarantee that there is a broker that will fit your specific needs.
However, if you feel like you don't have the time to read reviews we can offer you a quick overview of the three best cryptocurrency brokers right now.

1. IQ Option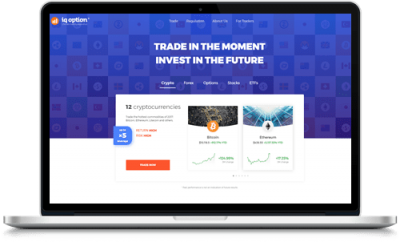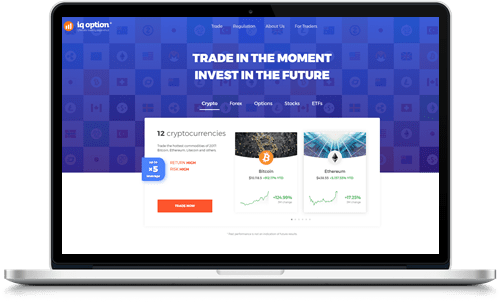 If we were to recommend one broker and one broker only then IQ Option would be our top pick for cryptocurrencies. Not only are they one of the best CFD-brokers but they also let you trade cryptocurrencies as actual coins and then store them in their HODLY wallet.
Cryptocurrencies: 17 cryptocurrencies
Platform: Their own platform
Read our IQ Option Review
Find the best trading platform. You capital is at risk when trading. Be careful.
2. Markets.com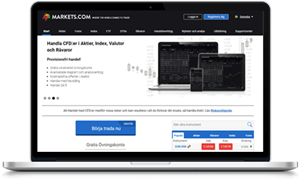 In our opinion, this is the best choice for anyone looking to trade digital currencies as well as forex trading. It is one of the most well-established brands on the market and their product is great. They also work with the industry leading MetaTrader 5 platform which is always a plus in our books.
Cryptocurrencies: 6 cryptocurrencies
Platform: MetaTrader 5
Read our Markets.com Review
Find the best trading platform. You capital is at risk when trading. Be careful.
3. eToro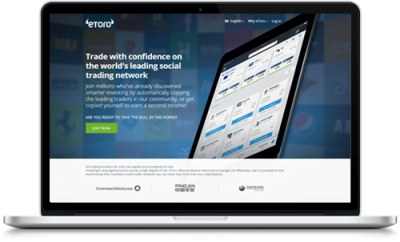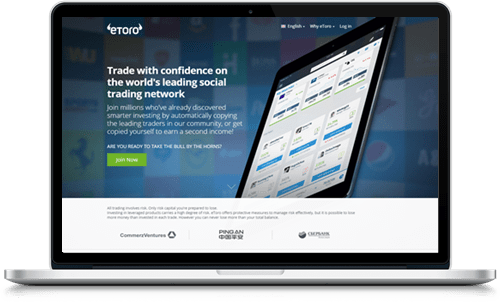 This is another leading broker on the market and they also provide the largest social trading network in the industry. eToro is a good broker for everyone looking for automatic trading and copy functions, as well as the possibility to discuss trading techniques with other traders.
Cryptocurrencies: 12 cryptocurrencies
Platform: the eToro Trading Platform
Read our eToro Review
Find the best trading platform. You capital is at risk when trading. Be careful.
4. AvaTrade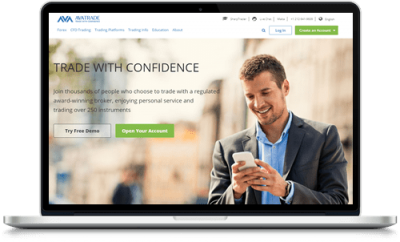 This broker offers cryptocurrencies as CFDs and currency pairs and is one of our top choices. Their product is easy to adjust to your needs and they provide a good selection of different platforms for every situation.
Cryptocurrencies: 6 cryptocurrencies
Platform: A range of platforms for different trading styles
Read our AvaTrade Review
Find the best trading platform. You capital is at risk when trading. Be careful.
5. Plus500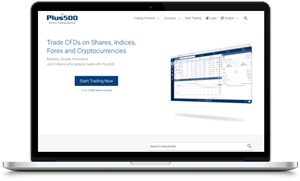 One of the big dogs, have also adopted to cryptocurrency trading very good and is one of the most attractive brokers for crypto trading. Offers a great product with a platform developed on their own with access to most of the big cryptocurrencies.
Cryptocurrencies: 8 cryptocurrencies
Platform: The Plus500 platform
Read our Plus500 Review
Find the best trading platform. You capital is at risk when trading. Be careful.
6. IG Markets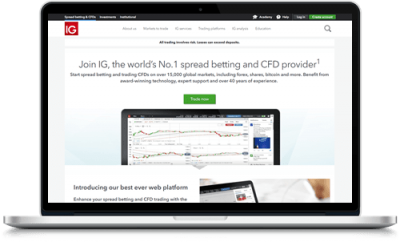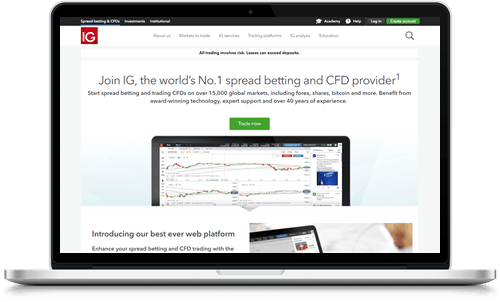 This broker offers an extensive selection of assets from every imaginable asset class including cryptocurrencies such as Bitcoin and Ethereum. They have an award-winning trading platform, and the company behind the broker has been recognized as one of the leading financial firms in the UK.
Cryptocurrencies: 4 cryptocurrencies
Platform: MetaTrader 4
Read our IG Markets Review
Find the best trading platform. You capital is at risk when trading. Be careful.
7. 24Option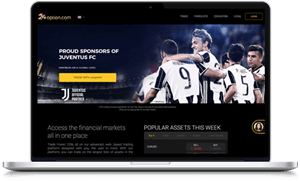 As one of the most recognizable names in the industry, 24Option has a reputation to uphold especially when it comes to innovation. This has pushed 24Option to constantly evolve, and adding cryptocurrencies to the selection in 2018 was a result of that ambition.
Cryptocurrncies: 8 cryptocurrencies
Platform: MetaTrader 4
Read our 24Option Review
Find the best trading platform. You capital is at risk when trading. Be careful.
Difference Between a Cryptocurrency Broker and an Exchange or Wallet
What are there benefits of using a top cryptocurrency broker?
There are several reasons why someone would want to trade cryptocurrencies as CFDs instead of buying them on an exchange. The fact that you can invest without owning is something that many prefer because it makes it easier today trade since you're not actually holding the asset on your own. But there are more benefits than that, and we have outlined the most important below.
Increased safety
We assume that you have heard about cryptocurrency exchanges being hacked and hackers getting away with cryptocurrencies worth hundreds of millions of dollars. On the other hand, you've probably never heard of a CFD broker being robbed and there are two reasons for this.
All CFD brokers that we recommend are fully regulated and authorized. One of the most important rules that brokers have to comply with is providing world-class security, and nothing less. It is a broker's duty to protect users and their funds. This makes them less prone to cyber attacks, and in the odd chance that one would happen, the brokers have the security systems needed to fight them off.
The second reason is that CFD brokers don't actually sell assets but contracts representing the price of an asset. As long as customer funds are protected, there is nothing for a hacker to steal.
Leverage and Margin
Using leveraged assets to invest in cryptocurrencies creates opportunities to make more money from smaller market movements. Every CFD broker that we recommend offers leverage on cryptocurrencies, and that's something you'll never see at a cryptocurrency exchange.
When you use one of the best cryptocurrency brokers in the world, you will be able to apply leverage to your trades and increase your investment power, and why wouldn't you want to do that?
Short Selling
When you buy your cryptocurrencies on an exchange or from a wallet, you'll only make a profit when that coin increases in value. That's pretty limiting – why can't you profit off of decreasing prices?
You can if you use a CFD broker instead. When trading CFDs, it is your job to predict where the market is going. Will the price of Bitcoin increase or decrease? If you think the price will decrease you can easily short sell it and make a profit from decreasing trends. That's pretty great and a feature that many cryptocurrency traders miss out on.
Charting Tools and Educational Material
Another difference between a top cryptocurrency broker and a leading cryptocurrency exchange is that all brokers offer analytic tools and educational material. Charting tools can be used to analyze the market and plan your investments. Today most exchanges don't offer more tools than a regular price graph and for professional traders that isn't enough.
Also, all of the cryptocurrency brokers that we recommend help to educate their customers in various ways. It can be anything from written guides and eBooks to detailed trading videos and webinars with some of the highest performers in the world.
Available Assets
If you ever get tired of trading cryptocurrencies or you're interested in testing out another market, CFD brokers are an amazing option since they offer access to other assets as well. Don't forget that the cryptocurrency market is a very young market and that brokers have been offering CFDs on stocks, commodities, and regular currencies for decades.
In our opinion, it's always good to have access to variety and the opportunity to switch things up a bit, otherwise, the risk is that you fall into a routine with your trading.
Cryptocurrency Demo Accounts
Demo accounts are unheard of in the cryptocurrency industry. An exchange would never offer a free account with virtual money that customers could use to practice trading. However, all of the best cryptocurrency brokers in the world offer demo accounts.
It is easy to set up a cryptocurrency demo account, and it can be used by beginners that need to practice and experienced traders looking to get better without risking their own money. To us, it's an awesome feature that really sets the best cryptocurrency brokers apart from the cryptocurrency exchanges.
Safe crypto exchanges
It's no secret that the crypto boom has introduced a hell of a lot of business opportunities. One of these is cryptocurrency exchange businesses. Basically, anyone can launch an exchange that lets you trade one crypto for another. You should be avoiding most of them like the pest. They can't be trusted.
Which cryptocurrency exchanges can be trusted?
Not all cryptocurrency exchanges are created equal, you will find plenty of many legit alternatives. A few examples are:
Coinbase – Everyone in crypto has heard about Coinbase, a legit alternative for any crypto trader.
Kraken – Trusted. Offers a decent amount of cryptocurrencies.
Bitrex – Massive support for all kinds of cryptos. Have fun, don't do anything stupid.CEX.io – Very secure exchange.
Binance – It can be tricky to get an account with Finance as they always have some kind of limitations on registration. Try your luck.
YoBit – Huge and trusted exchange and has the coolest name of them all.
IQ Option – Heavily regulated broker and one of the safest places to trade and HODL.
There are plenty more exchanges that you can trust, these are just a few examples.
Trade Bitcoin, Ethereum, Litecoin, Ripple and more
Almost all cryptocurrency exchanges now offer 5 of the biggest cryptocurrencies, that would include Bitcoin, Ethereum, XRP, Bitcoin Cash, and EOS. Commonly you will also see Litecoin being offered. Currently, IQ Option is the broker who offers most cryptocurrencies.
IQ Option offers Bitcoin, Ethereum, Ripple, Bitcoin Cash, Monero, Litecoin, QTUM, Stellar, NEO, Bitcoin Gold, ZCash, IOTA,  Dash, and TRON.
Beware of Fake Wallets
This is one of the easiest ways the scammers will run away with your money. Since the cryptocurrency market is more or less completely unregulated it is fairly easy to set up a fake wallet.  Even if you have a regulated broker where you trade if you wish to withdraw fund from say eToro, be sure to use a secure and legit wallet.
A cryptocurrency wallet is a way to store coins safely. Many fake wallets are launched via play store, they usually manipulate reviews and scores. Never pick a random wallet for your coins, do a proper due-diligence before you decide on a wallet. Make sure the wallet is not a fake version of the wallet you really want to use. This is one of the most common ways to launch a wallet.
Read reviews about the wallet, avoid wallets without reviews or with bad reviews. Only use wallets who have been praised by professionals.
Always be careful with newly launched products.
Tip: Hodly by IQ Option, and eToro lets you store cryptocurrencies directly with them. That makes them a safe choice.
Last Couple of Words About Cryptocurrency Brokers
Unless you are looking to use your cryptocurrencies as means of payment, investing in exchanges is unnecessary. A cryptocurrency broker just offers so many more opportunities that most exchanges and wallets feel obsolete in comparison.
Although, the best way of using a cryptocurrency broker could be in combination with an exchange or wallet. That would allow you to hodl your favorite coins as long-term investments while you spend your days day trading digital assets with one of the best cryptocurrency brokers in the world.
In the end, the choice is yours but remember that if you ever want to start trading cryptocurrencies, you need to sign up with one of the brokers listed on this page.