There have been tons of complaints made against CTOption about frozen accounts and money that disappeared.
CTOption is unregulated, that means that they operate their business without watchdogs like CySEC or FCA.
We recommend our users to not use CTOption, but instead a legit and regulated broker.
CTOption Review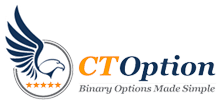 CTOption is a broker that is owned and operated by a company called InfiniCore LTD, and they are based in, Saint Vincent and The Grenadines. Which is an island in the Caribbean. There are a few brokers based here, some are regulated, some are not.
The short version of this CTOption review is that they are an unregulated broker, and we recommend you to use a regulated broker when trading. It is simply much safer as the regulation and license from CySEC and FCA is very strict on the brokers.
CTOption overview
Unregulated broker.
250 minimum deposit.
Offers a free demo account.
Accepts US and EU traders.
CTOption scam? The broker is NOT regulated
CTOption does not have a license to offer brokerage. This means they are not regulated by CySEC, FCA or any other authority within trading and finance. We always strongly recommend our users to only trade with regulated brokers.
Also, when you read about CTOption on social media and forums it is pretty clear that you should stay away from this broker. There is quite a lot of complaints made towards CTOption as well. Why risk it when there are much better and safer options.
Is CTOption a scam? While we have no direct proof of this the general consensus about CTOption is that they are not legitimate and honest with their business. Also, why are they not regulated?
Editors note on CTOption
CTOption is clearly a really bad option if you are looking to trade. First of all, their website is currently offline. And seems to have been offline for quite some time. This would actually make it impossible to create an account with them. However, I have been in this industry long enough to actually remember CTOption, and I also remember that my first impression of this broker was not good.
I always recommend our users to only use regulated brokers such as IQ Option or eToro, this is because they are MUCH safer to trade with. And they are not scams.