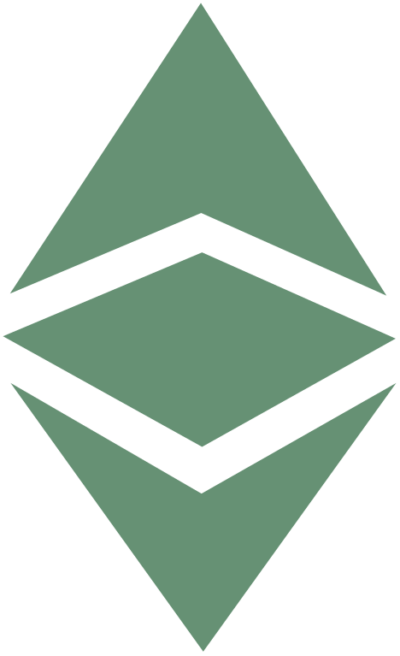 Ethereum is an application based on a blockchain and the performance of smart contracts which are controlled by nodes that get compensated for the contracts. Ethereum's token is officially called Ether but most people refer to it as Ethereum.
The Blockchain was first introduced on July 31, 2015, and has been a favorite for many crypto traders. On July 20, 2016, a hard fork was performed on Ethereum by a group of developers. The Ethereum hard fork resulted in two new separate blockchains – Ethereum (ETH) and Ethereum Classic (ETC). Unlike many other cryptocurrency hard forks, the Ethereum fork was not completed because of pure technological reasons but rather because of a disagreement within the community.
Buy Ethereum Classic at IQ Option
Find the best trading platform. You capital is at risk when trading. Be careful.
In order to better explain the fork, we need to take a few steps back. On April 30, 2016, DAO was created. DAO is an investment fund that works as a decentralized and completely independent organization. The purpose of the project was to create a transparent fund where investors could use smart contracts to decide on investments by using votes that were given based on initial investments. DAO turned out to be a very interesting experiment and in only 21 days the fund was worth over $150 million.
The Differences Between Ethereum and Ethereum Classic
Around the same time, new problems started. The combination of a complex code and the urgency that forced users to rush DAO resulted in the code having several weak points, which a GitHub user quickly realized. These weak points were not taken seriously, and a few weeks later a user stole Ethereums worth $50 million by simply withdrawing it.
After the robbery, users became divided into two groups. Certain people wanted to stop the transaction and restore the money, while the rest thought that would be morally impossible. This disagreement finally escalated and the users decided to divide Ethereum in two. Ethereum Classic (ETC) got support from the users that didn't believe stopping the transaction and restoring the amount was the right thing to do. Ethereum (ETH) received support from users who wanted to pay back the stolen amount to DAO.
In addition to these differences, the two cryptocurrencies are more or less identical except for their value. At the time of writing, ETH is worth $1,000 per coin and ETC is only worth about $30.
Mine Ethereum Classic
Before you completely give up on this currency, we thought you should take a look at its profitability and how much you can make from mining Ethereum Classic. Ethereum Classic is mined using Etash – the same algorithm used for regular Ethereum. If you have a rig with 10 Radeon Rx480 GPUs you can mine a bit more than one coin a day and make around $30, depending on ETCs value.
Buy Ethereum Classic with IQ Option
Today you can invest in Ethereum Classic using IQ Option. All you need to do is create a trading account with IQ Option, deposit money with the currency you prefer, and start trading ETC.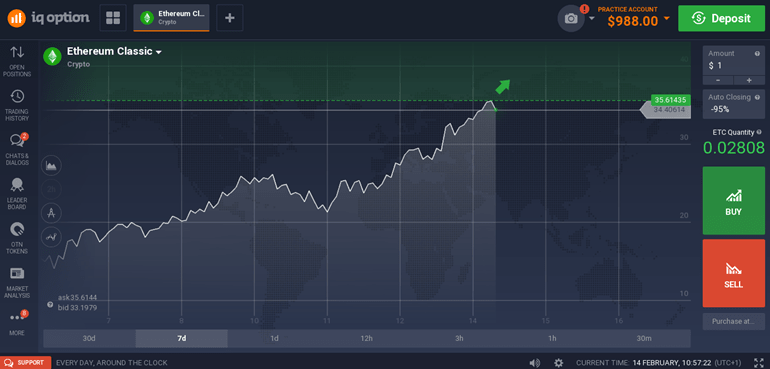 Exchanges to trade ETC with include Binance, Poloniex, Bittrex, and Bitstamp.
The above-mentioned exchanges can be used to invest in ETC. At the moment, some of the services have paused new user registrations but the services should be up and running in no time.
It is important that you understand that the exchanges we talk about can't be used to buy ETC with fiat currencies but only with Bitcoin (BTC) or other cryptocurrencies. The easiest way to buy Bitcoin is through Coinbase before you transfer the BTC to your preferred exchange.
The latest news regarding Ethereum Classic on Twitter and Social Media
Tweets by EthereumClassic
Ethereum Classic Wallet
You can either store your ETC with IQ Option or use any of the wallets listed on ETC's official website.