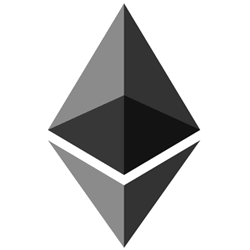 Ethereum is the second largest cryptocurrency in the world and unlike many other digital currencies, it is based on its own unique blockchain. Ethereum is in other words not based on Bitcoin. However, Vitalik Buterin who founded Ethereum, used to work for Bitcoin so his currency is definitely inspired by Bitcoin even though they are fundamentally different.
Another aspect that makes Ethereum unique is that it has received a lot of publicity from huge companies and influential leaders such as Vladimir Putin, Bill Gates (Microsoft), and Samsung. It is mostly the blockchain that Ethereum is based on that has gotten attention because it can easily be adopted by other systems and intranets.
Officially, the currency that's based on Ethereum is called ether. However, on Bullmarketz we call the currency Ethereum and make sure to clarify when we speak about the blockchain. The reason for the differentiation is because Ethereum can be used for much more than just a currency.
Although Ethereum is only worth a fraction of Bitcoin, it still has a huge influence on the development of the online payment industry. In fact, Ethereum has already left a substantial imprint on the future of internet payments.
On this page will we provide you with an overview of everything related to the world's second-biggest cryptocurrency. We will talk more about its history and development, the blockchain, how you can invest in it, and the influence it has on the cryptocurrency market.
Find the best trading platform. You capital is at risk when trading. Be careful.
The History and Development of Ethereum
The concept of Ethereum was started in the year 2013 by former Bitcoin employee Vitalik Buterin. After a crowdfunding campaign during the summer of 2014, the development of the digital currency began. One year later in July 2015, the first batch of Ethereum was launched containing 11.9 million coins.
Vitalik got the idea to start Ethereum after he had proposed a change in the script language used for Bitcoin but got denied. The change would have made the currency easier to use and develop but since his idea was denied Vitalik decided to move forward on his own.
Since the launch in 2015, Ethereum has been updated in four different versions though only the last two have been considered "stable" and more or less glitch free. At the time of writing the version is called Metropoliz (vByzantium) and it has been in use since October 16, 2017. Another two versions are planned but their release dates have not yet been set.
Just like the rest of the digital currency market, Ethereum has experienced a huge surge during the last year. In fact, Ethereum exchange rate increased from $8 to $500 in less than six months – something very few assets have done or would be capable of doing.
Ethereum's Famous Blockchain
Unlike Bitcoin's blockchain that has a clear system with blocks and nods, Ethereum can be compared to a global supercomputer that can be used to transfer information and ownership of data between users. The blockchain is a decentralized platform that was developed in a way that prevents downtime, censorship, fraud, and the involvement of third parties.
It is because of Ethereum's extremely safe nature, global reach, and ease of use that it has attracted the interest from tech-giants such as Samsung and Microsoft. The Ethereum blockchain has also attracted interest from Russia's President Vladimir Putin, who is considering launching a nationwide currency based on Ethereum. In addition, a similar system is under construction in Japan where they are planning to become the first country to release a nation-based digital currency during the 2020 Olympic Games in Tokyo.
Interest has also been shown from JP Morgan Chase who is developing a payment system based on the Ethereum blockchain. This is despite their CEO stating that he is worried about Bitcoin and its users, claiming it's a bubble.
Vitalik managed to improve the idea behind cryptocurrencies and found a way to include more than just a currency, thus Ethereum can be integrated and adopted by other technological systems and digital infrastructures. In fact, the usages of Ethereum are too many to mention in one article.
Furthermore, all transactions with Ethereum are completed between two users, peer to peer, through so-called smart contracts. A system with smart contracts can be hard to maintain and according to several experts that is Ethereum's weakest link.
Ethereum's Volatile Exchange Rate
The Ethereum exchange rate is completely based on demand. Therefore there is a risk that the digital currency could lose all of its value in a very short amount of time since it's not supported or regulated by a central bank or authority. This also means that the Ethereum exchange rate can increase in value very quickly which is exactly what happened during the spring of 2017.
On BullMarketz.com you can keep track of the latest price developments related to Ethereum and all other cryptocurrencies. We offer the price of Ethereum in real time – a very useful feature for everyone who invests in Ethereum. The same tool can be used to study how the price has developed over time and what factors have affected it in the past so that you can make well-informed decisions about your cryptocurrency trading. Just don't forget that cryptocurrencies have highly volatile exchange rates and that they create a higher risk in exchange for possible higher profits.
Invest in Ethereum
Similarly to Bitcoin and other cryptocurrencies, Ethereum offers exceptional investment opportunities. This means that you can make money from Ethereum both in the short term and long term, and by combining different markets you can maximize your possibilities. You can trade Ethereum with traditional currency trading, as CFDs, or by buying the actual coins yourself.
Buy Ethereum With An E-wallet
The original way to store and trade Ethereum is by using so-called e-wallets. An e-wallet is an online payment method that's similar to a regular bank. The most well-known e-wallet is PayPal, however, you can't use PayPal to buy Ethereum.
We recommend the following solutions for anyone looking to buy Ethereum with an e-wallet:
Coinbase: Web wallet
Jaxx: Web wallet
KeepKey: Hardwallet
Ledger Nano S: Desktop wallet
Most of these services charge fees for deposits and withdrawals so this type of investment is best suited for long-term investments (6+ months) or if you want to use Ethereum as a currency.
Buy Ethereum with Markets.com
You need to use an online broker if you're more interested in making quick money from Ethereum. Right now, Markets.com offers one of the best selections of cryptocurrencies on the market. With a Markets.com trading account, you can buy Ethereum as a currency pair on the international foreign exchange market or speculate on its price as a CFD.
Normally, we recommend that you combine long-term and short-term placements, especially when it comes to cryptocurrencies. By investing in Ethereum with short goals and longer goals you maximize your possibilities.
Do You Have to Pay Taxes on Ethereum
The quick answer is: Yes, you probably have to pay taxes on your trades with Ethereum. However, it depends on where you reside and also how much you make.
Since we are neither lawyers nor accountants we can't give you any straight answers on this one and recommend that you contact your local tax office for further information. You can also go to one of our country-specific versions of the site and see if we have more information there.
Ethereum Summary
Ethereum is not only the second largest cryptocurrency in the world but also one of the most interesting and profitable investment opportunities of 2017. According to analysts and experts, it's looking like the currency will continue in the same direction in 2018.
Not only that, but Ethereum is also a network and a digital infrastructure that will keep raising awareness around the globe while being a very important part of our technological future.