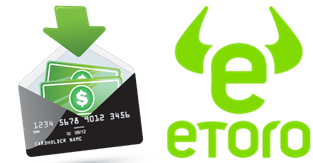 What is the eToro minimum deposit? How much do you need to deposit in order to open a real money trading account with eToro? How do you get started and what payments methods are available?
Here is all the information you need to make your first deposit with eToro.
Find the best trading platform. You capital is at risk when trading. Be careful.
eToro Minimum Deposit Varies Depending on the Deposit Method
17th of July 2017 eToro updated their minimum deposit guidelines and you will now have to do a minimum deposit of between $200 and $500 depending on what country you are in.
* If you are based in Isreal, the minimum deposit is $10 000.
The biggest reason the minimum deposit varies between countries is the deposit method. A few other countries will have a different minimum deposit due to regulation.
eToro payment methods
What payment methods can you use to fund your account with eToro? A great selection of the most common, fastest and secure payment methods is crucial. Please note that the minimum deposit and withdrawal time will very between payment methods.  Here are the payment methods available to customers with eToro.