The American economy experienced quite an impressive growth during 2017. Despite a multitude of criticism, it seems like Donald Trump has had a positive effect on the domestic economy. At the same time, Europe has been growing faster and the euro is performing exceptionally well, growing from $1.03 to $1.25 during 2017. The UK economy is also doing well with a 1.8% growth.
The world is experiencing good economic stability all over from Europe and the United States to Asia. In fact, these three major markets have not experienced growth like this since 2007 when Europe saw a 3% yearly growth.
During 2017, the European economy has grown by 2.5%. The United States economy has grown by 2.3% and the economy in Great Britain has grown by 1.8%.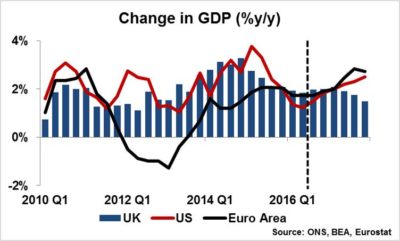 Many people are now hoping to see continued growth during 2018 and confidence is looking strong all around. Although, it is no secret that many areas in Europe are still suffering from high unemployment rates and issues regarding integration of refugees and at this point, anything could happen. However, the current issues in the region are quite small compared to what Europe has endured in the past.
All in all, 2018 has the potential of continuing last year's trend, both in Europe and in the United States. Jacob Deppe, head of trading at the popular trading platform Infinox emphasized this possibility by stating:
"Where we go from here is anyone's guess. But with both the US and Eurozone growing in tandem and with Asian economies on a roll, the hope is that 2018 delivers continued growth, further confidence and economic stability for the first time in a decade."