Twitter was flooded with pictures of Facebook's new dislike button and the confusion quickly grew. Was it a joke? What was the purpose? Facebook's down-vote button has now been confirmed. Also, Facebooks stock are keeping calm through turbulent market conditions.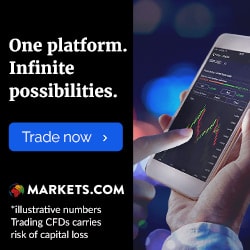 Last week we reported on how Facebook decided to ban cryptocurrency related ads and marketing in an attempt to stop financial scams and fake financial advice from spreading on the platform. Now it seems like Facebook has taken another step in their war against fake news: a down-vote button.
The new Facebook button is only being tested in selected regions for certain accounts and it has been clarified that the down-vote button is not a dislike button. Instead, the new features is a moderation tool that can be used to report spam and abuse as well as mark material that you might not be interested in.
The Facebook Stock Is Still Struggling
We are currently in one of the biggest market crashes in years. According to experts, the market is experiencing a comprehensive price correction and stocks in all industries are dropping considerably in value. The Dow Jones has losses several thousand points over the past few days and the S&P 500 is also struggling. This morning the Asian markets continued the downward trend as the crash spreads to the rest of the world.
That being said, considering the situation, the Facebook stock is actually one of the least affected stocks at the moments. Over the past month, the Facebook stock is down from 187 to 171, topping at 193 on February 1st, compared to the Apple stock that's down from 174 to 155 and the Google stock that's down from 1061 to 1007.