Find the best trading platform. You capital is at risk when trading. Be careful.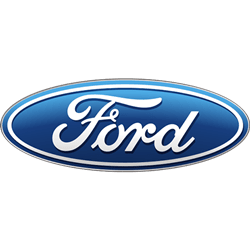 Ford Motor Company, normally just referred to as Ford, is one of the largest car manufacturers in the world and the second largest in the United States after General Motors. Ford has its headquarters in Detroit, Michigan and they produce private and commercial vehicles under the Ford brand and luxury cars under the Lincoln brand.
Ford was founded by Henry Ford in 1903 and has handled several car companies over the years. For example, Ford owned Jaguar from 1989 to 2008, Land Rover from 2000 to 2008, and they also produced Swedish Volvo between 1999 and 2010. Today, Ford owns 8% of Aston Martin and a substantial part of several Chinese car brands.
In the 2008 economic crash, Ford almost went under, but the company has recovered and is once again profitable. The CEO for Ford is Jim Hackett and the Executive Chairman is William Clay Ford Jr.
What is the Ford Stock Price Today?
Ford has been publicly traded since 1956 and the Ford stock is listed on the New York Stock Exchange. Before we continue, we would like to clarify that there are two Ford stocks but only one is available to the public. There is a Ford B Class stock that is only available for the Ford Family and gives them a minority stake but a majority vote in the company.
Anyone looking to invest in Ford has to keep an eye on the Ford stock price on a daily basis, otherwise, it would be impossible to plan any form of lucrative investments.
As all asset prices, the Ford stock price changes constantly which is why you need to use a reliable and updated tool to check the latest stock prices. We offer a professional stock graph for the Ford stock and many other stocks, and we recommend you use it to check what the Ford stock is worth.
How Do You Buy the Ford Stock?
The Ford stock is listed on the NYSE and that is where you can invest in Ford. Purchasing the Ford stock directly from the exchange is what most people traditionally did to invest in Ford but lately, new options have arisen on the market.
For example, you can invest in Ford by using CFDs and speculate on the stock price instead of actually purchasing the stock. Most times we prefer using CFDs to invest in companies like this, just keep in mind that you don't actually own stocks in Ford if you use CFDs. If you're interested in investing in Ford using CFDs we recommend you test one of the brokers listed below.
We also want to add that the Ford stock is a part of the S&P 100 and the S&P 500 which means that you can invest in Ford and other companies by investing in those indices.

Find the best trading platform. You capital is at risk when trading. Be careful.
Ford Stock Price History
Ford's stock price history has been far from smooth, and it has experienced impressive growth and gut-wrenching price drops on more than one occasion.
The stock was first listed in 1956 but didn't experience any major growth until the late 1980s. After that, the Ford stock price kept steady until 1997 when the stock exploded and grew from 12.25 to 37.32 in less than two years. In mid-1997, the Ford stock started dropping and it reached the bottom during the economic crisis in November 2008 at 1.43.
The Ford stock has stabilized quite a bit since 2008 and has been selling from around 10 to 15 over the past 10 years.
The most valuable lesson we can learn from the Ford stock price history is that not even one of the largest car manufacturers in the world is safe and that no stock is ever a certain investment.
Ford Dividends and Earnings
Today, Ford's earrings are getting better and better and the company has been paying dividends since recovering from almost going bankrupt. The first Ford dividend was paid in 2013 and it has grown from 0.1 to 0.28.
As Ford keeps growing and increasing its revenue, you can expect the Ford stock price to increase and Ford dividends to do the same.
And as always, we recommend that you always keep track of Ford earnings and any Ford earnings calls.
Ford News and Subscription
Lastly, we want to emphasize the importance of reading Ford news. As a matter of fact, some might argue that Ford news is one of your most useful tools. Because of this, we publish our take on all the latest news about Ford here on this site. This means that BullMarketz.com is your go-to source for all the latest Ford stock developments.
To make things even easier for you we offer a Ford subscription that lets you subscribe to Ford's stock and receive the latest updates straight to your email. In our opinion, a Ford subscription is the easiest way to ensure you always know what is happening to the stock.
All the latest Ford stock news are published here: