Find the best trading platform. You capital is at risk when trading. Be careful.
Want to find the best forex signals? Or free FX Trading signals? This is one of the most comprehensive guides to Forex Signals available on the web.
Needless to say, you can find what you are looking for here.
Whether you are looking for live forex signals, daily signals, the best forex signals in the UK, or the most accurate forex signals, we got you.
In this article, we are going to take a look at what forex signals are, how you can use them and of course, we are going to list the best (both free and paid) forex signals.
Forex Signals
Forex Signals help us make the right investments when we trade. They are indicators, helping us understand if a currency will increase or decrease in price.
The forex market is an immensely lucrative market that offers possibilities to make large sums of money seven days a week. If you know how to trade and what to trade with you can easily make money on most of your investments. But in order to do that, you first need to understand how you can find opportunities to trade on. This is what will help you trade as efficiently as possible.
There are several ways to go about this and they are all based on what's called forex trading signals or just forex signals. We will talk more about what signals are and how you can find them on this page. Are you looking for more information on how forex trading works? or for the best forex brokers?
Find the best providers of paid UK forex signals.
Find the best providers of free UK forex signals.
Learn more about what forex signals are and how to use them.
Let's get started.
Best Forex Signals Providers
Here is a list of the five best and most accurate forex signals providers right now recommended by us as well as other forex trading websites. They offer a combination of free and paid signals from both individuals and signal software.
100pipBuilder.com – paid services
InvestTipster.com – paid services
BabyPips.com – paid services
Jkonfx.com – paid services
ForexSignals.com – paid services
And how do you buy these Forex Signals? You simply head over to the websites listed above. Many of them offer subscription-based memberships.
Several of the above-mentioned providers can easily be connected to major trading platforms such as the MetaTrader4. Keep in mind these are all paid options, if you are looking for free forex provides then the options above won't work.
Find the best trading platform. You capital is at risk when trading. Be careful.
Free Forex Trading Signals
Looking for the best free signal providers in the UK, EU or US?
We are constantly working on expanding our list of free forex trading signal programs and software. Keep in mind that most of the time there is a reason they are free, they might not offer the same quality as the paid versions. Also, note that most paid version
Below you can find a list of free forex trading signal providers.
Forexpeaceaarmy.com also offers some limited free forex signals.
Dailyforex.com provides some free forex signals although the service is far from complete.
Another good tip is to utilize the free version of the paid tools, they usually come with either a free version with limited access or with a free version for a limited amount of time. Usually, the trial periods will be between 7 and 30 days. After that period has passed you will know if the service is good or not, after that, you can make up a mind whether or not to pay for the forex signals.
What Are Forex Signals?
A forex signal is a suggestion that a forex trader bases his decision on when investing in a certain currency pair. Let me explain further. In order to make a well-informed and possibly profitable trade on the forex market, you need to know when, why and what you want to invest in. Without that knowledge, you would be trading blindly and you would most certainly end up making more bad trades than good trades. A forex signal is typically used when implementing a forex strategy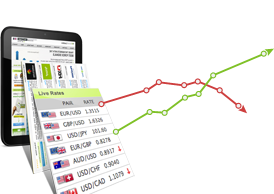 You could also say that a forex signal is an indication that something is happening or is about to happen on the market that you could potentially make money from.
There are many different types of signals and they can be based on things like price movements, trends, times, etc. An FX signal could, for example, be based on a news story that will affect the market such as a major political event or natural disaster.
However, the most common signals are provided through technical analysis of the market. Technical analysis can either be performed by yourself as a trader or be provided by a human or automated signal provider. We will talk more about different providers further down on this page.
How to use Forex Signals
First, let us give you an example of how a forex signal could work:
If the exchange rate for USD/EUR has been dropping for a period of time (a bear market) and the market has started showing signs that the price is about to turn (bull market), it would be a signal indicating that it's a good time to invest. The same could be said for an exchange rate that has been rising in value over time (bull market) but has started showing signs that it is about to drop in price (bear market).
Forex Signals Explained
We can divide trading signals into two groups. The first group is trading signals that you find on your own by studying the market and making evaluations on what you think will happen. Finding forex signals on your own requires a great understanding of how the market works and what affects the currency pairs and is therefore mostly done by experienced traders.
The second type of signals are signals that get provided to you by a so-called forex signals provider. Signals providing services can either be paid or free and the provider can either be a person, a group of people, or software such as a forex robot or an EA (Expert Advisor). We have created a list of different types of providers below.
Note that no trading signal or provider is 100% accurate which means that you might lose money or have a bad trade even if you use signals from a reputable provider. In the end, you always have to rely on your gut feeling and accept the risks that are involved in forex trading. Trading is always associated with a high risk and you need to be aware of this. Even with the greatest signal provide you will be at risk.
How Accurate?
Most people tend to split signal providers into the following four categories.
Free Forex Signals are provided as a free service usually through Twitter, Facebook. or email subscriptions. One quick way to find forex signals is to go to Twitter and search for #forexsignals. Note that many signal providers on social media focus on one specific currency pair which means that you might have to use several providers to get as many free forex signals as possible. The free forex signals are usually a little bit less reliable.
Paid signals from an individual provider are provided by individual people or companies. The provider finds the signals either by technical analysis or tools. For this type of service, you need to make sure that the provider is knowledgeable and not just trying to make a profit. These are usually live forex signals you can access daily, and they are quite accurate.
Paid signals from multiple providers are called forex signals systems. These types of signals are similar to the ones above with the only difference being that they are provided by several companies or typically by a group of individual forex experts.
The last category is signals provided by a software usually as a part of a trading platform. One of the most well-known providers is MetaTrader4's tool Trading Signals that bases their signals on market conditions, as well as other trends, and what other traders are doing. Trading Signals also comes with a copy function that lets you copy successful traders signals. This is combined with the two last types of forex signals the most accurate one.
Note that some providers, numbers 2 and 3, are scams that let their users pay for signals and information that the provider get from free services (point 4).
UK Forex Signals
Many of our clients are usually asking for UK Forex Signals, but the fact of the matter is that geo is rarely a good metric to keep in mind when evaluating Forex Signals.
It does not really matter where the company or forex signal provider is located.
Forex Signals Review – Conclusion
We hope that you have been able to find a provider of forex signals through our small reviews.
Always remember:
Forex trading signals are an essential part of forex trading and if you want to become successful at trading you need to use signals. Whether you get the signals from providers or you find the signals yourself is completely up to you. Just don't forget to use reliable services, such as the ones we've mentioned above, and that signals are time sensitive.
This means that they have to be delivered as fast as possible for you to get the best result. In fact, the forex market fluctuates so much and so quickly that a signal that is just a few minutes old might be outdated and lead to counterproductive results.
Many of today's brokers come with functions that will help you understand and invest in Forex. Always be picky when you choose a broker. Today, as a trader, we have so many great options. There is no need to settle for mediocracy.
Looking for a Forex Broker? Read our reviews first.
The brokers above are excellent choices if you are looking to trade forex. Fully licensed and regulated. Many of the brokers we are listing are also offering tools that can help you read and understand forex signals. We also offer another type of brokers including CFD, stocks, and cryptocurrencies.
And lastly, keep in mind that even when reading forex signals trading can be tricky and even if signals indicate a certain trend they can not predict the future. Always be cautious when trading and never invest more money than what you can afford to lose. Forex trading comes with a risk and you can lose your invested capital.