Find the best trading platform. You capital is at risk when trading. Be careful.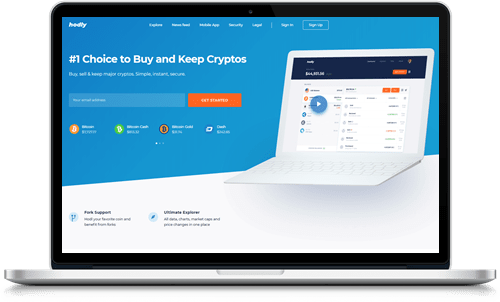 In this Hodly review we are going to to take a closer look at IO Options crypto wallet and app.
Hodly is IQ Option's dedicated cryptocurrency wallet, and we think that the product is both completely unique and groundbreaking. One of the main reasons why people have avoided trading cryptocurrencies is because it has felt difficult -something that Hodly has changed.  Hodly is a slick looking and easy to use cryptocurrency wallet. In this review, we will turn every stone and see what this wallet is capable of.
Hodly is the first smart and easy-to-use cryptocurrency wallet and exchange hybrid. It is launched by IQ Option, a regulated broker. Read our full IQ Option review here.
Supports Bitcoin, Bitcoin Cash, Bitcoin Gold, Dash, Ethereum, Ethereum Classic, Litecoin, OmiseGO, QTUM, Ripple, Tron, and ZCash.
Supports VISA and Mastercard.
Cold storage and 2 Step verification.
Support

Deposits & Withdrawals

Fees

Plattform
Hodly wallet Review
The name Hodly is inspired by the term Hodl which was coined as a joke to describe long-term cryptocurrency investments. The wallet Hodly, is no joke though. It makes buying, selling and storing cryptocurrencies A LOT easier.
You can also rest assured that your money is safe when trading with Hodly, since the company behind the wallet is IQ Option, a fully regulated trading broker.
Buckle up so we can get started with our Hodly review.
Find the best trading platform. You capital is at risk when trading. Be careful.
A review of the Cryptocurrency Wallet Hodly
The name Hodly is inspired by the term Hodl which started as a joke but has since become a term used to describe long-term cryptocurrency investments. Originally, hodl was a misspelling of the word hold, but today it is an unofficial abbreviation of 'Hold On for Dear Life,' meaning don't sell your cryptocurrencies just yet.
The Hodly crypto wallet is an innovative product and the first thing that hits you when you visit the website is how clean the design is. The design is simple and clear yet highly useful. Like any serious cryptocurrency wallet, Hodly can be used to buy, sell, send, and hold (hodl) a wide range of cryptocurrencies.
And let's not forget to mention that Hodly is completely secure and operated by the regulated and authorized CFD broker IQ Option. Your Hodly trading account is protected by a 2 step verification process and all cryptocurrencies are stored in a safe cold storage at a physical location.
Along with providing safe and practical investment opportunities, Hodly also comes with state of the art charts, pricing tools, and several other important analytical features to make your investments as easy and accurate as possible.
4 things you need to know about Hodly
Most cryptocurrency wallets and products are completely unregulated, Hodly is however launched by IQ option, which is a regulated trading platform that has over 25,580,000 registered users.
With Hodly, you can buy, sell and store Bitcoin, Bitcoin Cash, Bitcoin Gold, Dash, Ethereum, Ethereum Classic, Litecoin, OmiseGO, QTUM, Ripple, Tron, and ZCash.
Hodly is by far the easiest cryptocurrency wallet to use on the market, something we think puts them ahead of the competition.
IQ Option is one of the best trading platforms available in the UK and EU. This also shows when you look at Hodly.
Hodly Exchange
Are you interested in day trading cryptocurrencies and not just holding them long-term? Or would you like to combine your hodling strategy and benefit from small market movements? Then Hodly offers a highly innovative cryptocurrency exchange for you.
The purpose of Hodly is to offer a complete cryptocurrency product that fills all your related needs, and in order to do so, Hodly offers as many services as possible. We described the wallet above, and this part was developed to offer opportunities to buy, sell, hold, and use cryptocurrencies. The exchange, however, was developed to offer customers opportunities to trade cryptocurrencies on a short-term basis.
There are several important differences between long-term investing in cryptocurrencies and day trading cryptocurrencies and they also come with their own unique benefits. Therefore, most investors tend to invest parts of their funds in long-term investments while the rest of the funds are used to trade. In the end, you have to decide on how you want to benefit from the market.
As a side note, we want to mention IQ Option's blockchain network Open Trading Network (OTN) which is currently being activated alongside a global ICO. How these two products will work together has still not been confirmed, but we can expect to see a Hodly OTN integration soon.
Hodly App


The Hodly App?
By far the easiest way to use Hodly is by downloading the platform to your mobile Android or Apple device through one of the official app stores. This means you can bring your cryptocurrency investments with you wherever you go and never lose out on a lucrative investment opportunity. Similar to the website, the Hodly trading apps are designed in a clean and easy to use fashion that makes cryptocurrency trading a breeze.
We can highly recommend the Hodly app. Read more about trading apps.
Charting Tools and Price Data
Not only is the Hodly wallet and exchange an excellent service to trade, sell, buy, and exchange cryptocurrencies with, but the analytic tools provided make everything so much easier.
In order to succeed as a trader on a market as volatile as the cryptocurrency market, you need to know what you're doing and you have to understand what affects the market. The best way to become better at this is to study and use charting tools while trading. Luckily, Hodly offers cutting-edge analytic opportunities for each cryptocurrency listed on their platform. In fact, the analytical tools have some similarities with the tools offered on IQ Option's CFD platform, and that is a very good thing considering how good IQ Option's software is.
Most of the analytic tools are included in the mobile version of Hodly so that you can analyze the market on the go.
Buy Cryptocurrencies with Hodly
Not only is Hodly easy to use and secure but it's a wallet with an impressive selection of assets that the developers promise to keep adding to. At the time of writing, the following cryptocurrencies are available.
Bitcoin (BTC) – The original cryptocurrency and de facto the largest and most popular digital asset to date. No selection of cryptocurrencies is complete without Bitcoin on it, and you can easily trade it with Hodly.
Ethereum (ETH) – In many eyes, the prince of cryptocurrencies and the second largest on the market with a huge and dedicated following. In our opinion, ETH is the most fun cryptocurrency to trade, and it's also the blockchain with the most potential.
Ripple (XRP) – A cryptocurrency that has received a lot of scrutiny for not being "decentralized." However, XRP is also the only virtual currency to be widely accepted by the world's leading banks. Ripple, the company behind XRP, is working on multiple projects regarding future payment solutions that could help revolutionize the market.
Bitcoin Cash (BCH) – The largest Bitcoin fork and one of the most used cryptocurrencies on today's market. Most Bitcoin Cash followers claim that BCH is the original Bitcoin and that it follows the original ideas of Sakatoshi.
Litecoin (LTH) – Litecoin was created through a Bitcoin fork several years ago and has a large number of highly invested and serious users.
Tron (TRX) – Tron is a serious project developed to create a possible world-changing network. In 2017, Tron was one of the most hyped and traded cryptocurrencies on the market and the interest in Tron remains high to this date.
Dash (XCO) – This is a well-established cryptocurrency that focuses on safety and actual payment opportunities. Recently, Dash has become increasingly more popular among day traders, and we've seen several CFD brokers add it to their selection lately.
Ethereum Classic (ETC) – An Ethereum fork that some users claim will take over ETH's role as the second largest on the market.
Qtum (QTUM) – Based in Singapore and launched through an ICO in 2017, Qtum happens to be one of the most prominent cryptocurrencies from Asia.
OmiseGO (OMG) – This is another Asia cryptocurrency based on the Ethereum blockchain, and it offers users several useful and beneficial perks.
ZCash – The epitome of a secure and anonymous cryptocurrency, designed with the goal of creating a completely safe and global payment method.
Bitcoin Gold – Another one of the major Bitcoin forks. It's not as big or popular as BCH, but it definitely offers some innovative features.
Hodly has made it clear that they will provide support for forks that happen to any cryptocurrency you've invested in on the platform. They further state that "hodl your favorite coin and benefit from forks," on their website.
Note that the above list will be updated with more assets as soon as they're added to the platform. In fact, we predict that the number of cryptocurrencies on Hodly will start growing as soon as the service gets some traction. Before we know it there will be enough available assets for Hodly to compete with the largest brands in the industry.
Fork Support
Hodly has full fork support which offers investors tons of extra value. If you're holding a cryptocurrency in the Hodly wallet when that asset forks, you will benefit from the fork and essentially get free money. Not all wallets and exchanges offer this feature, and it's something you should consider using.
Not all forks are successful which is why many investors are hesitant to invest in them. However, when you use fork support, you don't actually put any money into the investment on your own, and therefore you don't risk losing anything.
Deposits, Withdrawals, and Verification
As mentioned, one of the main goals with the Hodly platform is to make cryptocurrencies as easy and accessible as possible which means the developers have put a lot of effort into making payments as easy as possible.
All you need to deposit money and invest with Hodly is a credit or debit card, and you can even deposit money in several local currencies such as RUB and GBP. In order to withdraw money, you need to verify your account, a process that takes no more than 15 minutes and only requires you to upload an ID card.
Withdrawals can only be made to the credit card used to make the original deposit – all remaining funds need to be transferred to an e-wallet before withdrawal.
How to Buy Cryptocurrencies with Hodly
The brains behind Hodly have managed to make cryptocurrency trading so much easier than anyone ever has. In fact, Hodly is the first ever smart and simple cryptocurrency wallet and exchange. We are deeply impressed with how they have managed to break down an otherwise quite complicated process with a few simple clicks. This is how you buy cryptocurrencies with Hodly.
The first step is to register an account with Hodly. All you need to do to open an account is provide the exchange with some basic information about yourself such as name, address, email, etc. After this is done, you can log in to your account. You don't have to do this if you already have an active account with IQ Option, instead, you can use your IQ Option information to log in to your Hodly account.
The second step is to buy cryptocurrencies that you want to invest in. The easiest way to do so is by using your regular credit or debit card, Hodly currently supports Visa and Mastercard. When you get redirected to the payment page you will have to provide your card information and then you can either decide on an amount you want to transfer or you can use one of the custom prices listed. The other option is to use money that is already on your account to buy even more cryptocurrencies.
The third and final step is to withdraw any potential earnings, but first, you need to verify yourself. You are allowed to deposit money and trade on the Hodly platform, but in order to withdraw funds, you need to verify yourself by sending in a picture of your passport, national ID, or driver's license. The system is automatic, and you usually get your ID verified within a couple of minutes. Compared to the verification process needed to register a CFD account, this process is a breeze.
Hodly by IQ Option
Hodly is a product launched by the team behind IQ Option, one of the most respected brands in the trading industry with a market leading trading platform. It is no surprise that the hodly wallet is living up to the same standards as the IQ Option trading platform. Hodly is innovative, safe and easy to use.
Find the best trading platform. You capital is at risk when trading. Be careful.
Safety
We would never use a trading service if we weren't completely sure that the service was safe, and neither should you. Furthermore, we would never recommend a service that wasn't safe for our readers either. So how do we know that Hodly is safe to use? Well, there are several reasons for that.
To begin with, Hodly guarantees 100% safety on their website, which is a bold statement to make unless you are confident that it's accurate.
Cold Storage
The first aspect of Hodly's safety measures is cold storage. At any given time, at least 80 percent of all funds on the Hodly platform are stored in cold storage where they are kept away from potential cyber attacks and hacking attempts. Cold storage is the safest way to store cryptocurrencies and something that every exchange and investor should use. Hodly keeps all the funds backed up on flash-drives and papers, and all the originals and copies are distributed between several bank vaults around the world.
2-Factor Authentication
Two-step verification is used to keep intruders out of your account. In addition to you needing a username and a password to log in, you will also have to provide a unique one time code for each log in. This one-time code is sent to your phone which means you are the only one who can get it.
Safe Payments
All payments made with your credit card are protected by three different systems, and those are the same systems your bank uses for all of their clients.
SSL Protocol (Secure Sockets Layer Protocol) is the standard safety system used by the majority of all websites online. The protocol protects data exchanged between two parties online.
PCI DSS is used to protect bank information online. This system is also standard, and every bank in the world uses it to protect their clients.
AES 256 is a new encryption system that encrypts all sensitive information exchanged on Hodly. After encryption, no one can find your information and only Hodly's system can decrypt it. Naturally, this type of encryption is also standard in the financial industry today.
Internal Security
In addition to protecting your data from intruders, Hodly also protects the data from themselves. All staff working for Hodly are under surveillance and access to customer data is restricted to a small number of people. Also, everytime customer data is handled the process is monitored and saved in the exchange's database.
Semi-regulation
Hodly also has a safety measure that is truly unique in the marketplace. Since Hodly is owned by IQ Option and IQ Option is a regulated broker, Hodly receives more oversight than most other exchanges on the market. Now, this doesn't mean that Hodly is regulated it just means that it is safer to use than other exchanges.
Community and Support
One of the unique features of the Hodly cryptocurrency platform is that your account gives you access to a huge community of like-minded traders. The app comes with a live chat function that lets you communicate with other cryptocurrency traders so that you can learn from and teach others while trading.
The live chat also puts you in direct contact with Hodly's support team in case you would need help with anything or have any questions regarding the platform and the different tools that are offered.
Fees and Commission
There aren't any exact fees or charges listed on Hodly.com which is not the best decision in terms of transparency, and in most cases, it's something that cryptocurrency exchanges openly provide. Even if the exchange is new and they're working on figuring out the pricing, we still think they should mention something about it.
In order to try and figure out how much it costs to use Hodly, we had to do some research. By making a few transfers and purchases with the app and comparing other peoples' reviews of the service, we have concluded that the fees are somewhere between 4 percent to 6.5 percent. It seems like the fees depend on where you are, what asset your buying, and how much you're spending.
We will update this review accordingly as soon as we are provided with the fees but until then you will have to keep an eye on the charges on your own. Just note that transaction fees are industry standard and something you can expect from everyone, and IQ Option seems to be quite competitive in their price range, especially considering the comprehensive product you get for the price.
Moreover, transaction done between Hodly users are completely free so you can move your assets freely in the platform. The only time you are charged a fee is when you buy or sell cryptocurrencies on the platform, and when you use them as payment for products and services.
A Conclusion of the Hodly Cryptocurrency Wallet
Hodly is a cryptocurrency wallet that will help revolutionize the marketplace. The wallet itself is easy to use for anyone looking to invest in cryptocurrencies, and the range of available assets is enough to satisfy even the pickiest trader. Combine that with modern analytical tools, extreme security, and a large and helpful community, and you have one of the best cryptocurrency wallets in the industry.
Not to mention that Hodly is fully owned and operated by IQ Option which happens to be an internationally recognized and insanely popular CFD and forex broker. Thus, Hodly is already holding the same standard as the rest of IQ Option's brand.
We sincerely believe that this is the future of cryptocurrency trading and we encourage you to not miss out on this opportunity. Sign up with a cryptocurrency trading account today or use your IQ Option login information to access the wallet immediately.
Find the best trading platform. You capital is at risk when trading. Be careful.
Support

Deposits & Withdrawals

Fees

Plattform
Hodly wallet Review
The name Hodly is inspired by the term Hodl which was coined as a joke to describe long-term cryptocurrency investments. The wallet Hodly, is no joke though. It makes buying, selling and storing cryptocurrencies A LOT easier.
You can also rest assured that your money is safe when trading with Hodly, since the company behind the wallet is IQ Option, a fully regulated trading broker.
Buckle up so we can get started with our Hodly review.