Due to the high number of options to choose from, It can be hard figuring out the best ways to buy stocks.In our opinion, the best way is to decide which payment method you prefer and then find a stock service that supports that payment method.Lately, the payment method Neteller has grown tremendously in popularity and today, many of the best stockbrokers let you buy stocks using Neteller. That's why we decided to create a guide full of tips on how to best buy stocks with Neteller as well as recommendations of the best brokers.
$
What is Neteller?
Not sure what Neteller is? No worries, read on to find out more.
Neteller is an online payment system that can be used to transfer money from a users account to online merchants such as stockbrokers, online stores, etc. The service shares a lot of similarities with PayPal but is in many ways much easier to use and register for, it also provides competitive fees and prices for many transactions.
Neteller was first launched in 1999 in Canada but later moved its headquarters to the United Kingdom in order to better provide for the European market. In 2015, British online payment group Paysafe bought Neteller and added the service to their range of products that already included Skrill among others.
Since the acquisition by Paysafe Group, Neteller has received a more legitimate status since it's now regulated by the Financial Conduct Authority (FCA) and it is considered to be a very safe way to transfer funds over the internet.
There Are Many Benefits to Buying Stocks with Neteller
Why should I use Neteller to buy stocks? Well, here are five good reasons.
Neteller was designed to offer the smoothest online transfer possible and has been optimized to work effortlessly with online brokerages making it one of the easiest ways to buy stocks.
This online payment service is regulated by the same entity that regulates many of the top stockbrokers in Europe which mean it's completely safe to use. In fact, Neteller is required by law to offer the best safety measures and encryptions known to man.
With the integration of the Net+ Mastercard, you can easily access any profits you make from your stock trading and spend the money without having to transfer them back to your bank account.
Neteller transactions are lighting fast, and you can fund your brokerage account in a fraction of the time needed for some of the other top payment options offered by stockbrokers.
Due to all of the above, this payment service is superior to many other options, and brokers are more inclined to offer Neteller than other payment methods, i.e. it's very accessible to buy stocks using Neteller.
How Do You Buy Stocks with Neteller?
It's very easy to get started, and if you follow these steps you will be buying stocks with Neteller in no time.
The first step is to register an account with a stockbroker that supports Neteller (see our recommendations below).
Then you need to open a Neteller account and fund it with money.
The third step is to fund your trading account by using Neteller so that you can proceed to buy stocks.
Lastly, you find a stock or a company that you want to invest in, and you go for it.
It's as simple as that, but let us explain a bit further.
Opening a brokerage account is easy, and we have listed the best Neteller stockbrokers below. You can pick any of the recommended brokers and get started trading already today without having to worry about your safety, the selection of stocks, or whether or not you can fund your account using Neteller.
Open Neteller Account
As mentioned, Neteller has been optimized to be as easy to use as possible, meaning the registration process is kept simple. To register for Neteller you have to provide some personal information, choose which currency you prefer (26 currencies on offer), and verify your identity. In order to verify your identity, Neteller will ask you to provide a copy of your national ID, driver's license or passport as well as a copy of a recent utility bill with your name and address on it. All of these steps can be completed within a few hours at the most depending on how quickly Neteller verifies you.
The next step is to fund your Neteller account with a bank transfer or a payment from your preferred debit or credit card, and then you are ready to start trading.
Need help finding the best stocks to buy?
We provide many detailed guides on how one can best find assets to invest in as well as instructions on how to analyze the stock market to identify opportunities. In case you're unsure of how to buy stocks, we suggest you start there.
The Top Neteller Brokers
Earlier we mentioned that the first step towards buying stocks with Neteller is to find a reliable stockbroker and that's what we're here to help you figure out. Together we have years of experience from the stock market, and we have spent countless hours using many of the world's top brokers.
In order to provide the best recommendations for this site, we have also spent days searching for, evaluating, and reviewing the best brokers. Hence we can offer you an insight into why we recommend these particular brokers.
Below you'll find a list of the 5 best brokers that allow you to buy stocks with Neteller together with a short description of what makes them so good and why we have recommended them. You will also find a link to our detailed and unbiased reviews where you can learn more about each broker.
We encourage you to take the time to read through our reviews and decide which broker will fit you the best before you get started. However, regardless of which broker you pick you can rest assured that you will be safe and sound and that you will be able to buy stocks using Neteller.
Other resources:
Here Are the Top Neteller Stockbrokers
Below are the five brokers we recommend if you want to use Neteller to buy stocks. Click the review link to learn more about each broker, or sign up today if you feel ready to start trading.
1. Markets.com – Thousands of Stocks with Neteller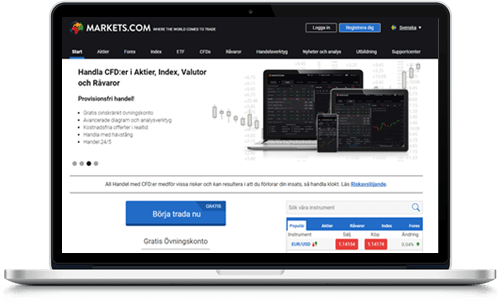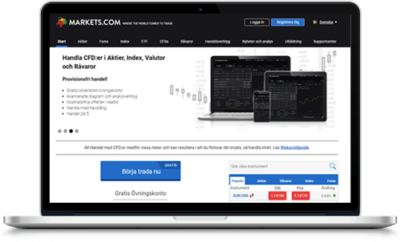 Markets.com is a state of the art forex and CFD broker with one of the most complete selections of stocks in the industry. They work exclusively with the MetaTrader 5 platform which, by many, is considered to be the top trading platform in the world. More importantly, Markets.com supports both deposits and withdrawals using Neteller which is how the broker qualified for this list.
Platform: The MetaTrader 5
Selection: Close to 2,000 stocks on offer.
Demo Account: Yes
License: CySEC
Support for Neteller: Yes
Read our complete Markets.com Review
2. Trade.com – Buy Stocks from the Exchange Using Neteller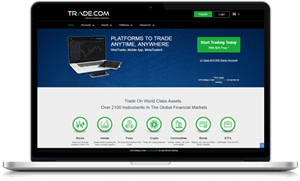 Trade.com shares several similarities with Markets.com, especially in terms of the number of stocks offered, 2,000+ to be exact. However, there is one major difference that sets Trade.com apart from all other brokers on this list, and it's the fact that they support stock trading from the actual exchange. With Trade.com's Direct Market Access service, you can buy stocks with Neteller from the exchange or as a derivative, the choice is yours.
Platform: The MetaTrader 4, the MetaTrader 5, and DMA
Selection: Close to 2,000 stocks
Demo Account: Yes
License: CySEC
Support for Neteller: Yes
Read our Unbiased Review of Trade.com
Find the best trading platform. You capital is at risk when trading. Be careful.
3. IQ Option – A Great Option for the Day Trader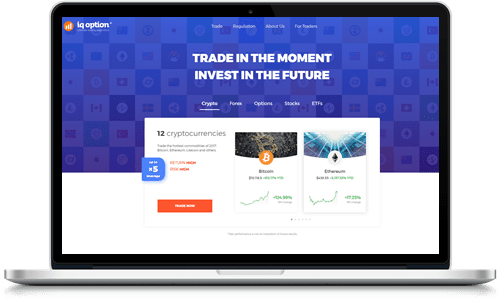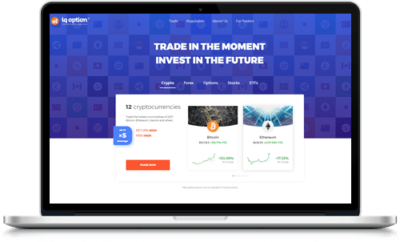 IQ Option is always a top pick for us when we list stockbrokers due to their fun and unique platform and exciting trading opportunities. In fact, we consider IQ Option's platform to be better than most when it comes to day trading stocks and other assets. In terms of selection, you don't have as many options as with the two first brokers, but with 168 stocks on offer, you have enough to keep you occupied for quite some time.
Platform: IQ Option
Selection: 160+ stocks
Demo Account: Yes
License: CySEC
Support for Neteller: Yes
Read our Comprehensive IQ Option Review
Find the best trading platform. You capital is at risk when trading. Be careful.
4. eToro – A Unique Way of Trading Stocks with Neteller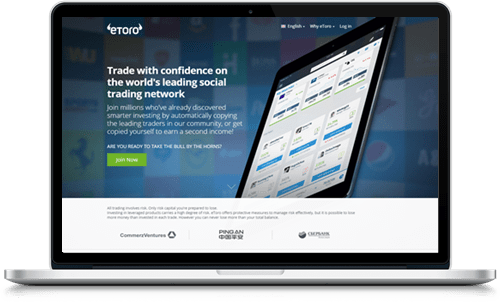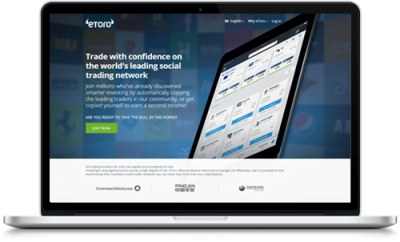 The combination of eToro's copy trading platform which can be used to copy other successful traders and their social trading network lets you learn from others and creates a completely unique trading experience. Moreover, eToro offers 500+ stocks that will keep you busy for years to come. And, of course, you can fund your account and withdraw your profits using Neteller.
Platform: eToro
Selection: 500+ stocks
Demo Account: Yes
License: CySEC and FCA
Support for Neteller: Yes
Read our Complete eToro Review
Find the best trading platform. You capital is at risk when trading. Be careful.
Other Online Services to Buy Stocks With
We began this guide by mentioning that there have never been more options to choose from for people looking to trade stocks and thought we'd mention some of them. If you, for any reason, don't want to use Neteller to buy stocks, we suggest you pick one of the following.
Buy Stocks with PayPal
PayPal is by far the largest online payment service and one of the most popular ways of buying stocks today. The number of brokers supporting PayPal is high, and in terms of safety, PayPal has an impeccable reputation. To learn more about the different ways one can use this service we recommend you check out our guide on how to buy stocks with PayPal.
Buy Stocks with Skrill
Skrill is another online service that you can use to buy stocks, and they belong to the same group of services as Neteller. Some traders prefer using Skrill over Neteller and if you're one of them we suggest you read more about how you can buy stocks with Skrill. On that page, we discuss all the ins and outs of using Skrill to fund a trading account, and it is a practical guide for many.
Buy Stocks with a Credit Card
Regardless of all these online payment services, credit cards remain the most popular way of buying stocks to this day. In fact, all of the major brokers in the world, without any exception, support the option of buying stocks using a credit or debit card. It should come as no surprise that we have covered this market too and we recommend you take a look at our guide covering how to buy stocks with a credit card in case that is something that interests you. 
$