Let's Talk Business is BullMarketz weekly summary of the world's most important trading news. It's a one-stop source for all the latest financial developments to base your investments on, whether it be in the global forex market, in the binary options world, or in relation to the stock markets. Additionally, it's the quickest way to get updated on any market and should be a part of every serious trader's toolkit.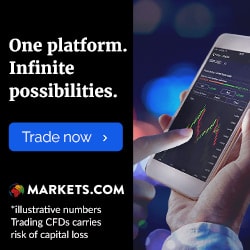 The trade war continues with China stepping up their defense and Trump blocking the biggest tech deal in history. Moreover, Google has decided to join Facebook in a controversial cryptocurrency block. We will also discuss positive business developments, new trading licenses, and one highly unlikely partnership.
Google has joined Facebook in the war against cryptocurrency scams. Starting in June, Google will ban all cryptocurrency related ads including brokers, wallets, trading advice, and ICOs. The decision has raised some concerns since it will not only affect scammers but also legitimate businesses.
The Swedish Central Bank has confirmed that Bitcoin cannot be considered a currency. In a long report titled "Bitcoin is not money," the Riksbanken outlined all the major reasons why they don't think Bitcoin can or ever will be considered a currency.
According to inside sources, Obama and Netflix are in the final stages of planning a production deal that would include several high-profile shows. The deal would help boost the Netflix stock and give the Obamas a channel to maintain their influence.
The trade war that Trump initiated with a steel tariff continues. Trump has said that he will not back down as long as the European Union threatens with their own tariffs and he will not hesitate to block additional imports from China. The Chinese government has responded by saying they will take necessary precautions based on further developments.
Adobe's stock has reached new heights and the company is expected to continue its surge. Later today, Adobe is set to release their first quarterly report for 2018, and the pre-calculations are showing that the company has performed exceptionally well which would boost the stock even more.
Goldman Sach's longtime CEO Lloyd Blankfield has announced that he is planning his leaving the bank. He has yet to decide when he will leave his position and will most likely not retire entirely. David Solomon is expected to take over the position and has started to prepare himself for the switch.
Coinbase has received a new license from the Financial Conduct Authority (FCA) in England. It's an e-money license that will help Coinbase further establish their services in Europe and their role as one of the leading cryptocurrency services in the world.
Trump decided to block the ongoing deal between Broadcom and Qualcomm. The two tech companies were planning for Broadcom to acquire Qualcomm. However, according to Trump, the deal would impose a threat to the United States. The reason is said to be that Broadcom is based in Singapore and has some connections to China. Although, most agree that it's a way for Trump to show his firepower and continue the ongoing trade war.
Remember to stay up to date with the latest news from the finance world right here on BullMarketz. Make sure to visit us daily to not miss a beat and don't forget to check out our cryptocurrency news and our weekly segment called Let's Talk Cryptocurrencies for more information about the world's digital currencies. 
Find the best trading platform. You capital is at risk when trading. Be careful.