Let's Talk Business is BullMarketz weekly summary of the world's most important trading news. It's a one-stop source for all the latest financial developments to base your investments on, whether it be in the global forex market, in the binary options world, or in relation to the stock markets. Additionally, it's the quickest way to get updated on any market and should be a part of every serious trader's toolkit.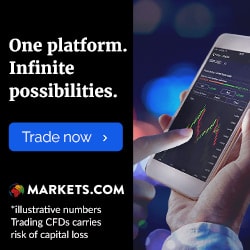 The sixth week of 2018 has been an eventful and stressful week with massive dips and sell-offs in most markets. We have seen assets, securities, stocks, indices, cryptocurrencies, and everything in between fall to new record low numbers but yet the attitude feels hopeful and predictions are still looking strong for the rest of the year. We will also take the opportunity to speak about some new and exciting developments as well as the American government's take on the cryptocurrency market.
Last Thursday, the Amazon stock jumped after the company's quarterly reports came out on top of all predictions and the market took a last positive leap before it all turned. From there on it turned scary for the stock market.
When markets opened on Friday everything seemed fine, but the Apple, Google, and Microsoft stocks, among others, started plunging, pulling Dow Jones, Nasdaq, and S&P 500 with them to new record lows. The Dow Jones dropped 666 points during trading hours on Friday, then lost another 200 points during after hours on Sunday, and finally lost a total of 1,700 points during Monday market hours.
The stock market wasn't alone with poor performance. The cryptocurrency market continued the negative trend that we've gotten used to in January and most digital currencies dropped double digits for several days in a row. However, it finally seems like the market found some support, and Thursday has been a strong day with a lot of growth across the market. In fact, after weeks of continuous drops, Bitcoin gained $2,000 in less than 24 hours.
Litecoin's dedicated payment processor LitePay is just about to be launched and it comes with innovative features. LitePay can be used for international transactions with 1% fees, as a wallet to store Litecoin in, and as a Litecoin Visa accepted at all places regular Visas can be used. The excitement for LitePay is widespread and we are looking forward to seeing what it can offer.
On Tuesday, the US Senate held a public hearing about virtual currencies with a focus on regulation and regulatory agencies. The head of the SEC and the head the CTFT were acting as witnesses and were grilled by the Senate for over two hours. Surprisingly enough, the attitude was very positive even though no one knows what the future holds.
Nasdaq has decided to move their headquarters from downtown New York City to the iconic Times Square. The idea is to expand the exchange further in a completely newly renovated building on Times Square 4.
BlackRock is raising funding to mimic the business model that has taken Berkshire Hathaway and Warren Buffett to the top. The $10 billion funding will be used to buy equity in companies spread out over several industries.
Remember to stay up to date with the latest news from the finance world right here on BullMarketz. Visit us daily to not miss a beat and don't forget to check out our cryptocurrency news and our weekly segment called Let's Talk Cryptocurrencies, for more information about the world's digital currencies.