Let's Talk Business is BullMarketz weekly summary of the world's most important trading news. It's a one-stop source for all the latest financial developments to base your investments on, whether it be in the global forex market, in the binary options world, or in relation to the stock markets. Additionally, it's the quickest way to get updated on any market and should be a part of every serious trader's toolkit.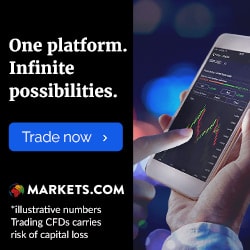 Tech companies have made the most headlines this week with some topping industry leading lists for their innovation and others outperforming their much larger competition. In addition, the Swedish government is getting worried about the lack of cash and Vitalik Buterin has issued two warnings to his followers. There was also a major cryptocurrency hack and one of the first major American cryptocurrency lawsuits has been initiated.
Apple has been crowned the most innovative company in the world by Fast Company magazine. The reason being Apple's world-leading innovation, unrivaled creativity, and the fact that Apple can "deliver the future today."
The Facebook stock has been struggling as Twitter and Snapchat are taking over market space. The leading cause of the change is better practical systems for ads. Twitter has been working on perfecting their algorithm and Snapchat has optimized their app.
Tesla was hacked by a group that used the company's Amazon Web Service to mine cryptocurrencies. Apparently, the weakness used to infiltrate Tesla's systems was known but nothing was done to stop it. According to Tesla, no sensitive information was jeopardized.
Walmart is about to launch a new website focusing solely on furniture. The website is a part of a Walmart's latest aim to take on major online retailers such as Amazon, Target, IKEA, La-Z-Boy, and Wayfair.
A Korean cryptocurrency regulator was found dead in his home on Sunday. The cause of death is assumed to have been a heart attack related to stress, but considering that the regulator was only 52 years of age the possibility of a crime cannot be ruled out.
Analysts from Morgan Stanley in London are saying that the recent market correction was just a warning and that the worst is yet to come. According to their prediction, we can see more price drops as soon as in the second quarter.
SEC has charged the founder of a former Bitcoin exchange with fraud. The lawsuit is the first of its kind and is based on the fact that the founder operated an exchange without permission from the SEC and failed to declare a cyber attack that affected customers. BitFunder was the name of the Bitcoin exchange that was only live for a year before being taken down in 2012.
The Swedish central bank is getting worried that the Swedish population isn't using enough cash. The use of cash has been declining in Sweden for the last 10 years but has now reached levels where it could hurt the country's economy. The central bank has initiated a report on the subject that will be released this summer.
Vitalik Buterin, the founder of Ethereum, is warning his Twitter followers of scam artists that use fake profiles to lure people into giving them their tokens. Buterin also claims that cryptocurrencies aren't as safe of an investment as regular assets, at least not yet.
Bitcoin has finally stabilized above $10,000 and the market is looking more stable than it has in a while. However, there hasn't been a lot of growth and we are still waiting for the market to pick up again.
Remember to stay up to date with the latest news from the finance world right here on BullMarketz. Make sure to visit us daily to not miss a beat and don't forget to check out our cryptocurrency news and our weekly segment called Let's Talk Cryptocurrencies, for more information about the world's digital currencies.
Find the best trading platform. You capital is at risk when trading. Be careful.