Let's Talk Cryptocurrencies is BullMarketz weekly update of everything that's happened on the cryptocurrency market in the past week. We cover all the ups and downs and provide you with all the information you need to make well-informed decisions about your investments in digital currencies. This summary is not excluded to the major currencies such as Bitcoin and Ethereum but includes all digital currencies.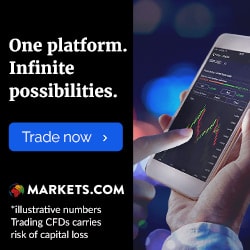 In this week's Let's Talk Cryptocurrencies we talk about regulatory agencies and their view on the market and what their staff is allowed to do in relation to cryptocurrency trading. We also discuss the rebrand of a cryptocurrency and how major American companies are planning to implement blockchain technology in their existing products. More importantly, BullMarketz.com has major news to announce and Bitcoin is performing better than it has in a long time.
We have finally launched a beta version of our cryptocurrency market overview. It covers more than 1,000 digital currencies and collects price data from 100 of the leading cryptocurrency exchanges in order to provide the most accurate prices on the market. The product is still in its beta version and we encourage our users to report any bugs they find or updates they suggest.
Walmart is creating a blockchain based tracking system for package deliveries. The new system will collect and store the content, condition, and location of packages. The goal is to provide a smarter and more transparent delivery system. Eventually, the plan is to integrate the blockchain with the drone delivery technology that Walmart is currently developing.
VeChain has rebranded as VeChain Thor in order to fit the founder's agenda and plans for the future better. The cryptocurrency is based on a groundbreaking blockchain that has gained a lot of well-deserved attention lately for its usability. VeChain has also recently initiated a partnership with BMW.
Staff at the United States Commodity Futures Trading Commission have been cleared to invest in cryptocurrencies as long as they follow the agency's guidelines. According to the CFTC, Bitcoin and cryptocurrencies are commodities and should be handled as such. Moreover, anyone working directly with the regulation of cryptocurrencies is still banned from trading.
The Securities and Exchange Commission is cracking down on the cryptocurrency market and the latest move is a subpoena against Techcrunch. The SEC is working on regulating the market in order to protect consumers and everyone involved which means that they don't want people to trade or offer cryptocurrencies without them knowing.
Bitcoin is closing in on $12,000 dollars for the first time in over a month. It has not been easy for any of the assets to recover from the major price dips but the market is finally moving in the right direction. Breaking $12,000 would be a huge milestone for the king of cryptocurrencies.
It is getting more evident how much cryptocurrencies have managed to change trading in every sector. Cryptocurrencies have managed to attract a completely new group of traders by being easily accessible and online based. Consequently, this has resulted in an increased interest in trading other assets than cryptocurrencies.
According to a recent poll, Amazon users would be excited and open to using a cryptocurrency if the company launched one. Amazon does not have any official plans for creating a digital currency just yet. However, it wouldn't be unlikely if they announced one in 2018 considering how they tend to stay ahead of their competition.
Japanese e-commerce giant Rakuten is launching a cryptocurrency. The digital token will be a part of the company's loyalty program and is expected to be well received considering it will be used in a country where most people are already used to cryptocurrencies.
For more day trading news and investment advice, we recommend that you check out our weekly trading segment called Let's Talk Business where we cover the latest developments in all major markets. 
Find the best trading platform. You capital is at risk when trading. Be careful.