Find the best trading platform. You capital is at risk when trading. Be careful.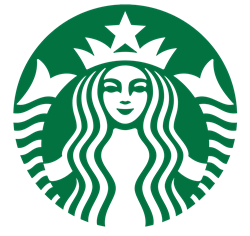 Starbucks is an American coffee company and one of the biggest coffee chains in the world with close to 30,000 locations around the globe. The company was founded in Seattle, Washington by Gerald Baldwin, Gordon Bowker, and Zev Siegl in 1971. Today, Starbucks still operates from Seattle.
Howard Schultz has been one of the leading CEOs of Starbucks and many claim that Schultz made Starbucks into the multi-international company it is today. In April 2016, Schultz resigned as CEO of Starbucks but remains as the executive chairman. Schultz was replaced by Kevin Johnson who now serves as the CEO for Starbucks.
Starbucks went public in 1992 and since then it has been available as SBUX on the Nasdaq exchange.
What is the Price of the Starbucks Stock Today?

In order to invest in Starbucks, you need to know the price of the Starbucks stock and the best way to do so is via a dedicated Starbucks stock chart like the one offered on this page.
In the chart below this section, you can find the latest Starbucks share price and you can also change the time period to see how the Starbucks stock quote has developed over time. You can then use the information to better plan your investments and optimize your chances of investing in Starbucks at the right time.
See the ticker below to control how much Starbucks is worth today or any day. And don't forget to visit BullMarketz.com daily to stay updated on developments on the stock market as well as on other markets.
Where Do You Buy the Starbucks Stock?
Starbucks has been publicly listed on the Nasdaq exchange since 1992 and that is where all the Starbucks trading takes place. So to answer the question above, in order to invest in Starbucks you need to buy the Starbucks stock from Nasdaq. But that is not the complete answer, there are alternative ways of buying Starbucks shares.
You can also invest in Starbucks by using CFDs or Contract for Difference. By doing so you can speculate on the Starbucks stock price and make a profit from market movements. Investing in Starbucks stocks with CFDs is a practical and action-filled solution.
We have recommended the best CFD stockbrokers here on BullMarketz.com and below you'll find our top picks for brokers to invest in Starbucks.

Find the best trading platform. You capital is at risk when trading. Be careful.
Starbucks Stock Price History
The Starbucks stock had a modest beginning with small gains for the first ten years after the Starbucks IPO. After that, the stock gained momentum and experienced decent growth until 2006 when the Starbucks stock price started a decline that lasted until 2009.
Since 2009, the Starbucks stock price history has been solid and over the past 10 years, the price for a Starbucks stock has increased by several hundred percent.
Starbucks Stock Dividends and Earnings
Starbucks dividends are a great way for Starbucks investors to make a little extra money from their investments. The first time Starbucks paid stock dividends to their shareholders was in 2010 and since then payment has been regular.
Because of this, we advise everyone who has invested in the company to keep an eye on Starbucks earnings calls and upcoming Starbucks dividends payouts. In fact, the distribution of Starbucks earnings among shareholders is just one of many reasons to invest in the Starbucks stock.
Starbucks Stock News
The aim of our website is to help investors gain the information they need to invest in the assets they are interested in. One way we do this is by providing the latest Starbuck stock news and updates. If you make sure to always stay up to date with the latest news related to Starbucks and any other asset you trade with, you will gain an advantage compared to other traders.
Our Starbucks news is posted on the main page of BullMarketz.com but also here on this page. On top of that, we post stock news about other stocks on their dedicated pages.
This means that we provide a one-stop solution for Starbucks stock news and other related updates. However, in an attempt to make things even easier for our readers we have a Starbucks subscription. By subscribing to the Starbucks stock today you will make sure that you always get the latest Starbucks news as soon as they're published.
Our Starbucks subscription is only connected to the Starbucks stock price which means you will not get notified about other stocks until you subscribe to them as well.
You can find all the latest Starbucks stock news right here: