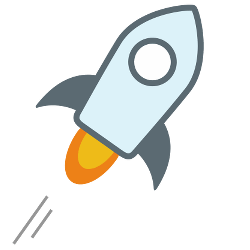 Stellar Lumens (XLM) is a global, decentralized cryptocurrency and the first currency in the network called Stellar. The network is an infrastructure developed to support many digital currencies and assets. Stellar Lumens is an open source protocol created to handle exchanges of different currencies. It is also a decentralized peer-to-peer system and it was launched in early 2014. This means that Stellar Lumens is a fairly old cryptocurrency, at least compared to many of the other options out there.
Stellar was quite unknown during its first few years on the market with only a handful of dedicated fans and supporters. However, during the last few months of 2017, it gained popularity and has since risen to become one of the top ten largest cryptocurrencies on the market based on market cap. The ranking keeps changing and there is a possibility that Stellar will lose its position again but that doesn't mean that Stellar XLM won't be a cryptocurrency to keep an eye out for in the future.
Further down on this page you will also find any news related to stellar lumens.
Website: https://www.stellar.org/lumens/
Buy cryptocurrencies at Markets.com
Find the best trading platform. You capital is at risk when trading. Be careful.
What We Like About Stellar XLM
Stellar Lumens is a safe and versatile decentralized cryptocurrency.
Stellar Lumens is a part of a bigger network that can support many cryptocurrencies.
Stellar Lumens has been around for many years proving that the developers are dedicated operators that won't give up. It also proves that XLM is a safe currency that you can rely on.
Trading Cryptocurrencies
Are you looking for more information about trading cryptocurrencies? Then you've come to the right spot. To learn more about how to buy cryptocurrencies we recommend our Buy Guide. Looking to invest in Stellar XLM? Then you can find a full list of supported services on their official website. Otherwise, you can take a look at our long list of some of the most respected and popular brokers, wallets, and exchanges in the industry. We have written detailed reviews about all of them so that you easily can find a service that fits your needs. Our first-hand choice is Markets.com, but whatever your choice you have to make sure that you always use a regulated and licensed broker.
Stellar Lumens (XLM) news
Stellar Lumens (XLM) news, below you can find news articles and news posts relating to XLM.