Everyone who thought Friday was a dark day for the stock market didn't know what was about to happen. The Dow Jones Industrial Average set a new all-time low on Monday and the future is looking very unclear.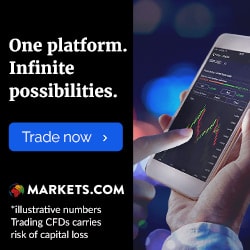 On Monday, the Dow Jones dropped a total of 1,600 points marking the worst intraday drop in history and investors are starting to get very worried. The Dow Jone did recover a bit after the drop and closed at around a 1,000 point decline from opening.
The 6%, 1,600 point drop is the largest point decline in the history of the Dow Jones with the second low record being a 1,089 point in August 2015. However, it is not the biggest drop based on percentage, that happened on May 6, 2010, during the 2010 Flash Crash when the Dow Jones lost over 10% in a matter of hours.
The Dow Jones is, of course, not alone. For example, the S&P 500 has lost over $1.5 trillion dollars in market capitalization during the three first trading days of February – a total of 6.2% with 4.1% loss just during Monday trading hours. That means that the S&P 500 index has shaved off all earnings made year to date.
What's Bringing the Stock Market Down?
One of the driving forces behind the Dow Jones fall is the Apple stock which has fallen by several percent since February. Behind the S&P 500 fall, we find several companies including Apple, Microsoft, the Google Alphabet stock, and Berkshire Hathaway, all with several billion dollars losses.
As Tuesday opening is getting closer concerns are increasing over what's to come next, but it is not necessary to start panicking yet. Several indicators are showing that the market is about to turn and most experts agree that a price correction was well overdue. Also, since most of the companies driving the crash are tech companies with good year predictions, it is looking like we can expect a full recovery shortly.

Find the best trading platform. You capital is at risk when trading. Be careful.