Technology companies are soaring and right now they are driving the market. For the first time in nearly 20 years, the tech sector represents more than 25% of the market share.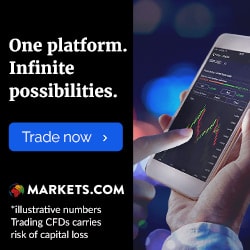 On Tuesday when the markets closed the tech sector represented 25.1% of the S&P 500 for the first time since the dot-com bubble in 2000. During the dot-com bubble the tech stocks brought the market to a crash, but this time things look a bit more stable. More importantly, the valuation of individual companies is much lower now than 17 years ago, meaning the total tech market value is more evenly spread.
According to analysts at Bespoke Investment Group, the P/E ratio is more than three times lower. "At current prices, the Tech sector's forward [price to earnings ratio] stands at just 19.16. At its peak in March 2000, the P/E Ratio was 60," the analysts stated.
Which Companies Are Leading the Surge?
At the front of the tech surge, we find Nvidia and Micron which are both up over 100% in the past 12 months. Netflix has been in the lead during the beginning of 2018 with close to 50% gains year-to-date.
Find the best trading platform. You capital is at risk when trading. Be careful.