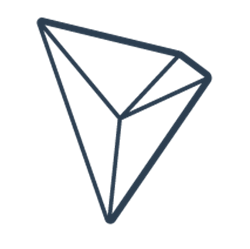 TRON is a decentralized protocol based on a blockchain that's being developed to support a collective distribution system and a global entertainment system. The idea is that every TRON user will have the possibility to publish and handle data without any restriction. The user will also be able to control how and where the data is distributed.
TRON has a dedicated app called Peiwo that already has over 10 million verified users, mostly from the Asian market. Members of the so-called Tron Team are convinced that the TRON blockchain will help shape the future and that it is much more than a speculative instrument.
The official token for TRON is a cryptocurrency called TRONIX which is used to measure the value of all accounts on the TRON blockchain. This means that TRONIX represents the value of TRON.
Buy Cryptocurrencies at IQ Option
Find the best trading platform. You capital is at risk when trading. Be careful.
The TRON Foundation
The TRON Foundation is a non-profit organization based in Singapore that works with developing TRON's open source code. The foundation is run under strict guidelines about transparency, fairness, and support for developers, and it is regulated by ACRA (Accounting and Corporate Regulatory Authority) in Singapore.
We are convinced that this project is one of the more serious blockchains in the industry and we like that the founders are clear about their intentions and goals. Also, Singapore is well-known for their financial and systematic stability which gives this project even more legitimacy.
How does TRON work?
TRON's future is based on 6 specific phases. Some of the phases have already been implemented and some will be put in place in the near future.
We have created a summary of the different phases and listed them below. If you want to learn more about the blockchain we suggest you read the project's White Paper.
The Exodus Phase (2016-2017, Data Liberation): Content, images, audio, and video can be downloaded, stored, and distributed without limitations. A system for loading, archiving, distribution based on peer-to-peer (P2P) and distributed content is introduced. The idea of the Exodus phase is to create data liberation; TRON users will gain access to a reliable platform for publication and distribution of data.
Odyssey Phase (2019 – 2020, Content Empowerment): Content and digital assets that have been acquired and distributed among the users will now be enabled in an economic ecosystem focusing on environmental friendly usage.
Great Voyage Phase (2020 -2021, Personal ICO): Every individual and user will be able to create their own cryptocurrencies to sell and buy in order to further develop the blockchain.
Apollo Phase (2021-2021, Monetization): Developers will now get the opportunity to design games and apps through the TRON-platform.
Eternity Phase (2025-2027): In the last phase, developers and users will be offered the possibility to create their own platforms and start crowdfunding to attract investors to finance the development of online games.
What we like about TRON
We like TRON's versatile and inventive founder Justin Sun.
We also like the potential of what the above-mentioned functions, such as data liberation and content enabling, offer.
And in a world with thousands of cryptocurrencies and decentralized blockchains to choose between, TRON offers a relatively clear goal.
How do you buy TRON?
Unlike Bitcoin and Ethereum that can be bought with fiat currencies, TRON can only be purchased with other cryptocurrencies. Don't let that scare you away – the process is easy.
Convert the currency you prefer to use, whether it be USD, EUR, or GBP to Bitcoin (BTC) or Ethereum (ETH). We recommend that you use Ethereum since the fees are much less and the transactions are quicker. We also recommend that you use a reliable exchange or wallet to purchase your coins. One of our favorite services to use is IQ Option but you can choose whichever one you prefer. If you're not sure about where and how to buy cryptocurrencies we suggest that you start with our How to Buy Guide and list of good services.
After you've acquired some Ethereum or Bitcoin you need to transfer the coins to an exchange that supports TRON. Currently, 90% of all trading with TRON is done on Liqui but there are a few smaller exchanges that can also be used with more being constantly added. In this example, we will use Binance but the process is almost the same for all exchanges.
Open Liqui, click on "Balances" and choose which currency you want to deposit, either BTC or ETH. You will now receive a code with between 26 and 35 characters, copy that code.
Return to the service you used to buy your cryptocurrencies and find the function that lets you transfer funds to other services. Paste the code you copied from Liqui and submit the amount you want to transfer to Liqui, or the exchange you've decided to use.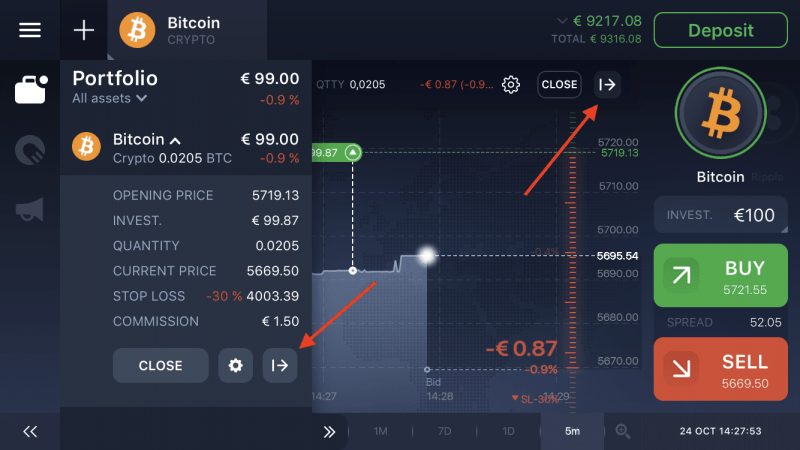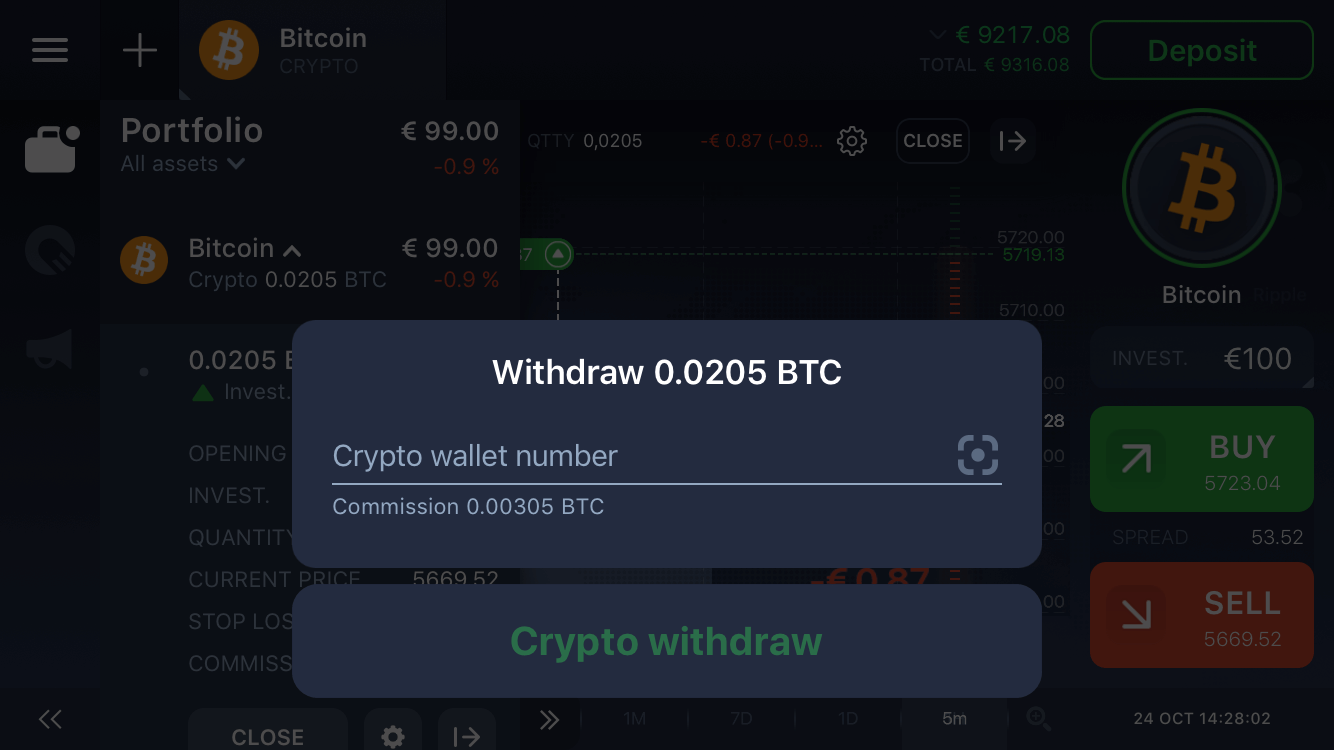 5. In the Liqui account , please double check your BTC have been credited into your balance, just checking your Balances page. Now, to buy Tron you have to go to Exchange and follow the steps below: 1) From Market select the two currencies you want to exchange (in the upper left you will see the abbreviations BTC, ETH, USDT), then select BTC and TRX (the acronym of TRON). 2) In Sell (the prices of sales orders) and choose the lowest price. Finally 3) From Buy enter the amount of BTC you want to exchange for TRX and you're done.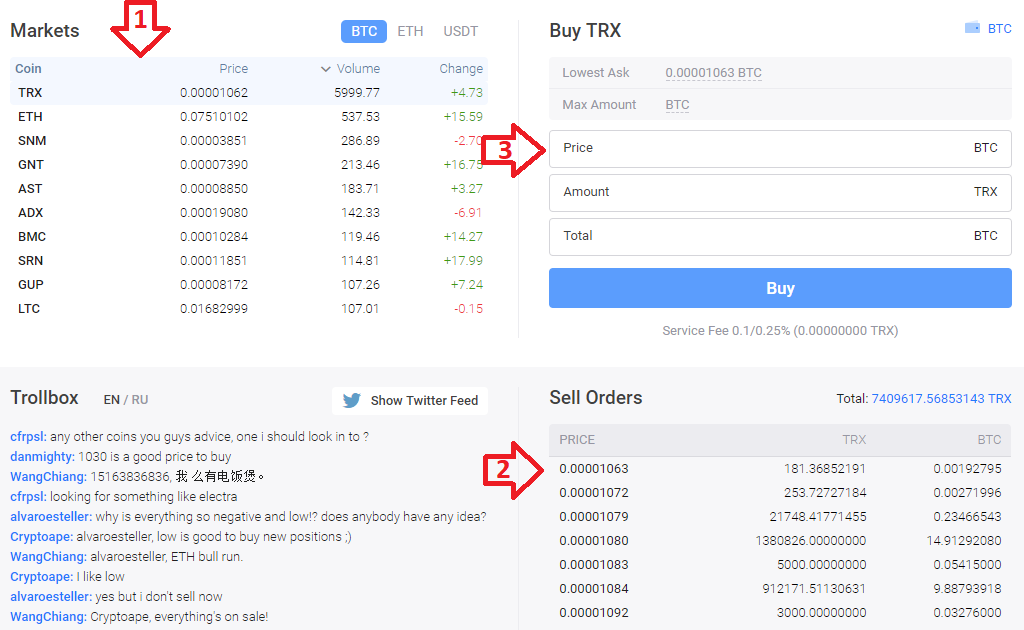 TRON on Social Media
The TRON Foundation has more than 144,000 followers on Twitter, 16,000 followers on Facebook and a Telegram group with 4,800 fans. In addition, several major media outlets such as Forbes have extensively covered both TRON and its blockchain as well as the founder Justin Sun.
TRON conclusion
During December 2017 and January 2018, TRON increased by several 100% in value, and it is looking like it will continue the same pattern. It's impossible to answer how much the asset can grow but there is no doubt that TRON is a cryptocurrency that we can count on in the long run.
Our confidence in TRON being a reliable asset is based on the founder's drive and the fact that the project has a clear goal. They have also managed to gain a large following of dedicated fans that are not only interested in TRON as a money making machine but in the opportunities the blockchain offers.