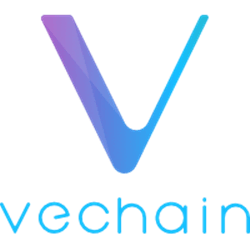 Vechain – VEN is a cryptocurrency that was launched through an ICO in 2017 with the aim of tracking physical objects and their ownership via blockchains by applying NFC to the objects. The possible uses for a cryptocurrency like this are many from controlling wine production from growers to distribution all the way to shelves in the supermarket. It can also be applied for luxury retail where the customer can review a products history to make sure that it has not been counterfeit.
Homepage: https://www.vechain.com/
Buy cryptocurrencies at Markets.com
How Does Vechain Work?
The problem this blockchain is set to solve is real. Consumers are constantly demanding more and more traceability and transparency on all levels. The solution offered by Shangai Weilian Information Technology Co. Ltd. otherwise known as the Shanghai Vechain, who owns the technology, is interesting to say the least. The NCFs that are applied to objects are encrypted and cannot be copied in the same manner as barcodes, QR-codes, and Rfid. The process starts with the manufacturer marking a product he has created with a code. The code and the product are later verified by the end user and everyone in between.
As for other similar solutions, there are still a few problems related to the reference industry. For example, tracking systems are expensive and since a separate NFC tag has to be added to every product it is not really a feasible solution for common products such as wine or other food items. In that case the Vechain is better suited for luxury products but even then the reality can prove to be difficult.
As you might know, the luxury industry is not quite manic when it comes to quality of producers and having an NSF-tag on every product or label is not a problem to them if it can prove their validity. However, a visible tag will be a problem and it is most likely an anti-aesthetic choice that most fashion houses would not be excited about. Therefore, the struggle is now to find a compromise between practicality and aesthetics otherwise it will be hard to gain any serious ground on any market.
For now, the VEN token is growing in value starting from 50 cents in mid-December to 8 dollars at the end of January 2018. VEN actually managed to uphold its value on a stable level while the rest of the market was crumbling.
How to Buy Vechain (VEN)
At the time of writing, you can buy Vechain on Binace, Huboi, and Lbank using Bitcoin. Don't know how to buy Bitcoin? Then take a look at IQ Option or any of the other cryptocurrency services that we recommend.