Find the best trading platform. You capital is at risk when trading. Be careful.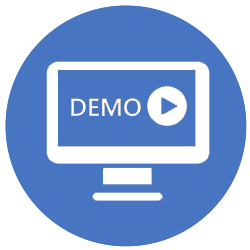 A CFD demo account is a trading account that best CFD brokers offer their customers. A CFD demo account is extremely practical because it allows you to trade using real trading platforms under real market conditions but with virtual money. Since you're using virtual money, you don't end up risking any of your real money but on the other hand, you can't make a real profit either.
The benefits of a demo account for CFD trading are many, but they are mostly used by beginners that want to practice trading before investing their hard earned money. Demo accounts are also used by people who want to test a broker out before signing up for a real trading account. A free CFD Demo account is very similar to a free forex demo account.
How To Open a CFD Demo Account
First things first, how do you open a CFD demo account? In most cases, it's very easy to open a demo account. Most brokers that offer demo accounts are very open with the fact that they do and most of the time you can find large buttons on the broker's website saying "Open a Demo Account." It's not uncommon for there to be two buttons – one to open a demo account and one to open a regular trading account.
There are a few different processes used to open these accounts, but most often all you have to do is provide some personal information such as your name and email to get started.
Many people want to test a service out before they commit to it and a broker that has a solid platform and a good selection of assets knows that they can convince you to start trading for real money if they first let you trade for free.
Note that some brokers require you to open a regular trading account and make an initial deposit before you get started trading with a demo account.
Brokers Offering CFD Demo Accounts
Today, most brokers offer demo accounts in one form or the other. To a broker, a free demo account is a sales technique since it can be used to prove why they are the best broker without you having to pay for it. But it's also a way to be transparent and shows that they are serious. A scam broker would avoid offering a free demo account since they don't make any money from it.
Naturally, this means that all the brokers that we recommend on BullMarketz.com – with a few exceptions – offer free demo accounts. The setup and terms differ a bit from broker to broker but in general, the accounts are free with unlimited amounts of virtual money.
Remember that all the brokers we recommend are regulated, authorized, and licensed by the strictest regulatory bodies in the industry. That means you can use their services without having to worry about your personal information or funds.
Not sure where to start? The following brokers are currently the best ones on the market and they all provide leading CFD demo accounts.
Find the best trading platform. You capital is at risk when trading. Be careful.
The Best CFD Demo Accounts
There is no definition of what the best CFD demo account looks like, but we have a few guidelines that you can follow to find a really good one.
Free – In our opinion, a CFD demo account has to be free otherwise there is no point to it. We don't want to have to pay to open an account and brokers that require an initial deposit kind of ruin the purpose of a free demo account.
Unlimited – We also believe that the best CFD demo accounts should be unlimited. Most leading brokers provide their users with between $10,000 and $50,000 in virtual money, and we prefer the ones that keep filling the virtual bankroll up when needed.
Unrestricted – One of the main reasons brokers offer CFD demo accounts is to give investors a chance to test their platforms, this is especially important for brokers that have developed their own platforms. Because of this, we think the best CFD demo accounts are as unrestricted as possible, meaning you get full access to the platform and all of the tools.
A Summary of the Best CFD Demo Accounts
A demo account is a trading account that can be used to invest in a risk-free environment under real market conditions. They are offered by CFD brokers to let beginners practice trading and to let more experienced traders practice investment strategies and new techniques.
Most of the time it's very easy to set up and get started with the best demo account and CFD brokers are always very open to the fact that they offer them.
Almost all of our recommended brokers offer free CFD demo accounts and these accounts are the best way for you to try several different brokers in order to find the one that suits you the best. In fact, if you're looking to start trading CFDs or you're interested in changing your broker, we suggest you sign up for a free CFD demo account right now.