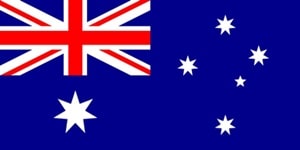 On the following page, we have collected all the information you need to start trading on the best online trading platforms in Australia.
Due to the fact that the country has its own regulatory body, the selection of available online brokers in Australia is different from elsewhere in the world.
Because of this, we put our team to work, and after countless hours of research, they came up with the most comprehensive list of online brokers in Australia for any market you might be interested in.
1. eToro – The Best Trading Platform in General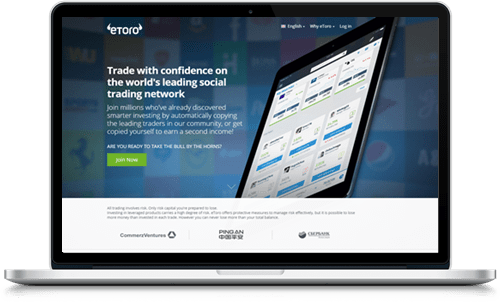 eToro is not only considered to be the best trading platform in Australia but the whole world.
And since they are approved and licensed by the Australian Securities and Investments Commission, there is no doubt in our minds that they are the best in Australia as well.
The reason for this is that eToro has developed an innovative platform that, in many ways, is many years ahead of their competition.
Besides a great selection of available assets and all the regular trading features you would expect a broker of this caliber to offer, eToro has a unique copy trading platform and a social trading network.
The copy platform allows traders to copy other more successful traders, which, in turn, can help increase profits. Meanwhile, the social network is one of the biggest of its kind in the world where traders share experiences and skills with each other.
Platform: eToro Copy Trading
Assets: Hundreds of assets from a range of markets
License: ASIC, CySEC, FCA
Read our eToro Review
Find the best trading platform. You capital is at risk when trading. Be careful.
2. CMC Markets – Award-Winning Online Broker for CFDs, Forex, and Spread Betting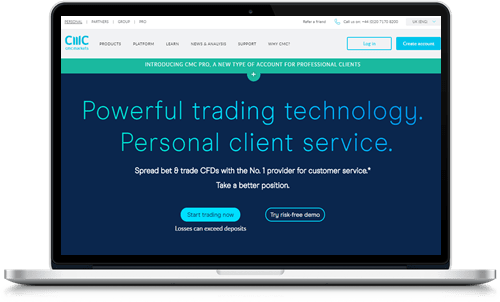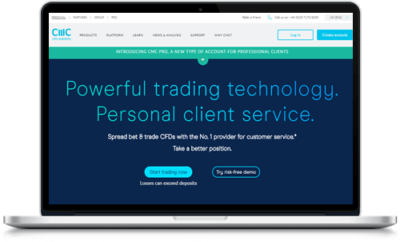 With more than 10,000 assets, two award-winning platforms, great spreads and low fees, and a dedication to safety, there is no doubt that CMC Markets is one of the greatest online brokers in Australia.
With a CMC Markets account, you can trade everything from US and Australian company shares to small and very specific indices from all over the world. Recently, they also added cryptocurrencies to their selection and today, very few brokers in the world can even dream of competing with CMC.
In terms of platforms, the Next Generation platform that CMC Markets offer, is one of the best we've ever used. It's easy to understand, can quickly be adjusted to your specific needs, and you can download it to your smartphone.
If you don't want to take our word for it, we suggest you open up a demo account and test the broker out for yourself.
Platform: Next Generation + MT4
Assets: 10,000+ assets – CFDs, forex, and spread betting
License: ASICS & FCA
Read our CMC Markets Review
Find the best trading platform. You capital is at risk when trading. Be careful.
3. Plus500 – A State of the Art Trading Platform in Australia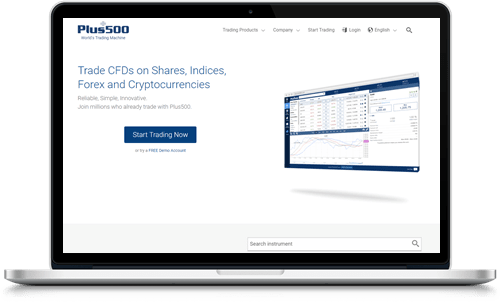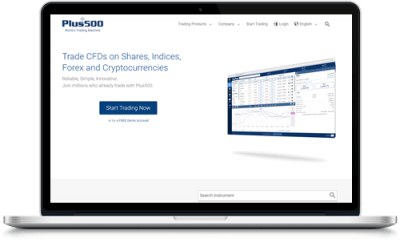 Plus500 is one of the most established forex and CFD brokers in Australia as well as the rest of the Western world.
The broker is known for providing a state-of-the-art trading experience, a proprietary trading platform, and a varied selection of currency pairs and CFDs.
That being said, Plus500 is also known to be one of the biggest trading brands in the industry, and they have incredible customer service.
Being the fact that Plus500 is licensed by ASIC, there is no doubt in our minds that they qualify as one of the best online brokers in Australia and we don't expect that assessment to change anytime soon.
Like all top trading platforms in Australia, Plus500 provides a demo account in case you want to test the broker before signing up with an account.
Platform: Plus500
Assets: A varied selection ranging from forex and crypto to stocks
License: ASIC, FCA, CySEC
Learn more about Plus500
Find the best trading platform. You capital is at risk when trading. Be careful.
4. City Index – One of Australia's Best Online Brokers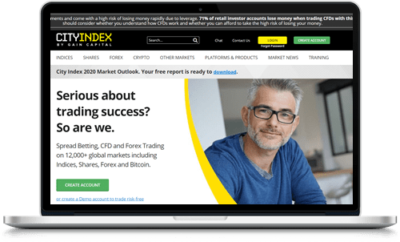 City Index is an ASIC licensed broker that provides Australian traders with two of the best trading platforms in the country as well as over 12,000 tradable assets.
Moreover, as a trader, you can pick whether you want to open a CFD trading account or a spread betting account to ensure that you get the trading opportunities you prefer.
You decided if you want to trade using MetaTrader 4 (prefered for forex trading) or if you rather use City Index's own platform which is available both in your browser and as a downloaded advanced platform. Even though the platform is one of the more advanced on the Australian market, it still easy enough to use for beginners.
After having reviewed all the online brokers in Australia, we are convinced that City Index is one of the best ones and we can't recommend it enough.
Platform: MetaTrader 4 + AT Pro
Assets: 12,000 assets (CFD & spread betting)
License: FCA, ASIC
Read our City Index review
Find the best trading platform. You capital is at risk when trading. Be careful.
5. FP Markets – Top Broker Based in Australia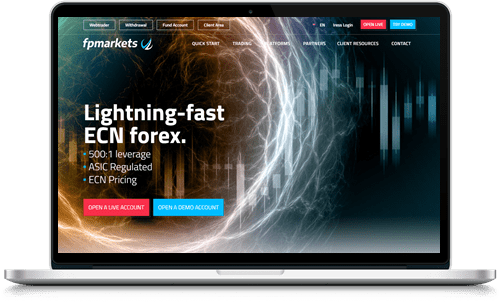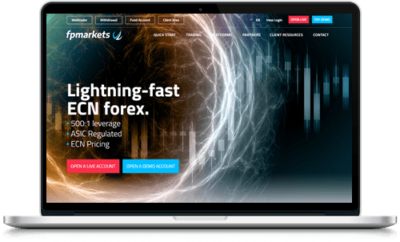 While the other trading platforms on this list are available in Australia and many of them have offices there, FP Markets is the only top broker that's based in Australia.
In the last couple of years, FP Markets has been awarded several impressive awards and has gained recognition for their tireless dedication to become one of the best in the world.
Even though FP Markets is considerably smaller than other online brokers in Australia, they don't let that have a negative effect on their brand.
In fact, one of the reasons we and so many others prefer FP Markets is that their small size offers a more intimate trading experience.
If you're looking for a local trading platform in Australia, FP Markets should be your top pick, and if you still aren't convinced, we suggest you open a demo account to check them out yourself.
And let's not forget that FP Markets provides access to the MetaTrader 4, the MetaTrader 5, and the IRESS Trader with over 10,000 products, in addition to all the trading tools, charts, and features you could wish for.
Platform: MetaTrader 4, MetaTrader 5 and IRESS
Assets: 10,000+
License: ASIC
See the details about FP Markets here
Find the best trading platform. You capital is at risk when trading. Be careful.
Best Stock Broker for Share Trading in Australia
If you're into stocks, it is advisable to opt for a broker that is specialized in offering share trading. Luckily, the number of amazing Australian stockbrokers is rather large, and you shouldn't have any problems finding a platform that suits you.
Out of all the possible brokers, only three can be considered the best share trading platform in Australia, and you find them all below.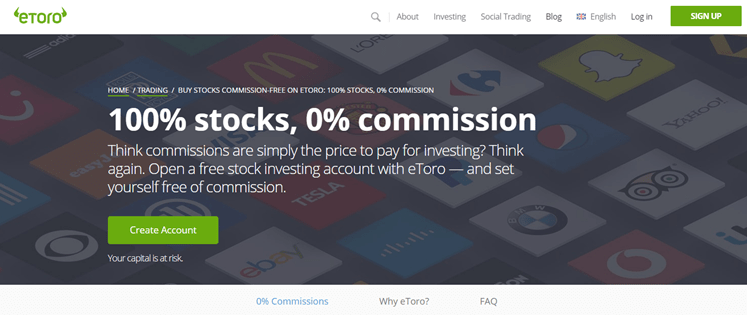 The beauty with eToro is their copy trading platform that in a lot of ways minimizes the time you have to spend analyzing stocks and other assets.
Instead, this online stockbroker in Australia allows you to copy other traders to increase your odds while limiting the work you have to put in.
Find the best trading platform. You capital is at risk when trading. Be careful.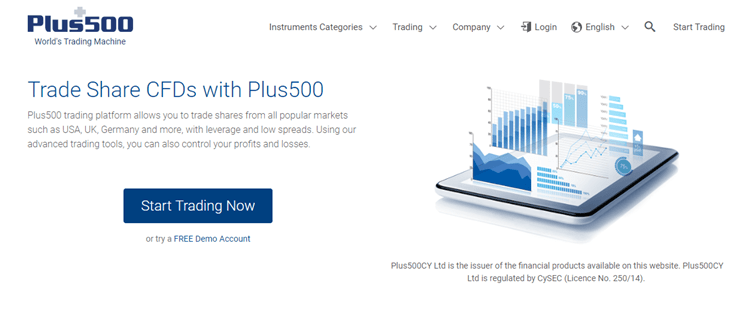 Even though Plus500 is a CFD and forex broker that spent a lot of time developing a great forex platform, their selection of stocks is impressive.
Also, their proprietary platform is one of the best in the industry, making Plus500 one of the best stock brokers in Australia.
Find the best trading platform. You capital is at risk when trading. Be careful.
Best Forex Brokers in Australia
Trading forex is fundamentally different from trading stocks or any other asset or derivative, and that's why you need to be extra picky with which Australian forex broker you choose.
For example, you'll want access to forex-specific tools, a good selection of major and minor currency pairs as well as enough leverage to be able to benefit from small market movements.
In the Australian stock brokers list below, we have listed all the brokers that live up to all those requirements and more.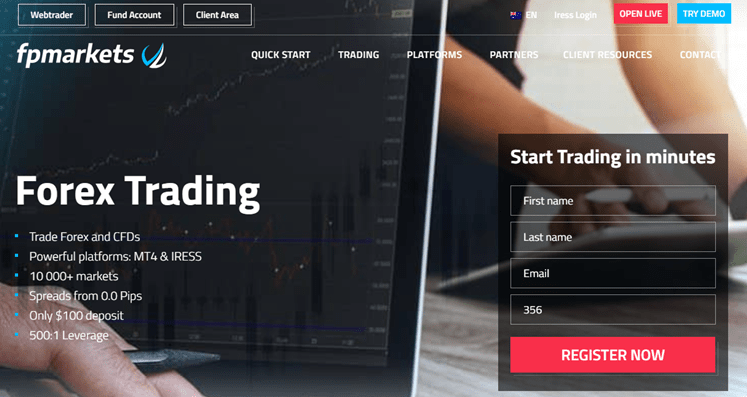 There are ultimately two reasons why we consider FP Markets to be the best forex broker in Australia.
Firstly, the way they've seamlessly integrated the MetaTrader 4 – which is predominantly designed for forex trading – with their overall brand and two other platforms is unparalleled in the industry.
Secondly, FP Markets is the only top forex broker in Australia that is actually based in Australia.
Find the best trading platform. You capital is at risk when trading. Be careful.
Best Investment & Trading Apps in Australia
As the interest in mobile trading continues to grow, brokers from all over the world are working hard to catch up. This has resulted in a bit of an uneven market where certain Australian brokers are excelling while others are falling behind.
Below, you'll find a summary of the top three best investment apps in Australia that all provide great mobile trading opportunities, stock trading apps, and more.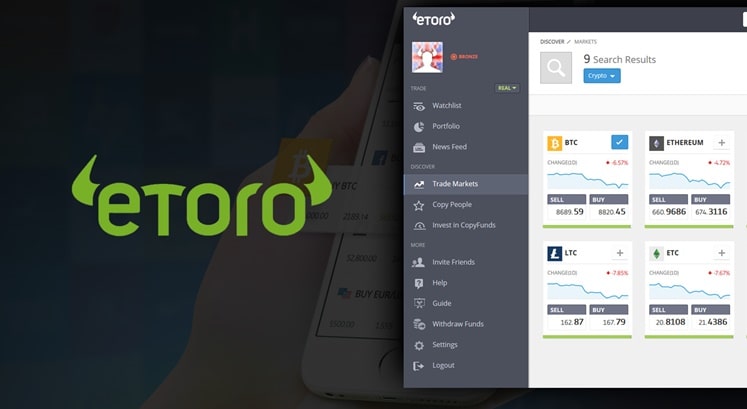 No one does mobile trading quite like eToro. Recently, the eToro platform went through a major update which resulted in by far the best trading app in Australia and elsewhere.
The app is easy to use, full of exciting features, charts, and tools, and it allows traders to copy others as well as integrate with each other through the social trading platform.
Find the best trading platform. You capital is at risk when trading. Be careful.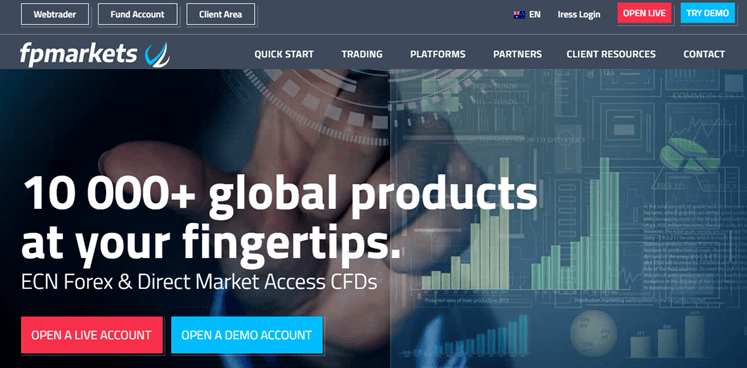 Once again, FP Markets' seamless integration of three separate platforms – MT4, MT5, and IRESS qualifies them for a spot on this list of Australian stock trading apps.
It's up to you as a trader to decide which platform will suit you best, and by opening a demo account, you can quickly evaluate them separately.
Also, a total of 10,000+ assets is enough to keep anyone busy for a long time, even when trading on a smartphone.
Find the best trading platform. You capital is at risk when trading. Be careful.
Best Online Trading Platform for Beginners in Australia
As a beginner, you will most likely be looking for an Australian broker that provides a platform that is easy to use, great educational material, low minimum deposits, as well as an unrestricted demo account.
However, there is more to it than that, and below, we have listed the three best trading platforms for beginners in Australia.
Getting started with the Plus500 platform is easy, and you can literally be trading later today. Their platform is beginner-friendly, there is a large selection of assets so you can focus on the markets you're interested in, and their fees and charges are really fair, even for beginners.
Moreover, Plus500 has great customer support that can help you out when needed, and an extensive educational center where you can learn the basics of online trading.
Find the best trading platform. You capital is at risk when trading. Be careful.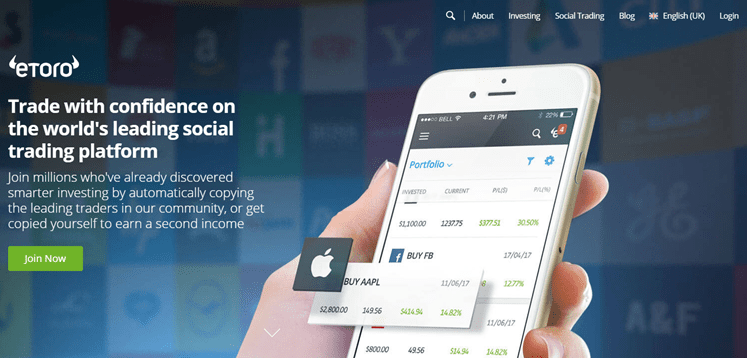 The main issue that new traders face is their lack of skill to properly analyze instruments. In order to avoid having to spend the time learning it all before you start trading and avoid losing unnecessary money, eToro lets you copy better traders.
Meanwhile, their social trading network is the perfect place for beginners to ask questions and get answers from seasoned traders.
And it's the combination of copy trading features and social networking that qualifies eToro as one of the best trading platforms for beginners in Australia.
Find the best trading platform. You capital is at risk when trading. Be careful.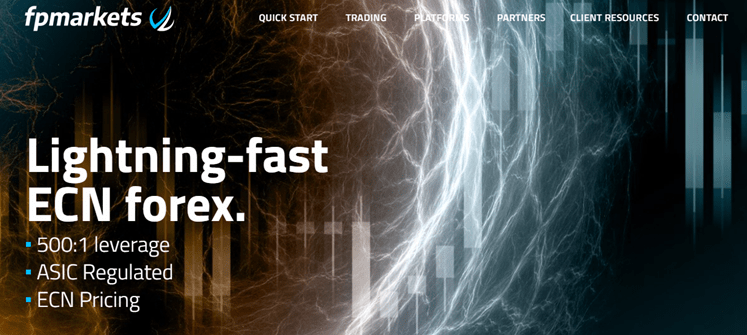 If ease of use and safety is your priority – which it should be – than FP Markets is the best broker for beginners in Australia.
Being the only broker that's based in the country, FP Markets is even more eager to please the local authorities.
Also, the brand is generally very beginner-friendly and you can have an account up and running later today.
Find the best trading platform. You capital is at risk when trading. Be careful.
How We Did This Research
As always, countless hours have gone into the process of evaluating all the Australian brokers out there, and after comparing all their features and services, we could finally put this comprehensive Australian broker guide together.
That being said, besides comparing the brokers with each other, we spend most of the research evaluating each broker on their own, and we would never recommend a broker that we weren't sure was actually trustworthy and good enough to be considered one of the best.
In order to do so, we look closely at certain specific things that you can read more about below.
1. Safety, Regulation, and Licenses
The most important thing when recommending or looking for a broker is to ensure that they are safe to use. And there is really only one way of doing so, by making sure that the broker is regulated with a license from a trustworthy regulatory body.
In Europe, parts of Africa and other areas of the world, there are two regulatory bodies that oversee the CFD and forex market, the Cyprus Securities and Exchange Commission (in Cyprus) and the Financial Conduct Authority (in the UK).
Now, the licenses of these agencies are considered the top ones in the world, but they do not include Australia.
Instead, all brokers that want to offer their services to Australian traders need a license from the Australian Securities and Investments Commission – ASIC.
Compared to its European counterparts, ASIC is known to be even more strict, meaning some brokers that are licensed in Europe are banned in Australia.
Because of all this, the first step in our reviewing process is to make sure that the broker is approved by ASIC.
With that out of the way, we know we've found a trustworthy and top online broker in Australia, and we can continue evaluating more specific things the broker offers.
2. Tools and Platforms
Next, we continue to look at the platform the broker is offering, and if they have enough tools to allow their traders to trade freely.
Many brokers opt for third-party platforms such as the MetaTrader 4 and the MetaTrader 5, and that is usually a good sign for us since we know how these platforms work.
In some cases, the best brokers in Australia develop their own platforms, and that means we have to spend the time actually trying them out to make sure they're good enough.
At this point in the process, many brokers tend to fall out because their tools are just not adequate for online trading.
It's also important for us to make sure that the platform is as good for beginners as it is for experienced traders so that it suits everyone.
In short, we want to find a good user-experience which means we prefer quick execution, comprehensive and detailed charts, extensive price information, alerts and alarms, efficient stop-loss, etc.
3. Assets and Trading Opportunities
The last main thing that we focus on are the assets offered. As you probably understand, a broker that only offers strange penny stocks and exotic currency pairs won't make the cut. There is just not enough interest in those types of assets.
Instead, we want to see a varied and exciting selection of tradable instruments. That doesn't necessarily mean a huge selection since too many options can be overwhelming.
For example, a broker that's focusing on forex trading should have a lot of currency pairs, while an Australian stockbroker needs a good selection of Australian and international stocks on offer.
4. Miscellaneous
In addition to the three main points we focus on, we also spend many hours just playing around with the broker to see if we can find any glitches, bugs or other problems.
We also take our time to test the broker's customer service, open a demo account, make deposits and withdrawals, and everything else traders might do.
Lastly, we deep dive into our research to try and figure out what other traders think of the broker. What do previous customers have to say about the broker? How are the reviews looking – any specific complaints that haven't been amended? At this point, we also go through the broker's history to see if they have had any troubles with frozen accounts, court cases, and so forth.
When all of this is done, we collect all the brokers that haven't been dropped, and we compare them with each other.
Naturally, it's also important that brokers are suited for the local market that we're looking at because the best broker in the UK might not be the best online trading platform in Australia and vice versa.
Don't hesitate to contact us if you have any questions regarding online trading in Australia or if you want to know more about the brokers above. And don't forget to check out our comprehensive broker reviews linked at the top of this page.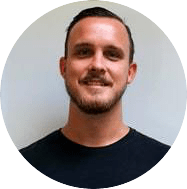 Adam Jarfjord is a Swedish day trader, investor, and copywriter. He works as head of content at BullMarketz.com and has been providing editorial content within the financial sector for more than 5 years.
Read more about him by visiting his LinkedIn profile or contact us directly to learn more about the team.