AvaTrade is your complete solution for everything related to forex and CFD trading online.
This is a one-stop review of Avatrade that covers the broker in detail.
Is Avatrade a scam? Do they offer a free demo account? How does their platform perform?
The broker's headquarters are located in Dublin. Due to their focus on CFDs, you can use AvaTrade to trade stocks, indices, cryptocurrencies, ETFs, and more commodities.
In this review, we will in-depth go through Avatrade, their demo account, any risk of scam? and everything in between.
AvaTrade was first launched under the name Ava FX back in 2006 and was operating as a forex broker for several years.
They have since upgraded their product to also include CFD. Their goal has always been to offer a customer-oriented product and at that, they excel.
According to data from 2013, AvaTrade has more than 200,000 customers that perform 2 million trades a month. Impressive numbers if you ask us.
Find the best trading platform. You capital is at risk when trading. Be careful.
Avatrade Review by BullMarketz.com
After this brief introduction, we are ready to get started with the Avatrade review, in this review we have compared the broker towards other market-leading alternatives.
We are always remaining objective when we review brokers and whilst some brokers do pay for exposure on our websites, our review always remains neutral.
We also recommend comparing brokers checking out the best CFD-Brokers before making your choice.
Now let's get started with the Avatrade review.

Is Avatrade a scam or are they legit?
No, AvaTrade has been run as a serious business for more than 11 years, and they have always managed to maintain a great reputation in the industry, both among customers and competitors.
In our opinion, several hundred thousand satisfied customers they've served over the years is the only evidence we need to know they are a trustworthy broker.
All of our reviews are objective, and we would never recommend a broker that wasn't regulated with all the necessary licenses to offer financial services in Europe and beyond.
That being said, AvaTrade is not regulated by the Cyprus Securities and Exchange Commission (CySEC) or the Financial Conduct Authority (FCA), as most of our recommended brokers are.
Instead, AvaTrade has several global licenses from the Bank of Ireland, ASIC in Australia, the Japanese Government, and many more.
This type of licensing might be unusual but in no way is it less legitimate than having the typical licenses.
AvaTrade's biggest market is the European Union but they also provide trading in Asia and the Middle East with local offices spread out from Dublin, Ireland to Ulaanbaatar, Mongolia.
Additionally, AvaTrade is allowed to offer their services on the Japanese market, which is one of the world's strictest markets, especially related to forex and CFD trading.
Another great proof of how serious AvaTrade's services are is that they are official sponsors to one of the biggest football teams in the world.
In early 2018, Manchester City and AvaTrade agreed on a multi-year partnership.
To us, this proves that AvaTrade continuously seeks new challenges to conquer and that they have an uncompromising drive to only associate themselves with global leaders.
Two good alternatives to AvaTrade is IQ Option and Markets.com. Make sure to read our IQ Option review and Markets.com review.
6 Things You Should Know About AvaTrade
AvaTrade was first launched in 2006 as a forex broker, since then, the broker has gone through several major updates. Today the broker is a pioneer in the industry offering CFD and forex products to more than 200,000 customers from all around the globe.
Instead of offering either the MetaTrader 4 or its own platform, AvaTrade has created a hybrid product. AvaTrade provides all their customers access to both the MetaTrader 4 and the MetaTrader Webtrader as well as a collection of their own proprietary platforms that have been awarded on several occasions.
Lately, AvaTrade has focused a lot of their energy on developing cutting-edge automated trading tools and robots. This service is offered through a series of features that include a copy trading function that could compete with the best.
 AvaTrade's demo account comes with $10,000 in virtual money that you can use unlimited across the broker's platforms. If you're new to trading and need to build some trading confidence, we suggest you open a demo account to start with. It is also a great opportunity to test the Avatrade trading platform. The demo account is, of course, free of charge and the registration process is simple.
There are eight different asset classes to choose between when trading with AvaTrade. You can buy forex, cryptocurrencies, stocks, indices, exchange-traded funds, commodities, bonds, and options. Note that most of the assets are sold as CFDs and not in their regular format.
In early 2018, AvaTrade joined an official partnership with the English football team Manchester City which plays in the British Premier League.
Find the best trading platform. You capital is at risk when trading. Be careful.
AvaTrade Trading Platforms
Unlike many online traders, AvaTrade provides a large selection of platforms in order to satisfy as many customers as possible.
The main platform is the classical MetaTrader 4, but they offer several practical add-ons and proprietary platforms as well.
This kind of arrangement comes with benefits and disadvantages. One major benefit is that several platforms can accommodate more traders and we assume that is why AvaTrade decided on these platforms.
For example, if you prefer to trade forex, then the MetaTrader 4 is your best option, and for regular CFD trading, we recommend AvaTrade's own platform.
Since both platforms are world-class, you get access to the best of the best.
On the downside, there is not one account that has support for all the platforms which means you can't switch between the platforms.
If you want to trade both forex and CFDs, you will have to open two separate accounts which means you need enough funds to fund two accounts. As you probably understand, that can get tiresome pretty quickly.
Then again, you could find a system where you only use the MT4 on your mobile while you trade on AvaTrade's own platform on your computer.
By doing so, you'll have access to both platforms and all analytic tools all the time.
AvaTrade App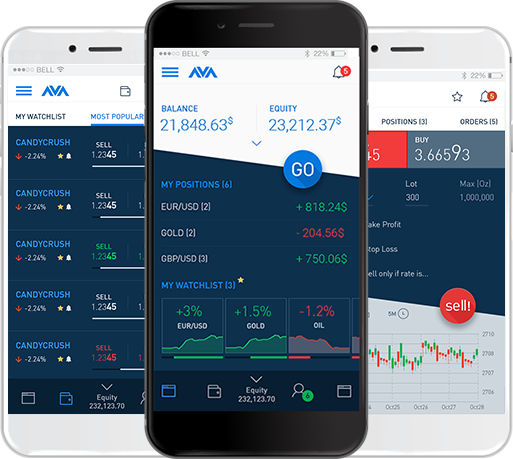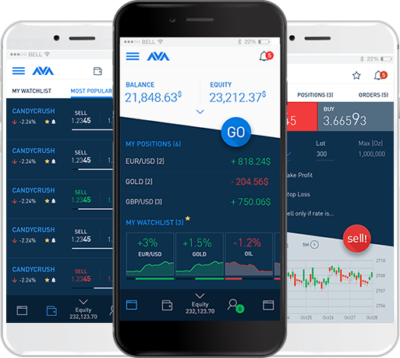 In order to keep up with recent technological advances, AvaTrade offers two separate apps for mobile trading.
One is the mobile version of MetaTrader 4 and the other is a mobile version of their own platform.
MetaTrader 4 mobile can be downloaded to both Android and iOS and can be used to handle ongoing trades and analytic work.
AvaTradeGo is the mobile version of AvaTrade's platform. With this app on your phone or tablet, you gain access to over 200 underlying assets.
In our opinion, this is one of the best mobile trading apps on the market right now.

Open an Account with AvaTrader
When opening an account with AvaTrade you have two options.
You either open a regular trading account and start trading with real money on one of the platforms, or you open an AvaTrade demo account and test the platforms first.
AvaTrade Demo Account vs. Real Trading Account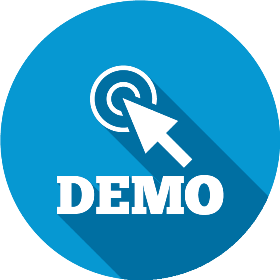 To clarify the account setup further, we'll give you a rundown of the differences between an AvaTrade demo account and their regular trading account.
The demo account can be opened by anyone, and it only requires a quick registration before it is made available to you.
After you've opened your demo account, you get 10,000 virtual dollars and access to AvaTrade's platforms.
This is the best way to practice trading and to master new strategies and techniques.
However, since you're trading with virtual money, you won't be able to pocket any of your potential profits.
On the other hand, using a real trading account is very different. First off, it requires a longer registration process where you have to take a test and verify your identity.
You also have to deposit your own money into your trading account. Obviously, the benefit of this type of trading is that you can make a real profit.
Anytime you make a profitable trade you get to keep the money, and in exchange, you risk losing actual money when you enter a failed position.
The Risk of Using a Demo Account
Using a demo account might sound completely safe, and generally speaking, it is, but there is something you need to be aware of.
People that trade with fake money are more prone to taking risks and being irresponsible since there are no real consequences.
That means the way you trade will most likely differ when using a demo account and a regular account and that can create unnecessary risks when you switch between the two.
If you get used to risky trading with virtual money and you enter positions without basing it on proper analytic work, the risk is that you will do the same with your real money.
Because of this, you have to be careful when switching from your demo account to your real account.
Also, try to not use your demo account too much at once and alternate demo trading with regular trading.
Find the best trading platform. You capital is at risk when trading. Be careful.
AvaTrade Assets – What assets do they offer?
AvaTrade was first launched as a forex broker in 2006, but nowadays they also offer CFDs and options in most markets.
There are over 250 underlying assets to invest your money in with AvaTrade.
In order to give you an idea of what they offer we have listed the available assets, split into two categories: currencies and CFDs.
Currency – With an AvaTrade account you can invest in 50 of the world's most popular currency pairs. The selection consists of big players such as the American dollar (USD) and euro (EUR), but also smaller currencies such as the Swedish krona (SEK) and Mexican peso (MXN). AvaTrade also offers leverage and educational material for both beginners and experienced traders.
Cryptocurrencies – AvaTrade is also a crypto broker. The latest addition to AvaTrade's trading product is cryptocurrencies. The selection is quite impressive compared to other brokers, and you can choose between Bitcoin, Bitcoin Cash, Ethereum (ether), Ripple, Dash, Litecoin, Monero, and EOS.
CFDs – Contract for Difference is a speculative form of investment where your job is to predict how the value of an underlying asset will move. The following assets can be bought as CFDs on AvaTrade's platforms.
Stocks –  You can buy shares with AvaTrade. Some of the world's largest companies are available, among them you'll find Apple, Google, Microsoft, Samsung, and Barclays.
Index – An index is a collection of stocks that are traded together. Two of the most well-known indices are S&P 500 and NASDAQ, and both of them are available with AvaTrade.
Exchange-traded Funds (ETFs) – ETFs are a collection of assets traded at the same price. It is an interesting way of trading and one of the benefits with an AvaTrade trading account.
Commodities – You can trade commodities such as gold, crude oil, coffee, and silver on AvaTrade's platforms.
Bonds – Bond trading is a favorite among many older traders and something that is available through both MetaTrader 4 and the AvaTradeAct platform.
Options – Options is also a part of AvaTrade's selection of assets. Options trading, just like CFD trading, is a speculative form of trading with shorter closing times.
Considering that AvaTrade only offers 250 tradable assets, the selection is impressive.
Apparently, AvaTrade has spent a lot of time and effort handpicking the best assets spread out over 8 asset classes.
It's not an easy task, but we really think the broker did a great job.
In fact, the 250 assets listed on AvaTrade are the only 250 assets you'll ever need access to.
Only a small percentage of all CFD and forex traders would trade on assets that weren't included in this selection. We love it and think that you will too.
And you might have already guessed it, but AvaTrade's selection of cryptocurrencies is unique.
We love to have the ability to trade smaller assets like EOS, Monero, Bitcoin Cash, and Dash as CFDs.
AvaTrade's assets in three words: Versatile, Inclusive, Innovative
Registering an Account with AvaTrade
Even though AvaTrade is licensed by different authorities than most brokers, their registration process is fairly similar to other brokers. Note that the following steps are required to open a regular trading account and that the process to open an AvaTrade demo account is much easier.
Unlike most other brokers, AvaTrade offers a social registration that slightly shortens the process.
Instead of having to provide the broker with your information you can sign up using your Facebook or Google account.
1. Your personal information
The first step of the signup process is to provide AvaTrade with information about yourself such as your full name, address, phone number, email, etc. This information will later have to be verified and needs to be correct.
At this point of registration, you will also choose your preferred currency to use on the platform as well as which platform you are going to trade on.
You can have more than one account registered if you would like to trade on different platforms.
2. Test your knowledge
After you've finished the first step, you will have to take a quick test to prove how knowledgeable you are about finance, leverage, and CFD trading.
It only takes a couple of minutes, and your result will be used to determine what limits you will have in terms of funding, margin, etc.
The test will also determine which type of educational material will be offered to you. Do you need more confidence and basic skills? Or do you want to learn about advanced investment strategies?
This type of test is standard in the industry, and you will have to do the same regardless of which broker you sign up with.
3. Verify your identity
In order for you to be allowed to withdraw any potential profit, you have to verify your identity.
This is done by you sending in certain documents that confirm that you are who you say you are.
The first document is a copy of your passport, driver's license or national ID. Remember that the image has to be clear and in color.
The second document is either a recent utility bill, no older than three months, with your name and address or a bank statement with your name and address on it.
After that, you are ready to make your first deposit and start trading CFDs and forex with
AvaTrade, and this is where the broker really differentiates themselves from their competition.
You see, AvaTrade is the only leading CFD broker in the industry that offers bonuses for first-time deposits.
At the time of writing the bonus was 50 percent on every first deposit but we have also seen between 20 and 35 percent being offered so it depends on when you sign up.
A bonus is a nice incentive to start trading as long as you don't forget that it comes with special terms that have to be fulfilled before you can withdraw any potential profits.
AvaTrade License and Regulation
In Europe, AvaTrade is regulated by Ireland's central bank under reference number C53877.
They also have a license from B.V.I Financial Services Commission (British Virgin Islands), Australia's financial authority (ASIC number 406684), South Africa's financial authority (FSP no. 445984), and two separate authorities in Japan with license number 1662 and 1574.
We talk quite a lot about this unique regulation solution that AvaTrade has opted for and for good reason.
By getting licensed from other regulatory bodies than most, AvaTrade receives certain benefits but also a few disadvantages.
For example, AvaTrade is allowed to offer bonuses to European traders which is a great benefit.
Also, Japan has some of the strictest regulations in the world and AvaTrade has managed to get two separate licenses from Japan which gives them access to a market that is usually not available.
In addition, AvaTrade can be used in most of Asia, Australia, and even in countries in Africa.
One of the main downsides of having different regulations is that it can feel easier for more people to opt out and choose another broker with a license from CySEC, FCA, or another regulatory agency that is more well known.
That being said, AvaTrade definitely has all the licenses they need to be a reliable and serious broker.
AvaTrade Payment Methods and withdrawals
All regulated brokers are obligated to follow strict guidelines when it comes to payment methods and money transfers.
These guidelines are in place to protect the broker from unlawful traders but even more so to protect traders from losing their funds.
These mandatory guidelines have resulted in most brokers offering the exact same payment methods, ie. the safest services available on the market.
However, AvaTrade has taken the concept one step further and has limited the available deposit and withdrawal methods even more than the regulation requires, at least for some traders.
Credit and debit cards – (Visa, Mastercard, etc.)
Bank transfer – From your bank account to your trading account
AvaTrade also works with payment services such as PayPal, Neteller, and Skrill but according to their website, these services are not available to European and Australian traders.
It seems strange to us and we recommend that you double check availability for your country.
AvaTrade Customer Service
Getting in contact with AvaTrade's customer service is a breeze and you can expect to get personalized help from trading professionals.
The customer service is available 24/5 but we have heard rumors that they are about to start offering help 24/7 since cryptocurrencies can be traded around the clock.
AvaTrade Live Chat
You have several methods to choose from if you ever have to contact AvaTrade.
By far the easiest option is to use the live chat function directly from AvaTrade's website.
You find a direct link to the live chat in the upper right corner of AvaTrade's interface, but you can also push the "Contact Us" tab at the bottom of every page.
AvaTrade Phone
Moreover, another easy way to get in contact with AvaTrade is by calling them.
This broker has more than 35 phone numbers listed on their website, and they all lead to support staff that speaks a different language.
For example, you can call Bahrain, Nigeria, Malaysia, and Slovenia. We listed the most important phone numbers below and you can find the rest on AvaTrade's contact us page.
International: +1-212-941-9609
Great Britain: +(44) 1733592168
United States (note that US clients are not accepted by AvaTrade): +1 212-941-9609
Sweden: +46-46840838275
Australia: +(61) 731713530
AvaTrade Email
The third and final option to contact AvaTrade is via email. AvaTrade has a contact form on their website where you can contact them with any questions you might have.
You normally get a response within 48 hours.
All thing considered, AvaTrade's customer service is good and the staff working at their support offices are highly trained.
FAQ on Avatrade
AvaTrade has written an extensive FAQ where they've listed some of the most common questions they receive with detailed answers.
This is a good source of information that could save time spent contacting the support.
Because of this we always recommend that you check the FAQ before you contact AvaTrade's support.
To make it even easier for international traders, the AvaTrade website is translated into roughly 30 languages.
We can confirm that the Swedish version of the site is accurate and very well-translated.
AvaTrade Offices
The AvaTrade headquarters are located in the Avatrade Financial Center building at Five Lamps Place Amiens Street, Dublin, Ireland, but they have an additional 10+ offices spread out across the globe.
You can find AvaTrade offices in Japan, China, Mongolia, Nigeria, Chile, Italy, Australia, and more.
AvaTrade User Experience
In our opinion, there are two aspects that are extra important to take a look at before you start trading with any broker.
A broker that does not excel in these two categories will never be considered a leading broker.
The first aspect has to do with license, regulation, and safety. We never recommend brokers that aren't licensed, and you should avoid them like the plague.
You can read more about AvaTrade's license on this page.
The second aspect is the user experience. There is no point in using a broker that is not easy or pleasurable.
Without good platforms and practical tools, a broker will be subpar compared to their competitors. So, what is it like to trade using Avatrade?
Find the best trading platform. You capital is at risk when trading. Be careful.
MetaTrader 4 – Computer
MetaTrader 4 is one of the most used popular trading platforms on the planet and for good reason.
The tool is easy to navigate and it comes with an excellent selection of analytic tools and features that make it as easy as possible to enter positions.
However, the platform was originally developed for forex trading, and that is still what it does best. The MetaTrader 5 is better for CFD trading, and if you use AvaTrade and are looking to trade CFDs and not forex, we suggest you use their proprietary platform instead.
Webtrader – Computer
MetaTrader's webtrader offers everything you would expect from a web-based trading platform and then some.
It is sleek and easy to use, and even though it is slightly limited to the desktop version, it is still more than adequate.
The webtrader can also be optimized to fit a broker and their brand perfectly.
AvaTradeAct – Computer
If your goal is to trade CFDs with AvaTrade, then we suggest you sign up for the AvaTradeAct.
As mentioned, the MT4 is more for forex trading, and the broker's own platform was developed to offer a fantastic CFD trading experience.
It's no secret that we love the MetaTrader 4, although we do think that a really good in-house developed platform can be even better, at least when it comes to AvaTrade. In fact, we would list the AvaTrade platform on our list of the five best CFD trading platforms ever.
AvaTradeAct WebTrader – Computer
Trading with AvaTrade's own web-based platform is a great experience.
The interface is well thought through, all the features are easy to find, and placing orders has never been this easy. We honestly have nothing but praise for the AvaTrade webtrader.
Automated Trading at Avatrade
Do you like trading with robots? Are you interested in getting started with automatic trading?
Then AvaTrade has everything you're looking for. Their trading robots have been designed to work as efficiently for forex trading as they do for CFD trading and it's great.
We are not huge fans of automated trading ourselves, but we have used AvaTrade's robots and loved the experience.
What is amazing is that there is more than one robot to choose from depending on the results you want to achieve.
AvaTrade on Mobile Devices
Using AvaTrade's platforms on mobile devices is just as easy as you would expect in 2018.
You have two choices, you can either download the MT4 app and start trading with their forex app on your mobile device, or you can download AvaTradeGO to trade CFDs.
Both apps are available on Android smartphones and tablets as well as on the Apple iPhone and iPad.
We've said it before and we will say it again, AvaTrade's mobile platform is possibly the best in the world.
Find the best trading platform. You capital is at risk when trading. Be careful.
AvaTrade Spread, Fees, & Commission
Like any profit-seeking company, AvaTrade has to make money.
This is done by charging spread on each trade conducted on the broker's platform as well as a few selected fees in certain situations.
However, AvaTrade is completely commission-free like many other leading brokers out there.
This is what the system looks like for AvaTrade's spread and fees.
AvaTrade Spread
AvaTrade spread changes depending on what asset you are trading and on which platform you trade on.
A certain asset might come with a fixed spread on one platform while it has a floating spread on another. It's your job to either decide whether you like fixed or floating spread and stick with that, or you need to evaluate the situation before each trade to see which deal is cheaper.
The floating spread changes throughout the day and we suggest you apply that fluctuation to your investment strategy.
Generally speaking, AvaTrade's spreads aren't very competitive, but at times you can find really good deals.
AvaTrade Fees
There are a few fees that you should be aware of before you start trading with AvaTrade.
Almost every broker charges an overnight fee for positions held after the market closes, this is done to pay for the maintenance but also to cover large market movements that happen after closing. In addition, AvaTrade charges a rollover fee for most currency pairs, and there is an inactivity fee charged to accounts that haven't been used for a predetermined amount of time.
AvaTrade Commission
As mentioned, AvaTrade is a commission-free broker, and the likelihood of them ever introducing a commission is slim.
Leverage trading with AvaTrade
All CFD and forex brokers must offer leverage and margin, otherwise, it would not be profitable to trade with them.
Margins are sort of like loans that brokers offer their customers to create leverage.
In turn, the leverage creates increased exposure on each position which means you increase the potential profits but also the potential risk. The amount of leverage you want is up to you.
However, as of 2018, leverage has been limited in Europe based on asset classes with large currency pairs having the highest margins and cryptocurrencies having the lowest.
If you don't know what leverage is, we suggest you check out our detailed guide on leverage trading.
And remember that AvaTrade will test your knowledge before you start trading to evaluate how well you understand the idea and the involved risks of leveraged assets.
Note that leverage trading is associated with high risk and it might not be suitable for all traders.
AvaTrade Awards & Recognition
As one of the oldest CFD brokers in the game, it should come as no surprise that AvaTrade has received its fair share of awards and international recognition.
Some of the most prestigious awards include:
Best Trading Experience 2018 – Fxdailyinfo recognized AvaTrade with this incredible award in early 2018.
Best Forex Broker, Best Bitcoin CFD Trading Provider of the year, and Best Affiliation Programme 2017 – The European gave AvaTrade three impressive awards last year.
Best Forex Broker in 2015 – Both ForexTraders and Grand Prix De La Confiance awarded AvaTrade with the same prize.
Best Affiliate Program – In 2014 and 2015 was given to AvaTrade from a handful of organizations and industry leaders.
This is only a short list with the most impressive awards but rests assured that AvaTrade gets recognized for their incredible trading platform on a yearly basis, and that is how it has been since 2009.
AvaTrade Frequently Asked Questions and Answers
Many users and traders turn to us with questions they have regarding trading, brokers, and everything in between.
We always do our best to provide comprehensive and accurate answers to questions and concerns that our readers might have.
In order to try and provide a review that is as useful as possible, we have collected all the questions we get asked about AvaTrade and other brokers and provided answers to them below.
If you have any questions that we haven't answered in the section below we encourage you to leave a comment so that we can address it another time.
Cons of Trading with AvaTrade
We have two issues with AvaTrade. They are not major concerns but smaller problems that one can easily work around, but we still thought we'd mention them to you.
The first problem has to do with their licenses. AvaTrade will have to deal with the consequences of deciding to be regulated by other agencies than those that are considered industry standard.
By stepping away from the traditional regulatory bodies such as CySEC and FCA, AvaTrade receives some benefits such as a larger global reach, the option of offering bonuses, etc.
However, it also makes people warier of their services. People are generally reluctant to avoid what is familiar, and we can see how some people would not use AvaTrade over another broker based on the licenses alone.
In addition, we believe that the platforms they offer can be confusing, especially for beginners. As experienced traders, we understand that some platforms are better for certain markets than others and that brokers tend to offer two platforms to be as versatile as possible.
The only problem is that AvaTrade doesn't allow traders to open one account and use all the platforms, which would be an easy solution. Instead, you have to open one account for each platform.
Many professional day traders are already used to operating more than one trading account but beginners are usually not.
We have met many beginners over the years that want to start trading both forex and stocks at the same time and for these traders, having two accounts can feel overwhelming.
Whether or not there is an easy solution to this is unclear, but it's definitely something to consider.
What Do the Experts Think of Avatrade?
I personally haven't traded very much with AvaTrade since I found the broker quite a while after I had gotten started, therefore my idea of what the broker is like in the long-run might not be the most accurate.
With that being said, I have had the pleasure of trading a bit with the broker and I liked what I saw. Since I'm already used to the MetaTrader 4, I focused most of my attention on AvaTrade's own platform, and I was impressed.
Not all brokers have the ability to actually develop really good platforms own their own, but AvaTrade has done an incredible job.
I do wish that AvaTrade offered a larger selection of assets since a mere 250 feels limiting but for beginners, I think it can be more than enough.
Also, I'm sort of intrigued by the licenses the broker has been able to attain since it makes them completely unique in the space.
Maybe other brokers have something to learn from AvaTrade when it comes to accommodating markets that are normally considered "difficult." Adam, Senior Editor BullMarketz.com
Avatrade is one of those brokers that's been around for ages, and they know what they are doing.
Their product is one of the best on the market and they offer quite a lot of platforms and a free demo account for anyone interesting in trying out the broker without risking any capital.
I have to be honest and tell you that it was a few years ago since I used Avatrade, though, I asked around in our office and based on the feedback they gave me here.
Avatrade is still an excellent option.
It always depends a lot on what you are looking for, Avatrade has been quite selective in the assets offered, meanwhile, they have adapted well to cryptocurrencies.
If you are looking for a great platform, a good and free trial account, and a trusted broker. Avatrade might be the right broker for you. If you are looking for a huge amount of assets, then you might wanna check out Plus500 or eToro instead. Jimmy, CO-Founder, BullMarketz.com
A Few Final Words About AvaTrade
Compared to many other brokers in the industry, AvaTrade is unique from their account set up to the wide array of platforms they offer, the handpicked selection of assets, and the different licenses.
It's obvious that the people behind AvaTrade wanted to do something different and think outside of the box, which we think they have excelled at. In fact, to us, it feels like a breath of fresh air to witness a broker that can take their own path and still achieve the same success as other brokers.
We really like AvaTrade and think it is a shame that this excellent broker is often overlooked when it comes to the top brokers in the world.
Their unique product sets them apart from the rest, but in terms of what they offer customers, little is different from other brokers.
The point we want to emphasize is that AvaTrade is a phenomenal CFD and forex broker that can be used equally as efficiently by beginners as by experienced traders.
And if you for any reason you don't feel like you can take our word for it, we suggest you open an AvaTrade demo account today and try the broker out for yourself.

Find the best trading platform. You capital is at risk when trading. Be careful.