Find the best trading platform. You capital is at risk when trading. Be careful.
Welcome to the most comprehensive Plus500 review avalible on the web.
Plus500 is a complete CFD broker and one of the best forex brokers that currently offers one of the largest selection of CFDs on the market. Last time we checked they had over 2,000 stocks, commodities, currencies (forex), Exchange-traded funds, options, and cryptocurrencies.
UK and EU
The broker operates in the UK and in Europe, and a few other regions. In the UK and in Europe, they are licensed by the UK based regulatory body the FCA, and Cyprus bases CySEC.
In this Plus500 review, we will walk you through the Plus500 trading product.
Plus500 review navigation / quicklinks
Plus500
Plus500 was launched in Israel in 2008 and offers access to most of the world's investment markets.
On top of its impressive selection of CFDs, Plus500UK Ltd is authorised and regulated by the Financial Conduct Authority (FRN 509909). Plus500CY Ltd is authorised and regulated by the Cyprus Securities and Exchange Commission (Licence No. 250/14), and they represent one of the industry's leading affiliate programs. Plus500AU Pty Ltd, AFSL #417727 issued by the Australian Securities and Investments Commission is authorized to issue these products to Australian residents.
All of the above-mentioned organizations are strict and have extreme requirements that have to be met in order to obtain their licenses. Because of this, your safety is guaranteed when trading and using Plus500's services and trading platforms. Since the 2015/2016 season, Plus500 is the official sponsor of the Spanish football team Atletico Madrid. Let's get started with the review.
Create account at Plus500!
5 Things You Should Know About Plus500
Plus500 is one of the leading financial firms in the entire world. Their headquarters are located in Israel, and the company is publicly traded on the London Stock Exchange which is rare in the CFD community. Plus500 Ltd is listed on the Main Market of the London Stock Exchange. In addition to the office in Tel Aviv, Plus500 has its main operational office in London and several smaller offices spread out in Europe.
This broker provides traders access to more than 2,000 CFDs from six different asset classes, including unusual markets such as Exchange-traded Funds (ETF) and Options. You can't go wrong with thousands of assets, and there is something here for everybody. What is even more impressive is that Plus500 launched in 2008 and less than ten years later the broker averages 40 million trades and over $1270 billion dollars in trade value over 12 months (2017). This makes Plus500 one of the leading and best performing CFD brokers in the industry.
In 2015, online gaming developer and industry giant Playtech contacted Plus500 for a deal since they were looking to expand into trading. In June 2015, after months of negotiations, Plus500 and Playtech agreed on a deal worth $703 million dollars. However, in November the same year, Playtech decided to walk away from the deal and left Plus500 on its own.
Two of the world's most respected financial regulation authorities have licensed and authorized Plus500. And the broker currently has one full covering license from the Cyprus Securities and Exchange Commission (CySEC) and one from the Financial Conduct Authority (FCA).
Lastly, Plus500 has developed its own set of tools and platforms that customers can trade with. All of the tools are state of the art and extremely user-friendly, and over the years they have received several awards based on their proprietary trading platforms. According to recent numbers, close to half of all transactions performed on the Plus500 platform were done on a smartphone, and to us, that's a sign of how dedicated this broker is to offering a great platform.
Plus500 Scam?
No, Plus500 is not a scam but rather one of the best CFD brokers on the market. There is no need for you to worry about your safety and money while using Plus500 for your investments.
However, similar to other brokers, Plus500's journey hasn't been completely smooth sailing. In 2012, Plus500 was fined by the FCA when they failed to deliver transaction reports from their customers. In 2015, they were forced to freeze 55 percent of their British customer's accounts since their prevention of money laundering was considered inadequate. It took over 2 months for most customers to get their money back.
With that said, Plus500 has always managed to recover, and every time they encounter a problem with one of the regulating authorities, they do whatever is necessary to solve the issue. In fact, most of the brokers that are regulated under these strict rules will make mistakes at some point or another. We prefer to not only focus on the issues that arise but how the brokers handle those issues and what policies they have in place in order to deal with these situations.
Today, Plus500 is run with the utmost care and there is no doubt in our minds that they are trustworthy. If you're interested in trading with CFD, Plus500 is a good choice with a well-designed platform and a mostly positive reputation.
Find the best trading platform. You capital is at risk when trading. Be careful.
Plus500 Trading Platform
When Plus500 was first launched in 2008, the broker was only available for Windows. It took two years before a version that was compatible with Apple's operating systems, as well as Linux, was developed. The platform is a WebTrader meaning that it does not require a download and is used by a browser.
Plus500 has done a very good job at developing their own platform and we were excited to see a relatively small broker that was able to offer a product that could compare with the big players from day one. If you want to trade with Plus500 you'll get to use a neat, practical, and good-looking platform with an easy-to-use interface.
The platform they offer is available through your computer, web browser, smartphone, tablet, and nowadays also on your Apple Watch. You can read more about the different trading platforms below.
Webtrader is the internet-based version of Plus500's platform. This version doesn't require a download and can be reached through the web browser on most operating systems. A web-based trading platform is best when you need access to your account from a shared computer (a library, workplace, school, etc.)
Plus500 Trading Platform is a trading platform that can be downloaded to Windows and Mac computers. It is a comprehensive and stable platform with all the necessary tools you might need. Only through this version do you get access to all the products and services that Plus500 offers.
Dedicated App – Plus500 has developed an investment application compatible with all portable devices such as Apple, Android, and Windows. The trading app is stylish, innovative, and easy to use.
Apple Watch – Plus500 is unique in the sense that they also developed a version of its smartphone app for Apple Watches. It is a simple app that lets you check the status of your trades as well as analytic information.
Plus500 Trading Accounts
On today's market, it is more or less industry standard to offer two trading accounts. A regular trading account that's used to trade with real money and a demo account that's used to trade virtual money under real market conditions but with zero risks.


Plus500 Demo account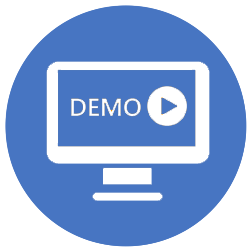 ThePlus500 demo account is a really good opportunity for anyone who is interested in trying out the Plus500 platform, or CFD-Trading in general. The Plus500 demo pretty much gives you a free test run of their platform. We already know that our visitors are quite interested in opening up a Plus500 demo account, so we are going to list down some of the benefits, and warn about some of the cons.
With the Plus500 demo, account you get full access to the trading platform
The sign-up process for a demo account is much simpler than for a real account
The demo account will not cost you anything,
You can use the Plus500 demo to practice new trading strategies or to try functionalities on the Plus500 platform.
As soon as your virtual account balance drops below € 200, the demo account is automatically topped up.
With the Plus500 demo account, you get access to desktop, mobile, and tablet version
A warning about trading with demo accounts
We want to be transparent at all times and this is why we are going to warn you about using the demo account. You can find some pretty hardcore differences between demo accounts and real accounts. The Plus500 demo account is very similar to the real account as of right now but as a general rule, you need to be on the lookout for a few things.
There is a massive psychological difference between trading with a demo account and a real account.
On some platforms trades made on the demo account are not subject to slippage, interest and dividend adjustments.
Positions can be refused on a demo account due to lack of funds etc. on a real account, with leveraged trading, you are at greater risk.
The function to automatically close a position who is trading at a loss varies from broker to broker. On some real accounts,  they do not automatically close.
Just keep these points in mind and you will be alright, enjoy the demo account and the experience it will be able to give you.
Plus500 Leverage
It is really important that you understand leverage and margins before you start trading with Plus500. It's an essential part of CFD trading, and it offers both great benefits and some increased risks. That's why we encourage everyone to study this before they get started – you need to fully understand the risk involved.
In short, leverage is a system that provides you extra investment power through a loan called margin from the broker. It allows you to only invest a fraction of the actual traded amount.
So what is the Plus500 leverage?
Well, up until the spring of 2018, CFD brokers had quite a lot of choice when it came to the amount of leverage they were allowed to offer their clients. There were definitely regulations in place, but Plus500 could have upwards of a few hundred in leverage on certain assets. Now the regulations are much stricter, and the European Securities and Market Authority has provided guidelines on what is acceptable.
The maximum Plus500 leverage available today is 30:1 on major currency pairs such as USD/EUR and GBP/JPY.
Note that these limitations only apply to traders within the European Union and Plus500 is allowed to offer different leverage to clients in Asia and elsewhere. Please check the Plus500 website to see which limitations apply to you.
Setting up a Plus500 Trading Account
You've read our review, checked the broker out, compared Plus500 to some of the competitors, and you're ready to start trading. But how do you get started?
If you're a complete beginner, we suggest you open up a demo account, to begin with. It's very easy and only requires you to provide some basic information about yourself. After that, you will automatically be awarded an amount of free virtual money that you can use across the platform.
However, if you want to start trading for real money, the process looks a bit different and it can be divided into three separate parts. These steps are mandatory for all licensed and regulated brokers and are something you have to do when registering with every legitimate broker. Also, remember that these requirements aren't for the sake of the broker but for the regulatory bodies so that they can help keep you, your information, and your money safe.
The process looks something like this.
First, you need to submit your personal information and verify your account. Second, you have to answer a set of questions so that Plus500 can evaluate your level of knowledge about trading. Third, you need to make your first deposit to start trading.
1. Submit information and verify your account
Plus500 will ask you to provide personal information such as name, address, email, phone number, etc. and Plus500 will check that it's all correct and matching with the databases of your jurisdiction. The second step is to verify your trading account and prove your identity, and this is done by uploading the following:
A photocopy of your passport and/or driver's license or national ID card.
A utility bill or bank statement that is no older than 3 months that clearly shows your address.
Note that you will have to upload a copy of your credit card before you can start making deposits and withdrawals using the card. Also, note that Plus500 has the right to ask you for any additional information and that they can reject your application process if they see fit.
2. Compliance Questions
You will have access to the broker's platforms before you are verified and have answered these questions but you will not be allowed to deposit money and start trading until the process is completed.
3. Deposit money and start trading
The final step of the registration process is to deposit money into your account. This feature will not be available to you until your identity has been verified by the support team and you've answered the compliance questions. However, as soon as that has been done, you are free to deposit money into your trading account using the payment method you prefer.
We advise you to start small and only deposit a smaller amount the first time so you can limit the potential losses. Also, don't forget to always practice money management and never invest money you can't afford to lose.
And that's it. If you've gotten through all the steps above and submitted all the necessary information you can start trading CFDs at your own will. We do recommend that all beginners take the time needed to learn more about trading, analytics, risk, and everything involved so that you are as prepared as possible when you actually get started. Check out our educational material in the top menu and take the platform for a spin with a demo account.
Find the best trading platform. You capital is at risk when trading. Be careful.
Plus500's Focus on CFDs
Next, in our Plus500 review, we will take a closer look at what CFDs are and the advantages of trading with them.
CFD is short for Contract for Difference and it is a financial instrument that can be used as an alternative to the more common types of investment. A CFD is a contract where you the buyer and the seller, in this case, Plus500, agree on the price of an underlying asset. Your job is to then predict in what direction the value of the underlying asset will move and speculate your money on the prediction.
CFDs are unique in the sense that they are not time-based meaning that, in most cases, you can hold on to them until they give you as much profit as you like. A binary option is in many ways similar to a CFD with the main difference being that a binary option is sold at a predetermined time, whether or not it has yielded any profit.
Another advantage with CFDs is that they can be used on both bullish and bearish markets and that you can speculate on negative trends.
Due to strict rules against speculative investments, CFDs just like binary options aren't available everywhere in the world. For example, you can't trade CFDs within the United States or Canada.
Plus500's Selection: Gain Access to Every Market
Today, Plus500 offers opportunities to trade on more than 2,000 financial instruments on some of the most lucrative markets in the world. This wide selection means that there is something here for everybody.
The following markets are currently available as CFDs:
Stocks are one of Plus500's strongest markets and they offer several hundred stocks from the world's stock exchanges. Plus500 has categorized their stocks based on country, so it is very easy to find something suited to your needs. Would you like to trade on the Stockholm Exchange? No problem. Do you prefer the Polish Exchange? Go for it. Are you used to the London Exchange? No worries. Same goes for pretty much every country in Europe and all the world's leading stock exchanges.
Indices are a collection of stocks whose price represents the average price of all the included stocks. It is a huge market and naturally something that Plus500 offers its customers. You can use Plus500's trading platform to trade on some of the most well-known indices in the world such as the S&P500 (U.S.), The Dow Jones (U.S.), F2MX (Germany), and OMXS30 (Sweden).
Forex also called currency trading is another one of Plus500's available markets. From the information on their website, we see that they offer the most traded currencies such as the American dollar (USD), the euro (EUR), and the pound sterling (GBP). These currencies can be combined with smaller currencies such as the Swedish krona (SEK), South African rand (ZAR), and Turkish lira (TRY).
Commodities are one of the smallest parts of Plus500's selection. They offer 17 different commodities such as cotton, coffee, gold, and silver. Not that the commodities are offer as CFD and that you can't trade them as futures. That being said, CFDs offer many practical opportunities and features and it's really not a setback.
Cryptocurrencies are something that Plus500 started offering as soon as the international interest in digital currencies gained momentum. They are constantly working on broadening their collection of cryptocurrencies and currently offer 9 of the most popular ones. With Plus500 you can trade Bitcoin, Ethereum, Litecoin, and a few other digital currencies. They are considered one of the top crypto brokers.
Options is an unusual instrument among traditional CFD traders, but a breath of fresh air in our opinion. You can choose between a few hundred options organized by country, companies, and popularity.
ETFs is short for Exchange-traded funds and Plus500 offers 50 of them. We enjoy trading ETFs and lately, it has become one of our main focuses which means that we really like how accessible they are on Plus500's platform. It also happens to be one of the oldest asset classes on the Plus500 platform that was added already back in 2010.
Trade Bitcoin, Ethereum and several other cryptocurrencies with Plus500
No one can possibly have missed the crypto hype that has been going on lately and neither has Plus500. Cryptocurrencies have been offered on the Plus500 ever since the international interest in digital currencies started picking up for real. They are constantly working on broadening their collection of cryptocurrencies and currently offer 9 of the most popular ones. With Plus500 you can trade Bitcoin, Ethereum, Litecoin, and a few other digital currencies. You can right now trader several cryptocurrencies with Plus500. Bitcoin, Ethereum, Bitcoin Cash, Litecoin, NEO, Ripply, Iota and more.
In 2013, Plus500 became the first company to ever offer a Bitcoin CFD, and since then, they have been leading the development of inspiring every broker that has added similar services since. You could say that Plus500 is the original cryptocurrency CFD broker!
Let's remember that the interest in cryptocurrencies was minimal in 2013 compared to what it is now, and to us, it's just another indication of how dedicated Plus500 is to driving the industry forward.
Plus500 App
The company that operates Plus500 has always strived to be innovative and technologically leading in the industry. Due to this, Plus500's latest effort has been to develop a great mobile product. According to experts and recent data, mobile trading will become more and more common and we can already see how Plus500 is taking advantage of the movement. During 2016, Plus500 reported that almost half (close to 40%) of the total amount of trades conducted on their platform was done on mobile devices.
Plus500's platform is compatible with iOS and Android devices, and according to their website, their mobile platform has an high rating in both app stores.
How Is the User Experience with Plus500?
After regulation and licenses, the single most important factor to consider when choosing which broker to use is how it feels to trade on the platform. It's miserable to trade on a platform that you don't feel comfortable with and in the end, it can really hurt your overall performance. What's even worse is using platforms that lag behind or freeze while you use them since it is both annoying and can lead to you losing money.
In most cases, we, and many other traders like to use platforms that we're familiar with because of practicality reasons. That means that most traders prefer brokers that offer access to MetaTrader 4 or similar. There is also quite a large number of brokers that have developed their own platforms which are not good enough for professional daytraders.
Luckily, that's not the case with Plus500 – their platform is exceptional.
Find the best trading platform. You capital is at risk when trading. Be careful.
Trading on a computer
You have two choices if you prefer to trade on your computer or laptop. You either open the webtrader or download the desktop version of the platform. The webtrader is somewhat limited when it comes to available features but it runs really smoothly and rarely have you waiting for more than a fraction of a second when navigating from one tool to another. Execution is easy and the platform is a real breeze to trade on.
The desktop platform is just like the web trader on steroids. It is a solid platform that provides you with a huge array of tools and features as well as unlimited opportunities. Plus500 also makes sure to update the platform on a regular basis, and all updates are free to download from the broker's official page.
As mentioned, both platforms are very good but if we had to choose we would go for the downloaded Plus500 platform just because we like to avoid the limitations.
Using the trading app
We really don't want to come off as repetitive, but the Plus500 mobile platform belongs to a class of its own, and Plus500 has the numbers to prove it. Almost half of all trades performed with Plus500 are done on one of the mobile platforms which also happens to be the highest ranking trading platform on both Google Play and Apple's App Store.
To us, it's a no-brainer. If you're a person that likes to trade on your mobile device, you have to consider using Plus500. In fact, why don't you sign up for a Plus500 demo account today and take the mobile platform for a spin?
Using Plus500's Apple Watch app
We haven't had the chance to use Plus500 on an Apple Watch yet but would assume that the experience is as smooth as one would expect. In addition, we do see how an Apple Watch could be practical in certain situations, especially when trading volatile assets. However, whether or not it's a necessity is still up for discussion.
Just like Plu500 lead the CFD industry into the cryptocurrency world, we think the will be a driving force when it comes to trading in the future. In fact, chances are very high that Plus500 will be one of the first brokers available on whatever devices we develop in the future.
Plus500 License and Regulation
Plus500UK Ltd is authorized and regulated by the Financial Conduct Authority (FRN 509909). Plus500CY Ltd is authorized and regulated by the Cyprus Securities and Exchange Commission (Licence No. 250/14). It is very important to add that getting a license from Cyprus Securities and Exchange Commission (CySEC) is very hard and any broker who managed to receive such a license can be trusted. Plus500 is also one of the most trusted brokers online today with a really good reputation.
In addition to being regulated as a CFD broker and financial firm in Europe, Plus500 is regulated for being a publicly traded company on the London Exchange.
In order for a company to even be considered for an IPO on the London Exchange one has to live up to very strict requirements in terms of transparency, revenue, customer and data protection, and much more. That means that you as a trader will have an extra layer of safety when using Plus500. Some might even argue and say that it's safer to use a publicly
traded CFD broker than other brokers, although a license from FCA or the CySEC is more than adequate, let alone a combination of the two.
Plus500 Deposits and Withdrawals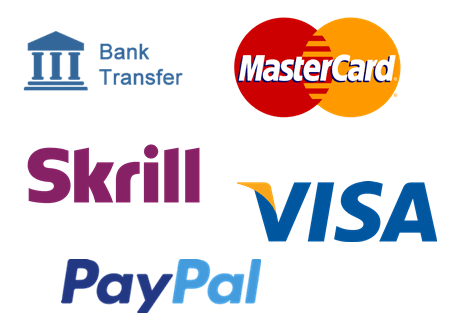 Deposits and withdrawals with Plus500 are always encrypted for safety purposes and performed as fast as possible. If you experience problems with the payment options offered at Plus500, you'll need to contact customer support. They are well-trained and are always ready to help. Deposits and withdrawals to and from your Plus500 trading account can be done using three different methods:
Credit or debit card (Visa or Mastercard)
E-wallets (PayPal or Skrill)
Bank Transfer (From your bank account to Plus500)
Before you complete your first withdrawal, Plus500 will ask you to verify certain personal information in order to prove your identity. Usually, they'll ask you to send copies of your passport or ID, credit card, utility bills, etc. Sometimes they might even ask to call you.
Note that all deposits have to be done from an account that is registered in the same name as you registered your Plus500 account with. If you try to deposit from another account Plus500 will stop the transaction. Withdrawals can be done to the account that was originally used to deposit your money. There are many other brokers that offer more payment methods but as far as we are concerned these methods are sufficient as they cover the need for 95% of the traders. Should you require any other method of payment then perhaps it would be wise to consider another broker.
Plus500 Customer Service
We have been in contact with Plus500's customer service on a few different occasions and can assure you that they are very efficient. Unfortunately, they are not available on the phone which can be limiting if you experience issues related to your computer, internet connection, or trading account.
Instead, you need to contact Plus500 via a live chat feature on their website or via a contact form/email. We recommend that you use the chat since it is the fastest option and because the staff is knowledgeable and can help you with pretty much anything.
The chat's opening hours differ quite a bit depending on where you are located and what office you're trying to reach. When the chat is closed, you can send them an email or fill in the contact form.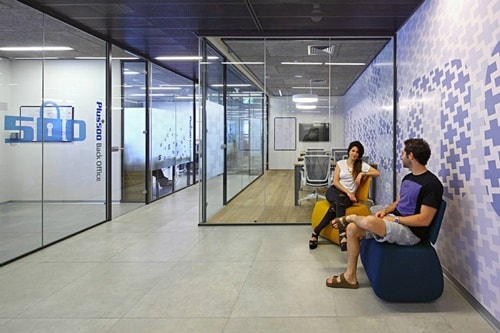 Plus500 guarantees that all inquiries sent by email will receive a response within 24 hours.
For simple questions and minor problems, you can use Plus500's FAQ. In the FAQ, the most common issues are listed as well as information regarding their platform, services, and features. We appreciate that many of the answers come with video clips showing how to solve the issue.
Plus500's Offices
Plus500's brokerage services are run through several subsidiaries of the Plus500 Ltd company that's listed on the LSE, meaning they have several important operative offices in different locations. The first office and one of the most important is located in Tel Aviv, and this is where Plus500 saw the day of light in 2008. However, today, most of the business is run from their large office in London. The address for the London office is 78 Cornhill London EC3V 3QQ UNITED KINGDOM.
Find the best trading platform. You capital is at risk when trading. Be careful.
Plus500 Spread, Fees, and Commission
Just like any profit-seeking company, Plus500 has to make some money otherwise they would be failing. Today, most brokers, including Plus500, are commission free and their fees are limited to what is absolutely necessary such as overnight and inactivity fees. Their main income comes from spread which is a tiny charge on each position that is opened and closed on the platform. Spread can either be fixed or floating and for certain assets, Plus500's spread is highly competitive – more commonly known in the industry as tight spreads.
Spread:
Plus500 has spread on their currencies, but the spread is not fixed. That means that the spread changes throughout the trading day and you might pay more or less depending on the market conditions and trade volume. Since the spread isn't fixed, we suggest you spend some time learning how Plus500's spread system works and we recommend that you never enter a trade before you know the spread for that particular trade.
That being said, Plus500's spread follows the industry standard, and you shouldn't expect to pay more with Plus500 than any of the competitors.
Commission:
A commission is a way for a broker to make a little bit of extra cash from every trade that is performed on the platform. It can be an annoyance that quickly adds up, which is why we're happy to announce that Plus500 does not charge commission. In fact, Plus500 guarantees that all trading done on the Plus500 platform is 100% commission free.
Impressively enough, Plus500 has actually been completely commission free since 2009, only one year after the broker was officially released and before they had gained any real momentum.
Fees:
Like every business in the world, Plus500 needs to make a profit. One way of doing that is to use spread and another way is to charge fees for certain features, which Plus500 does. However, Plus500 is far from alone with doing this and fees are charged by all brokers.
Today, Plus500 charges the following fees:
Overnight Fee: A small fee is charged for every CFD that you don't sell before the end of the day and that is held until opening the next day. This is more or less industry standard.
Inactive Fee: You will be charged $10 for longer inactive periods as stated in the user agreement. This fee does align with industry standards and it is applied to pay for your account, server space, and for the upkeep of the platform. Please check the terms to learn more about time frames.
Other than that, it is free to use Plus500's tools and platform, meaning you won't have to pay a withdrawal or deposit fee or for any other services.
Plus500: The Award-Winning CFD Broker
Plus500 is an award-winning broker that has been recognized for its unique and innovative products and services on several occasions during the last few years. As time goes by, the awards Plus500 receives seem to be getting more and more prestigious.
For example, Plus500 has been awarded prizes for their amazing proprietary platform which has been serving as an inspiration to other brokers looking to develop their own platform.
They have also been recognized for their affiliate program, winning "Best Financial Affiliate Program" at IGB's yearly "Affiliate Award" in 2015, 2016, and 2018.
However, one of the most impressive awards that Plus500 has ever received was recently awarded to them.
In 2018, Plus500 was announced as the winner of FXEmpire's "Best Brokers Award" in the category "Top CFD Brokers 2018." That means that Plus500 is, without a doubt, one of the single best CFD broker on the market in 2018 – an impressive feat to say the least.
FXEmpire's official nomination said the following:
"Offering over 2000 instruments for CFD traders, this FCA regulated broker is truly a force to be reckoned with in the CFD trading industry. Its millions of traders are well protected and receive some of the most evolved trading technology available in the market today Established in 2008, Plus500 is owned by a London Stock Exchange AIM market listed company named Plus500 Ltd with a market capitalization of more than $1 billion. The Plus500 brand is managed by several subsidiaries with the main subsidiaries being Plus500UK Ltd and Plus500CY Ltd."
In addition to this, Plus500 has been awarded on several occasions and after having several record-breaking years in a row we can assume that there are even more awards to come.
Invest in Plus500: Public Offering, Shares, and Dividends
In 2013, Plus500's parent company Plus500 Ltd went through an IPO in the AIM section of the London Exchange and the company has done incredibly well ever since.
In 2014, less than a year after the IPO, Plus500 had reached a total market value of $1 billion and since then they've grown at record speed. Today, four years after the $1 billion valuation, Plus500 has a market cap of $1.83 billion and they are set to break the $2 billion mark before 2019.
If you take a look at the revenue, the company's growth has been growing equally as impressive. In 2012, Plus500 had a yearly revenue of $56 million and in the following two years, that number was more than doubled twice landing on total revenue of $228 million in 2014. Three years later in 2017, Plus500 made almost half a billion dollars in revenue with a 100% growth in customer acquisition, much of which they can thank the cryptocurrency boom for.
Additionally, Plus500 has been paying dividends since their public offering, and that number is also growing each year, totaling almost a 2,000% increase since 2013 – from $0.07 per share to $1.447 per share.
Plus500 FAQ
We have spent years evaluating the CFD and forex market, and during that time we have had the opportunity to test most of the available brokers out there. In turn, this has resulted in many readers turning to us with questions about brokers and their services, and we always do our best to answer all of them.
Lately, the number of questions we receive has increased and in order to make things easier for everyone involved we decided to list the most commonly asked questions that we get regarding Plus500. We have also provided detailed answers to all the questions, and when more information is needed to provide a complete answer, we will refer you to another page on this site or possibly to a page on Plus500's website.
If you have a question that hasn't been answered below we encourage you to leave a comment and we'll get back to you as soon as we can.
This list of questions will be updated on a daily basis to reflect new questions we get asked, and we suggest you check back every once in a while to see what is new.
Cons with Plus500
It is quite obvious that Plus500 is one of the leading names in the industry and that very few brokers can compete with them on this level. But nothing in this world is completely perfect, and there are always things one can get better at, which is true for Plus500 as well.
The main issue we see with Plus500 has to do with their market updates and forecasts, or rather the lack of it. Today, many brokers provide their customers with market updates, trading blogs, news articles, and other tools that can be used by traders to plan investments. Most of these brokers even provide data and information from other sources than themselves. Plus500, on the other hand, provides very little market information and barely any projections. Also, the information that they do provide is always from themselves which we guess could be okay, but it's always preferable to have market updates from unbiased financial experts.
This creates a situation where customers have to look elsewhere to get the information they need to invest with the best possible opportunities. We have seen how some traders online are complaining about the fact that Plus500 doesn't provide enough tools in general.
Another issue with Plus500 is that the broker isn't offering automatic trading or any similar features. That means you won't have access to trading bots or any other practical tools that will trade for you automatically based on certain preset market conditions. Plus500 does provide market alerts and the opportunity to be contacted when a certain condition or price has been met, but that is all, and you still have to place the orders on your own accord.
What Do Experts Think of Plus500?
I personally like Plus500 and I think they offer a pretty solid trading platform that fulfills most of my trading needs. They also have a great reputation in the industry and I know of many professionals that praise Plus500 for their professionalism and dedication to provide a safe and practical trading platform. The number of available assets is more than most traders would need access to and I love the fact that they have integrated ETFs as CFDs.
That being said, Plus500 is lacking a bit when it comes to available tools and analytic possibilities which at times becomes rather limiting. Having the option to use the MetaTrader would definitely add to the possibilities and help create a more versatile product.
At the end of the day, I would recommend Plus500 to anyone looking for a broker, and I have always been deeply impressed with the clean design and easy to use features of their own platform. – Adam, Senior Editor BullMarketz.com
Plus500 was actually one of the first brokers that I used and for that, I have a lot of love for this broker. Although I was not a very successful trader with them due to being a beginner and making too many mistakes, I was not smart enough to educate myself before getting started. Nevertheless, I think Plus500 is an excellent choice today for the trader that wants access to a great trading platform and countless of assets. Do I use Plus500 today? Not that much, I have an active account with them but I am constantly trying out new brokers, otherwise, I would not be doing my job. Would I recommend using Plus500? Absolutely. It's a perfect option, huge selection of assets, an impressive platform and one of the safest brands to trade with. I believe that it's important to pick a broker that fits your need, so my recommendation would be to try out several brokers and pick the one that suits you best.
However, I also recomend that you read our eToro review, and Markets.com review. – Jimmy, CO-Founder, BullMarketz.com. 
Plus500 review – Conclusion and Final Thoughts
Are you looking for a broker that can be trusted and that has a really good platform? Then Plus500 is the right option for you. In fact, Plus500 is one of the brokers that we feel strongest about here on BullMarketz.com.
Perhaps it is because of the amazing trading platform or simply because they are one of the biggest and most trusted brokers out there today. In this Plus500 review, we have tried the demo account, we were satisfied.
We have tried and tested their support team with tricky questions, we were satisfied. We have also explored their assets and the inventory of tradable and we are impressed.
Not many brokers can match the selection available. A huge selection of Stocks, Forex pairs and cryptocurrencies are available at your fingertips.
If you are still not sure about Plus500 then we highly recommend that you set up a free demo account and try their platform yourself. We hope that you have enjoyed our Plus500 review. Feel free to leave a comment with your thoughts on the broker below.
If you want to have a look at a few other options, we offer reviews of most popular brokers available in the UK and EU. Browse our site for more information.
Find the best trading platform. You capital is at risk when trading. Be careful.