Find the best trading platform. You capital is at risk when trading. Be careful.
In this eToro Review, we are going to take a look at the trading platform, the eToro App, the demo account, tradable assets, how eToro works and much more.
eToro is a versatile broker based in London and they have offices in Tel Aviv, Russia, Cyprus, and China. eToro was one of the first services to offer a marketplace for several different financial instruments. In this eToro review, we will be taking a closer look at the broker.
eToro in the UK and EU
eToro is fully licensed to operate in the United Kingdom and across most markets in Europe, thanks to their UK FCA License, ASIL License and their EU license from CySEC.
These to licenses are not easy to acquire, and with these financial regulatory bodies having full insight in the UK and EU based Plus500 trading platform, you can be sure that your money is safe.
Is eToro a scam or are they safe? Do they offer a free demo account? can you trade stocks, forex, bitcoin, and cryptocurrencies? This and much more we will answer in our eToro review.
eToro review overview.
eToro Review - By BullMarketz & Visitors
Support

Deposits & Withdrawals

Financial Instruments

Platform
eToro Conclusion
As a leading broker with the number one trading network in the industry, eToro is leading the way for most other brokers. They are highly innovative and are always pushing for new developments and solutions to keep traders on the edge.
eToro's selection is broad enough to fit everyone. eToro offers a truly unique product that we recommend you try if you want to be able to trade forex, stocks, CFDs, and commodities under the same roof.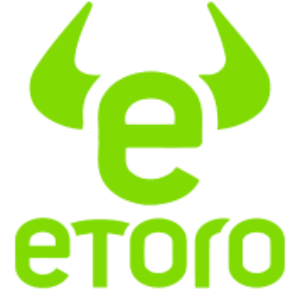 In this eToro review, we are going to take a close look at the popular broker, who actually started out as a quite simple trading platform.
Today, they are proud to offer currencies, commodities, indices, ETFs, and CFDs on a single platform. On top of that, they are one of the most innovative platforms out there and they are constantly adding new functions and features to their trading platform.
Additionally, eToro has made a name for themselves as the world's leading social trading network. Their network works as a social media platform where traders can discuss trading and copy strategies.
Their motto is "Globalized Reach. Personalized Experience." And we think that sums up their product perfectly.
Let'ss get started with the review.
6 Things You Should Know About eToro
Before we get started with our eToro review we thought it would be interesting to list 5 things you should know about eToro. Here goes.
eToro first launched its platform in 2007 giving them over ten years of experience in the field which is a lot more than many of their competitors. During those ten years, eToro has attracted over 10 million customers from all over the world making it one of the biggest CFD brokers in the industry. A common misbelief is that eToro is offering Meta Trader 4 and Meta Trader 5.
eToro is often called the social broker due to its focus on social network trading. The eToro trading network functions like a regular social media, however, the emphasis is obviously on trading. That means the network can be used to share trading tips and strategies as well as learn from others.
In addition to the social trading network, eToro provides the industry's leading copy trading function. Copy trading is a function that lets you search for other successful traders and then copy their trades automatically, thus making a profit from other successful traders. It's a unique feature that few brokers offer and that eToro has perfected over the years to the point where the function is a major selling point for most customers.
A demo account is a free account that lets you trade under real market conditions in a risk-free environment. It's a feature that the majority of brokers offer today and eToro happens to offer one of the largest. With an eToro demo account, you get access to $100,000 in virtual money that you can use to trade whichever way you want.
In 2017, eToro launched cryptocurrencies as CFDs which then led to them launching an exchange function a few months later. In 2018, eToro then decided to take the product one step further with the launching of a cryptocurrency exchange and an associated e-wallet. Currently you can trade Bitcoin (BTC), Ethereum (ETH), Bitcoin Cash (BCH), Ripple (XRP), Dash (Dash), Litecoin (LTC), Ethereum Classic (ETC), Stellar (XML), EOS (EOS), NEO (NEO), BTC/EUR, ETH/EUR with eToro.
eToro is active in very many countries but perhaps the biggest in the UK. They are also looking to enter the US market.
eToro scam? Is eToro safe?
Is eToro safe to trade with? Is eToro a scam or can you trust the broker with your hard earned money?
We are going to take a closer look at safety and some of the complaints made against eToro in this section.
No, eToro is not a scam in any way, shape or form. Instead, they are one of the most serious businesses in the industry. We have searched high and low looking for negative reviews about them but it has proven difficult to find. Most of their complaints are from customers who lost money and are trying to blame their lack of knowledge and skills on eToro. It's also important to note that everyone gets complaints at some point.
We did find a few people who had been forced to wait longer than normal to get paid. However, all of these individuals were eventually paid and it seems to have been caused by eToro's strict payment terms. It is not unusual that payments get delayed and eToro is definitely not the only broker this happens with.
Ultimately, we decided to listen to the millions of customers that eToro has served over the years, instead of focusing on the handful of individuals that had a bad experience. We are certain that eToro is one of the best brokers in the industry and we would not hesitate to recommend them to traders looking for a stable selection of assets and a great social investment network.
eToro has managed to receive a trading license from the Cyprus trading authority, the Cyprus Securities and Exchange Commission (CySEC), as well as the British Financial Conduct Authority (FCA). That means eToro is obligated to follow very strict regulations and is obligated to undergo audits on a regular basis. In the world of CFD trading and online trading, having a license and the proper authorization is extremely important if you want to be considered a legitimate business.
eToro's Financial Instruments
eToro has chosen to focus on five different markets: the forex market, commodities, stocks like CFDs, ETFs, and indices. During 2017 they started introducing cryptocurrencies and so far the selection has grown to 10+ digital assets. eToro is an excellent forex broker, stockbroker and cryptocurrency broker.
This is what their selection of assets looks like:
Currencies: 47 of the world's leading currencies and some smaller ones are offered on eToro's trading platform.
Stocks: eToro offers several hundred of the most influential stocks in the world from some of the biggest stock exchanges such as NYSE and the London Stock Exchange.
Commodities: Copper, gold, natural gas, crude oil, platinum, and silver are the six commodities currently offered by eToro.
Indices: eToro has a selection of 12 different indices, among them you'll find NASDAQ (NSDQ 100), EUSTX50, and AUS200.
ETFs: An eToro trading account gives you access to 59 different Exchange Traded-funds.
Cryptocurrencies: Bitcoin (BTC), Dash (XCO), Ethereum (ETH), Bitcoin Cash (BCH) Ethereum Classic (ETC), Litecoin (LTC), and Ripple (XRP), Stellar Lumens (XLM), EOS (EOS), and NEO (NEO) are the cryptocurrencies that you can trade with on eToro right now. However, we are expecting to see more currencies added in the near future. Crypto is not going anywhere and etoro knows it.
In total there are hundreds of assets that you can trade with. And since there are six asset classes, you will not have an issue finding something you like whether you've just gotten started or you're looking to diversify your portfolio.

eToro's New Trading Platform
A few months ago eToro went through a complete update and they decided to combine all their tools under one roof. The new platform is called New eToro, and it includes all the previous tools and services with several new and interesting add-ons. It is a one-stop solution for all your trading needs and it is 100% web-based.
eToro describes the new platform as a "one-size-fits-all," and we agree that the new product is better looking and easier to use than their earlier version.
Trade Bitcoin, Ethereum, and several other cryptocurrencies with eToro
Are you looking to trade cryptocurrencies with eToro? You will be pleased to know they have added Bitcoin (BTC), Dash (XCO), Ethereum (ETH), Ethereum Classic (ETC), Bitcoin Cash (BCH) Litecoin (LTC), and Ripple (XRP), Stellar Lumens (XLM), EOS (EOS), and NEO (NEO). Make sure to check out the latest selection of cryptocurrencies over at eToro since they are always updating with new stuff.
Currently, you can find the following cryptocurrencies available at eToro for CFD trading.
Bitcoin (BTC)
Ethereum (ETH)
Bitcoin Cash (BCH)
Ripple (XRP)
Dash (Dash)
Litecoin (LTC)
Ethereum Classic (ETC)
Stellar (XML)
EOS (EOS)
NEO (NEO)
Trading Cryptocurrencies with eToro's Cryptocurrency Exchange
In 2018, eToro decided to further develop their cryptocurrency product with a full-blown cryptocurrency exchange and an e-wallet which helped them to further establish their reputation as one of the most innovative industry leaders. Initially, the exchange will have support for the ten cryptocurrencies already offered on the platform, but the selection is expected to increase further.
What is even more interesting is that eToro also took the chance to expand their cryptocurrency business to the American market where CFD trading isn't allowed. This is giving eToro the opportunity to offer services to a market that's otherwise closed down for companies in the industry, and it gives eToro a clear advantage over the competition.
Note that at the time of writing, eToro's cryptocurrency platform has not yet been fully launched and we will update this review gradually as the new platform is introduced. Therefore, we suggest that you keep checking this review regularly to make sure you don't miss any updates.
Copy trading – The World's Leading Social Trading Network
What makes eToro unique compared to all other leading online brokers is that they offer a social investment network where their customers and traders can discuss techniques and copy each other's strategies. As you might understand, a social network like this opens up the doors to unique trading opportunities which means that eToro can offer possibilities that no other broker can. Below you can read more about the network, how it works, and the advantages it offers you as a trader.
There is a saying that two pairs of eyes are better than one pair. But how about more than five million pairs of eyes? By using eToro's CopyTrader, you can review what other users are doing on the platform – How do they trade? What tools do they use? What assets do they focus on?
When you find traders that you think are performing well with styles that seem to fit your own, you can copy them. Afterward, you can just lean back and watch the CopyTrader do all the hard work for you. If the person you're copying starts losing money or if you don't like how the situation unfolds, you can decide to stop the copy function and start over with someone new.
Our tip to everyone who wants to use these functions is to study many traders before you start copying them. You should also try to follow traders for an extended period of time since some traders might only perform well for a short while. Remember to look for the traders that perform better than average.
We truly enjoy eToror's CopyTrader because it makes the trading process so much easier. It is especially useful for beginners and individuals who don't have enough time to spend analyzing the markets and developing strategies.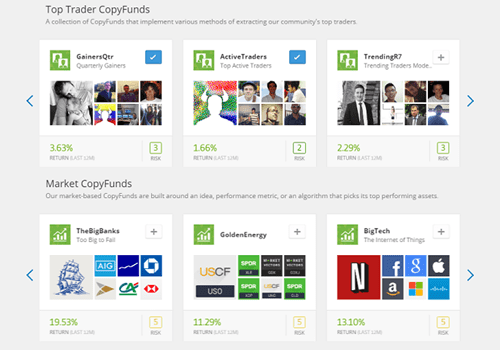 Copyportfolio is the latest addition to eToro's selection of tools and is a practical solution to many problems traders encounter on all levels. The idea with CopyFunds is to let you trade on "Copied Funds." eToro offers two of these funds, the first being Top Trader CopyFunds – a collection of the best traders on eToro's platform. The second fund is a collection of CFD stocks, ETFs, or commodities that are all traded under the same market strategy.
On their website, eToro says that they created CopyFunds to take copy trading to the next level. It also helps to minimize long-term risk for individuals using the tool. Just like CopyTrader, CopyFinds is a practical tool for most individuals, but especially for those who don't have enough time to analyze the market and different assets.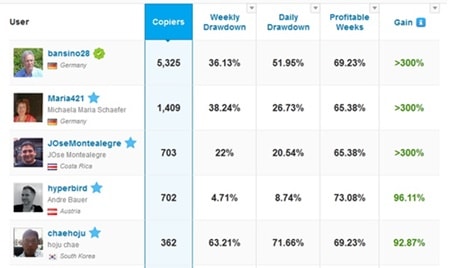 Social Trading is the name eToro has given their complete product, platform + CopyTrader + CopyFunds. The concept is based on the idea that we should work together and benefit from each others knowledge and experiences. By trading together, we all increase our chances.
With access to several million users portfolios, it is easy to learn from others mistakes while shortening your own road to success. And who wouldn't want to do that?
We believe that social trading is the future of day trading. In the future, we are expecting to see the concept grow further, maybe even spreading outside of eToro's own tools.
How Does Copy Trading Actually Work?
Well, copy trading is as easy and practical as it sounds. There is a selection of available and transparent investors that have decided to share their progress with everyone else on the eToro platform. These traders can be copied by anyone who will automatically benefit from their progress. It's your job to find the best traders that can help you gain as much as possible. However, you do run the risk of copying someone that can make a mistake and then you will also lose from that deal.
Naturally, many of the most successful traders have very large portfolios and available funds, but you don't have to match that. Instead, you can invest in the underlying assets that you think to look the most prominent and you can spend exactly as much money as you feel comfortable with.
The benefits of using the copying function are that you don't have to analyze the market yourself and can use other peoples' extensive experience for your own benefits. In exchange for these perks, you pay an extra copy trading fee.
What about the people getting copied?
Technically, anyone can decide to make their accounts available to others and have people copy them. However, it is mainly successful and very experienced traders that do so. In exchange for sharing their accounts with others, eToro pays them roughly 2% of what other traders have made from their accounts.
Find the best trading platform. You capital is at risk when trading. Be careful.
eToro App

We have some good news. The New eToro platform is available for mobile devices. The platform comes in two dedicated applications, one app for Android and one app for iOS. Similarly to the desktop software, the new apps are updated and their features are no longer as limited.
With eToro's new trading app you can buy and sell assets on the go. You can also use the app to analyze the market and keep track of on-going trades. We have tested the app and think it's really good and it seems like they do regular updates to the UX in order to keep the app as updated as possible, which we like.
eToro's platform is available for both Android and iOS, and the app can be downloaded from each respective app store. Compared to the web trader, the eToro app is somewhat limited in terms of available tools, charts, and features, but there is definitely enough for you to successfully trade anywhere you want.
The copy trading function is the same on the app as in the web trader and it's fairly easy to perform most tasks on your smartphone thanks to a well-thought-out UX. That being said, the eToro trading app is not the best we've tried, and if you're somebody that exclusively trades on a phone, you might want to look into some of the other options that are out there. The app performs OK and does the job but if you have very high expectations on your mobile trading experience you might be a bit disappointed.
eToro Leverage
Leverage is something all CFD brokers, including eToro, offer and since it can increase the risk for your trades you need to know about it.
There are currently different rules for leverage in the world with Europe being the strictest. Therefore, the amount of leverage that you're offered might differ from other customers. Also, the leverage available to you is determined in a test that you have to complete before you confirm your eToro trading account.
What makes eToro unique is their copy function. You see, if you're a beginner that doesn't have a lot of experience with leverage trading, eToro might limit how much you can use. So when you copy someone that's more experienced, you might not be able to match the leverage used.
Other things that can affect leverage are the assets you're trading with and generally speaking currency pairs have the highest leverage while cryptocurrencies have the lowest. Learn more about leverage in our guide or check out eToro's website to see what is available to you.

eToro demo account
You've got two options when you open an account with eToro. The first option is to open a regular trading account and start trading for real money right away. The second option is to open a demo account that you can use to evaluate the copy functions and practice trading in a risk-free environment. We always recommend that you start with a demo account, but the decision is yours.
Also, since eToro's platform is different from most others due to the copying, you might need to set aside some extra time to get used to it all – even if you are an experienced trader. We're not saying that the platform is hard to understand, it's just different. Because of this, we advise everyone, not only beginners, to set up a demo account before you start copy trading.
eToro Verification
All brokers that are regulated and licensed by the regulatory bodies of Europe follow similar requirements when it comes to user registration and verification.
That means the process is roughly the same and that the same information is needed from you. In order to help you better understand how the process works, we will walk you through each step.
In order for you to be able to start a trading account, eToro has to make sure that you are legally allowed to trade CFDs based on your age and the jurisdiction you live in. In addition, eToro also has to make sure that you have a good enough understanding of how one trades CFDs and the risks involved before they can allow you to deposit money.
The registration process looks something like this:
1. Personal Information
The first thing you'll have to do is provide eToro with information about yourself. eToro will ask you to submit your full name, date of birth, a phone number, a physical address, email address, etc. This information will be checked to make sure that you live up to all the requirements, meaning that you're at least 18 years old and that you live in a country where CFD trading is allowed.
After this part of the registration is completed you will be allowed to check out the platform and see how it looks, although you won't be able to deposit money and start trading until you've completed the next two steps.
2. Verify your identity
Next, you will have to verify your identity. This is done with two different documents that you need to upload to eToro. You have to get a color copy of your passport, driver's license or national ID, and you will also have to provide a copy of a recent utility bill or bank statement that has your address on it. Note that it can take several days for the broker to verify you and in some cases, they might ask you to provide additional information or redo any of the steps. Therefore we advise you to start the verification process as soon as you possibly can.
3. Prove your knowledge
The last step before you can deposit money and start trading is a compliance test. This test consists of a number of questions regarding CFD trading, leverage, margins, and the risks involved. It normally takes about 10 minutes to complete. Based on your answers and level of knowledge, eToro will decide on your trading limits and the amount of leverage you'll have access to. This is done in order to protect you from unnecessary losses and risks. Naturally, the limits can be increased further down the road if you can prove that your knowledge and trading skills have improved. Contact eToro's customer service for more information on upgrades.
4. Deposit and start trading
Finally, after you've verified your identity and completed the test, you will be able to make your first deposit and start trading with eToro. The first deposit has to be at least $200 or equivalent in your local currency. Also, if you're going to deposit funds using a credit or debit card, eToro will ask you to provide a photocopy of both the front and the back of the card.
We understand that this process might seem like a hassle, but the truth is that it doesn't have to take more than a handful of minutes if you have all the data available. And don't forget that this is done in order to protect you and your personal information and that it's something eToro has to do in order to comply with European regulations.
eToro License and Regulation

A broker needs to attain licenses from recognized authorities in order to offer financial services legally in Europe and the rest of the world. eToro has managed to get several licenses. eToro (Europe) Ltd. has a license from and is regulated by Cyprus Securities and Exchange Commission with the license number 109/10. This license covers most of Europe. In the UK, eToro (UK) Ltd. is regulated by the Financial Conduct Authority (FCA) with reference number 583263. Both eToro (Europe) and eToro (UK) also operate in accordance with the Markets in Financial Instruments Directive (MiFID).

All these licenses confirm that eToro is a trustworthy broker that you can use without having to worry about your money or personal information. The CySEC license and the FCA license are very hard to obtain and only the most trusted brokers will be able to get them. This means that eToro is a brand to be trusted.
Additionally, eToro has registered a company under the name eToroUSA with the Commodity Futures Trading Commission (CFTC), and they are a member of the National Future Association. This means that we can expect to see eToro launch a broker service in the United States soon.
What is the User Experience Like on eToro?
Trading on the eToro platforms is always a pleasure, and it doesn't matter whether you're trading CFDs on your own or you're using eToro's copy trading functions. eToro's platform is completely online which can be limiting in certain situations when you don't have access to your own computer. However, in most other situations it is very practical. So let us take a closer look at the actual experience and execution on eToro's platforms.
Using eToro on the computer
As mentioned, eToro's services are completely web-based meaning no download is needed to trade. The platform is called the (new) eToro WebTrader, it's developed in JAVA, and it runs very smoothly on all the major web browsers regardless of which operating system you use. What is really impressive about eToro is how seamless it is to switch between copy trading and regular trading and there is no long waiting or complicated change of platforms.
Just be aware that eToro's interface is completely different from all other brokers that we recommend due to the copying function. Because of this, you should expect to have to spend some time getting used to the platform if your switching from another regular broker.
We are also impressed by the number of tools that you have at your disposal. In addition, eToro provides access to an impressive selection of analytic tools and detailed charts that make analyzing very easy.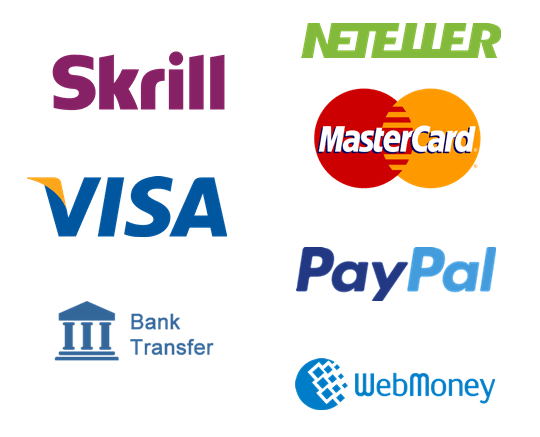 Deposits and Withdrawals with eToro
The company behind eToro has made it clear that they want their broker service to be as good to use as possible which means that they try to offer payment methods that suit everyone. This also means that new methods might be added and that the following list may be updated.
Today the following payment methods are available to most customers:
Credit and debit cards (Visa, Mastercard, AMEX, etc.)
PayPal
Neteller
Skrill (according to some this option is only available for British customers)
WebMoney
Wire Transfer
Bank Transfer
Minimum deposit
The minimum deposit is $200 and the maximum is $20,000, but that number might be affected by the payment method you use. All deposits are processed within 1 day, except for bank transfers which can take between 3 and 5 business days. eToro offer more payment methods than most other brokers. Is the payment method you prefer on the list? If not, perhaps you might have to consider another broker.
Find the best trading platform. You capital is at risk when trading. Be careful.
Review of eToro Customer Service – Support – Contact number – Live chat
If you run into any problems or have questions, you have a few ways of contacting eToro. The first and most useful solution for minor issues is their FAQ where you'll find answers to the most common questions related to accounts, payments, platforms, etc. You can not find your answer there then you can always try their live chat.
If you don't find the answer in the FAQ section, you need to contact the eToro customer service. Existing customers have access to a live chat between Monday and Friday and can get direct help from the staff working at the customer service who are very knowledgeable and very quick to assist. If you don't have an account you can contact the customer service through email or the contact form on their website.
Last time we visited the website we found a warning which stated that due to an increasing number of customers eToro isn't able to answer questions from non-customers. They also state that they promise to handle your case as soon as they can and if your question has been asked before they will send you a pre-written answer.
Since we hadn't seen the warning before we decided to send them an email as a "non-existing customer," and we received a professional and very detailed answer within 24 hours, which is not bad at all. If you're a paying customer you can expect to get help a lot quicker than that. Also, keep in mind that eToro is offering a live chat which many brokers fail to do. In our reviews, we always really make sure to contact the broker via live chat and email. In the case of eToro, we are happy to share they handled our questions with elegance.
When we wrote the first version of this review eToro also offered a phone number but thanks to Alison who through the comment section down below, we have been made aware that eToro no longer offer support via phone. This is important to be aware of since phone support is a requirement for many traders. eToro does, however, offer excellent email support.
Fees, Spread, and Commission?
eToro is a commission-free CFD and copy trading broker which means that they don't take a commission for any of the trades performed on the platform. However, eToro is also a business which means they have to make a profit in some way. This is done by charging spread on each trade. Spread is another word for a fee and it's based on the difference in sell and buy prices.
eToro Spread
On the eToro platform spreads are charged in either pips or percent depending on which asset you are trading, and for each asset, there is a fixed minimum spread. That means that there is a certain amount that will be charged for every trade but since it's a minimum amount the actual spread can be higher. Below we will provide a few examples of what the minimum spread looks like for a few assets.
Currency Spread – Range 3 to 20 pips
USD/EUR – Minimum spread 3 pips
USD/PLN – Minimum spread 20 pips
GBD/CAD – Minimum spread 4 pips
Commodity Spread – Range 2 to 45 pips
Gold – Minimum spread 45 pips
Copper – Minimum spread 2 pips
Stock Spread
As of January 2018, all stocks have the same spread on eToro's platform. The amount is set to 0.09% in both ways.
Cryptocurrency Spread – Range 1.5% to 5%
Bitcoin – Minimum spread 1.5%
Bitcoin Cash – Minimum spread 5%
Note that the spread might change at any given time.

eToro Fees
Charging overnight fees is a standard procedure in the CFD trading industry. An overnight fee is charged for each CFD contract you decide to keep after the market closes and the amount differs depending on the asset you're trading. In addition, eToro also charges a slightly higher fee for any asset held over the weekend. Visit eToro's website for exact fees and terms. There are also fees added to withdrawals on some of the available payment methods.
eToro's spreads are quite high compared to many of the brokers that we recommend which is something you should consider before signing up. And since the spread isn't fixed, you need to always make sure that you know how much eToro will claim for every trade before you place it. Otherwise, you might end up getting very disappointed and even make trades that aren't profitable for you.
eToro FAQ
eToro is a CFD broker based in Israel but with a main focus on the European and Asian markets. eToro is also industry leading when it comes to copy trading and automated CFD trading, and they have developed a long list of innovative products that are completely unique to their platforms. This award-winning broker is an excellent choice for anyone looking to trade CFDs today.

eToro's selection of CFDs is divided into six categories.
Currencies – Forex trading has been a strong focus since eToro first launched and it remains one of the most influential parts of the platform.
Stocks – Speculate on some of the world's leading company shares with an eToro trading account.
Commodities – Invest in six different commodities and profit from market price changes.
Indices – Index trading is a fun way of speculating on the overall condition of the market and eToro has made it as easy as possible with 12 indices to choose between.
ETFs – Not all CFD brokers offer ETFs but if that's a market you enjoy then eToro is a perfect choice. Today there are almost 60 funds to choose from.
Cryptocurrencies – In addition to the most popular digital assets, eToro provides access to NEO, Stellar, and Ethereum Classic.
First and foremost, eToro belongs to the top five best brokers in the world, and we don't say that lightly. Additionally, eToro is a great alternative for everyone that enjoys copy trading and is inspired by a large community of like-minded traders.

Copy trading is a fun and innovative form of trading that has grown in popularity over the last few years. In traditional trading, you have to do all the work yourself and it's up to you to find value on the market. However, when you copy trade your job is instead to evaluate other successful traders and then decide on which ones you want to copy. After you've found a trader that you would like to copy, your trades will be done automatically based on that trader's investments.

eToro's trading network is like a social media platform combined with a forum for traders. It's a place where you can go to get inspired by other traders and share your own experiences. In our opinion, it's one of the best ways to get better at trading.

eToro refers to copy trading and their trading network as 'Social Trading.'

In order to start using eToro's trading platform, you need to register a trading account by submitting personal information such as your name, address, and phone number. After the account has been created, you need to verify it before you can start enjoying all the amazing tools.

eToro's verification process is a two-step process that is quickly completed on the eToro website. The first step is to submit a copy or picture of your ID and the second step is to prove your address by submitting a utility bill. eToro provides detailed instructions on how you get through the certification process on their website.
After you've registered your account, you need to deposit your funds to start trading.

Yes, like all industry-leading CFD brokers eToro offers a demo account. The eToro demo account is free to set up and is a great way to test the unique copy function. On eToro's main page you will find several buttons that will direct you to the demo account registration process.

eToro has developed a complete set of unique and highly efficient trading platforms offered under the same product. The eToro platform is called the New eToro. The New eToro is a combination of a copy trader platform and a regular trading platform and also includes other tools that will make your trading experiences as easy as possible. In many ways, the New eToro platform is an upgraded and combined version of the older separate platforms that the broker used to offer.

Yes, the eToro New platform is available on iPhone, iPads, and Android smartphones and tablets. You can download it directly from one of the app stores or from eToro's website.

Absolutely. eToro has multiple cryptocurrencies in its selection, and it includes a good mix of large and popular cryptocurrencies as well as a few smaller ones. We love trading digital assets as CFDs and think that eToro has done a great job at implementing this feature on their platform.
The eToro Minimum deposit is $200 for Europeans, up to $500 minimum deposit with bank wire. However, the limit varies depending on where you're from and can be as high as $10,000 for first-time deposits.

The minimum withdrawal from eToro is $50 and depending on your account status and payment method the maximum amount varies greatly.
Press withdraw funds.
Enter the amount you wish to withdraw.
You are required to complete a withdrawal form.
Submit a withdrawal request.

eToro provides a large number of payment methods and there is something for everyone to use. For example, deposit money using your debit or credit card, or use an e-wallet or bank transfer to make a payment. Additionally, eToro lets users from certain regions (mostly China) use special payment methods.

Definitely. We would never recommend a broker that wasn't licensed, authorized, and regulated and we are 100% sure that you can trust eToro. In fact, we ourselves trust eToro with our money and investments. eToro is licensed by both CySEC and FCA, meaning they are operated under strict requirements.

eToro Cons and Possible Improvements
It's probably clear by now that we really like the service that eToro provides, especially the innovative copy trading services. But as always, there are a few things that we've noticed that we and other traders would like to see improved or changed.
One thing we often hear about when it comes to eToro is that the copy trading functions take away from the regular trading experience, especially at times when you don't want to copy others. Although, this is unlikely to change since eToro has decided to focus on copy trading.
Another thing we've noticed is that eToro's spreads are higher than the industry average for most assets meaning you lose out on more money. In fact, for many currencies, eToro's spread is 3 times as high as their competitors which comes out to be quite a lot in the end, especially for forex traders. That being said, eToro does not charge commission and they don't have an inactivity fee which means you can take a break from your trading whenever you want without having to pay to keep the account.
Find the best trading platform. You capital is at risk when trading. Be careful.
Experts Share Their Thoughts on eToro
eToro belongs to the top tier of CFD-brokers for a good reason. I actually think that eToro would qualify for the top five brokers even without the copy functions that have made it so famous. There is an obvious difference between a broker that is run to make money no matter what and a broker that's operated to provide the best possible service, and eToro belongs to the second type. I have used eToro a lot myself and I never hesitate to recommend them to people. And when it comes to copying trading features, there is no one that does it better – eToro literally owns the space.
That being said, I personally don't love copy trading since I'd rather handle the trades and the analytic work on my own. And if you're not looking to copy other traders, there could be options that are better suited for you. Adam, Senior Editor BullMarketz.com
eToro is one of the major players out there and their product is very popular. I think everyone who is interested in trading and particularly copy trading should create an account or a demo account with eToro to see what the fuzz is all about. It would be silly of me to not recommend one of the most popular brokers today. eToro is a great option, although not my cup of tea. While I do think the broker is good the platform simply does not work for me. I find it a bit too colorful and it annoys me a bit. Might seem like a ridiculous reason but hey, I am going to spend several hours trading, mind as well does it on a platform that I like. I generally like Plus500 and the IQ Option platforms much more. Check out our IO Option review or Plus500 review. 
With this said, I do not think my opinion on eToro is in line with most other investors. Most often, eToro is the preferred choice and an excellent one as well. Fully regulated broker, free demo account, easy to sign up and great product. What more can you wish for? Jimmy, CO-Founder of BullMarketz.com.
Final thoughts on eToro
eToro is a  great option in many aspects for anyone who is looking for a CFD-broker. They are one of the biggest and best brokers out there today. They are licensed and regulated and can be fully trusted. Also, they offer a unique trading platform as they have developed their own product in-house. Unlike many brokers who offer the off the shelf Meta trader 4 or Meta trader 5.  If you are still unsure then we can highly recommend signing up for the demo account, which will give you a lot bunch of fake money, more precisely, a $100 000. You can use the free demo account to try out their platform.
All in all the platform performs great when we compare it to many of the competitors like Plus500 and IQ option. Is eToro the right option for you? Only you will be able to answer that question. At the end of the day, you are the one who is going to trade with the broker.
Find the best trading platform. You capital is at risk when trading. Be careful.
eToro is a multi-asset platform which offers both investing in stocks and crypto assets, as well as trading CFD assets.
Please note that CFDs are complex instruments and come with a high risk of losing money rapidly due to leverage. 76% of retail investor accounts lose money when trading CFDs with this provider. You should consider whether you understand how CFDs work, and whether you can afford to take the high risk of losing your money.
Cryptoassets are highly volatile unregulated investment product. No EU investor protection.
This content is intended for informational and educational purposes only and should not be considered investment advice or an investment recommendation.
eToro Review - By BullMarketz & Visitors
Support

Deposits & Withdrawals

Financial Instruments

Platform
eToro Conclusion
As a leading broker with the number one trading network in the industry, eToro is leading the way for most other brokers. They are highly innovative and are always pushing for new developments and solutions to keep traders on the edge.
eToro's selection is broad enough to fit everyone. eToro offers a truly unique product that we recommend you try if you want to be able to trade forex, stocks, CFDs, and commodities under the same roof.
User Reviews and Complaints