Find the best trading platform. You capital is at risk when trading. Be careful.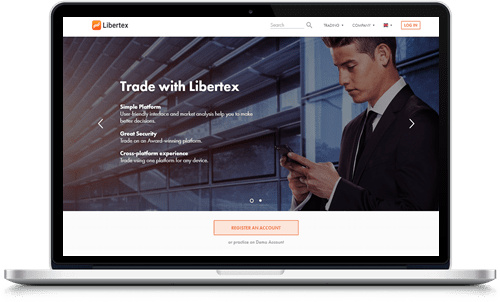 Libertex is a renowned CFD broker with an impressive reputation for being extremely effective and easy to use.
The broker is based in Russia and is currently available in 27 countries, with over 2.2 million global customers and experience that stretches over 20 years.
Over the years, Libertex has won multiple awards from international organizations, and the platform is one of the most solid cross-platform solutions we've ever seen.
All in all, Libertex is one of the best CFD brokers on the market, and you can learn all you need to know about them below.
Enjoy!
Find the best trading platform. You capital is at risk when trading. Be careful.
5 Things You Should Know About Libertex
Libertex has been around since 1997 which means they have more experience from the industry than many of their competitors. During their 20+ years in the business, Libertex has attracted over 2.2 million users worldwide.
What sets Libertex apart from many other online brokers is their focus on being an international brand with a global reach. At the time of writing, Libertex was available in 27 countries, but the broker is constantly working on becoming licensed in new regions and will most likely become available elsewhere in the future.
Libertex offers a cross-platform solution that is one of the best multi-asset platfroms we've ever used. It comes with a range of advances analytic tools, detailed charting tools, and everything you need to succeed.
Over the years Libertex has been awarded more than 30 awards from some of the most prestigious organizations in the industry. All these awards are the ultimate proof that Libertex is working hard to be an innovative leader and that they are constantly working to further establish their presence.
You can trade 170 of the most popular and lucrative assets with Libertex. For example, you can invest in stocks, cryptocurrencies, and commodities as CFDs as well as some very popular currency pairs.
Is Libertex a Scam?
No, a broker with a reputation that is as clean as Libertex is not a scam, of that we are 100% sure. This broker is as serious as it gets and they make sure that their main focus is always the customer. As always, the best way to make sure that a broker is not a scam is to check that it's licensed and regulated. Libertex has a license from the Cyprus and Securities and Exchange Commission (CySEC) which means every part of their operation is regulated under the strictest rules in Europe.
If a broker has a license from CySEC, you as a trader can be confident that you will be protected and that the assets provided are offered under fair circumstances.
Let's not forget that Libertex has over 20 years of experience offering online trading services to 2 million customers. If Libertex was a scam, people would know by now, and the broker wouldn't be growing in popularity.
In fact, we can guarantee that Libertex is not a scam and we would never allow ourselves to recommend a broker that could jeopardize our reader's safety. All of our reviews are unbiased which means we always take an honest look at the services we review.
CFDs and Forex Trading with Libertex
Libertex has a pretty decent selection of tradable assets spread out over 7 different markets. With 170 available assets, the selection is smaller than some other leading brokers, however, the selection is also very varied and satisfying. The following markets and assets are currently available for trading with Libertex.
Stock Trading – Open an account with Libertex and gain access to 50 of the leading stocks from the United States, Europe, and Latin America. This part of the selection is aimed at blue-chip stock trading, and you won't find any penny stocks here, meaning you can mostly trade large companies like Facebook, Amazon, Google, IBM, etc. Ideally, we would like to see a few more stocks listed, but in general, there is enough here for most.
You can compare Libertex to our other best stock brokers.
Cryptocurrencies – Libertex offers an award-winning cryptocurrency product (Best Cryptocurrency Broker 2017). On the Libertex platform, you can browse between two dozen cryptocurrencies and invest in them as free-standing assets or as currency pairs with fiat currencies and other cryptocurrencies. See section below for more details.
Forex Trading – The second largest asset class on the Libertex platform after stocks is currencies. At the time of writing, Libertex is a forex broker who provides traders access to some of the largest currencies in the world as well as several more exotic ones. To this day, the forex market remains the largest and most popular market in the world, and this is where Libertex and many other brokers make their money. Co
Commodity Trading – Commodities can be traded on Libertex, and this category has been divided into the following three classes: metals, agriculture, and oil and gas, meaning you can trade copper, gold, wheat, corn, crude, and much more. Compared to many of the brokers that we've already reviewed, Libertex's selection of commodities is quite impressive. If you like trading commodities but don't want to use futures, then this broker is for you.
Trading Indices – With 17 different indices on offer, Libertex provides access to more indices than most brokers. This category is listed after regions, and you can find all of the most influential indices on the platform. There are many good reasons why index trading is so popular, and if you haven't traded indices yet, we urge you to try it out as soon as you can.
Find the best trading platform. You capital is at risk when trading. Be careful.
Trade Cryptocurrencies with Libertex
We believe that Libertex's selection of cryptocurrencies is so impressive that it deserves its own section in this review. In total, Libertex provides 40 CFD investment opportunities based on the price of 19 different cryptocurrencies. The coolest thing about Libertex is that they 've managed to create CFDs for some digital currencies that aren't offered anywhere else. Also, you can choose to trade cryptocurrencies as underlying assets or in currency pairs. Let us describe it further.
Today, the following cryptocurrencies are available in one shape or form on the Libertex trading platform.
Bitcoin (BTC), Ethereum (ETH), Bitcoin Cash (BCH), Ripple (XRP), Litecoin (LTC), Dash (Dash), Ethereum Classic (ETC), IOTA (MIOTA), NEO (NEO), OmiseGo (OMG), QTum (QTUM), Monero (XMR), ZCash (ZEX), Stratis (STRAT), Tron (TRX), Nem (XEM), Stellar (XLM), Cardano (ADA), EOS (EOS)
As you can see, the selection of cryptocurrencies currently offered by Libertex is larger than all other brokers that we have reviewed. In our opinion, this further confirms our observation that the broker is working hard to establish itself as an innovative industry leader and we wouldn't be surprised to see more assets added soon.
Due to the incredible popularity of cryptocurrencies, Libertex has cut the trading fee in half for all digital currencies. Not only does that mean that Libertex's selection is larger than other brokers but it is also cheaper to trade cryptocurrencies on the Libertex platform.
What Platform Does Libertex Use?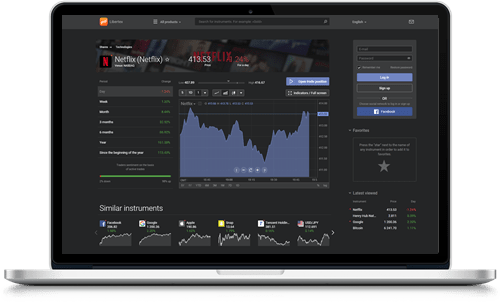 As more and more people become interested in trading, the demand for simplicity has increased, and the people behind Libertex have answered that demand. Libertex offers a single cross-platform that can be used on multiple devices and it has been developed to be as easy to use as possible. All the available assets are incorporated into the platform which makes it easy to invest even for beginners. To open a trade, you choose your preferred asset, the amount you want to invest, and the direction. It's as easy as that.
What does cross-platform mean?
It means that Libertex offers a solution consisting of more than one platform. This is done to cover as many markets, tools, and features as possible. Libertex actually has three different platforms on offer and together they provide one of the most comprehensive products on the market.
Libertex Platform
The Libertex platform is Libertex's own in-house platform that they have developed in order to fit their product as well as possible. We really enjoy using the Libertex platform, and we think that the broker has done a great job with the design and development. The Libertex platform also comes with a free demo account that provides you with $5,000 in virtual money that you can use to practice trading and test the platform.
When it comes to in-house designed multi-asset platforms, Libertex's is one of the best int he world. It's easy to master and you will be trading like a professional in no time. Also, if you're already a experienced trader, getting started with the Libertex platform will be a breeze.
Find the best trading platform. You capital is at risk when trading. Be careful.
Can I use Libertex on Mobile Devices?
Yes, you can. As mentioned earlier, all of the Libertex platforms are available for Android and iOS, and you can download the app from the respective app stores. Whether you prefer trading on an iPad or an Android tablet or you would rather use your iPhone, Libertex has an app for you.
The easiest way to get access to Libertex on a mobile device is by visiting Libertex's website and following the direct links to the mobile platform, or you can simply download the trading apps directly from the app stores. Note that there is only one version of the Libertex mobile app and it comes with all the trading features you need.
Libertex's Trading Account
To mirror the simplicity of the trading platform, Libertex also only has one trading account. A "one size fits all solution," and we think it's brilliant. The account can be used with up to 1:500 in leverage, has no spread, and the broker only takes a commission on certain assets. It's simple, effective, and very practical, which is the main reason Libertex has over 2 million satisfied customers.
Demo Account
Up until very recently, Libertex did not offer a demo account. However, today they do. The Libertex demo account seems to be available on all three of the trading platforms which is good since it gives you the opportunity to try the full product before signing up.
Unlike other brokers, Libertex offers a smaller amount of virtual money. Today, most brokers have demo accounts with $10,000 up to $100,000, but Libertex only offers $5,000. Although, it is not the end of the world since the Libertex demo account is unlimited. Just note that refills aren't automatic and that you have to refill the demo account on your own. To get more virtual money after you've emptied your balance, you need to visit the tab Balance, and from there you can choose to restart your demo account for another $5,000.
Instead of practicing with free virtual funds, you can also open an account and practice using smaller investments and low leverage. There are some benefits to using real money over virtual money, and it will help you get better at money management. You see, when people trade with virtual money they tend to take unnecessary risks since they have nothing to lose.
Libertex Demo Account vs Trading Account – Understand The Difference
It is really important that you are aware of the differences between an actual trading account and a Libertex demo account. You also need to understand the perks and risks of the two account types.
A trading account is an account you use to trade on the Libertex platform with your own money. To register an account with Libertex, you need to go through the registration process which we've outlined on this page. After you've registered your account you can deposit money and start trading. Any profits you make can be withdrawn or reinvested – the choice is yours.
A demo account, on the other hand, is much different. There is no lengthy registration process needed to open the demo account, all you need to provide is your name and email address. After that, you will be given 5,000 virtual dollars that you can use to trade under real market conditions. Since the money you're using is virtual, you won't be able to withdraw any profits, instead, this account is used to practice trading.
The Risk of Using a Libertex Demo Account
Demo accounts are practical tools that can help beginners avoid unnecessary losses and support experienced traders in their strategic work. However, there is one risk of demo accounts.
Since you're not trading with real money, you will be prone to take more risks and in some cases even be careless with the money. Obviously, this is not a problem since you don't risk losing anything, the problem arises when you switch to a regular account. In some instances, traders continue to carelessly trade when changing from demo to real trading and that can put you and your funds at risk. Because of this, we encourage you all to be careful when switching from a demo account to a regular trading account.
What Is It Like To Trade with Libertex?
Trading with Libertex is just as great as you would expect from an industry-leading broker. We have great respect for any broker that decides to go the extra mile by developing their own platform and we have to admit that Libertex has succeeded. The Libertex Trading Platform is really good and enough to satisfy even the pickiest traders. The advanced charting tools allows you for performing technical analysis of any asset you're interested in and you'll quickly get a detailed overlook of how a or several assets have performed.
We also think that the mobile integration is very well done which is more than we can say about most brokers. For the purpose of this review, we took the Libertex platform for a spin and tried to evaluate as many features and tools as we could.
Libertex on a Computer
Let's begin with the websites. Libertex's website is clean and well-designed, and there is really no questions about how it works, where you sign up, etc. They do have a separate site for support which proves how dedicated this broker is to please their customers and provide help when needed. The only downside is that it can be difficult to locate the support page. So far, we have only found one link to it all the way down at the bottom of the footer and if there is one thing we would like to see changed it is that the broker makes their support page easier to find. Otherwise, the website is solid.
The Libertex platform is also really good if maybe a little limited compared to Metatrader's platforms and a few other proprietary platforms that we've used in the past. However, it is evident how hard the broker has worked on perfecting a very good platform and we like using it. Furthermore, it seems to be updated with new features regularly which is always a good sign. The interface is clean, the user experience is really good, and it even comes with some unique features and charting tools that we were really excited to try.
Libertex on Mobile Devices
To use Libertex on a mobile device such as a smartphone or tablet, you have to download the Libertex trading app. As always with regulated brokers, the apps are available on Google and Apple app stores where you can also read other people's reviews of the mobile trading app.
In July 2018, the tool had over 5 million downloads on Google Play and a 3.8 rating with most negative comments coming from traders who try to blame their losses on the platform.
Naturally, we've traded using the mobile platform too, and it was just as good and easy to use as the desktop version. If you're a person that prefers trading on your smartphone or tablet, then Libertex is a great option for you.
And let's not forget that the Libertex trading app was awarded the "Best Trading App 2017."
Libertex Payment Options
The payment options that are available depend on where you reside although, Libertex doesn't offer that many methods and the selection doesn't differ very much from region to region. Today you can use your bank card to fund your account otherwise you can make a regular bank transfer. If you prefer using an online payment service, you can opt-in for Neteller and Skrill.
Not a lot of information is provided about payment options by the broker, and you will have to set up an account in order to figure out what is actually available to you.
When it is time to withdraw your profits, your selection is even more limited. You can only withdraw money to your bank account via a bank transfer or make a withdrawal using Skrill. The bank transfer requires a minimum of $20 to be withdrawn without a maximum limit and Skrill can be used for transactions of $1 to $500.
Find the best trading platform. You capital is at risk when trading. Be careful.
Register a Trading Account with Libertex
So, you're feeling convinced that Libertex is the broker you want to use and you want to sign up for an account. But first, you will want to know what the registration process looks like so we thought we'd walk you through the process.
In general, all regulated brokers follow the same guidelines when it comes to registration, and therefore the process is often very similar with the same required steps.
The first step is to provide Libertex with information about yourself. They will ask for your name, address, email, phone number, and other data that they see fit. There is a function that lets you use your Facebook account to register which makes the process more efficient.
After you've done that, Libertex will ask you questions about trading. Your answers to the questions will help determine what your trading experience will be like and whether or not Libertex will have to limit leverage and other features from you. The reason Libertex might limit certain features for inexperienced traders is to protect them, and this is something all brokers do.
At this point, your account has been created and you can deposit money and start trading. However, in order to complete the registration process and be eligible for withdrawals, you need to confirm your identity. The confirmation process can take up to several days to be completed, and we encourage you to start it as soon as you can because until it's done, you can't withdraw your profits.
Confirm Your Libertex Account
In order to confirm your account and your identity, Libertex asks you to provide certain documents. The first is a color copy of your passport, driver's license or national ID and the second is a copy of a recent utility bill with your name and address on it. If you can't provide a utility bill, a bank statement can be used instead. If you're planning to use a credit or debit card to fund your account, Libertex will ask for a copy of the front and back of that card too.
When the needed documents have been submitted, Libertex will evaluate them and either approve you or ask you to provide more information. It can take a few days before the process is finished and you will be notified as soon as your Libertex account has been confirmed.
Libertex does provide a registration guide as well as useful tips and advice on how to best confirm your identity, and we suggest you take a look at the guide if needed.
Libertex License and Regulation
Today, Libertex only has one license for the European market and that is more than enough. Under license number 164/12, Libertex is overlooked and regulated by the Cyprus Securities and Exchange Commission (CySEC). In Europe, CySEC is the number one regulatory body, and anyone who has been licensed by them can also be fully trusted.
How Does One Contact Libertex?
At first glance on the Libertex.com website, it seems to be impossible to get in contact with anyone from Libertex. There are no support or customer service links provided and the information about the broker and its services are very limited. After conducting some more research, we stumbled upon a link to this site: support.libertex.com, where we found a detailed FAQ and several methods of contacting the broker, such as email, phone, and a live chat.
Since we couldn't find the page at first, we were a bit discouraged by Libertex, but as soon as we took a closer look at the support page, we realized how comprehensive it was. The FAQ is one of the most detailed we've seen with a practical search function that allows you to quickly find answers without having to browse through heaps of questions.
If for some reason, you can't find your answer in the FAQ or you have any other questions, we suggest you contact Libertex directly.
So far, we have only used the live chat feature since it is the most practical option and it has worked flawlessly. Only seconds after you push the chat button, you are in contact with support and they quickly provide all the answers you might need. It is no wonder why Libertex support has been awarded so many prestigious awards.
In addition to the live chat, you can start a ticket through the contact form on the support page. Alternatively, you can send an email with your concerns to help@libertex.com or you can give the broker a call at +357 22 025 100.
Office and Headquarters
Libertex is owned by Indication Investments Ltd. which is a Russian financial firm with a global reach. Indication Investments is based in Moscow, Russia where Libertex has a few employees. However, because of regulatory reasons, most of Libertex's daily activities are run and controlled from an office in Limassol, Cyprus and Sofia, Bulgaria.
Libertex's official address is Gladstonos and Karaiskaki Street, 3032, Limassol, office no. 031, Limassol, Cyprus.
Libertex Fees, Spread, and Commission
All brokers charge some kind of fee, and they tend to call them different things (spread, commission, etc) to convince customers that their terms are the best, even though it's the same system in the end. However, Libertex has chosen to take quite a unique approach.
Libertex is a commission-free broker that doesn't charge spread for trades, instead, they have something called a "trading fee."
The Libertex trading fee is charged on every position that is opened on the platform, and it is all calculated before you place the order. Exactly how the fee system works is a bit of a mystery, but the cost is calculated based on what asset you're trading, what time of day it is, what leverage you're using, and the last $1,000 you spent on the platform.
As always, it's your job to stay on top of the fees, and you need to understand how much your fees are before you trade, otherwise, you could be in for a nasty surprise.
In addition to the trading fee, Libertex also charges an extra fee for all assets held after the market closes. Different markets close at different times and you can keep an eye on opening hours in the timetable provided by the broker. Charging a fee for assets held after closing is standard in the industry.
Compared to other brokers, Libertex fee is very similar. Don't expect to pay less or more to trade with Libertex as you would using another service.
Find the best trading platform. You capital is at risk when trading. Be careful.
Libertex Leverage: Multiplier Feature
Leverage and CFD trading go hand in hand, and it should come as no surprise that Libertex offers it as well. Unlike other brokers that tend to call leveraged trading leverage, Libertex calls it the Multiplier Feature.
Using leverage and using a multiplier feature is the same and it's used to increase the potential of your positions. For example, if you're investing 100 dollars in Google, you won't make that much profit when the stock price changes. So by using a 10x multiplier, you will increase the value of your position tenfold.
The amount of available leverage ranges from 10x to 100x depending on two aspects. First, different assets are associated with certain leverage and Libertex can decide how much every asset can be multiplied by. In addition, the Multiplier Feature is also affected by your previous experience and knowledge which you have to prove in a test upon registering your account.
Leverage trading is associated with increased risk and needs to be dealt with carefully. Just like your potential profits increase when using leverage, your potential losses do as well, and your funds are always at risk.
Libertex: The Award-Winning CFD and Forex Broker
One of the best indications that reflects how serious Libertex is with the product they offer is all the awards they have been recognized with. In total, Libertex has received over 30 international rewards from the most prestigious organizations in the industry.
30 awards might not sound like much for a broker that has been around since the late 90's. But considering that there are top brokers out there with more experience than Libertex and less than half the amount of awards, you start to understand why it's so impressive.
Among all the awards, there are a few that stick out as especially prestigious and relevant.
In 2016, Libertex was awarded "The Best Broker" at the Forex Expo Awards, "Brand of the Year" at the EFFIE Awards, and several more.
In 2017, Libertex did even better, and the broker was recognized for their innovation and drive to remain relevant. Among the awards from 2017, we find "Best Trading App," "Best Forex Trading App," and "Best Cryptocurrency Broker" all at the Forex Awards.
We are expecting to see Libertex receive even more awards during 2018, and considering how much they've worked on their cryptocurrency product, we assume that they will remain leaders in that field.
Libertex Frequently Asked Questions
We often receive questions about brokers that we've listed on this site and we always do our best to answer everyone. It's a tedious job to stay on top of all the questions we receive, but for everyone's convenience, we have decided to list the most common questions regarding Libertex below.
The following questions are the ones we most often get asked about Libertex and other brokers. They have all been answered by industry experts that have experience using Libertex.
If you have a question that hasn't been answered below or if you need to ask something else, we suggest you leave a comment below, and we'll get back to you as soon as we can.
Cons and Potential Improvements
Is there something we think Libertex could improve?
Yes, there are a few things that we've noticed. None of it is important enough to change our opinion about the broker, but it is well worth mentioning.
The first thing we'd like to highlight is something we've already brought up and it's about Libertex's support. You see, Libertex has written one of the most comprehensive FAQs in the business, they have an amazing support team that is ready to help at any time, and we've been pleased with every encounter we've had with them. The problem is that it can be hard to find the support section and since that is what many new traders look for we think Libertex should make it more visible.
The next issue we have with Libertex has to do with their selection of assets. To be a CFD broker, Libertex offers a huge selection of cryptocurrencies which is very exciting, we just wished that statement was true for all the asset classes. With a total of 170 assets (minus almost 20 cryptocurrencies), Libertex is outperformed by most other brokers, and there is a chance that some traders might get bored of the limitation. We're not asking for the broker to start offering thousands of assets, but another hundred wouldn't hurt
What's the Expert Take on Libertex?
I have to be honest and say that even though I've been aware of Libertex for many years, for some reason I never gave the broker a try. It was probably because I was using a few other services that I felt comfortable with and I didn't want to break out of that routine. However, all I know now is that I regret not trying Libertex sooner. The service is really a world away from many other brokers in the industry, and the user experience is so pleasant that I find it hard to motivate myself to use other services nowadays.
Also, the fact that Libertex managed to establish themselves as a cryptocurrency leader in only a few months time is both exciting and impressive if you ask me.
Now, if there was anything that I would like to see different, it would be a broader selection of tradable assets because right now there are other brokers on the market with selections that are much more versatile. – Adam, Senior Editor at BullMarketz.com
Final Thoughts
Our final verdict of Libertex is that it is one of the absolute best CFD and forex brokers around.
When evaluating Libertex, there is one common theme throughout, and that is their commitment to dedication and perfection. It feels like every little part of the broker's services and tools have been planned and perfected before execution, and the result is phenomenal.
The combination of three excellent trading platforms, a good selection of assets, a great and long-running reputation in the industry, and the most impressive selection of cryptocurrencies is what makes Libertex unique.
It's probably obvious by now, but we do recommend Libertex to all of our readers no matter what asset you're interested in trading with. And if for some reason you don't think Libertex is a good match for you or if you want to compare the broker with some of the other industry leaders, we advise you to take a look at our list of recommended CFD brokers.
Find the best trading platform. You capital is at risk when trading. Be careful.