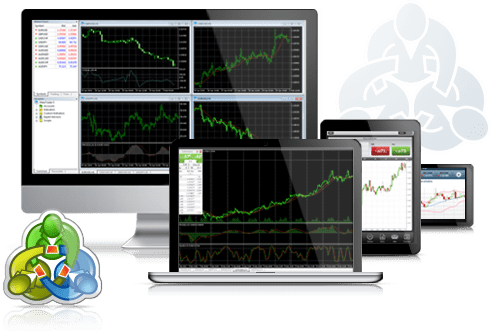 MetaTrader 4 is a trading software for online and mobile trading on the forex, contract for difference (CFDs) and future markets. The platform has become so popular among traders that it's used by a majority of forex brokers and is almost considered industry standard. The brokers listed above use meta trader 4 or 5 software.
The MT4, as it's commonly known, was released in 2005 by a company called MetaQuotes Software. The company had been developing trading platforms and tools since 2002 and MetaTrader 4 was their highly advanced and anticipated platform.
MetaTrader 4 can be used to conduct trades, analyze markets, and for automated and copied trading. In this guide, we will tell you more about the different features MT4 offers as well as tips on how to best use them.
Download and Install MetaTrader 4
It's easy, straightforward, and totally free to download the MetaTrader 4 from MetaQuotes website or directly from the broker you're using. MT4 is compatible with computers running on Windows, Mac, and Linux. The MetaTrader 4 also comes in two mobile app versions for Android and Apple phones and tablets, as well as in a browser version that we talk more about below.
To install the platform you just follow the onscreen instructions after you have downloaded it. It takes no more than a few minutes and it will require you to set up a trading account.
The Best Brokers Using MetaTrader 4
There are several dozen brokers that currently use MetaTrader 4 as their main platform for currency trading. However, there are only a few brokers that run a legitimate business that we feel comfortable recommending and even fewer that offer MetaTrader 4. As a matter of fact, there is only one broker that works with MT4 that we can recommend to our readers at the moment, read more about it below.
24Option and the MetaTrader 4
24Option is one of the biggest and most serious brokers in the industry. They are fully regulated and licensed from CySEC (Cyprus) meaning they're safe to use. With an account at Markets.com you get access to a large collection of currency pairs and other assets, but more importantly, you get access to the MetaTrader 4 trading platform and all the included tools.
So if you're looking for a currency broker and you feel like the MetaTrader 4 platform could fit your needs, we recommend that you open a trading account with 24Option – an industry-leading broker.
Other trading software
Before we proceed we will list a few brokers with in-house developed software. Plus500, Etoro and IQ Option 

Find the best trading platform. You capital is at risk when trading. Be careful.
MetaTrader 4's Main Features
We already mentioned that MetaTrader is a trading platform with several analytic and signal based functions. MetaTrader 4 comes with several hundred tools, add ons, and features that can be implemented depending on your level of knowledge and the strategy you use. All these functions are available from your trading account.
We have listed MetaTrader 4's main features to give you an idea of what you can expect.
Trades and Analyzing 
The MetaTrader 4 trading system can be used to combine different types of orders and modes that can easily be adjusted after the current market situation. To perform a trade on MT4 you need to choose a type of order that fits your trading strategy. For example, a market order is used for instant execution while Stop orders are created to help you minimize losses and conduct damage control.
MT4 can also have several hundred analytic tools that literally covers everything that happens on the forex market at all times.
Signals and Copy Trading
The MetaTrader 4 software comes with a feature called Trading Signals that allows you to study and copy other traders in real time.
Many successful traders operate as Signal Provides meaning that they offer their forex trades to the public. The trades are often free but can sometimes be sold for a reasonable price. Signal traders are sorted after their performance making it easy to find someone that is performing well and quickly copy their patterns.
Mobile Trading 
More and more people use the internet through mobile devices such as Android smartphones and Apple's tablets. In order to meet this demand, MetaQuotes developed a mobile version of their platform. The apps can be downloaded from your broker, directly from MetaQuotes and from the App Store and Play Store.
MetaTrader 4's mobile version does not include all the features that the desktop version offers, but it is still very comprehensive. The main bonus with this tools is that you can start, close, and follow your ongoing trades where ever you might be, as long as you have access to the internet.
Web Trading
A limited version of the MetaTrader 4 platform can be accessed directly via a web browser. This function is great if you're using a shared or public computer or if you just want to check how your current trades are developing while you're away from your computer.
Alerts and News
One of the most important habits to develop if you want to become a successful forex trader is to stay updated on what's happening on the market. This means that you should be reading the news every day and then base your investments and strategies on that.
To make this practice easier, MetaTrader 4 comes with a financial alert and news tool. This tool keeps you updated on the latest developments in the markets and can even send real-time updates and alerts straight to your cell phone.
It is a feature that everyone involved in the MetaTrader 4 should use to their advantage.
Demo Account
A demo account is a free account where you get to invest with virtual money. The majority of all brokers offers a type of demo account and the MetaTrader 4 is no difference. With a demo account on MetaTrader 4 you get access to all the tools, features, and advice offered on MT4, but completely free and without any risk.
This type of trading is perfect for everyone that's developing strategies, testing new trading techniques, or that wants to try the platform out before they decide to deposit their own money.
We highly recommend that you open a MetaTrader 4 demo account whether you already have trading experience or not. I mean, why wouldn't you want to get forex trading experience for free and without risking anything? I sure would.
Automated Trading with MetaTrader 4's Expert Advisor
Automated trading with so called trading robots is the latest craze in the forex trading world. With this type of trading, you can assure that you always get to trade when the market circumstances are just right. Even when you are not available to do it yourself.
The automatic trading tool offered on MetaTrader 4 is called Expert Advisor. The tool lets you input certain signals and patterns that will activate the robot and start trading for you. This means that you will be engaging in trades that fit your strategy even if you're working or at sleep.
Nothing is more practical than automated trading and Expert Advisor is one of the leading automated trading robots on the market right now. By using MetaTrader's trading robot you will never miss a trade opportunity again!
Why should you use MetaTrader 4
What many people ask is why one should use a broker that offers the MetaTrader 4 and not a broker that has developed its own software and platform? It's not a question we can answer because it needs to be based on your personal preference. However, there are a few perks with using MetaTrader 4 to trade on the forex market and we want you to know about them.
The man advantage is that the MetaTrader 4 is developed by a company that only works with and focuses on developing tools for trading. A broker that develops its own platform also has to focus on attracting new customers, offering a good brokerage service to existing customers, and all other responsibilities that come with running a broker. This often results in a less stable and user-friendly platform that makes the trading harder.
Another reason why MetaTrader 4 is a good option is the many hundreds of features and tools that it comes with. Many platforms that have been developed "in-house" comes with limited functions and therefore limited opportunities.
MetaTrader 5
In 2010 MetaQuotes released a platform called MetaTrader 5 and due to its name, many assumed, (and still assume) that it was an updated version of the MetaTrader 4. But that is not the case.
MetaTrader 5 was developed as a more comprehensive platform that would offer access to more markets than the MetaTrader 4 that mostly focuses on the forex market. MetaTrader 5 offers access to the following instruments:

Forex
CFDs
Futures
Options
Stocks
Bonds
What this means is that your decision on what platform to use needs to be based on what you are planning to invest in.
MetaTrader 4 Forex Brokers
To learn more about all the brokers offering the MetaTrader 4, we suggest you check out our list of MetaTrader 4 Forex Brokers. On that page, we've listed all the best MT4 brokers with a description of why we think they are the best as well as links to our subjective reviews. If you're a forex trader looking for a new broker this list is for yours.
MetaTrader 4 Demo Accounts
If you're still not sure if forex trading is for you or if you want to take the MetaTrader 4 platform for a test drive, we advise you to open a MetaTrader 4 demo account. For your convenience, we've curated a list of the best MetaTrader 4 Demo Accounts to that you can find the best brokers right away.
MetaTrader 4 Ratings - By TheDailyFX & Visitors
Platform

Supply

Design

Financial alerts
Summary
MetaTrader 4 is the leading forex trading platform in the world, and for good reason. By using the MT4 you will make your trading experience easier and by learning how to use it properly and implement all the trading features, you raise your chances of making a profit.
The MT4 platform is offered by so many different brokers that you are bound to run into it at some point. Chances are that your currency broker is offering the MT4 but we recommend that you learn how to use it if even if they don't offer it.