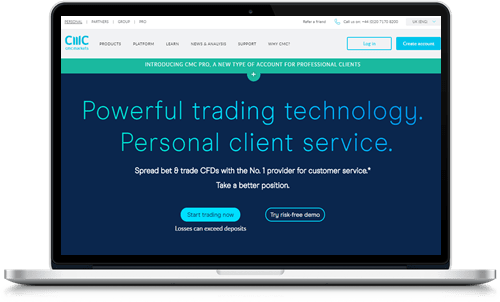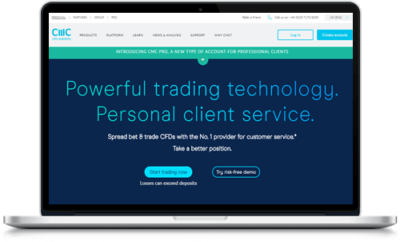 CMC Markets is a world-leading online broker offering derivatives trading such as contracts for difference, spread betting, and forex.
The company is based in the UK, and is listed on the London Stock Exchange. CMC
Markets has an international presence, with 13 offices globally, including Sydney, Singapore and Frankfurt.
The company was founded in 1989 under the name Currency Management Corporation (CMC) and have offered online forex trading since 1996, making CMC Markets one of the first online forex brokers.
Today, as mentioned, CMC Markets is one of the most established online brokers in the world, and in the following CMC Markets review, we share everything you have to know before opening an account with them.
Find the best trading platform. You capital is at risk when trading. Be careful.
CFD Regulation Country by Country. The CFD trading services we are listing in this article is available in the following countries.
Europe:
Albania
Bosnia & Herzegovina
Bulgaria
Croatia
Czech Republic
Denmark
Estonia
Finland
France
Germany
Greece
Hungary
Iceland
Ireland
Italy
Kosovo
Latvia
Lithuania
Macedonia
Malta
Moldova
Montenegro
Netherlands
Norway
Poland
Portugal
Romania
Russia
Serbia
Slovenia
Sweden
Switzerland
Turkey
Ukraine
United Kingdom
Excluded: Belgium
North America
Belize
Costa Rica
Cuba
Guatemala
Honduras
Jamaica
Mexico
Nicaragua
Panama
Puerto Rico
The Bahamas
Excluded: United States
South America
Argentina
Bolivia
Chile
Colombia
Dominican Republic
Ecuador
Guyana
Paraguay
Peru
Suriname
Uruguay
Venezuela
Excluded: Brazil
Africa
Algeria
Angola
Benin
Botswana
Burkina Faso
Burundi
Cameroon
Central African Republic
Chad
Democratic Republic of Congo
Egypt
Eritrea
Ethiopia
Gabon
Ghana
Guinea
Guinea-Bissau
Kenya
Lesotho
Liberia
Libya
Madagascar
Malawi
Mali
Mauritania
Morocco
Mozambique
Namibia
Niger
Nigeria
Republic of the Congo
Rwanda
Sierra Leone
Somalia
South Sudan
Sudan
Swaziland
Tanzania
The Ivory Coast
Togo
Tunisia
Tunisia
Uganda
Western Sahara
Zambia
Zimbabwe
Middle East
Georgia
Armenia
Azerbaijan
Iran
Iraq
Syria
Lebanon
Cyprus
Israel
Jordan
Saudi Arabia
Kuwait
Bahrain
Qatar
United Arab Emirates
Oman
Yemen
Asia
Afghanistan
Bangladesh
Cambodia
China
China
India
Indonesia
Japan
Kazakstan
Kirgizistan
Laos
Malaysia
Mongolia
Myanmar
North Korea
Pakistan
Papua New Guinea
Philippines
South Korea
Sri Lanka
Thailand
Turkmenistan
Uzbekistan
Vietnam
Excluded: Hong Kong
Oceania:
eToro
Markets.com
24Option
IQ Option
BDSwiss
HotForex
Trade.com
Libertex
Plus500
XTB
InstaForex
IG Markets
GKFX
LionsFX
Valutrades
XM
IronFX
Blackwellglobal
FPMarkets
AmanaCapital
Admiralmarkets
Alvexo
Bizintra
Pepperstone
Windsorbrokers
FXPro
ForexTime
HYCM
FXGrow
TeleTrade
Trader.online
Marketscube
Finmaxbo
FXCC
Oanda
Forex.com
LCG
CMC Markets
FXCM
iForex
IFC Markets
Aaatrade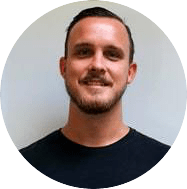 Adam Jarfjord is a Swedish day trader, investor, and copywriter. He works as head of content at BullMarketz.com and has been providing editorial content within the financial sector for more than 5 years.
Read more about him by visiting his LinkedIn profile or contact us directly to learn more about the team.
CMC Markets Ratings - By BullMarketz & Visitors
Support
Deposits & Withdrawals
Finacial Instruments
Platform
CMC Markets Conclusion
CMC Markets is not only one of the best CFD, forex, and spread betting brokers in the world, but they also have one of the best platforms in the industry. As if that wasn't enough, they also have over 30 years trading industry experience and a selection of assets that only a select few brokers can compete with. All in all, this UK-based broker belongs to the top tier of derivatives brokers and we can't recommend them enough.
User Review
3.67 (6 votes)
Who is CMC Markets?
With more than 9,750 CFD instruments and experiences that span over more than 30 years, it should come as no surprise that CMC Markets is one of the top online brokers in the world.
The company's management, with Peter Cruddas (CEO & founder) at the top, has worked hard to establish CMC Markets as one of the most modern and efficient brokers in the world. A job that has paid off well.
By continuously working on optimizing and updating their products and platforms, CMC Markets offers one of the ost intuitive trading platforms online.
Find the best trading platform. You capital is at risk when trading. Be careful.
Can You Trust CMC Markets?
CMC Markets is not only a top broker but one of the most respected financial institutions based in the UK. Subsequently, there is no doubt that you can trust CMC Markets.
In terms of regulation, CMC Markets' main license is issued by the Financial Conduct Authority (FCA), although they have several local licenses, for example:
In other words, this broker is overseen by the financial world's most respected regulatory bodies and as a trader, you can rest assured that you and your funds are protected at all times.
CMC Markets Review: Pros and Cons
In the name of unbiased reviews, we want to offer you the most accurate insight into how CMC Markets operates. And, as with most things in life, there are pros and cons to using this broker.
Pros:
Large selection of assets available at your fingertips
Well-established and regulated
Great proprietary platform
Cons:
Commission on share CFDs
Unnecessary fees on certain transactions
Only OTC trading
Find the best trading platform. You capital is at risk when trading. Be careful.
Assets and Markets Offered By CMC Markets
CMC Markets provide access to a range of markets with a total of 9,400+ tradable assets. These assets are offered as speculative derivatives, meaning you don't own the underlying security. This is done using contracts for differences (CFDs) as well as spread betting (for UK customers).
There are many benefits to this. For example, CFDs allow you to maximize your positions using leverage and margins, it makes it easier to switch between long and short positions, and it provides the opportunity to trade securities that you couldn't afford investing in otherwise.
Below, we've listed the markets offered by CMC Markets with examples of the assets you can buy.
Forex
CMC Markets was first launched as a forex broker and the foreign exchange market remains one of their main products.
As a trader, you're able to trade 330 spot and forward forex pairs including majors, minors, and exotic pairs. In addition, CMC Markets has created its own exclusive forex indices which provides unique trading opportunities.
Better yet, CMC Markets has competitive forex spreads, but more about that in a second.
Shares
By opening a CMC Markets account, you'll gain access to 7,700 international shares plus more than 1,000 Exchange-traded funds.
The selection is broad with everything from major American and British stocks such as Apple, Amazon, and Tesco, to smaller locally exchange-listed companies from 23 countries. Just note that, in addition to spread, CMC Markets charges a commission for share trading.
That being said, CMC Markets commission is lower than your average stockbroker.
Commodities
Counting both cash and forward contracts, you have 100 commodities to trade.
These CFD commodities are divided into energies such as crude oil and natural gas, precious metals such as gold and silver, as well as food products such as cocoa, corn, and cattle.
Indices
CMC Markets offers over 90 cash and forward indices from all over the world, including forex indices, crypto indices and commodity indices.
For example, Germany 30, UK 100, and US 30. The broker has also designed several exclusive indices that can only be found on the CMC Markets platform.
Cryptocurrencies
Over the past couple of years, CMC Markets has been optimizing their cryptocurrency product and today they offer 12 cryptocurrency products including Bitcoin, Ethereum, and Ripple.
The cryptocurrencies are provided as CFDs in pairs with USD, meaning your job is to predict whether the assets will increase or decrease in value compared to the US dollar.
Treasury Bonds
Lastly, CMC Markets has a selection of 30+ treasury CFDs, which is rather unusual in the industry.
Here you'll find both forward and cash prices on mostly European and American bonds, but also Asian products such as the Japan JGB.
Find the best trading platform. You capital is at risk when trading. Be careful.
CMC Markets: Trading Fees, Spread, and Commission
Similar to all online brokers, CMC Markets charges a spread for every position opened on their platform. A spread is the difference between the ask and bid price and it is how all online brokers make a profit.
In addition to that, CMC Markets charges a commission on share CFDs, unlike many of their competitors.
With that said, CMC Markets fees are kept at a very minimum and even though they charge a commission for certain products, their overall price point is highly competitive.
In other words, trading with CMC Markets is not more expensive than trading with other brokers and, in many cases, it can actually be cheaper to use CMC Markets than some of their competitors.
Moreover, you'll be charged overnight fees as well as certain inactivity fees, but that is also considered an industry-standard.
CFD Rebates
Another thing that sets CMC Markets apart from their competitors is that they offer rebates to customers with high trading volumes. The rebate system is divided into three tires based on trading volume, ie. the more you spend, the more you can save.
This is a unique system that provides extra value for serious traders and is one of the main reasons why so many professional day traders prefer CMC Markets over their competitors.
*Note: Rebates are only available for Pro clients.
Find the best trading platform. You capital is at risk when trading. Be careful.
Using CMC Markets on a Desktop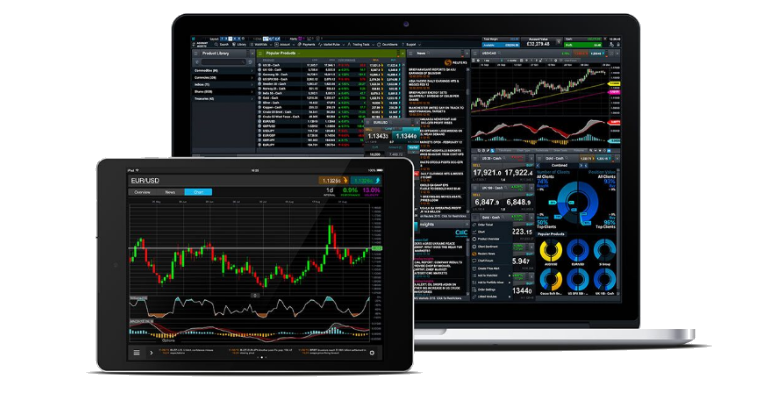 The most exciting reason to start trading with CMC Markets is their platforms, which are available both on desktop (through web-based software) as well as mobile devices (iOS and Android).
Next Generation is the name of this broker's proprietary platform and de facto their main trading tool.
It's an intuitive platform that's available online meaning you don't have to download any software to start using it. The software is highly intuitive and can be adjusted to fit your exact needs, regardless of your previous experience and trading skill.
The platform features 12 different charts, hundreds of drawing tools and technical indicators as well as every feature you need to perform accurate technical analysis on every asset offered. Moreover, CMC Markets provides real-time market prices and their team of analysts offer regular market updates and predictions.
In case you want to protect yourself from unnecessary loss, we suggest you use the Guaranteed Stop-loss – an amazing feature that, for a small charge, can be applied to any position.
In addition, if the guaranteed stop-loss order is not triggered, the premium is refunded in full.
In addition to their in-house designed platform, CMC Markets offers the world-renowned MetaTrader 4 by MetaQuotes.
It's a great platform that's also available as web-based and mobile platform and that gives you all the tools you need to trade forex and CFDs efficiently. One of the main features of MT4 is Expert Advisor – an award-winning trading robot that can be used for automatic trading.
Many of the world's leading brokers rely on MetaTrader 4 and it works the same way with CMC as it does with other brokers. Just note that the MT4 is mainly for forex trading and that the selection of CFDs available on the platform is limited.
Therefore, if you want access to CMC Markets' complete selection of asset, you should opt for the Next Generation platform.
Find the best trading platform. You capital is at risk when trading. Be careful.
Mobile Trading with CMC Markets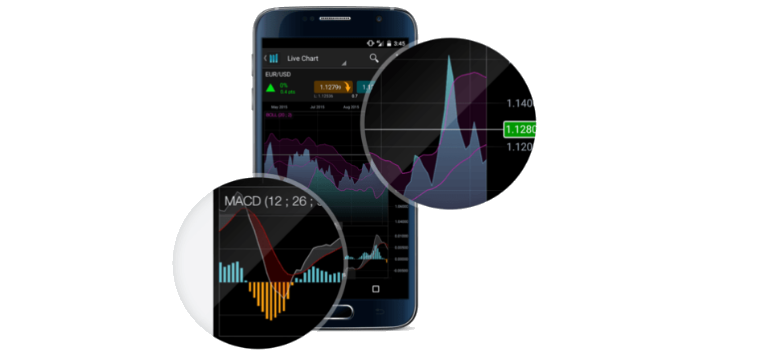 If you want the option of trading on the go and to always have access to your open positions and the latest market conditions, you can use CMC Markets' mobile trading platforms.
Both Next Generation and the MetaTrader 4 are available as trading apps that can be downloaded to iOS (iPhone, iPad) and Android devices from the respective app store.
There are many benefits to using a mobile trading platform. Since it gives you access to more than 9,400+ markets wherever you are, it's a great way to improve your trading experience.
That being said, both the MT4 and the Next Generation apps are somewhat limited functionality compared to their desktop counterparts. For example, the Next Generation app provides 40+ technical indicators and tools compared to the 100+ offered through the web-based version.
Nevertheless, CMC Markets' trading app should be a part of every trader's arsenal, at least for the purpose of never losing an opportunity just because you weren't home at the time the said opportunity presented itself.
Start Trading with CMC Markets
By now, you should understand that there are many good reasons as to why we don't hesitate to recommend CMC Markets to our readers. And if you're interested in opening an account, you can follow these instructions.
The first step is to register your account by visiting CMC Markets, choosing which platform you want to use and push the "Create Account" button in the top right corner. Then you provide CMC Markets with the information they need, for example, name, email address, phone number, etc.
The next step involves verifying your identity. You do this by sending a photocopy of your ID (passport, driver's license) as well as proof of address (utility bill or bank statement). It is then up to CMC Markets' team to double-check your identity before they approve the account. In certain countries, including Sweden, customers can verify their identity using local services such as Bank-ID.
Please note that this process rarely takes more than a few hours. However, there is a possibility that it can take longer, especially if the team requires more information from you. Because of this, we always recommend that you start the process as soon as possible so that you don't lose out on trading opportunities.
When the account has been created and your identity is verified, you're ready to make your initial deposit and start trading. Unlike many brokers, CMC Markets has no minimum deposit limit meaning you can deposit as much or as little as you feel comfortable with.
At this point, we want to remind you that you should never deposit or trade with money you can't afford to lose. And that is why it's always recommended to make a strict budget that you always stick with.
Find the best trading platform. You capital is at risk when trading. Be careful.
Demo Account
For people who have never traded before or that want to test CMC Markets before signing up, there is a free demo account. The demo account is a copy of the regular trading account with the difference that you use virtual money to trade.
That means that you don't run the risk of losing anything, which, in turn, means you can practice and test the platform in a relaxed setting.
Even after you've registered and deposited funds to your regular trading account, the CMC Markets demo account is a great tool to use for practice and strategy development.
Final Words on CMC Markets
In this CMC Markets review, we've outlined everything you need to know about this top tier forex and CFD broker so that you can feel comfortable using their services for your benefit.
Besides the fact that CMC Markets has been around for 30 years, they are fully regulated and licensed, meaning they're safe to use. The broker also provides access to more than 10,000 assets, meaning there is something here to trade for everyone.
To sum this review up, we want to mention the fact that CMC Markets has one of the most extensive resources of trading information and educational material on the market. From videos and detailed guides covering everything you need know to regular market updates and news – this broker has everything you need.
So, if you've never traded before we recommend you set up an account and dive right into the material aimed at beginners, while more experienced traders can use the more advanced material to enhance and streamline your strategies.
Find the best trading platform. You capital is at risk when trading. Be careful.
CMC Markets Ratings - By BullMarketz & Visitors
Support

Deposits & Withdrawals

Finacial Instruments

Platform
CMC Markets Conclusion
CMC Markets is not only one of the best CFD, forex, and spread betting brokers in the world, but they also have one of the best platforms in the industry. As if that wasn't enough, they also have over 30 years trading industry experience and a selection of assets that only a select few brokers can compete with. All in all, this UK-based broker belongs to the top tier of derivatives brokers and we can't recommend them enough.