In the four years since IQ Option was first launched, they have managed to achieve what used to seem impossible and to offer something truly unique. Their products are innovative and act as a breath of fresh air on an otherwise quite boring market. In this IQ Option review we will take a look at the platform, the IQ Option demo account and much more.
If you would compare the 10 leading brokers with each other, you would have 9 brokers that looked pretty much the same and IQ Option on its own. Their interface is playful, the design is clean and practical, and their in-house developed platform is one of our favorites.
Because of this, we usually use IQ Option for our own CFD trading and thus feel very comfortable recommending them to our readers. Also, considering that they had over 14,000,000 paying customers during 2016, it's obvious that we are not alone in sharing these sentiments.
IQ Option is sometimes referred to as IQOption. However, the correct spelling of the brand is IQ Option.
Create an account at IQ Option
IQ Option Ratings - By BullMarketz & Visitors
Support

Deposits & Withdrawals

Finacial Instruments

Platform
IQ Option Conclusion
In four years, IQ Option has managed to establish themselves as one of the CFD-brokers on the entire market with more than 14 million active users and 3 million daily transactions.
They offer a neat and innovative product with several practical tools and solutions that make trading as easy as it can get. There is no question why IQ Option is considered one of the best brokers in the game. In fact, we can only think of a handful of other brokers that have the slightest possibility to compete with IQ Option, which is why we gladly recommend them to our readers.
Can You Trust IQ Option or is it a Scam?
The most important question to ask yourself when choosing a new broker online is if you can trust them. In this case, the answer is as clear as it can get: IQ Option is not a scam. This means that you use all of IQ Option's features and service without ever having to worry about getting ripped off.
IQ Option is run by a company called IQ Option Europe Ltd. and they have their main office in Cyprus where they are also regulated. Their CySEC license number is 247/14. In a world where most "license and regulation authorities" can't be trusted, CySEC is unique. Their conditions and regulations are strict and as a broker, you need to keep the highest level of professionalism to even be considered for a license. A good rule is to only use brokers that have a license from CySEC or any other reputable authority such as FCA.
And if that wasn't enough, IQ Option is also the official sponsor of an Aston Martin racing team. We can guarantee you that a well-established luxury brand like Aston Martin would never work with an untrustworthy company.
IQ Option has gone through all the steps and introduced all the necessary measures to ensure that their service and platform is safe to use.
Create an account at IQ Option
IQ Option's Proprietary Trading Platform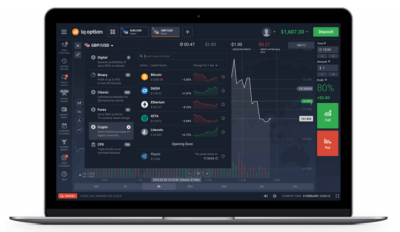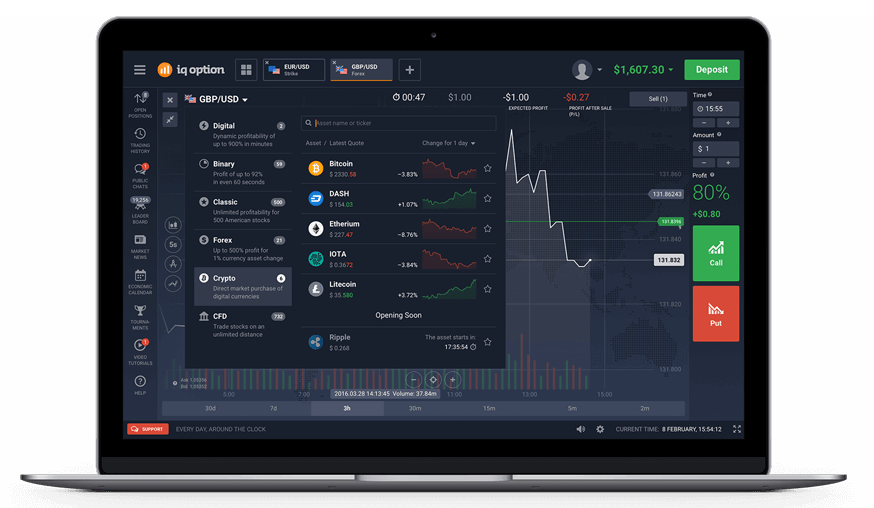 Some brokers chose to use a platform designed by third-party providers, MetaTrader 4 is the most common one. Other brokers prefer to design their own platforms which is what IQ Option has done. Designing your own platform can be a bit of a hit or miss, but IQ Option has excelled at it.
Their platform is high quality and fun to trade with. It feels stable, it's clear and easy to use, and it is aesthetically pleasing. More importantly, it makes the trading experience easier for us traders – something we always expect but rarely get to experience.
Focus lays on charts and analytical tools, and we couldn't be happier with that part. The only downside with the IQ Option platform is that we wish it had longer closing times.
Most of their underlying assets are limited to the markets opening hours, which is fine if you're a day trader. However, we know a lot of traders that like to combine shorter trades with investments that last for a few days. Unfortunately, that is not possible on the IQ Option platform. Because of this, we think that IQ Option might miss out on a big group of potential clients that would rather use a broker with more time options. We do however think that the IQ Option platform is one of the best in the industry and the broker is definitely comparable with some of the other big brands including Plus500, Markets.com, 24Option and Trade.com. IQ Option simply outperforms most other brands.
Create an account at IQ Option
IQ Option Trading Accounts
Today, IQ Option provides two different trading accounts. The traditional trading account is what you use to trade CFDs for real money, and the demo account can be used for risk-free trading with actual market conditions. You can read more about the different accounts below.
IQ Option On Mobile Devices

IQ Option designed a platform that is compatible with most mobile devices but with limited functions. It is best suited for simple analytic tasks and to keep track of ongoing trades. That being said, the app is of the highest quality and we have never experienced any issues with it. The IQ Option trading app is available for iOS and Android.
When comparing the IQOption trading application to many of the competitors it is very clear that they are one of the best in the business. People today simply demand a good mobile version of the trading platform as desktop is becoming less popular. On mobile, the trading is available 24/7 and at your fingertips. IQ Option has realized this and put a lot of effort into developing a really good mobile application.
Financial Instruments on IQ Option
We have clarified that IQ Option is one of the most innovative and trustworthy businesses on the market, and we have also talked more about the different accounts they offer. Now it's time to take a look at the different assets you can invest in using IQ Option.
As the name proposes, IQ Option first became established in the industry through binary options. However, during their four years on the market, they have completely changed their focus to a more serious market and today they offer forex trading, stocks like CFDs, and cryptocurrencies.
You Can No Longer Trade Binary Options with IQ Option – IQ Option was first launched as a binary options broker but that is not the case anymore. During several years, IQ Options started switching their focus to the CFD and forex market and today they don't offer binary options anymore. Also, in April 2018, the ESMA, European Securities and Market Authority changed the regulation, banning binary options trading and IQ Option are, of course, following those rules. This means that IQ Option is now a CFD broker in every sense of the word.
To read more about what ESMA decided to do and how their new regulations look we suggest you check out this article we wrote on the subject.
Forex Trading with IQ Option – With this broker, you have the option to invest in currency pairs, also referred to as the forex market.. Currencies are exciting and very quick derivatives, and also one of our personal favorites. The goal is to buy a currency pair for a low price and then sell it when the exchange rate is higher, thus making a profit from the price difference.
IQ Option offers 22+ currencies (more than 100 currency pairs) which is more than enough for most people. For example, you can trade with American dollar (USD), British pound sterling (GBP), euro (EUR), Swedish krona (SEK), Turkish lira (TRY), and many more.
Trade Cryptocurrencies with IQ Option – We are quite certain that cryptocurrencies are the future of payment methods online. In our opinion, it's a natural development, and we can see how physical cash is slowly being phased out and how cryptocurrencies are taking more room. Every new generation requires a greater digital need, and before we know it Bitcoin might be the official currency everywhere.
The problem with cryptocurrencies is that they are unstable, at least if you want to use them as a method of payment.
In contrast, the fluctuating nature of cryptocurrencies creates perfect conditions for day trading, especially for CFDs. Since you can speculate on both upward and downward moving trends, CFDs and cryptocurrencies go hand in hand. And in 2017, IQ Option decided to join in on the hype.
At the time of writing, IQ Option offers 12 of the most popular cryptocurrencies. Among them, you'll find Bitcoin, Ethereum, Litecoin, Ripple, Bitcoin Cash, Monero, IOTA, QTUM, Stellar, NEO, Bitcoin Gold, ZCash, Dash, and TRON. IQ Option is constantly adding new cryptocurrencies so make sure to visit our buy cryptocurrencies with IQ Option page for the latest information on what cryptocurrencies are available at IQ Option.
Cryptocurrencies can either be bought as long-term investments or as shorter trades in a day trading format, and IQ Option has decided to focus on the latter.
Trade Stocks as CFDs – IQ Option also lets you trade stocks but in an alternative way. Instead of providing access to the world's stock exchanges, they use something called a CFD. This type of investment is a speculative one that has you investing without ever having to buy the actual shares.
Your job is to predict how the price of a stock will develop and then invest in that prediction. Unlike options, CFDs are securities but instead of buying the stock you buy a contract based on its price. You could call it a hybrid of security trading, speculative trading, and actual stock trading.
We understand that it might seem confusing, but trust us when we say it's easy to get a grip on. IQ Option also provides an extensive educational program for all of the above-mentioned markets and so do we. Check the sections in the top menu to find comprenhenive guides on every popular CFD market and don't forget to check out our news segment for the latest trading news.
Lately, IQ Option have also put a lot of effort into publishing useful information about digital currency trading and CFDs. They have everything from tutorials and educational videos, to examples and ebooks.
Note that we have heard rumors that they are going to add ETFs to their selection, but we haven't been able to confirm it yet.
Create an account at IQ Option
IQ Option License and Regulation
In order for IQ Option to offer their services in Europe and the rest of the world, they need a special license and to be regulated by a reputable authority. IQ Option has a license from Cyprus Securities and Exchange Commission under license number 247/17. Getting a license from Cyprus Securities and Exchange Commission (CySEC) is not an easy task so any broker given such a license can be trusted.
IQ Option Payment Methods and minimum deposit
You have five options to choose between for depositing and withdrawing money from your IQ Option trading account. Some people might think five options is a bit limiting but we think it is enough. There are definitely brokers that offer more options, but these five are the most common ones.
Visa/Mastercard/Maestro – Deposit money with your regular credit or debit card.
Bank transfer – Transfer money from your bank account to IQ Option.
WebMoney – You can use the online payment method WebMoney to deposit money into your account.
Skrill – Deposit money with one of the world's leading online payment methods.
Neteller – Use the second biggest online payment method after PayPal.
Note that IQ Option doesn't charge fees or commission for the above-mentioned methods, except for a bank transfer. The price for bank transfers is different depending on your bank and where you live, so we recommend that you check what applies to you before using this option.
The smallest deposit is $10 which is perfect for all recreational traders that can't spend too much on trading every month. This is something that seperates IQ Option from many other brokers out there as the minimum deposit otherwise usually is around $100-$250. For a recreational trader, this is quite a bit of money.
IQ Option Customer Service
IQ Option's customer service has been rewarded with several prizes since 2013, and it is obvious that good customer service and relations are important to them. We ourselves have been in contact with them several times and have been pleased with the service we've received.
This is what they themselves have to say about their service:
"IQ Option offers all customers 24/7 telephone support as part of our commitment to provide great service and to help cement our position as one of the best trading apps in the world."
Unfortunately, you can't contact them via live chat, something we think should be standard in the industry. Hopefully, this is something IQ Option is working on adopting because if they want to stay relevant on the market, live chat has to be an option.
They do however offer several regional phone numbers so getting in touch via phone is an option. If you are not comfortable contacting via phone then email is currently the best option.
Create an account at IQ Option
IQ Option FAQ
We often get questions about IQ Option and about what services they offer. Here are some of the most common questions we get about IQ Option.
IQ Option is one of the leading trading platforms out there. In our opinion, looking at platform only, it is the best platform for trading right now. With IQ Option you can trade Binary Options, Digital Options, Forex, and Cryptocurrencies.
IQ Option offers three different types of accounts.
Practice account – Suitable for people looking to try out the platform.
Real account – Suitable for anyone looking to invest real money.
VIP Account – Suitable only for advanced traders.
The standard account comes with the possibility to trade with real money and to use the IQ Option platform. To be honest there are not many limitations to the standard account.
The VIP account comes with some additional features such as a personal account manager, better fees and profitability rates, much more training materials and unique offers for VIP traders

IQ Option has fees on buying, selling and trading. The fees vary depending on many factors such as what type of trading you do, what assets you use and which cryptos you buy.
The minimum deposit with IQ Option is €10. This is lower than most other brokers.
First of all, you need to register. Follow any link in this review pointing to IQ Option and you will be able to find the registration form. Once you register you will automatically have an account with two options. One will be a demo account with a certain amount of virtual money to spend and the other will be a real account. To trade with the real account you will simply have to make a deposit. Once that is done you can start trading with your real account.
All regulated clients have to verify their identity within 7 days after account registration. You verify your account by uploading a government-issued ID and Proof of Residence, for example, a utility bill in your name. Documents can be uploaded to the trading account. Non-regulated clients only have to provide documents upon withdrawal of funds. In addition to that, in case a client withdraws money to a bank card, he has to provide pictures of that bank card from both sides. The verification process is necessary for your safety.
IQ Option has a great application for all devices and on the most popular operating system including PC, iOS and Android. In fact, the IQ Option platform works better with the applicated. It also runs in your web browser but if you are looking for high performance it is generally recommended to download the application.
In order for you to withdraw your hard-earned money from IQ Option you will have to navigate to "withdraw funds". Once you go there you will be presented with different withdrawal methods. You will have to pick a preferred method and once you request a withdrawal it is usually handled within 24 hours.
IQ Option are doing their utmost to process all withdrawal requests within 24 working hours. Once the withdrawal has been taken care of on IQ Options end it depends on what payment service provider you use. Some payment providers are fast, like skrill and Paypal. Banks are usually slow and will require up to 5 days in some cases.
You will need to verify your account if you want to withdraw your money. See the answer to the question "How do I verify my account" to understand what documentation is required in order to verify your account. It is usually quite easy to verify your account if you provide the correct documentation
If you have not used IQ Options platform first our recommendation is that you try out the free demo account and that you go through the tutorial videos provided by IQ Option. The videos will give you a solid understanding of how the platform works. We also recommend that you don't start trading until you feel comfortable. Get to know the platform before you get going.
Binary options are no longer available within the European Union or on IQ Options platform. During the past few years, IQ Options have slowly changed their focus from binary options to
CFD trading
, and when ESMA decided to update their regulations on binary options, IQ Options stopped offering them all together.
Digital options used to be a high risk version of binary options but they are no longer available on IQ Options. In fact, IQ Option does not offer binary options any longer to any of its customers, see above.
CFD is short for Contracts for Difference. It is a contract between two parties, in this case, you and IQ Option, who speculate on the price of an underlying asset. With IQ Option you can trade CFDs on Cryptocurrencies, Forex, and Stocks. If you are new to CFD trading and/or the IQ Option platform we recommend that you look at all tutorials relating to CFD trading. Also, please be aware that CFD trading is a high risk and high reward trading style. Always educate yourself to minimize the risks.
It is very common that CFD trading involves a multiplier. A Multiplier will basically allow you to effectively multiply the amount that you choose to invest. When you choose to use a multiplier you increase the potential profitability. If you are investing $100 in for example EUR or USD a multiplier will be able to magnify the profit. Keep in mind that a multiplier works the same way with losses. A multiplier can mean more profit but also bigger losses. Note that a multiplier is called margin och leverage trading and is somethings that's always included when you trade CFDs
OTN is short for Open Trading Network and its a platform that aims to unite all isolated blockchains platforms and participants in the market. OTN is partly financed by IQ Option and OTN-tokens are supported by the IQ Option trading platform. You can read more about the OTN project here: https://otn.org/. OTN-Tokens are being distributed on the IQ option platform by IQ Option. You can get these when trading. Then what you choose to do with them is up to you. They work like any other cryptocurrency. OTN tokens can, for example, be used as a means to pay the commissions when buying a cryptocurrency with IQ Option. OTN-Tokens may also have the ability to be converted into OTN coins once the OTN-Platform opens up its doors.
Right now there is minimum 14 cryptocurrencies available to buy at IQ option. Bitcoin, Ethereum, Litecoin, Ripple, Bitcoin Cash, Dash, IOTA, QTUM, Stellar, TRON, Bitcoin Gold, ZCash, Monero, and NEO. However, IQ Option is quite active with adding cryptocurrencies. We foresee that they will offer more in the future.
IQ Option review – Final Thoughts on the broker
When it comes down to it IQ Option is one of the most interesting brokers out there today, they offer a truly amazing trading platform that gives us an entertaining and good trading experience. Not only is the platform suitable for beginners it also comes with the advanced functions that more experience traders usually are looking for too. IQ Option also offers a free demo account with uncompromised access to the platform. You can try it without committing to it. On top of this, they have a good selection for forex trading, for cryptocurrencies and a decent selection for stocks. One of the most interesting aspects of the broker is how innovative they are. Always updating and adding new functions and features.
The broker is regulated and licensed and safe to trade with. They could, however, improve in certain areas. It would be nice to more stocks on the platform, they are in fairly short supply now. And the fees can always be discussed however they come with every CFD broker and are a necessary evil.
We hope that you have enjoyed our IQ Option review. If you still have any questions feel free to ask them in the comment section below.
IQ Option Ratings - By BullMarketz & Visitors
Support

Deposits & Withdrawals

Finacial Instruments

Platform
IQ Option Conclusion
In four years, IQ Option has managed to establish themselves as one of the CFD-brokers on the entire market with more than 14 million active users and 3 million daily transactions.
They offer a neat and innovative product with several practical tools and solutions that make trading as easy as it can get. There is no question why IQ Option is considered one of the best brokers in the game. In fact, we can only think of a handful of other brokers that have the slightest possibility to compete with IQ Option, which is why we gladly recommend them to our readers.