You're probably already aware that you can trade cryptocurrencies with a cryptocurrency exchange or with a cryptocurrency broker. But what do you know about the cryptocurrency trading platforms and software used for the actual trading?
The truth is that many don't know too much about different cryptocurrency platforms and cryptocurrency software so we thought we'd clear a few things up.
Find the best trading platform. You capital is at risk when trading. Be careful.
Cryptocurrency Trading Platforms
While there are hundreds of different cryptocurrency trading platforms and software in the industry, there are two categories that most people divide them into and that's how we put together this guide as well.
The first type of cryptocurrency platform is a platform developed by a third party company, usually referred to as a third-party trading platform. In most cases, these platforms are offered by cryptocurrency brokers.
The second type of cryptocurrency software is trading platforms developed in-house. This can either be a trading platform developed by a cryptocurrency broker or the software offered by a cryptocurrency exchange.
In addition, there are certain cryptocurrency platforms that can be used on mobile devices, and we'll talk a bit about them further down. We also feel obligated to talk about safety and how one can stay safe while trading cryptocurrencies. But first, let's talk about the different cryptocurrency platforms.
Third-Party Cryptocurrency Platforms
There are companies today that develop trading platforms that they offer to forex and CFD brokers so that they don't have to develop their own cryptocurrency software. The most popular and used company is MetaQuotes, and they are responsible for two of the most popular cryptocurrency platforms right now, the MetaTrader 4 and the MetaTrader 5.
MetaTrader 4
The MetaTrader 4 is a forex trading platform and one of the leading software in the forex industry. It has been designed to handle a range of currency pairs, and over the last couple of years, cryptocurrencies have been added to it. That means that you can use the MetaTrader 4 cryptocurrency platform to trade Bitcoin, Ethereum, and a range of other digital currencies as currency pairs with fiat currencies or other cryptocurrencies. It's very similar to how one would normally trade on the foreign exchange market.
However, since the MT4 is designed for forex trading, it can be a bit limited for certain traders which is why MetaQuotes decided to develop a separate platform for other types of derivatives trading. That platform is called the MetaTrader 5.
Read more about the cryptocurrency platform MetaTrader 4 here!
MetaTrader 5
The MetaTrader 4 is a popular cryptocurrency platform that shares many similarities with the MT4 but that in many ways offers better and more varied solutions for the cryptocurrency trader. The MT5 was developed to compensate for what the MT4 lacked and is mostly used for CFD trading. In fact, the MetaTrader 5 is one of the best CFD trading platforms in the world right now. One of the reasons why the MT5 is so popular is that it supports CFDs on thousands of assets including a wide-range of cryptocurrencies. In other words, the MT5 is one of the best cryptocurrency platforms today.
Read more about the cryptocurrency platform MetaTrader 5 here!
Other resources
In-house Developed Cryptocurrency Platforms
In the world of cryptocurrencies, it is more common to offer cryptocurrencies on a platform that was designed in-house because cryptocurrency exchanges still dominate the market space.
Generally speaking, all cryptocurrency exchanges design and develop their own unique cryptocurrency trading software. For example, Binance has their own platform and so does OKEx.
If we look at the brokers offering cryptocurrency trading software, most of the top brokers also design their own platforms. However, there is a range of brokers offering the MetaTrader 4 and the MetaTrader 5.
One of the main benefits of trading on a proprietary platform is that the tools, features, and functions have been designed to fit the exchange or broker perfectly. It usually also means that the customer service representing the broker or the exchange knows the platform inside and out. While in the case of third-party platforms, customer service representatives often rely on information from the developer.
In the end, it's up to you to find a service that you like and a platform that you feel comfortable with, and neither solution is better than the other.
Cryptocurrency Demo Trading Platforms
All of the top cryptocurrency brokers offer cryptocurrency demo trading platforms that you can use to practice trading and test software. Both the MT4 and the MT5 come with free demo accounts that you can sign up for, and all the other cryptocurrency brokers we recommend offer demo versions of their platforms.
Trading cryptocurrencies on demo accounts have many benefits with the main one being that it allows you to perfect your skills to produce better results when trading on a regular platform.
We all use demo accounts on a daily basis to develop strategies and suggest you do the same.
Unfortunately, cryptocurrency demo software is not something cryptocurrency exchanges offer so you will have to opt for brokerage trading if you want the perks of free practice trading.
Cryptocurrency Mobile Trading Platform
It is essential for a broker or exchange that wants to be taken seriously to offer a great cryptocurrency trading platform on a desktop, either downloaded or web-based. However, we also want there to be a mobile solution that we can use when we're out and about or for some reason don't have access to our computer.
Today the mobile trading industry is huge, and all of the leading cryptocurrency brokers offer incredible mobile trading platforms. This includes the MetaTrader 4 and the MetaTrader 5 which can be downloaded to any iOS and Android device.
The same goes for the leading cryptocurrency exchanges, they all have state of the art mobile trading solutions, otherwise, we wouldn't be recommending them.
And while we're at it, there is one exception to this rule and a service that doesn't offer desktop trading but only a mobile solution. We are, of course, talking about the American stock trading app Robinhood that recently launched support for a handful of cryptocurrencies. This is a mobile-only, zero-fee, cryptocurrency trading platform that's available to traders in the United States.
Cryptocurrencies e-Wallet
Before we continue, we need to mention cryptocurrency wallets since they sort of qualify as cryptocurrency trading software. The difference is that they have been designed more for storage and long-term investments than trading. Generally, they are also only used when you have to keep an amount safe for longer periods of time.
Because of this essential difference between wallets and cryptocurrency trading platforms, we haven't included any of the top wallets in our recommendations. That being said, using wallets should be something you become familiar with, and we suggest you take a look at our guide to learn more.
What Cryptocurrency Platforms are Safe?
The last step before we start recommending the top cryptocurrency platforms is perhaps one of the most important. Anytime you trade anything online, you should be concerned and aware about the dangers and risks involved.
All forms of trading are associated with the risk of losing one's funds, that's something we all have to accept. However, there are a lot of subpar services on the market that offer outright dangerous cryptocurrency platforms and scam software, and those need to be avoided.
When it comes to cryptocurrency brokers, it's easy to know which ones can be trusted and which ones should be avoided. You see, the CFD and forex industry are tightly regulated, and every broker needs to acquire licenses and accept being overseen and audited by regulatory bodies. This means that every serious and trustworthy cryptocurrency broker has a license to operate and offer their services.
Cryptocurrency exchanges can be a bit more tricky. Today, the cryptocurrency market lacks the regulation and laws that keep forex traders safe. There are no global or even regional rules in place regarding how a cryptocurrency exchange should and has to be operated. Moreover, hacks and cyber attacks are more common among cryptocurrency exchanges than brokers.
That being said, any serious cryptocurrency exchange will do their best to protect their customers and the invested funds, and there are definitely some cryptocurrency platforms that are safer than others.
In our opinion, the best way to determine whether or not a cryptocurrency exchange is safe is to check how popular it is, i.e. how many active traders the exchange has. We also encourage you to check the daily trading volume. Alternatively, you can choose from the best cryptocurrency exchanges that we have recommended.
The Best Cryptocurrency Platforms and Software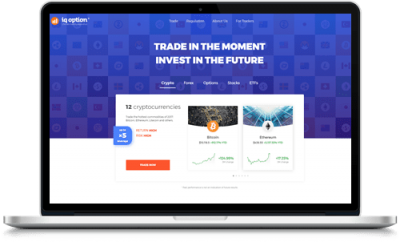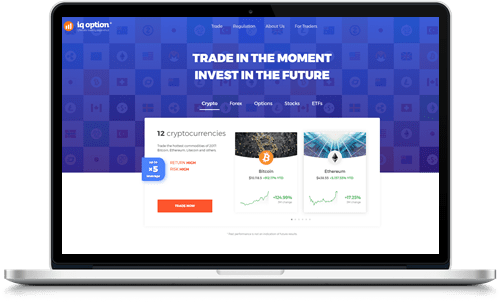 If you ask us, there is nobody that offers a better cryptocurrency service than IQ Option. This regulated and highly regarded forex and CFD broker has been at the forefront of the cryptocurrency movement for the past couple of years. Not only do they offer an innovative cryptocurrency platform with support for 12+ assets as currency pairs and CFDs, but they also let you buy the cryptocurrencies as they are. In addition, they recently launched the Hodly cryptocurrency wallet and exchange that you can read more about below.
Platform: IQ Option
Cryptocurrencies: 12+ plus currency pairs
License: Yes
Cryptocurrency Demo Platform: Yes
Read our IQ Option Review
Find the best trading platform. You capital is at risk when trading. Be careful.
2. Hodly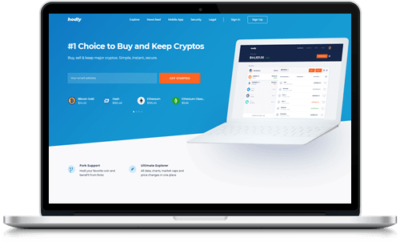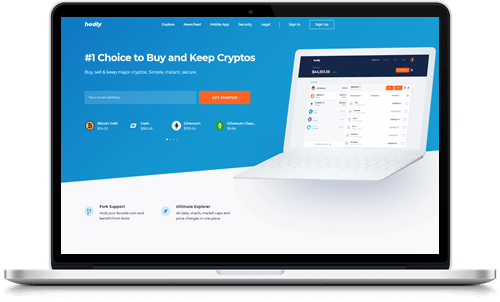 As mentioned above, IQ Option decided to take their cryptocurrency product to the next level in early 2018 when they launched the Holdy cryptocurrency exchange. It's a great and highly mobile-friendly platform, and it lists 15 of the most-traded cryptocurrencies right now. Another great perk with Hodly is that it can be used as a wallet where you store your investments and transactions between users are completely free. Better yet, Hodly is sort of included in the IQ Option license, making it the only regulated cryptocurrency exchange operating out of Europe.
Platform: Hodly
Cryptocurrencies: 15 (as of October 2018)
License: Yes and no
Cryptocurrency Demo Platform: No
Read our Hodly Review
Find the best trading platform. You capital is at risk when trading. Be careful.
3. 24Option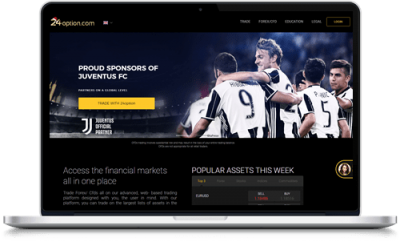 24Option offers the MetaTrader 4 platform as their main cryptocurrency software, and their overall product is good enough to have helped them qualify for this list. Although, the main reason we recommend 24Option as one of the top cryptocurrency platforms is that they offer more than 40 cryptocurrency pairs at any given time. Even though 24Option was one of the last CFD and forex brokers to add cryptocurrencies to their selection, they have already established themselves as industry leaders. Being the fact that they offer the MetaTrader 4 means they have a license and a demo account.
Platform: The MetaTrader 4
Cryptocurrencies: 40+ cryptocurrency pairs
License: Yes
Cryptocurrency Demo Platform: Yes
Read our 24Option Review
Find the best trading platform. You capital is at risk when trading. Be careful.
4. Binance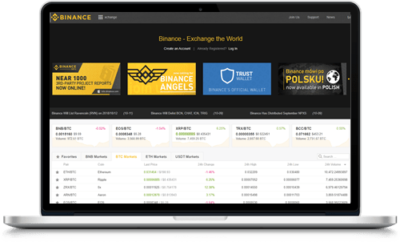 Binance is currently the largest cryptocurrency exchange in the world based on daily trading volume, and they belong to the top cryptocurrency platforms if you count the number of available assets. In fact, Binance is so large and established that everyone who has an interest in cryptocurrencies knows about the exchange. The main reason Binance managed to climb to the top of the industry is that they offer one of the best cryptocurrency platforms ever. Trading cryptocurrencies has never been easier, and if you don't have an account with Binance, we suggest you start one today.
Also, Binance is currently working on launching a crypto to fiat service that will help further establish the exchange as an industry leader.
Platform: Binance
Cryptocurrencies: 387
License: No
Cryptocurrency Demo Platform: No
Read our Binance Reivew

5. eToro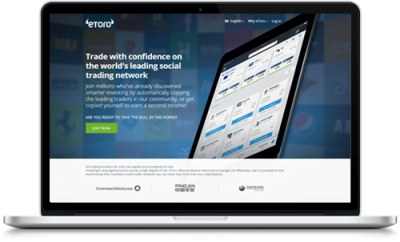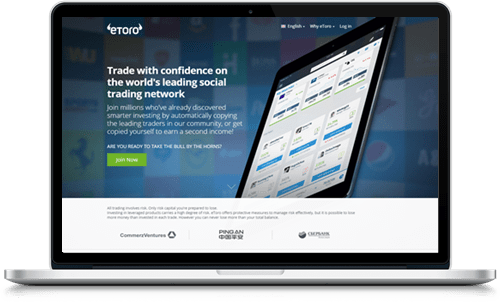 Like most services on this list, eToro is a forex and CFD broker. However, they do offer a completely unique product where the focus is copy trading and social trading opportunities. In other words, you can use the eToro cryptocurrency platform to copy other successful traders or use the social media platform to learn from other traders and get inspired. It's a fun and innovative way to trade cryptocurrencies which is why we've listed them here. Also, eToro has announced that they're planning to launch a global cryptocurrency exchange in 2018-2019, which will give them access to the American market but also help them build a name as a driven market leader.
Platform: eToro
Cryptocurrencies: 12
License: Yes
Cryptocurrency Demo Platform: Yes
Read our eToro Review
Find the best trading platform. You capital is at risk when trading. Be careful.