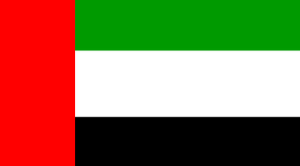 The following is a guide to the best online brokers in UAE and Dubai. We'll start by looking at forex trading in Dubai before moving into the stock exchange in Dubai.
As always, we're only recommending the safest and best forex and stockbrokers in the UAE, and wouldn't mention a service we don't use ourselves.
CFD Regulation Country by Country. The CFD trading services we are listing in this article is available in the following countries.
Europe:
Albania
Bosnia & Herzegovina
Bulgaria
Croatia
Czech Republic
Denmark
Estonia
Finland
France
Germany
Greece
Hungary
Iceland
Ireland
Italy
Kosovo
Latvia
Lithuania
Macedonia
Malta
Moldova
Montenegro
Netherlands
Norway
Poland
Portugal
Romania
Russia
Serbia
Slovenia
Sweden
Switzerland
Turkey
Ukraine
United Kingdom
Excluded: Belgium
North America
Belize
Costa Rica
Cuba
Guatemala
Honduras
Jamaica
Mexico
Nicaragua
Panama
Puerto Rico
The Bahamas
Excluded: United States
South America
Argentina
Bolivia
Chile
Colombia
Dominican Republic
Ecuador
Guyana
Paraguay
Peru
Suriname
Uruguay
Venezuela
Excluded: Brazil
Africa
Algeria
Angola
Benin
Botswana
Burkina Faso
Burundi
Cameroon
Central African Republic
Chad
Democratic Republic of Congo
Egypt
Eritrea
Ethiopia
Gabon
Ghana
Guinea
Guinea-Bissau
Kenya
Lesotho
Liberia
Libya
Madagascar
Malawi
Mali
Mauritania
Morocco
Mozambique
Namibia
Niger
Nigeria
Republic of the Congo
Rwanda
Sierra Leone
Somalia
South Sudan
Sudan
Swaziland
Tanzania
The Ivory Coast
Togo
Tunisia
Tunisia
Uganda
Western Sahara
Zambia
Zimbabwe
Middle East
Georgia
Armenia
Azerbaijan
Iran
Iraq
Syria
Lebanon
Cyprus
Israel
Jordan
Saudi Arabia
Kuwait
Bahrain
Qatar
United Arab Emirates
Oman
Yemen
Asia
Afghanistan
Bangladesh
Cambodia
China
China
India
Indonesia
Japan
Kazakstan
Kirgizistan
Laos
Malaysia
Mongolia
Myanmar
North Korea
Pakistan
Papua New Guinea
Philippines
South Korea
Sri Lanka
Thailand
Turkmenistan
Uzbekistan
Vietnam
Excluded: Hong Kong
Oceania:
eToro
Markets.com
24Option
IQ Option
BDSwiss
HotForex
Trade.com
Libertex
Plus500
XTB
InstaForex
IG Markets
GKFX
LionsFX
Valutrades
XM
IronFX
Blackwellglobal
FPMarkets
AmanaCapital
Admiralmarkets
Alvexo
Bizintra
Pepperstone
Windsorbrokers
FXPro
ForexTime
HYCM
FXGrow
TeleTrade
Trader.online
Marketscube
Finmaxbo
FXCC
Oanda
Forex.com
LCG
CMC Markets
FXCM
iForex
IFC Markets
Aaatrade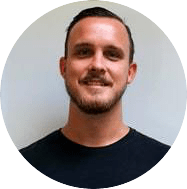 Adam Jarfjord is a Swedish day trader, investor, and copywriter. He works as head of content at BullMarketz.com and has been providing editorial content within the financial sector for more than 5 years.
Read more about him by visiting his LinkedIn profile or contact us directly to learn more about the team.
Here Are the Best Forex Brokers in UAE
Foreign exchange trading, or forex trading, is very popular in UAE and especially Dubai where several of the leading trading companies have offices. One of the reasons for this is that forex trading is so readily available but also because Dubai is a melting pot of cultures and people from all over the world, thus making currencies a relevant topic.
We've tested all the forex brokers in UAE and are confident that the following are the best of the best.
1. Forex.com – A Global Forex Trading Brand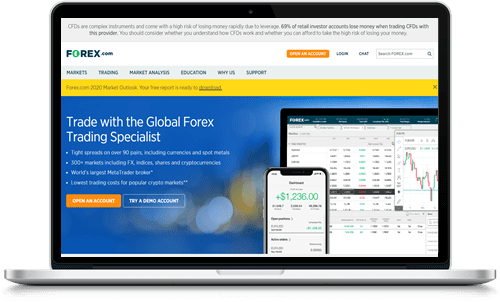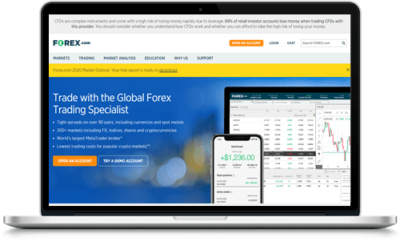 Forex.com is a worldwide, multi-asset broker with a strong presence in the Middle East, including Dubai and the rest of the UAE.
They offer a combination of their own advanced trading platform as well as the world-renowned MetaTrader 5, that some of you might already be familiar with.
As the name of this broker entails, forex trading is the main product offered and you'll have the option of trading several majors, minor, and exotic pairs, as well as 70+ technical charting tool, main options to draw on your graphs, etc.
Although, there are also other assets offered in case you want to switch things up a bit.
Platform: Advanced Platform + MetaTrader 5
Trading App: Yes
License: CySEC, FCA
Demo Account: Yes
Check Out This Forex.com Review for More Info
Find the best trading platform. You capital is at risk when trading. Be careful.
2. eToro – Copy Trading in UAE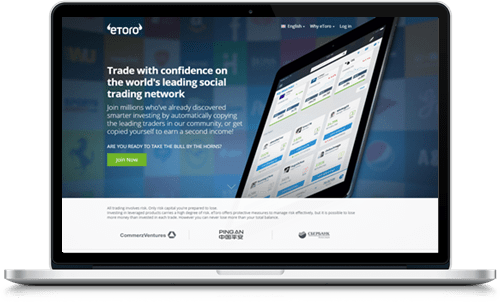 Not only is eToro one of the most established companies in the industry, but their copy and social trading features are completely unique to this brand alone.
In terms of forex trading in Dubai, this broker has roughly 50 currency pairs on offer as well as a long list of CFDs on everything from cryptocurrencies to stocks and commodities.
With the innovative eToro copy trading platform, you have the opportunity of copying other more successful traders and in the social trading network, you can learn tips and tricks from other traders in Dubai and elsewhere in the world. That makes eToro one of the most beginner-friendly brokers in the UAE.
That being said, eToro is also a great option for experienced traders looking for a solid trading platform, top-shelf graphs, fair fees, and all the tools you need to plan and execute trades on all the world's leading markets.
Platform: eToro
Trading App: Yes
License: CySEC, FCA
Demo Account: Yes
Read More in Our eToro Review
Find the best trading platform. You capital is at risk when trading. Be careful.
3. Plus500 – Innovative Online Trading in Dubai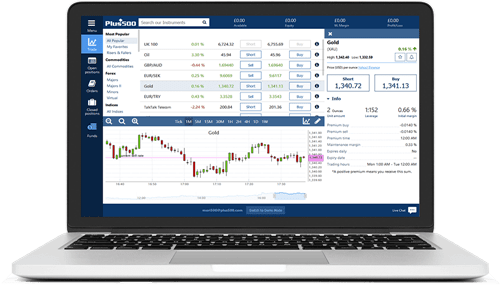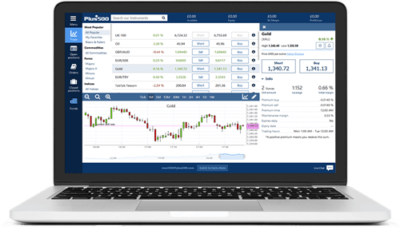 Plus500 is an award-winning broker that is available and fully regulated in the United Arab Emirates.
This broker is most well-known for their amazingly intuitive trading platform as well as their satisfying selection of assets.
With a Plus500 UAE account, you'll gain access to 70+ currency pairs as well as a range of cryptocurrencies (Plus500 was the first online broker to offer Bitcoin). But the best part with Plus500 in Dubai is their platform which was designed in-house and is well-known as one of the most simple platforms in the industry.
And don't get us wrong, simple isn't a bad thing, even for professional traders, rather the opposite. The platform is just simple to use, it still features advanced charting tools and features that will help bring the best out of your trading experience.
Platform: Plus500
Trading App: Yes
License: CySEC, FCA
Demo Account: Yes
Learn More in Our Plus500 Review
Find the best trading platform. You capital is at risk when trading. Be careful.
4. IG Markets – Established Online Broker Brand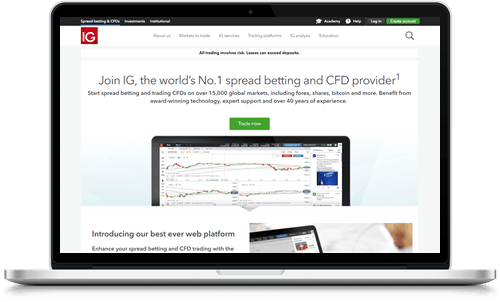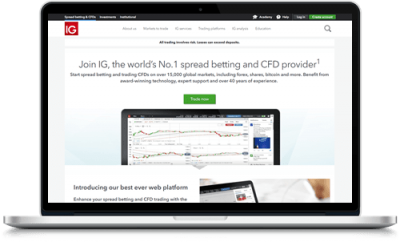 IG Markets is an online broker that's owned and operated by IG Group which, in turn, has been offering trading opportunities from England since the 1970s.
IG is widely regarded as one of the top online brokers in the UAE and the rest of the world. They even have an office in Dubai.
Similar to other brokers, IG Markets provides a combination of their own trading platforms as well as third-party software such as the MetaTrader 4. This means that you have countless of analytic tools at your disposal.
Not only that, but thanks to IG's long experience in the industry, you can always trust that they are serious and that they prioritize their customers' safety.
When it comes to stock trading in UAE, IG Markets provides access to over 12,000 stock CFDs, including some from the Dubai Stock Exchange. Plus a selection of stock indices from the international markets.
Platform: Proprietary + MetaTrader
Trading App: Yes
License: FCA
Demo Account: Yes
Learn More in This IG Markets Review
Find the best trading platform. You capital is at risk when trading. Be careful.
5. City Index – Forex and Stock Trading Like a Pro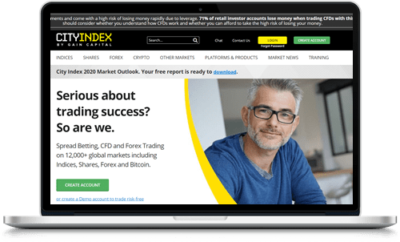 As mentioned above, City Index is the sister broker of Forex.com and, in our opinion, City Index is better suited for people looking to trade stocks. The reason being the fact that City Index has over 4,500 company shares from all over the world on offer. Better yet, you can trade the stocks as CFDs or opt for spread betting if you prefer that.
In addition, City Index has 80+ FX pairs listed as well as thousands of other assets ranging from indices to cryptocurrencies.
Perhaps the most impressive thing with City Index is their selection of platforms. With an account with this broker, you gain access to MetaTrader 4 as well as a proprietary platform that comes in a few different versions – web-based, advanced downloaded version, and apps.
All things considered, City Index has everything you need to trade stocks and forex in Dubai.
Platform: AT Pro + MetaTrader 4
Trading App: Yes
License: FCA
Demo Account: Yes
Find detailed information in our City Index review
Find the best trading platform. You capital is at risk when trading. Be careful.
6. AvaTrade – A Customer Favorite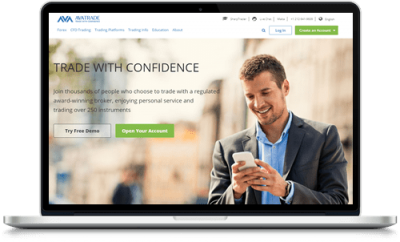 AvaTrade is an amazing forex and CFD broker based in Ireland but with an impressive international reach which includes forex trading in Dubai and the rest of the UAE.
AvaTrade offers a combination of their platforms as well as the MetaTrader 4 and have established themselves as an innovative force in the industry.
With that said, the thing that AvaTrade is most famous for is their mobile platform that gives everyone a chance to use a top forex broker in UAE, even when they're out and about.
Trading with AvaTrade is safe, straightforward, and really exciting because they offer such a great range of assets and platforms that there is always something new to try. Moreover, AvaTrade has a great educational platform where you can learn everything from basic forex information to advanced strategies.
Platform: AvaTrade + MetaTrader 4
Trading App: Yes
License: Central Bank of Ireland
Demo Account: Yes
See More: AvaTrade Review
Find the best trading platform. You capital is at risk when trading. Be careful.
Here Are the Best Stockbrokers in UAE
In order to trade on the stock exchange in Dubai using an online broker, you have to find a stockbroker that offers derivatives such as CFDs. Luckily, there are several of them and below you can read more about the best stockbrokers in Dubai. Just keep in mind that they don't offer share trading in Dubai of the exchanges, but assets based on the underlying shares.
1. Plus500 – Top Online Stockbroker in Dubai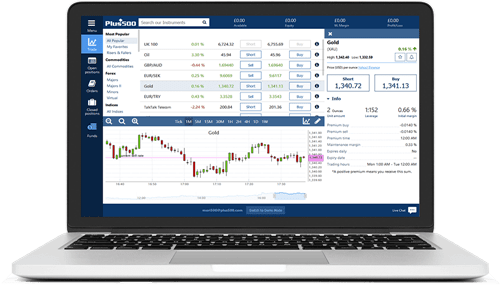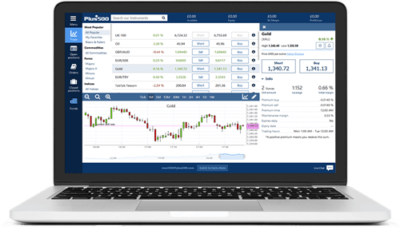 We mentioned that Plus500 is one of the top forex brokers in the world, but they also happened to be one of the best stockbrokers in Dubai.
Now, they don't offer as many stock CFDs as IG Market does, but their selection is comprehensive with companies listed on several of the world's leading exchanges. Add to that, a range of stock indices, and you have a solid selection to keep you busy for years to come.
Once again, the reason why we really like Plus500 is because of their incredible trading platform that has been breaking ground in the industry for many years. Regardless of if you trade on your desktop or your mobile device, Plus500's platform will provide you with all the tools you need.
In the end, it's the complete product that this broker offers that has us considering them to be one of the top stockbrokers in Dubai. And if you've never traded stocks or other assets before, you can start by studying their extensive educational material.
Platform: Plus500
Trading App: Yes
License: CySEC, FCA
Demo Account: Yes
See Our Plus500 Review to Learn More
Find the best trading platform. You capital is at risk when trading. Be careful.
2. IQ Option – Trade Stocks, CFDs, and Binary Options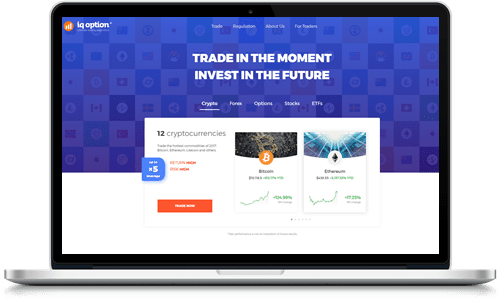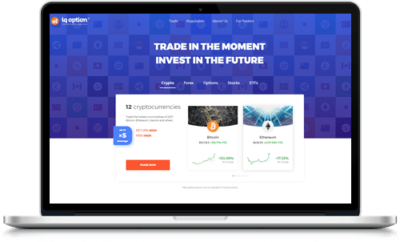 IQ Option is a bit different compared to the other brokers that we've recommended because, for online traders in Dubai, IQ Option provides CFDs as well as Binary and Digital Options.
Since a few years back, binary options have been banned in Europe, but they are still available in the UAE.
That means that you can use IQ Option to trade stocks from all over the world using either CFDs or options, which is great because of the different approaches the two types of assets require.
IQ Option also has its own trading platform that continuously is awarded for its innovation. In fact, just by visiting their website, you'll quickly realize that IQ is different from many other brokers. And that is exactly why we consider them one of the best stockbrokers in Dubai.
Platform: IQ Option
Trading App: Yes
License: CySEC
Demo Account: Yes
Find More: IQ Option Review
Find the best trading platform. You capital is at risk when trading. Be careful.
The Best Online Trading Platform in the UAE
A big part of our work outlining the trading market in Dubai and UAE was to figure out which broker had the best trading platform. And after many tests and countless hours of reviewing, we're confident that we have the answer.
eToro – Innovative Copy Trading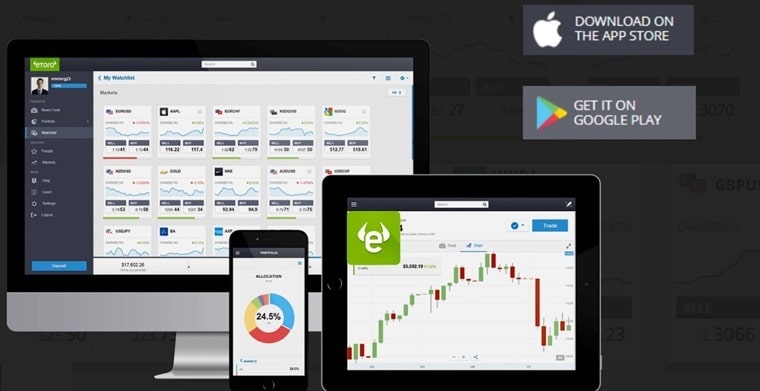 eToro is the best trading platform in Dubai right now. The reason for this is their combination of regular trading as well as copy trading. Add to that, their huge social trading platform which is one of the leading trading forums in the world, and there should be no doubt as to why eToro qualify as the best of the best.
In addition, eToro offers Islamic trading accounts in accordance with Sharia Laws, which is an important feature for many traders in the UAE.
If you, for any reason, don't want to take our word for this, we suggest you open an eToro demo account where you can trade for free and without risk. It's the best way to review a broker before signing up and we highly recommend it.
Find the best trading platform. You capital is at risk when trading. Be careful.
Best Mobile Trading Platform in the UAE
Mobile trading is becoming bigger and bigger all over the world and all the top brokers are working hard to develop the best mobile trading platform in the UAE.
After having tested all the platforms and trading apps in Dubai, we believe that Plus500 takes the crown as having the best one. The main reason for this is that, many years ago, Plus500 was one of the first brokers to take mobile trading seriously. Subsequently, that means that they are still ahead of the game.
Plus500 – The World's Best Online Trading App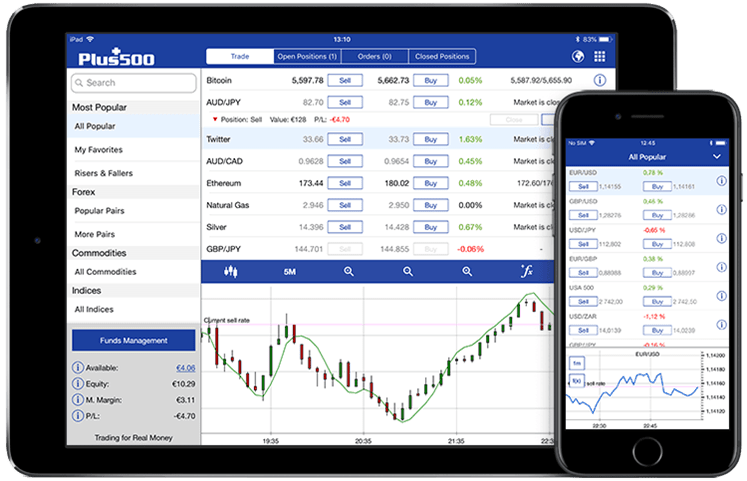 Plus500's mobile trading platform in UAE is the only trading app you'll ever need. It's readily available on all the latest Android and iOS (iPhone & iPad) devices as well as Windows Phones.
The design of the app is elegant and easy to understand, there are hundreds of assets to trade, and all the tools and graphs you need to trade like a pro, only using a smartphone or tablet.
The Plus500 app is really an over-all trading platform that offers more than most traders need to succeed, regardless of whether you trade stocks, forex, indices, commodities, cryptocurrencies, or something else.
Find the best trading platform. You capital is at risk when trading. Be careful.
Forex Trading in Dubai & the UAE
Forex trading is fully legal in Dubai and the UAE but there are a few things you need to consider to keep you safe.
Firstly, even though the UAE has their own regulatory body, we do always recommend that you stick to using brokers that are licensed by one of Europe's leading services such as CySEC or the FCA.
Secondly, in order to trade forex legally in Dubai, your broker has to offer Islamic Accounts. Naturally, all the brokers mentioned-above are licensed and do offer Islamic Trading Accounts.
Therefore, the easiest way for you to start trading forex in the UAE, is to stick with our recommendations.
Stock Trading in Dubai & the UAE
Stock Trading is popular in the UAE and especially in Dubai. This is mainly because Dubai is one of the region's leading financial hubs and because Dubai has its own stock exchange.
Moreover, the same rules apply to stock trading and investing as it does for forex trading, ie. only use licensed stockbrokers with Islamic Accounts.
Once again, there would be no point in us recommending brokers that didn't live up to these basic requirments. Therefore, all the above-mentioned stockbrokers in Dubai are licensed and offer Islamic stock trading accounts.
How We Did These Tests
Our team of online trading and investment experts have been reviewing brokers all over the world for many years. That means that we are highly experienced when it comes to testing and auditing brokers.
With that said, the process of creating a guide like this is still a massive undertaking and our team spent countless hours reviewing the best brokers in Dubai.
Our tests are mainly focused on safety, user-friendliness, and the overall product. For example, there are at least 20 online brokers that was considered for this guide, but only a handful made it to the end. That is because we only recommend the very best of the best.
Other Regional Broker Guides
Similar to this guide to the best brokers in Dubai & the UAE, we have covered other popular trading markets. In case you're interested in reading more about them, we've listed the most popular ones below.