Find the best trading platform. You capital is at risk when trading. Be careful.
The interest in buying cryptocurrencies has skyrocketed over the past few years, and when interest grows, the number of questions follow. One of the most common questions is how to buy cryptocurrencies with
PayPal
. Unfortunately, the internet is littered with misinformation regarding buying cryptocurrencies using PayPal, and we thought we'd take the opportunity to clear things up.
You see, there are some options that let you buy cryptocurrencies with PayPal, but most sources on the net provide outdated and inaccurate information and sometimes even lies. So, if you're looking to buy cryptocurrencies using PayPal, this is your go-to guide with only tested and legitimate options for buying Bitcoin with PayPal.
Options for Buying Bitcoin with PayPal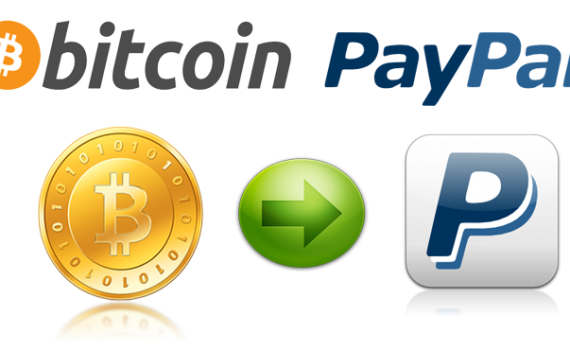 What is amazing with the cryptocurrency market is the share number of complete beginners that have found an interest in trading. People who would have never thought about trading stocks or commodities are now looking into buying Bitcoin. For all of these beginners, it's important that the initial investment is as easy as possible and for many that means they want to use PayPal.
Luckily for these people, buying Bitcoin with PayPal is easy, at least if you know where to go and who you can trust.
Buying Cryptocurrencies Using PayPal and Exchanges
Note that there are many guides on the internet claiming that you can buy cryptocurrencies using Coinbase, Binance, and other leading cryptocurrency exchanges, but this is not true. PayPal is a highly respectable company that only works with safe and regulated companies, and so far none of the leading exchanges are regulated which means PayPal won't be associated with them.
When Bitcoin was first launched the market looked different and PayPal did indeed let you buy Bitcoin, but the company has gotten much stricter since. Also, for a while, you were able to buy Bitcoins with PayPal on Coinbase if you lived in the United States, but that service has been suspended. That being said, you can still withdraw fiat currencies from Coinbase to PayPal.
This means that there is really only one legitimate way of buying cryptocurrencies using PayPal and that is through CFD brokers.
Using PayPal and CFD Brokers
A CFD broker is a broker that provides the option of investing without owning, meaning you can invest in underlying assets without actually owning the asset you're investing in. This market has existed since long before Bitcoin was introduced but it wasn't until last year that most of the CFD brokers started adding cryptocurrencies to their selection.
Today, most of the brokers do provide cryptocurrencies as CFDs, and some even offer the option of buying the actual asset. Better yet, some of the brokers let investors buy cryptocurrencies with PayPal.
The benefit of using CFD brokers when you buy Bitcoin and other cryptocurrencies is that these brokers are regulated by leading authorities such as the Financial Conduct Authority (FCA) in the UK and the Cyprus Securities and Exchange Commission (CySEC) in Cyprus. Naturally, a regulated broker is many times safer than an unregulated exchange.
eToro and Paypal
Find the best trading platform. You capital is at risk when trading. Be careful.
eToro has been an industry leader for over 10 years, and the broker is currently serving 10 million active customers, many of who trade cryptocurrencies. With eToro you can choose to either buy 10+ cryptocurrencies as CFDs or buy actual Bitcoins as a real investment where you own the asset.
The following steps describe how you can buy Bitcoins with PayPal from eToro.
First, you have to register a trading account with eToro. This is easy to do and only requires you to provide and submit certain personal information such as your name, address, email, etc. You'll be done in a matter of minutes.
The next step is to verify your account. You actually don't have to verify your account to start trading cryptocurrencies, but you do have to verify it to withdraw your profits, which is why we suggest you do it right away. To verify your account, you need to send in a copy of your ID (passport or a drivers license) and a proof of address, for example, an electric or phone bill.
The third and final step is to start buying cryptocurrencies using PayPal. To do so, you open your trading account, push "Deposit Funds," and choose PayPal from the list of payment options. Since you're using PayPal the payment will be done instantly, and as soon as the funds are on your account, you can start investing in cryptocurrencies.
At the time of writing, eToro is in the process of launching a full-blown cryptocurrency exchange but it has not been clarified whether or not the exchange will have support from PayPal.
Plus500 and PayPal
Find the best trading platform. You capital is at risk when trading. Be careful.
Plus500 is another popular CFD broker that has support for PayPal and that offers cryptocurrencies. Unlike eToro, Plus500 only offers cryptocurrencies as CFDs meaning you can speculate on cryptocurrency prices but not buy the actual assets from Plus500.
In order to buy Bitcoin with PayPal from Plus500, you'll follow the same steps as we mentioned for eToro above. First, you register a trading account with Plus500, then you verify your account, and then you make the first deposit to your account using PayPal. As soon as the deposit is finished, you can open the trading platform and start trading cryptocurrencies.
IG Markets and PayPal
Just like the two above-mentioned CFD brokers, IG Markets is an industry leader that lets the customer buy cryptocurrencies with PayPal. Once again, the process of registering an account and depositing money is fairly similar to the two other brokers. However, the selection of assets is much smaller. At the time of writing, IG Markets offers the option of buying Bitcoin and Ethereum as CFDs.
LocalBitcoins and Paypal
LocalBitcoins is a marketplace for cryptocurrencies that is based in Finland but is available globally and lets you buy Bitcoins from other investors. On this site, the seller can choose the available payment methods himself, and one of the options is PayPal, making Localbitcoins an option for people that want to buy Bitcoin with PayPal.
That being said, Localbitcoins has had several issues with authorities and regulatory bodies, and we cannot recommend the service to our users. Instead, we suggest you use one of the other brokers mentioned above.
Summary of How One Buys Cryptocurrencies with PayPal
In preparation for this article, we searched the internet looking for services that allow customers to buy cryptocurrencies with PayPal and our conclusion is that there is only one way. At the moment, eToro is the only service that lets you buy Bitcoins with PayPal in a safe environment. In addition to eToro, there are a few safe brokers that let you speculate on cryptocurrency rates with PayPal, but that's really it.
Naturally, there are many other ways one can buy cryptocurrencies aside from PayPal and because of that, we suggest you check out our guide on how to buy cryptocurrencies before you get started.
Find the best trading platform. You capital is at risk when trading. Be careful.