Are you looking for a good mobile software to start investing with? Then you're not alone. The interest in mobile trading, and especially investment apps, have literally skyrocketed in the past few years. Personally, we love trading with investment apps and have recently spent a lot of time testing and using different mobile software for personal reasons.
Since the interest now seems to be spreading, we thought we'd take the opportunity and tell you a little bit about the best investment apps.
Find the best trading platform. You capital is at risk when trading. Be careful.
Today, trading with an investment app is more similar to desktop trading than ever before. Additionally, several times a year we get to witness brokers and investment firms update and optimize their mobile software to be as great as possible.
However, there is still quite some improvement needed before investment apps can compete with desktop investment platforms on every level. With that said, the mobile software available today is definitely good enough for most people. In fact, there is software that has been developed for different traders and markets, and we're excited to have tested some of the best investment apps for beginners lately.
Only a few years ago, even the best investment app was nothing more than a very basic analytic tool with simple graphs and the option of searching for certain assets. Nowadays, things are much different, and the best investing apps can be used to perform detailed technical analysis, open and close positions, and pretty much anything you would need, but more about that in a little bit.
Disclaimer: As previously mentioned, the investment apps are not suited for everyone. For example, if you are a professional day trader, an app for investing will never be enough to replace your desktop rig. There are obvious limitations with the size of the mobile screens and the operative systems that restrict today's trading apps from becoming the norm.
That being said, an investment app is a practical tool even for professionals since it allows us to keep an eye on things while we're out and about, and for many others, investment apps are all that is needed.
What Markets Can You Invest in?
Let us clarify what we mean by investing too and which markets the recommended trading apps cover so that you can get a better idea of what we are focusing on.
When talking about investments, one normally talks about assets that one can buy and hold onto for a longer period of time, unlike trading or day trading where a trader conducts several trades in a short period of time. With that said, all of the investment apps covered on this page have been designed to support both long-term investments and trading but let us explain in detail.
Stocks
Most people associate stocks with investments because it's one of the most popular asset classes for investors. Buying stocks is exciting and can be highly rewarding which is why it's one of the largest asset classes among all the brokers listed on this page. Moreover, stocks can be used for both trading and long-term investments.
Cryptocurrencies
Cryptocurrencies are the latest market to have been added to all of the brokers on this page, and it's one of our favorites. Similar to stocks, cryptocurrencies are equally as suitable for day and swing trading as they are for long-term investments. Therefore, many of the investment apps on this page offer cryptocurrencies in a range of formats.
Forex
All of the recommended investment apps on this page offer forex trading. Although forex is not typically used for longer investments, it can be used to open positions over a few days and even a couple of weeks. All in all, it's a fun way to invest, and it's a market that has wide support on all the best investment apps.
Commodities
Commodities is another vastly popular market among the top investment apps. Choose between classics like crude oil, gold, and silver to more exotic ones such as sugar, coffee, and soybeans. Just be careful and double check whether you're investing in futures or the spot price because they are fundamentally different investments.
Others
In addition to these three markets, all of the investment apps have support for a few other markets as well but they differ a bit from broker to broker. The most popular ones are:
Indices – Stock indices following the world's largest exchanges and companies.
ETF – Exchange-traded funds can be traded on pretty much any asset and market.
Bonds – This is another very popular investment market that most people use for long-term investments and not for trading.
Blends – Blends is a combination asset where several underlying assets are combined to create one asset similar to an index or fund.
Investment Apps Come in Different Versions
Just like trading and investment platforms come in different shapes, investment apps usually have their own set of unique features. Most of the differences between the best investment apps today is based on the product that the associated broker offers. For example, a stockbroker will most likely develop an app that is optimal for stock trading, while a forex broker will develop an app for forex trading.
Furthermore, there are differences in availability such as which devices one can use with the apps, but we've dedicated a whole section of this page to that further down. First, let us take a look at a few different types of trading apps.
Stock Trading Apps
One of the most common investment apps are stock trading apps, and there is a very good reason for this. As you probably already know, stocks are the most popular security for long-term investments so it makes perfect sense that stock trading apps are so popular.
Some of the best stock brokers in the world have developed the top investment apps, and we've listed several of them further down on this page. Although, recently a new type of stock trading app has started to grow in popularity in the United States.
We are of course talking about the stock trading app Robinhood which is 100% mobile based and does not exist as a desktop or even a web-based version. The reason why we mention Robinhood is that no guide to investment apps is complete without at least mentioning it. However, we do not consider it the best investment app since it's only available to certain customers in the United States. Instead, the investment apps that we recommend have a larger international reach.
CFD Trading Apps
The second type of investment app is what we refer to as CFD apps. They are typically developed by CFD brokers and can provide support for a multitude of different asset classes. There are investment apps designed for cryptocurrency trading, stocks as CFDs, forex, commodities, and more. Usually, the best investment apps are the ones that support several asset classes at once.
One of the most well-known CFD apps is the MetaTrader 5 which is offered by several brokers. Many consider the MT5 to be the best investment app for beginners, but it's also used by professionals all over the world.
Brokers that aren't offering the MetaTrader 5 mobile platform tend to have developed their own apps instead and only a handful of them can be considered as the best investment apps. In fact, investment apps are still such a young concept that most of the available software is subpar, to say the least.
Note that CFDs and currencies aren't optimal for long-term trading, although many people use them for it anyway. As long as you're prepared to pay small fees for keeping the positions open after the market closes, there is nothing stopping you.
Demo Trading
The third and final version of investment apps that we will mention is so-called practice apps. As the name entails, these apps are used to practice investments, and they are a great tool that should not be overlooked.
You can open any of the large app stores and search for "practice investing" or "investment apps for beginners" to find some of the most popular free investment apps. These practice apps have been developed for the sole purpose of offering trading opportunities. The other option is to open a demo account which is what we and many other professionals do.
A demo account is a special type of trading account that most brokers offer these days. These accounts are replicas of regular investment accounts with the only difference being that you use virtual money instead of real money. That means there is no risk involved in using demo accounts with investment apps.
This unique and risk-free investment environment offers many great opportunities for beginners and professionals alike, which is why we recommend that everyone open a demo account today.
The Best Investment Apps on Different Devices
Another important difference between investment apps is what devices you can use them on. Generally speaking, the leading investment apps today have support for iOS and Android, meaning you can use them to invest using your Android smartphone and Android tablet as well as your iPhone and iPad. Lately, certain brokers have started adding support for Windows phones as well, and some have web-based software that allows customers to access the apps via their mobile browsers.
We wouldn't consider an investment app one of the best if it didn't have support for at least Android and iOS and anything on top of that can be considered a bonus.
To make it easier for you to find a broker that supports the device you prefer, we've listed the best investing apps for iPhone and Android below.
Investment Apps and Their Features
When researching for this guide, we turned to other traders to see what they were looking for in an investment app and also to see if they had any questions regarding mobile trading.
To our surprise, it seems like many people are still uncertain of exactly what you can use investment apps for. Therefore, we thought we'd attempt to answer this.
In our opinion, the following requirements are the absolute minimum of what the best investment apps need to offer.
Charting Tools – The app needs to provide tools that let you perform more than just basic analytic work. In other words, there need to be serious charting tools and graphs connected to all of the available instruments.
Fundamental Analysis – In addition to using graphs to perform technical analysis, we want the option of performing fundamental analysis. That means we expect there to be regular market updates, news, and other market insights.
Investing – Obviously, you have to be able to open and close positions freely and without limitations. Without this basic feature, the app would just be another analytic app and not actually an investment app.
As mentioned, these three features are the absolute bare minimum, and we expect the best investment apps to offer much more than that. For example, educational material is important as well as automatic trading features and robots, signals, alarms, stop-loss, etc.
If you're a professional investor you probably already know which tools and features you can't live without and your job is to find a broker that offers that. If you're just getting started we suggest you open an account with one of the best investment apps for beginners since they all offer the tools and equipment you need to get started.
Check Our Investment App Reviews and Compare the Leading Software
Naturally, this page would be quite useless without our recommendations, and if you're searching for the best investment apps, you'll find them all below.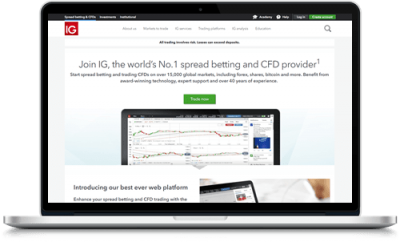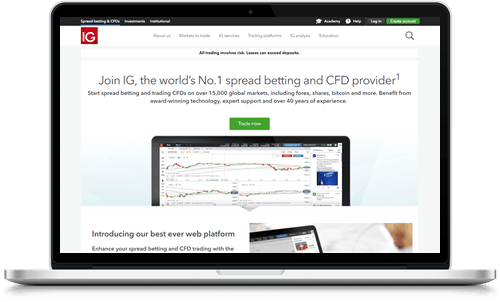 IG Group is one of the top financial firms in the UK, and they operate one of the best brokers in the world. IG Markets offers CFD trading and forex as well as access to some of the world's largest stock exchanges, either via their top trading platform or the award-winning investment app.
With an IG Markets account you get access to 15,000 tradable assets, all of the charting tools you could dream of as well as some of the best market updates in the industry.
Investment App: The IG Markets app
Assets: Thousands of assets as derivatives and from the exchanges
Demo Trading: Yes
Read our IG Markets Review

Find the best trading platform. You capital is at risk when trading. Be careful.
2. Markets.com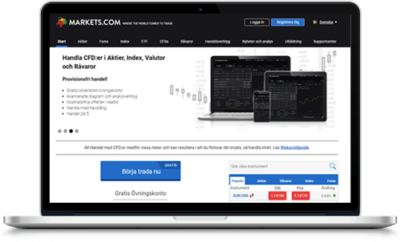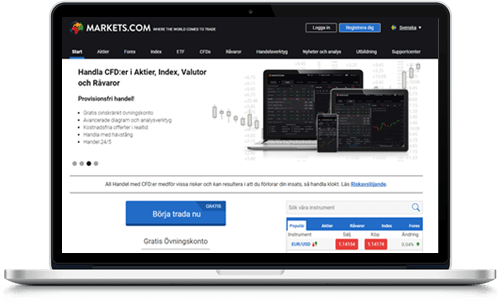 Markets.com works with the MetaTrader 5 investment app which we mentioned earlier, and they are committed to offering the best mobile trading experience ever.
The platform is incredible, not only does it provide access to 2,000 assets but it is designed in an intuitive way that takes your trading experience to the next level. If you've read any of our other reviews, you know that Markets.com is one of our favorite brokers, and for good reason.
Investment App: Markets.com App
Assets: 2,200+ assets
Demo Trading: Yes
Read our Markets.com Review

Find the best trading platform. You capital is at risk when trading. Be careful.
Are Investment Apps Safe to Trade With?
One of the biggest concerns among traders and our readers is safety, especially when it comes to trading apps and mobile software. It's understandable, the last thing you want to worry about when trading is whether or not your information and funds are safe.
But there is no need to worry. Every broker or service that's recommended on BullMarketz.com has been thoroughly reviewed to guarantee safety. In fact, we have personally made sure that every single broker and trading app that we've ever mentioned has all of the licenses and approvals needed to offer a financial service.
The easiest way to make sure that an investment app is safe is to check if it's regulated and who regulates it. For example, in Europe, every trading app has to be licensed and regulated by the Financial Conduct Authority (FCA) or the Cyprus Securities and Exchange Commission (CySEC). However, the more licenses they have, the better it is.
Note! Never use a broker or a trading app that doesn't have a license and is not regulated. There are enough safe and regulated brokers out there that it is not worth putting yourself at unnecessary risk. Stick with our recommendations and you will be safe at all times.
Investment App Risk Management
Investing via an app comes with a high risk, perhaps even a higher risk than other types of platforms. The reason for this is that the app allows you to casually make big investments wherever you are.
This is why risk management is crucial. You always need to be aware of the risks with trading regardless of what device you use to trade with.
Investing via your mobile device is easy, and making impulsive investments can be a problem. You should always be aware of this, and even though you might be forced to act quickly at times when trading, we encourage you to not act on impulse or make rushed decisions. Instead, you need to plan every trade to ensure that you have the best potential outcome.
We always recommend using a demo account to our readers but it comes with one risk. People have a tendency to trade carelessly and take bigger risks when using virtual funds than when trading with real money. Therefore, there is a risk of traders making dangerous decisions when switching from demo trading to regular trading. Remember to be careful when switching accounts.
Use stop-losses when you can and when it's necessary. One of the perks of trading apps is that you can bring them with you wherever you go and keep track of your positions at all times. However, at times you still need to protect yourself by setting up stop-losses, and it's something we encourage everyone to do.
Money management is important at all times when trading and not only when using trading apps. This includes only depositing money that you can afford to use for trading, never investing money you can't afford to lose, and never, ever chasing your losses. If you end up losing money from a position you need to cut your losses and move on. Trying to "save" the situation will likely only end with you losing more.
That being said, hedging can help minimize some of the risks. By opening several positions in opposing markets, you can improve your odds, and it's a smart and easy tactic used by many. Don't put all your eggs in one basket, especially not when day trading.
Other Trading Apps Based on Unique Criteria
As always, we've done or diligence and also listed other trading apps based on more specific criteria, mostly geographic regions but also different markets such as best stock trading apps, and best forex apps. You can read more about some of the more popular trading app categories below.
Other recourses
The UK market is different from the rest of the world in many ways, and it also happens to be one of the largest and most influential investment markets in the world. Due to this, we've created a comprehensive list of the best investment apps UK that we suggest all British investors check out
Another important and popular category of trading apps is stock trading apps. Compared to the above-mentioned apps that offer the best overall mobile trading experience, the best stock trading apps are the best at stocks. So if you're looking to start trading and investing in stocks, we suggest you check out our recommendations.
The most popular market for trading apps and mobile traders is the forex market. The reason for this is that forex trading requires fast decisions around the clock and trading apps allow traders to open and close positions regardless of where they are. Check out the best forex trading apps in UK right now to learn more.
Final Words on apps for investments
The mobile trading industry has literally exploded in the past few years, and if you haven't used one yet, it's about time you get started. Just make sure that you only use safe services that offer the tools and products that you need. In our list of the best investment apps, you will find just that so don't forget to check it out before you start investing.