More people than ever before are trading using mobile software and the competition among brokers trying to develop the best trading app is fierce. In fact, right now, the top brokers are all focusing more of their efforts on developing trading apps than they are on their regular software.
Because of this, it has become increasingly more common for traders to choose their preferred broker based on their day trading apps, and in order to help you with your decision, we thought we'd list the best trading apps right now.
Find the best trading platform. You capital is at risk when trading. Be careful.
To make this list as relevant as possible, we turned to other traders to see what they look for in a trading app. By doing so, we could figure out what traders want from the apps and not only what the brokers are looking to offer.
As it turns out, many traders are still unsure of what a trading app is and how they work. They are also curious to know on what devices can be used as well as the available features. Also, depending on which smartphone they have, traders are wondering which trading app is the best for iPhones and which is the best trading app for Android devices.
With these trader preferences at hand, as well as our extensive experience from the industry, we set out to evaluate, test, and review as many day trading apps as possible. We then proceeded to list the top five best trading apps on this page.
Note that all of the apps and brokers we recommend are regulated and safe to use – they would never make it to our list if they were not.
Different Types of Free Trading Apps
The first thing you need to understand is that there are different types of trading apps. For example, some apps have been developed only as an analytic tool with graphs and price information but no trading features. These apps are commonly referred to as analytic apps.
Then there are so-called training apps which you can use to practice trading in a risk-free environment. TradeHero is probably the most well-known. It's a free day trading app that offers an incredible stock trading simulation where you can practice trading stocks using virtual money. If you've never traded anything in your life, it can be advisable to start with TradeHero or another day trading simulator, although it's not necessary.
However, when we put together this list we weren't looking for analytic apps or stock trading simulators, we were looking for the best trading apps that you can actually use to trade. And when it comes to the best free trading apps, there are two different types.
A mobile trading app is usually developed by the broker itself, meaning the software is unique to that particular broker. These types of trading apps are usually called proprietary mobile trading apps, and in most cases, they are a mobile version of the broker's regular trading platform. In addition, they are also always free trading apps.
The second, and almost equally as a popular version of a day trading app, is developed by a third party and used by several brokers. The most well-known third-party day trading apps are the TradingView app as well as MetaQuotes' MetaTrader 4 and MetaTrader 5 apps.
On this page, we've recommended brokers offering both types of mobile trading apps.
Availability – Which Devices Are Supported?
Before we get into the different features as well as our list of the best trading apps, we need to take a look at availability and the devices that can be used for trading.
Generally speaking, the best day trading apps are available for both iOS and Android, meaning they can be used on iPhones and iPads as well as Android smartphones and tablets. Some brokers even offer free trading apps for Windows phones, and recently one of the top brokers in the world launched support for the Apple Watch.
Most day trading apps require you to download them from the app stores but in some cases, the software is available as an online trading app. The difference between a downloaded trading app and the best online day trading apps are similar to the difference between a web-based trading platform and a desktop platform.
To give you a better idea of what software is available we'll list the best iPhone trading apps and the best Android trading apps.
As mentioned, some brokers provide support for more devices than that. For example, Plus500 and AvaTrade can be used on the latest Windows Phones.
Features: What Can You Do with the Trading Apps?
The most important thing to consider when evaluating trading apps is what you can do with them.
Only a few years ago, the best trading apps where limited to analytic work only. Since then, more and more features have been added to the apps and today many of the best mobile trading apps are almost as good as the desktop platforms.
That being said, not all mobile trading apps are created equally, and you need to double check the available features before you start trading.
In our opinion, the best mobile trading app can be used to quickly open and close positions and apply stop-losses and limits to the open trades. The apps also need to offer a good search function so that you can quickly find the instrument you want to trade as well as the charting tools needed to perform a simple technical analysis. That's the bare minimum.
However, the best day trading apps offer so much more than that. For example, all the apps listed below have a large selection of tradable assets, features that allow you to go through your trading history, trading signals and alarms, and even robots or other automatic trading features.
In other words, we require the trading apps to be as similar to a regular desktop trading platform as possible.
Lastly, all of the brokers and mobile day trading apps we recommend offer demo accounts, and for their apps to qualify for this list, the demo accounts must be available in their trading apps. A demo account allows beginners to practice day trading and experienced traders to develop and test strategies.
Therefore, a trading app with a demo account can be the best trading app for beginners and at the same time the best trading app for professionals.
The Top Five Best Trading Apps

1. Plus500 – Best Overall Trading App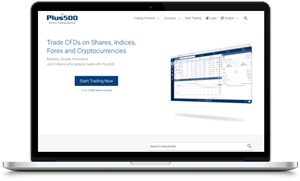 There are two reasons why Plus500's trading app made it to this list. Firstly, the app is incredibly well-designed and easy to use. Secondly, it provides support for more devices than any of the other trading apps in the industry. For example, everything from iPhone and Android devices to Windows Phones and Apple Watches is supported. All in all, the Plus500 mobile app is one of the best day trading apps for professionals and one of the best day trading apps for beginners.
Plus500 has support for all of the major asset classes meaning you can trade stocks, forex, indices, cryptocurrencies, commodities, and so much more.
App: The Plus500 App – free of charge
Availability: Android, iOS, Windows
Demo Account: Yes
License: FCA and CySEC
Read our Plus500 review

Find the best trading platform. You capital is at risk when trading. Be careful.
2. IQ Option – State of the Art Trading App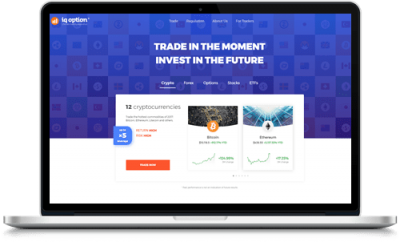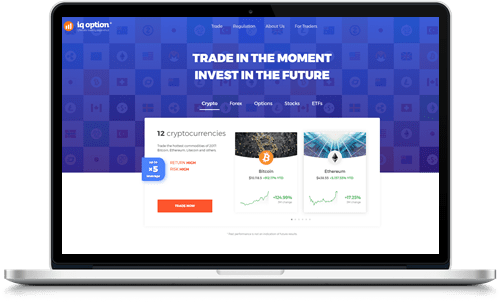 IQ Option is spearheading the forex and CFD industry and is constantly updating and adding to their already state of the art trading platform. One of their main focuses in the past few years has been to develop one of the leading trading apps which they have certainly succeeded at doing. The IQ Option trading app is quite different from many of the other apps on the market in terms of features and design. However, it is extremely easy to use, and it provides all of the functions you need to trade professionally on a mobile device.
Lately, IQ Option has focused on cryptocurrency trading and launched the mobile cryptocurrency wallet Hodly among many other features.
App: IQ Option's day trading app – free of charge
Availability: Android and iOS
Demo Account: Yes
License: FCA and CySEC
Read our IQ Option Review

Find the best trading platform. You capital is at risk when trading. Be careful.
3. 24Option – Mobile Trading with the MetaTrader 4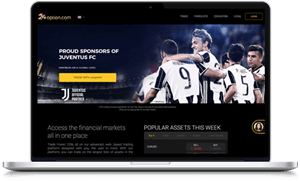 24Option is the only broker on this list that offers the MetaTrader 4 as their main platform. As you might already know, the MetaTrader 4 is the leading forex platform in the world, and the mobile version is perhaps the best trading app there is. Combine the MetaTrader 4 with 24Option's incredible brand and overall product, and you have a mobile trading app that few brokers can compete with. Anyone that trades professionally or at least on a regular basis has to try the MetaTrader 4 mobile platform, and the best way to do so is with 24Option.
App: The MetaTrader 4 – free of charge
Availability: Android and iOS
Demo Account: Yes
License: FCA and more
Read our 24Option Review

Find the best trading platform. You capital is at risk when trading. Be careful.
4. eToro – Automatic Mobile Trading App at its Finest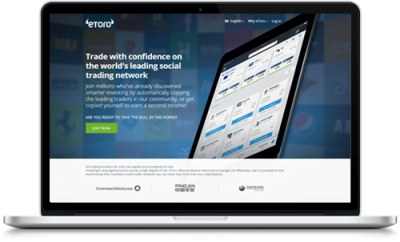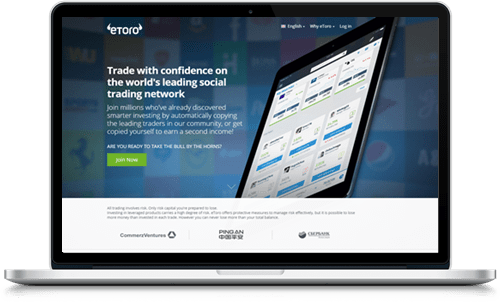 Automatic trading, and especially copy trading, is one of the most entertaining ways to trade any asset. Copy trading allows you to find other successful traders and copy all of their positions, which means you have a greater chance of succeeding. However, until recently, copy trading wasn't available on mobile devices. Then eToro went through a major facelift, and the result was not only a top trading platform but one of the best trading apps available today. Mobile trading with eToro is easy and smooth, and if you don't feel like automatic trading, eToro offers all the charting tools and execution opportunities that one could wish for.
App: The eToro Mobile App – free of charge
Availability: Android and iOS
Demo Account: Yes
License: FCA, CySEC, and more
Read our eToro Review

Find the best trading platform. You capital is at risk when trading. Be careful.
5. Markets.com – The MetaTrader 5 Trading App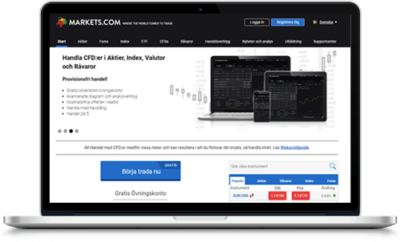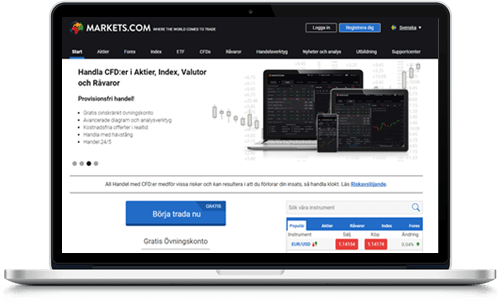 In 2018 Markets.com decided to switch from using the MetaTrader 4 as their main platform to the MetaTrader 5 in order to accommodate more asset classes and traders. The MetaTrader 5 was designed for optimal support of CFD trading while the MT4 is mostly for forex. Thanks to this switch of software, Markets.com now offers one of the best day trading apps in the world paired with one of the smoothest trading experiences and 2,200 assets. Also, the MetaTrader 5 trading app comes with a great demo account that allows you to test the app before you register an account.
App: The MetaTrader 5 – free of charge
Availability: Android and iOS
Demo Account: Yes
License: CySEC
Read our Markets.com Review

Find the best trading platform. You capital is at risk when trading. Be careful.
Best Trading Apps and Brokers Based on Set Criteria
The five trading platforms that we listed on this page are by far the five best mobile trading apps on the market right now. However, depending on where you live and what you want to trade there might be other brokers offering a better solution for you. For example, forex traders can check out our list of the best forex brokers while stock traders can check out our list of the best stock trading apps in UK.
Best Trading App UK
All of the above-mentioned mobile trading apps are available to traders in the UK, but there are more trading apps that have been specifically designed for the UK market. For example, they can offer a good selection of British shares or tax-free spread betting. Because of this, we've also recommended the Best Trading Apps UK and the Best Stock Trading Apps in the United Kingdom.