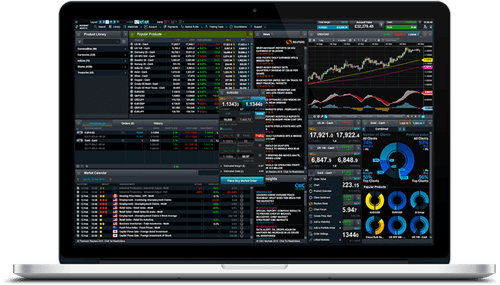 CFD trading
is one of the most lucrative and action-filled forms of trading and it also happens to be one of our favorite types of trading, which is why we've decided to list the best CFD brokers. Note that all the brokers that we've listed are 100% safe, always regulated, and have all the necessary licenses to offer CFD trading.
You can click on any of the links below to go straight to the broker and register a trading account or go to one of our detailed reviews to learn more about the broker.
How to find a good CFD Broker:
There are several factors that you need to check before deciding on a broker to use. Some of these aspects are crucial and some are more about personal taste. Below you'll find the most important criteria that all brokers should live up to.
We have already evaluated and reviewed all the brokers that we recommend so you don't actually have to go through this time-consuming process. But we still thought it would be helpful to explain how the process works in case you would want to do your own research.
If you prefer to do your own research, you need to be focused and systematic and you have to make sure that the services you use are safe and reliable. Keep in mind that most available brokers are not good enough to even consider and that only a few select options meet all the necessary criteria.
License and regulation – The first and most important thing to check is if the broker is regulated and if they have all the licenses they need to operate. An unlicensed broker can easily rip you off and walk away with your money without any consequences.
In order to receive a license from one of the leading authorities in the industry, a broker needs to follow strict guidelines, volunteer to get audited on a regular basis, and offer certain services and protection to their customers. Because of this, most brokers are proud of their licenses and they never try to hide this information. Usually, you'll find a broker's license further down on the website or under the "About Us" tab.
The leading regulatory bodies in Europe are the Cyprus Securities and Exchange Commission (CySEC) and the Financial Conduct Authority (FCA, Great Britain).
Available Assets – After you confirmed that the broker is licensed and regulated you need to have a look at the selection and you have to make sure that the instruments that you want to trade with are available. CFDs can be traded on pretty much any market and asset which means that many CFD brokers offer thousands of assets. In our opinion, the best CFD brokers have many assets in several markets because it gives you the freedom to invest in what you want as well as the option to switch things up.
Platform – The third and final of the crucial selection steps is to make sure you like the broker's platform. There is a multitude of different platforms that can either be developed by the broker or by third-party companies. It is important to take a close look at the different features and tools and see if they are beneficial for you. Trust us, using a broker with a platform you don't like will quickly get miserable. The best way to test a trading platform is by opening a CFD demo account that lets you trade without risk.
Recommended Brokers
We, the team working at BullMarketz.com, have many years of combined experience from several markets and all types of trading and thus during our years in the business we have tried many brokers. Due to our extensive experience, we know what should be required from a good broker and we are more than willing to share that information.
We have listed some of our absolute favorite brokers below. You can consider this list the icing on the cake, the creme de la creme, and the elite of CFD brokers.
We have also recommended a few other services and you can find them in the top menu. However, if you are looking for a great broker the following list will have at least one that will fit your needs. Again, click the link to read a full review or use one of the buttons above to be redirected to the broker's sign up page.