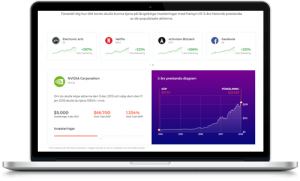 All best Forex Brokers, listed in one place. We have done all the research, you just pick your favorite.
Forex trading is one of the most lucrative and accessible forms of trading that's available today. You need to use a forex broker to trade forex, and you will learn more about the best brokers in the business on this page.
All brokers that we recommend are safe, completely regulated, and have all the licenses needed to offer forex and CFD trading. We have worked hard to put together the following list of the best forex brokers today. Here you can find the full list of brokers.
Find the best trading platform. You capital is at risk when trading. Be careful.
The forex market is the biggest market in the world with a several billion dollar daily turnovers. It is also a decentralized market meaning that all trades are conducted between two users over the internet, unlike stock trading that is done on a physical stock exchange. Forex trading is a peer-2-peer (P2P) system.
However, as a private individual, you can't just buy and sell currencies because you feel like it. Instead, if you want to trade forex you need to use a forex broker. The broker will act as the middle-man, or seller, and you will be the buyer. It might sound a bit confusing at first, but it's actually a simple system.
The only issue is that there are so many brokers to choose from. In fact, there are several hundreds if not thousands, and trying to evaluate which one is the best can feel overwhelming, to say the least. Luckily, there are a couple of rules and guidelines you can follow to evaluate if a broker is good enough.
Also, if you don't want to evaluate the brokers yourself you could always head over to our recommendations and see if you find a broker you like there. We only recommend the best brokers and services that we would use ourselves, so you can always be sure that the brokers are legit.
Forex Broker Guidelines
License and Regulation – The first and most important step when evaluating a broker is to see what kind of license they have and who regulates them. If a broker doesn't have a license, you as a customer don't have any rights, which means that the broker could steal your money and sell your personal information without consequences. All the brokers we recommend have licenses and are regulated within Europe and other parts of the world. You can find more information about each broker in our detailed broker reviews.
Platform – A platform is a tool or software that you use to conduct trades. Because of this, it is very important that you find a platform that you like and feel comfortable with. A platform should also provide the tools you're looking for in a practical way. Some brokers develop their own platforms and some use platforms developed by third parties. The most famous forex trading platform is MetaTrader 4.
The best way to test a platform to see if it fits you is to open a demo account with the broker offering the platform. With a demo account, you get to try all the features and tools using virtual money in a risk-free environment.
Currency Pairs and Assets – After you find a platform that you like you need to check if the currency pairs that you're interested in are available on the platform. There is no point of using a broker that doesn't offer the assets you're looking for.
You should also check to see if the broker offers other assets than currencies. For example, some brokers offer forex and cryptocurrencies, or stocks and commodities. We recommend finding a broker that provides more than one asset since it gives you more opportunities.
On top of the three above-mentioned factors, there are other minor things you should consider such as mobile compatibility, customer service, and reputation. Don't forget that the most important thing is that you feel comfortable with the broker – don't focus too much on what other traders have to say.
Recommended Forex Brokers
We here at Bullmarketz have been trading for many years and during those years we have tried many different brokers – some better than others. This experience has taught us what to look out for and it has given us the skill set needed to quickly evaluate a new broker.
To help you out we have recommended some of the best brokers on the market. We have used our experience from trading on the currency market to evaluate several brokers. Please be assured that we would never recommend a service that we wouldn't use ourselves.
Below you'll find a quick overview of a few of the best brokers for currency trading right now. We also provide more detailed reviews of the brokers and we recommend you read through the reviews to see if you find a broker you like.
Markets.com review is always our first-hand choice when it comes to forex trading. In fact, there is no doubt that this is the best forex broker on the market and definitely one you have to try. Recently, they added cryptocurrencies to their selection of assets and we promise you that this is the easiest way to trade digital currencies online.
eToro review is another leading forex broker that also provides an amazing social trading network. It is a great option if you prefer automatic trading and copy functions.
Plus500 review is a CFD broker that provides access to the forex market. It is an okay option if you like the ability to choose between many assets. Your capital is at risk
FxPro review is a combination of a CFD and forex broker, and it is a stable option for both markets.
BDSwiss review was first launched as a broker with a rather small trading platform but they have since broadened their selection to include currencies and CFDs.
Instaforex review is a regulated broker who specializes in forex trading. They also offer CFDs.
IG Markets review – This is one of the single most well-established forex brokers in Europe. IG Markets is based in London, England, and the broker has a large global user base that loves trading forex on their award-winning platform.
IQ Option review – As one of the newer CFD brokers in our list, IQ Option has managed to establish themselves as a leading forex broker in record time. Today, IQ Option focuses on forex, stocks, and cryptocurrencies.
24Option review – When one of the most prominent binary options brokers decided to start offering forex and CFDs, no one really knew how it would end. Luckily, it was a major hit and 24Option now belongs to the best forex brokers in the world.
Forex.com review – Is another great broker that accepts US traffic, which is quite uncommon.
iForex – A broker who focus a lot of effort on forex trading.
FXCM – Offers a cutting-edge platform and very innovative trading tools.
More forex brokers
As we mentioned, this was only a small overview of some of the brokers we recommend. If you want to know more you can find information about all of these brokers and much more under the tab "Forex Trading" in the top menu. However, if you don't have time to read reviews and want to start trading today we recommend that you open an account with Markets.com!
Why Do You Need to Use a Forex Broker?
The most obvious answer to that question is that you need somebody to connect you with the market. You see, the forex market is completely decentralized and online which means you need a forex broker to act as the middleman. However, there are several other benefits of using a forex broker and we list some of the most important below.
Safety
We keep bringing this up but it's too important not to. All the above-mentioned brokers are licensed and regulated and that is the safest way to trade forex. The best forex brokers in the world are obligated to protect you, your funds, and your personal information so that you don't have to worry and can focus on trading. Every broker that we recommend have at least one license from one of the leading authorities in Europe.
That being said you need to understand that not even the best forex broker can protect you from losses, and trading will always be associated with high risk.
Leverage and Margin
Leverage and margin is a service that forex brokers offer to their clients and without it, it would be impossible to make a profit from the forex market. A margin is a loan that brokers offer to give you leverage in your trade. By multiplying your invested amount, the broker increases your exposure to each position which maximizes your potential profit while it also increases the risk.
Using leverage is essential in forex trading since currency pairs never move a lot and without leverage, you would need to invest huge amounts of money on your own.
Streamlined Efficiency
The best forex brokers in the industry have all streamlined their products to be as easy to use as possible. Today's trading platforms are sophisticated but highly efficient and you could technically start trading later today. Also, for every upgrade the available trading platforms go through, the easier it gets to execute trades.
Short Selling
Forex trading is great for many reasons, one being the ability to trade both long and short. Since currencies tend to fluctuate a lot in price, the need to short sell is high and that is something that all of the leading forex brokers offer. In fact, it is equally as easy to invest with the market as it is to bet against it.
Trading Platforms
The trading platforms that are offered today are the best we have ever seen and the development is rapid. Some of the mobile platforms that you can use today are way superior to the regular platforms that were offered just a few years ago.
And let's not forget that almost all forex brokers also provide access to more assets than just currencies. With a good broker, you'll be able to trade thousands of assets on a handful of markets.
With an account at one of the top forex brokers, you will have access to a trading platform that's been designed with you in consideration. And there's more than just trading opportunities, all platforms come with analytic tools which brings us to the next point in the list.
Charting Tools and Educational Material
Without the possibility of analysing the market, you will be lost and forced to invest blindly. Because of this, all top forex broker provide their customers with analytic tools and charting software, so that you can perform all the analysis that you need.
Some brokers have better tools than others and you can learn more about them in our detailed forex broker reviews.
In addition, all of the industry-leading CFD brokers have created extensive educational programs where you can learn more about trading and everything related to the subject. The material ranges from written guides to videos, eBooks, webinars, and more.
Demo Account
The ability to open a demo account and practice trading before you start risking your real money is very important. Demo accounts have been come standard in the industry but sometimes the genius of them are overlooked.
Even the most experienced trader can have use for a demo account to test new trading techniques and evaluate strategies.
Using The Best Forex Broker
You have to understand that the points and perks we've mentioned above only apply to the best forex brokers. If you end up using a broker that's subpar your experience is likely to be subpar too. That's is the reason we've spent all this time searching high and low for the best brokers to recommend to our readers.
We have very high standards when it comes to the brokers that we recommend and so should you. By sticking to the best brokers in the business you ensure that you will have a good trading experience and that you won't lose out on anything.
Forex brokers in the UK
Most of the brokers we recommend offer their services to UK residents, that also means that they are FCA regulated. A license from FCA is a required for any broker looking to open shop in the OK.
A Few Final Words
Out list of the best forex brokers in the industry is the most accurate out there. It is made up of the single top performing brokers and we know for a fact that you will be able to find a broker that fits you in the list.
Do you have a question about forex brokers? Leave a comment below and we'll get back to you as soon as we can!