Find the best trading platform. You capital is at risk when trading. Be careful.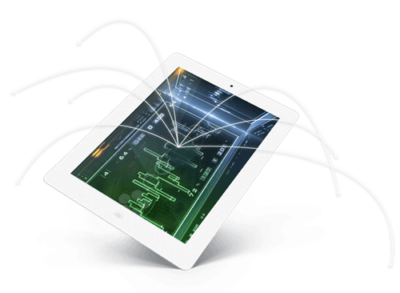 Trading platforms are the backbone of foreign exchange trading, and it is essential that you understand what they are and how they work. On this page, we will provide you with a comprehensive introduction to forex trading platforms and everything you need to know about them.
What is a Forex Trading Platform
A forex trading platform is an online software that's used to perform and monitor trades on the forex market. The forex market is a decentralized market which means that it does not exist as a physical place like the New York Stock Exchange. Because of this, all trades are conducted between two parties in a peer-to-peer system. In order for the two involved parties to connect they need to use a trading platform.
However, a forex trading software is used for more than just the actual trades. They normally offer different tools and features that make the trading easier and that can help traders make more well-informed decisions. For example, many trading platforms come with graphs showing exchange rate relationships to one another, analytic services, and tools that provide trading signals to guide you to the best investments. You can read more about tools that are often included in trading platforms further down on this page.
Two Types of Trading Platforms
There are two different types of trading platforms. They can either be developed by a company that offers the platform to brokers or they can be platforms that are designed in-house by a broker. The platforms that are developed in-house are always unique to the broker and can't be found anywhere else.
There are pros and cons with both types of platforms and what works well for one trader might not work for the next.
A trading platform designed by a third party company usually comes with a ton of tools and features that can be customized by the broker to fit their services. This allows for greater possibilities for traders but can sometimes be overwhelming for beginners.
A trading platform that has been designed by a broker usually offers fewer tools and features. But instead, they have been designed to fit the broker's agenda perfectly. The downside with this is that it can feel limiting.
Desktop, Browser, Mobile
Trading platforms also come in different versions. Some are accessible right from your web browser while others have to be downloaded before you can use them. And as the mobile industry is taking over bigger parts of the market share, mobile platforms are becoming more and more common. Today most brokers offer a combination of the following three types of platforms:
A Desktop trading platform is a platform that needs to be downloaded to a computer before it can be used. This was the original way of using platforms, but it's getting less common since browser technologies are improving. Brokers that offer advanced tools for experienced traders do so through downloaded software.
A Browser trading platform is a platform that you access from your browser. This version is more practical than a downloaded version since you can use it from anywhere as long as you have an internet connection.
A Mobile trading platform is a platform that you can use with your smartphone or tablet. This type of trading platform has gotten more common lately, but they are almost always smaller and not as functional as the main browser. In most cases, a mobile platform can only be used to perform easy trades, get news and signals, and keep track of ongoing trades.
The majority of all trading platforms are customizable to some degree. That means that you change, rearrange, and sometimes even develop your own tools. This is something that we only recommend for experienced traders. If you are a beginner, it's always best to start with the main tools offered on the forex platforms.
Tools In The Forex Platforms
A good forex trading platform offers tools that make the trading process as easy as possible for the trader. Therefore it's important that the features are valuable and user-friendly. It is also important that a platform offers many different tools since every trader's needs are different. Below you can find some of the most common features that all leading platforms provide.
Analytic Tools and Charts are used to analyze the market in search of profitable trade opportunities. They can look very different and most brokers offer several charts for different strategies and trading styles, many of which are customizable for your own specific needs.
Trading Signals are suggestions for trades that are most likely to be profitable. These signals can either be free or paid for and can be delivered through the platform, text messages, emails, etc. They are always based on some form of technical analysis either performed by a person or a software.
Copy Trading is a feature that lets you copy other traders strategies and signals so you can make profitable trades without doing all the hard work. It's a great way to make quick money from forex trading.
Trading Robots are software that trades automatically based on pre-set requirements and signals. Forex robots are practical tools that allow you to trade 24/7, even when you are busy or sleeping.
Trading Networks are online communities that you can access through a forex platform. Here traders discuss strategies and share tips and tricks that they use.
Trading Accounts – In order to use a forex platform, you will need a trading account. Most brokers offer several accounts based on how much money you trade with and a demo account that allows for risk-free trading with virtual money.
There are of course many more tools and functions depending on what platform you use. In fact, some trading platforms come with hundreds of features.
The Best Forex Trading Platforms
It would be very hard to make a list of the best currency trading platforms since it's a personal choice. What's important to remember is to always use a reliable and licensed broker that offers a platform that you feel comfortable with. The best way to find a broker that you like is to sign up for a few demo accounts and put the software to test. We have a list of recommended brokers that we suggest you start with.
With that said, there are two leading platforms on the market that we want to mention. If you are serious about forex trading you will definitely end up using at least one, but probably both of them at some point, and the sooner you learn about them the better.
MetaTrader 4
The undisputed industry leader is called MetaTrader4, or just MT4, and it has been the leading forex software for many years. Some would argue and call it the best forex trading platform ever.
The majority of the best brokers in the industry offer access to the MetaTrader4. Even some brokers that developed their own software provide the MetaTrader4 as an alternative platform. It comes as a desktop version, a browser version (Webtrader), and as a trading app (MobileTrader) for mobile devices.
MT4 is so popular and used on such a big part of the global forex market that we have dedicated a whole section of our website to it. You can read more about it in the section titled MetaTrader4.
Sirix Webtrader
Sirix Webtrader is another leading browser-based platform that has become very popular in the last few years. Currently, it's used by some of the biggest brokers in the world, and we are expecting to see more brokers adopting this software in the future.
On top of these platforms, many brokers have developed their own platforms, IQ Option is a great example of a really good platform. Check it out in our IQ Option review. Why would a broker develop their own platform? well, for starters, it gives the broker a whole lot more creative freedom of their own trading product. By using a Meta 4 och Meta 5 platform you will have to be satisfied with what you get. Even though of course these platforms are great. It limits the brokers to introduce new functionalities. In today's trading climate being able to offer the absolute best platform is really important. Traders are simply looking for more than the standard platform.
Forex Platforms Offered by Our Recommended Brokers
On BullMarketz.com we offer a list of what we believe are the best forex brokers in the industry. Here is a round-up of each platform that they offer.
Markets.com review is one of the leading brokers in the world and they work exclusively with MetaTrader4 and all the tools that come with the platform.
Plus500 reviewhas developed its own trading software and is one of our favorites. The platform comes in a desktop version, a browser version, a trading app, and even as a very basic trading software for Apple Watch.
eToro review has designed its own webtrader and mobile trading app, and they are both high-quality software. eToro also offers the forex market's leading trading network called eToro Openbook.
Find the best trading platform. You capital is at risk when trading. Be careful.