Find the best trading platform. You capital is at risk when trading. Be careful.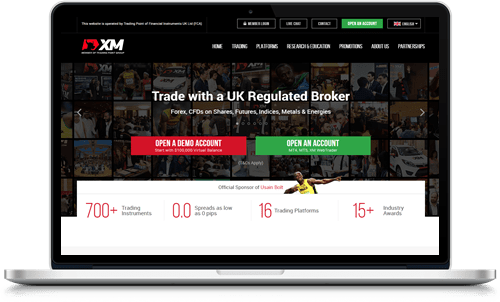 XM.com, one of the world's finest forex and
CFD brokers
and the official sponsor of Usain Bolt, also happens to be one of our absolute favorite brokers.
With a range of over 700 underlying assets, some of the best trading platforms in the world, and trading accounts designed for any type of trader, there is really no wonder why XM is so popular among CFD traders.
Check out our comprehensive guide to everything related to XM to learn more about this world leading broker.
5 Things You Should Know About XM
XM is fully regulated, authorized, and licensed by three of the strictest regulatory bodies in the world. The main license is from the Cyprus Securities and Exchange Commission (CySEC) that oversees the European market. They also have a license from the British Financial Conduct Authority which oversees the market in the United Kingdom as well as Europe. Finally, XM has also been authorized by the Australian Securities and Investment Commission (ASIC).
In order to accommodate as many traders as possible, XM provides access to a large variety of trading platforms and accounts. By teaming up with MetaQuotes, XM can provide you access to the MetaTrader 4 and the Metatrader 5 in both web-based, desktop, and mobile versions. In addition, XM's demo account is a great tool that can be used to practice forex and CFD trading, but it can also be used for strategy development. Practice accounts are such an important tool that we recommend that everyone opens an XM demo account.
Compared to many brokers, XM has an interesting and satisfying selection of economic instruments. In addition to trading forex, you can invest in stocks, indices, commodities, and five of the largest cryptocurrencies. In total, there seven asset classes and more than 700 different assets that you can trade with and the selection is continuously growing as XM expands their product.
XM is the official sponsor of Usain Bolt, a Jamaican sprinter and the fastest man in the world. For traders, this is good for two reasons. First, Usain Bolt and the Jamaican team would never team up with an unserious business which means you can trust that XM is legitimate. Second, the fact that XM sponsors one of the top athletes in the world means that they get a lot of international exposure.
An extensive part of XM's website is dedicated to what they like to call Research and Education. This section is made up of industry-leading market analyses, webinars, seminars, videos, articles, economic calendars, forex signals, etc. In our opinion, this is one of the main benefits of using XM since it allows you to analyze and plan your investments as much as you need.
Is XM a scam?
No, XM is not a scam. In fact, XM is as far from a scam broker as one could get. XM has a fantastic reputation among traders, and they are an overall respected brand around the world. The broker XM is actually owned and operated by a British company called the Trading Point of Financial Instruments UK Limited, which is licensed and regulated by the Financial Conduct Authority (FCA). Any CFD broker with a license from the FCA is 100% legitimate since they have strict requirements to follow and are subject to regular audits.
In addition, we follow strict policies when it comes to our reviews and the brokers that we recommend to our users. We have a specific selection process that all brokers have to go through, and if we see the slightest evidence that a broker is not legitimate or that they are involved in sketchy behavior, we stop the review immediately. Only the best brokers get a full evaluation by us and only the best of the best end up with a review on this site.
XM has gone through the whole process and come out of our reviewing process with a very high grade. The point we want to emphasize is that we would trust XM with our forex trading and so should you. So let's continue and try to figure out if XM.com is the broker for your or not.
XM's Underlying Assets
XM provides access to several of the most popular CFD markets and a total of 700+ assets, meaning they literally have something that fits anyone. To separate the different markets from each other, XM has decided to split their available assets into the following categories.
Forex – Everything from the largest currency pair such as USD/EUR to smaller less popular and even exotic currencies can be traded on the XM platform. XM is not challenging the best forex brokers but they are still doing a great job.
Stocks – Trade hundreds of stocks from several of the world's leading markets with your XM trading account.
Commodities – This category consists of mostly soft commodities and food items such as coffee, wheat, and sugar. However, XM offers more commodities in the categories below.
Equity Indices – Speculate on the price movements of 18 of the world's most influential stock indices.
Precious Metals – You can trade gold and silver with XM, and if you want to trade copper you can go to the commodity category.
Energies – This category is just what it sounds like: oil, natural gas, brent, and other energy commodities.
Cryptocurrencies – Bitcoin, Ethereum, Dash, Litecoin, and Ripple XRP are available to trade using XM. They are definitely in competition with the other best crypto platforms UK.
As you can see, XM is covering all of the major markets in the world and the most popular CFD markets out there. This means that you can trade on assets from any industry that you would like and you can even trade in different markets at the same time.
XM started off as a forex broker, but since then they have done a lot to accommodate and adjust after customer demand. Adding a comprehensive CFD product has given the broker leverage to compete with the largest names in the business, and by adding cryptocurrencies to the mix, XM has proved how innovative they are trying to be.
XM's 16 Trading Platforms
XM is proud to offer 16 different platforms that are designed to be compatible with the world's most used devices. Although, it can be a bit misleading to say there are 16 platforms since XM is offering the MetaTrader product. What the broker actually means is that they offer several versions of the same platform. Let us explain.
XM provides MT4 and MT5 for PC, Mac, iPhone, IPad, and Android. They also offer access to the MetaTrader Webtrader.
MetaTrader is a company that develops forex and CFD trading platforms, and they are loved in the industry. Most brokers offer one or two of MetaTrader's platforms either on their own or together with a proprietary platform. However, XM offers all of MetaTrader's leading platforms meaning they have an impressive range of trading tools available to everyone.
First off, XM has support for the MetaTrader 4 which is the best forex trading platform in the world. The MT4 was designed to offer a smooth forex trading experience and is connected to the most efficient analytic tools in the business. The MetaTrader 4 is what you'll use when trading forex with XM and the platform is compatible with PC, Mac, iOS, and Android.
The MetaTrader 5 is a platform that was developed after the MT4. The purpose of the MT5 was to compliment the MT4 with better support for CFD trading since the MT4 is mostly for forex. In our opinion, the MT5 is equally as good as the MT4, and some of the charting tools the platform comes with are truly groundbreaking. In fact, the MT5 is one of the top five best CFD trading platforms in the industry today. Just like the MT4, the MT5 is compatible with PC, Mac, iOS, and Android.
The MetaTrader Webtrader is a web-based version of the MetaTrader desktop platforms. This platform runs entirely in your web browser, and there is no need to download any software in order to run it which is beneficial when using someone else's computer or when trading in a public space, or if you're using a Windows 10 s or a Chromebook. In exchange for the no-download, you do get limitations on certain features, but you can still use it to fulfill all your trading needs. The MetaTrader is available in all leading browsers for Mac and PC, however, you cannot use XM's version of the platform on your mobile device.
Using XM on a computer: download the MetaTrader 4 to trade forex or the MetaTrader 5 to trade CFDs. Alternatively, you can use the WebTrader to trade directly in your web browser without downloading anything.
Using XM on a mobile device: XM offers a good trading app which can be used on both Android smartphones and tablets as well as on iPads and iPhones. In order to start trading on your mobile device, you will have to download the XM trading app from the app stores.
All in all, the selection of platforms is the same as other brokers that work with MetaTrader, and as per usual, we are as happy as always to use them.
XM Trading Accounts
XM currently has three different trading accounts with slightly different features and perks. The Standard Account is the account that most traders use and it lets you do all the necessary analytic work before you trade on your preferred platform. They also have a Micro Account that has lower limits and a somewhat limited selection of features. This account is best suited for traders with small bankrolls. XM also provides multiple XM Zero Accounts which provide different perks depending on how much you deposit and are willing to trade with.
Note that all of the real money trading accounts come with negative balance protection, tight to no spreads, and access to the world famous MetaTrader 4 and 5 platforms.
In addition, XM also has a demo account that you can use to practice trading techniques and evaluate strategies.
XM Demo Account
A demo account is almost like a regular trading account with the difference being that you use virtual money to trade. Since you don't invest your own money, you never actually risk anything and instead you can practice in a risk-free environment.
XM Funding and Withdrawal
Since XM is regulated by the FCA, their selection of payment options is very similar to other brokers regulated by the same agency. You can, for example, deposit and withdraw money using cards such as Visa, Mastercard, Maestro, and UnionPay. Or you can make an electronic payment using Skrill, Neteller, or Klarna (limited to certain countries). You can also deposit money with a regular bank transfer. Depositing and withdrawing money from xm.com is a simple process where the allow most of the payment methods you would expect.
As mentioned, all regulated brokers offer the same or similar payment methods, and these are all the safest ones. They are also the most common payment methods and have been handpicked to accommodate as many traders as possible. In fact, according to statistics, most people fund their trading accounts using their credit or debit card.
XM Spread, Fees, and Commission
The amount you have to pay for each position that you open and close depends completely on which account type you sign up for. Some of the accounts are commission free, all of them have no hidden fees, and XM is proud to offer some of the tightest spreads on the market. Let us explain further.
XM Spread
This broker always works hard to offer you the smallest spread they possibly can which in most cases is fractional and always in pips. That means that many instruments have spreads that are as low as 0.1 pips. According to XM's Chief Dealer, this is achieved by
getting the best prices they can from their providers. "To keep spreads as narrow as possible, we aim to get optimal prices from all our liquidity providers." In addition, all forex prices are updated three times per second to make sure that they are as accurate to the market as possible and ask and bid prices are pushed to be as fair as XM can.
It's worth noting that XM's different accounts have different spreads and that the XM Zero Account usually has the most competitive spreads of them all.
XM Fees
XM covers all withdrawal and deposit fees for you, and they claim to never have "hidden fees," which technically means they have to show you what they charge before they charge you.
With that being said, the only account that comes without brokerage fees is the XM Zero Account, and we encourage you to always double check how much XM will charge you for each trade before you open any positions.
XM Commission
Unlike many of the brokers we recommend, XM is not a commission-free broker. Once again, the XM Zero Account is completely commission-free, but the Standard and Mini account both have a commission for certain instruments.
Also, the commission depends on several variables and tends to be higher for less popular instruments. For example, USD/EUR which is one of the most popular instruments has the lowest commission and also the tightest average spread.
Generally speaking, XM is transparent about all of their charges, spreads, and fees, and you will always know how much a trade will cost you before you place it. However, in the end, it is your responsibility to make sure you know what fees and commission you will have to pay.
XM License and Regulation
XM has done everything they can to become regulated and licensed in the countries where they operate. In order to do so, they have applied and been approved for three separate trading licenses in Europe and Australia.
FCA
Since XM is a company registered in the United Kingdom having a license from England's own regulatory body is important, although not 100% necessary. The Financial Conduct Authority is a highly respected agency in the business, and a license from the FCA is really all you need to be considered fully regulated. The FCA has strict rules that apply to brokers in regards of safety, data protection, fund protection, transactions, etc. and a part of the license is an agreement that XM can be audited at any given time.
CySEC
The Cyprus Securities and Exchange Commission is a regulatory body with similar authority to the FCA. Having a license from CySEC makes a broker licensed in all of the European Union, excluding Belgium, and it's considered the most legitimate license in the industry. For many years, the CySEC has been a regulatory leader on the CFD market and being approved by them is the ultimate proof of how safe and serious they are.
Similar to the FCA, CySEC oversees every part of XM, and they audit them on a regular but random basis.
ASIC
The Australian Securities and Investment Commission is considered to be one of the strictest regulatory bodies in the financial industry. They help regulate brokerage services in the region surrounding Australia and New Zealand as well as certain parts of Asia. Having a license from ASIC is a great sign, and it helps confirm that a broker is actually safe to use.
XM's Many Awards
Over the years, XM has been awarded multiple times for their high-quality product and dedication to offer a world leading service. In total, there are over 30 really impressive rewards that XM has gotten over the years and to give you an idea of the magnitude of this, we've listed some of the most impressive awards below.
In 2017 and 2018, XM was awarded the "Best FX Broker Europe for 2018" by the World Finance Magazine. As you can imagine, this is a really prestigious prize to win once, and it's even more impressive to do so twice.
In 2017, XM was also awarded two very impressive awards from Capital Finance International Magazine (CFI.co). The awards were "Best Market Research & Education" for the broker's extensive educational and analytic services and "Best Trading Support for 2017" for their excellent customer support.
Also, in 2017 XM received the highly sought-after and prestigious "Best FX Service Provider" at the City of London Wealth Management Awards. According to many, this is one of the highest recognition that a forex and CFD broker can receive.
Customer Service for XM Customers
Contacting XM is as easy as it gets. You can either start a live chat, which is the easiest option or you can send them an email (support@xm.uk) directly from the website. Alternatively, you can call them on their support number (44 2031501500). Also, XM's headquarters are located in England in case you need to send them physical mail.
That XM.com offers phone support is great, a lot of brokers today only offers support via E-mail and chat but XM.com is going all the way by also offering phone support.
We have been in contact with the XM customer support on a few different occasions to get help with some issues we ran into and to get answers to some of our questions regarding their services. Each time we contacted XM, they responded with detailed and helpful answers in a timely manner. We definitely prefer using live chat because of practical reasons, but that is up to you.
Moreover, XM has also written a comprehensive FAQ where they list and answer some of the most common questions they get asked about their services. So if you only have a quick question, we suggest you start here since you will most likely find your answer, and it will save you the time you would have spent talking to support.
FAQ
In order for us to offer an XM review that is as detailed and customer-oriented as possible, we have collected the most commonly asked questions about XM and their services and provided detailed answers to them. Note that these are the most frequently asked questions that we could find and if you have a question that hasn't been answered below, we encourage you to post it in the comments and we will answer it as soon as we can.
Conclusion: Is XM a Good Broker?
XM is a great broker for most traders that are looking to trade forex and CFDs, for many reasons. For example, XM provides investors access to all of MetaTrader's leading trading platforms on the most popular devices and the broker also has a decent selection of assets that can satisfy even the pickiest trader. But on top of that, XM has all the licenses needed to be considered a fully regulated broker.
Their website and trading platforms are also well-designed, and it's evident that the developers have put a lot of thought into navigation and practical usage.
If you're looking to start trading today, we suggest you give XM a try, and if you're not sure if the broker is a fit for you we encourage you to open an XM demo account.
Find the best trading platform. You capital is at risk when trading. Be careful.