Are you looking for a book review of Forex and Currency Trading for Dummies or how to get started with forex trading? Then you're in the place. On this page, we will provide you with both a book review as well as a step by step guide on how to get started with forex trading. In the first section, we will cover the Currency Trading for Dummies book review, and in the second section, we will discuss how to get started with forex trading.
Currency Trading for Dummies Book Review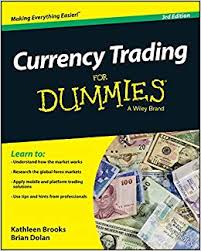 Chances are that you ended up on this page while looking for the book Currency Trading for Dummies, which is an excellent book for new forex traders. It will give you a great foundation of knowledge that will help you during your entire forex trading career, and for many, it serves as the first step into the world of forex trading.
The book can be found here, and we feel comfortable recommending it to anyone looking to get started with forex trading. In fact, we have read the book ourselves and still reference parts of it to beginners.
Now, with that out of the way, we'll shift our focus to our own tips for beginners and advice on how you can get started trading forex so buckle up.
Get started
Step 1: Pick a Forex Broker with a Great Demo Account
We are not going to rush you to deposit money and start trading, that would be stupid and irresponsible.
Instead, what we recommend that you do is find a reliable forex broker that offers a great demo account with unlimited amounts of virtual currency. Doing this will allow you to try forex trading without the risk of losing any real money. It will also give you a taste of actual forex trading before you deposit real money and start trading on the actual market.
Before demo accounts were a thing, a trader would have to risk his own money even while still learning how to trade. Today things are very different, and there is really no good reason why you wouldn't use a demo account to learn how to trade.
Looking for a good forex broker for beginners?
Best Forex Brokers – All the best international forex brokers
Best Forex Brokers (UK) – The best forex brokers for UK traders
Setting up a demo account – Get started with a demo account
Step 2: Educate Yourself
Forex trading strategies – Learn about forex trading strategies.
It is crucial that you learn basic forex trading skills but also that you study different forex trading strategies. Trading without a strategy is not recommended and always leads to unnecessary losses. Reading the book Forex Trading for Dummies is a great first step to learning how to trade forex but we also advise you to indulge in all of the trading advice that we offer on this site. Check out our education section to get started.
Step 3 – Start Trading but Take it Easy
After you've opened an account with a leading forex broker and learned the basics of forex trading strategies, it's time you start trading with real money. At this point, it is essential that you take it easy and don't rush into anything.
There are differences between trading with a demo account and a real account, and you want to start off small without risking too much. As soon as you start to feel comfortable, you can increase the amount of money you place on each trade.
Final Words
That was our short introduction to forex trading for dummies but it's far from all the information offered on this site. So if you're interested in forex trading, we suggest you stick around, check out a few of our trading guides, and take a look at the forex brokers we recommend. Also, don't forget to subscribe to our daily market reports where we discuss the latest news involving forex trading and other prominent markets such as the stock and cryptocurrency market.